Cross-country RV trip East: Toronto to Nova Scotia

6 may - 12 june 2018
With every trip it takes me longer and longer to write it up. This one took almost two years. The photos don't get old, but my memory does. Still, better to have some record of it than nothing.

The overall trip GPX was plotted using umap.openstreetmap.fr - the maps might still be there. Here's the overall trip: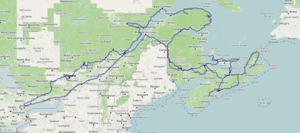 Doesn't look so long now that I see the whole thing at one time, but it was quite an adventure, and a long one.
Contents:

Preparation
As on the last RV trip we decided to buy one instead of trying to rent one, since renting a trailer for more than a few days is prohibitively expensive. This time we knew we don't want one with fold-out compartments, because last time they leaked and I almost wasn't able to sell it because of it.

I spent about 9000$ on the new trailer - a Lighthouse RV dual-axle.

Because I don't remember this sort of thing - I've got checklists for packing stuff for trips: Every trip checklist.odt, RV trip checklist.odt, Outdoor trip checklist.odt, and Children trip checklist.odt since we had a two-year-old and a zero-year-old with us. There's some overlap in these lists because I don't use all of them every time.

Test trip: Markham to Craigleith provincial park and back

To test everything we took it to Craigleith provincial park for one night on the 28th of april. This might be the only provincial park in all of Ontario (or even Canada) that's open this early in the year.

Suspension on this trailer works very well, the two axles really make a big difference. It's so nice not to scape the driveway every time we pull in or out.

Immediately after pulling out discovered that the brakes weren't working despite the light on the brake controller being on. That was new. And sucked. 30 seconds later the 7-pin lost connection. [it went on and off the entire trip up north, less often later which made me suspect that the trailer's connector is simply corroded]

Such a cold day, hard to spend any time checking or fixing anything. 25 minutes into the trip discovered the 7-pin connector fell all the way out and the pavement ate some of the rubber. Zip-tied it back in order to at least keep it in one place.

About an hour later pushed hard on the brakes and it felt stronger - turns out the brakes started working. Driving on busy roads all day didn't get much chance to calibrate the controller's sensitivity.

Had lunch in an OnRoute parking lot. I decided this would be the last time I would trust the Cars/RVs sign. In fact RVs should go to the same place as trucks. Unless you've got a VW bus.

Arrived round 15:00. Looked for a spot. It was surprisingly busy given the 1-degree windy weather. Even a few tents set up, and another trailer there with a couple of kids! Many of the serviced sites were taken, but most of the unserviced ones were available. The unserviced sites looked like they were recently clear-cut. The trees may have died of old age.

Water in the park was on, and I hoped that meant that our pipes wouldn't freeze. I went in with a full clean water tank, which I disinfected overnight.

The furnace worked fine. Still wasn't sure about the fridge. The day before it seemed to be working on propane but I wasn't willing to bet on the electrical - the ground on its outlet was disconnected. That shouldn't matter but I thought it was strange.

The RV seller claimed the battery was new and it looked like it was. The night before I charged it to full. But I was not expecting it to last more than 24 hours without charging. "Deep cycle" batteries are like that. I might be missing information about how to use them properly but I suspect they simply don't last long. A friend told me that they are also not supposed to be used after they're half drained because they get damaged. That would explain a lot, and reinforces what I was starting to believe - RVs really can't be expected to provide electricity when they are not plugged in.

Went to the playground for an hour twice, getting bored quickly inside the trailer. The weather forecast said +18 degrees on tuesday. Was hoping not to get such cold nights again.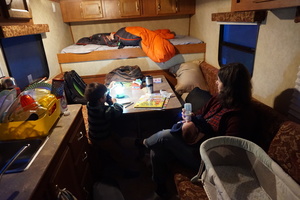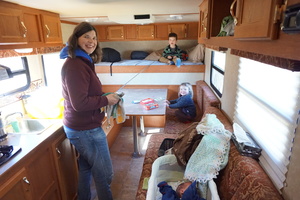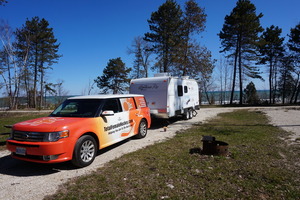 Woke up to feed Natasha around 3:00 and thought I wouldn't be able to get back to sleep but when she started crying again it turned out to be 6:00 already.

Slept reasonably well. The furnace used only about 1/4 of a tank of propane and it kept us from freezing. It was a nice sunny morning, much warmer in the sun.

10:30 The battery died completely just as I finished washing the dishes.

Day 1: Markham to Madoc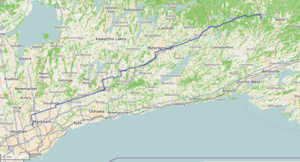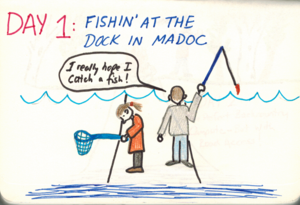 Packed everything the night before but didn't leave until noon. I did expect that to be the case, so it wasn't a problem.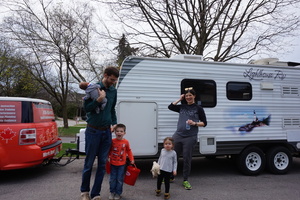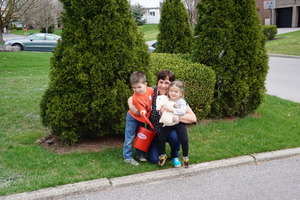 The day looked nice. Warm and cloudy, not too windy. A coupe of days before had hurricane-strength winds that took a lot of shingles off people's roofs.

Was hoping that the new trailer connections would keep the lights and brakes working for the entire trip. I went a little overkill with it this time: all the butt connectors had dielectric grease inside and were covered with liquid plastic on the outside, all the exposed wires were covered with that flexible plastic tube, both 7-pin connectors were new, and I even protected the wires sticking out of the back of the car-end connector with some sheet metal from a pop can. Also replaced all the trailer lights with LEDs. That wasn't cheap, the trailer has a lot of running lights.

The goal for the day was to make it to a site I found on freecampsites.net on the other side of Peterborough.

13:15 Stopped to make lunch in Raglan playground.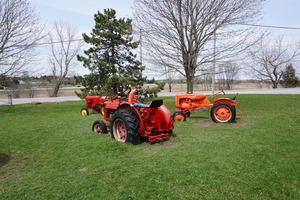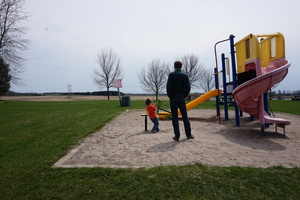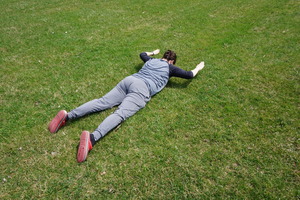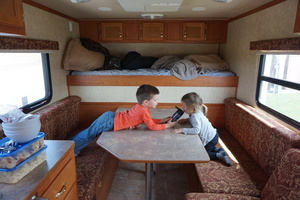 18:45 Arrived at Boat Lauch Rd (I think it's really called that). It's just a gravel parking lot but it's more quiet than some commercial ones we've stayed at.

It's next to a lake, fun for the kids. The toilet was basically a hole in the ground.

Some bugs were flying around but we didn't get any bites.

21:00 Started working on writing up the West trip from the previous year :) If that sounds bad - consider that what you're reading now I'm writing in Mexico in the end of december 2019, almost two years later.

Day 2: Madoc to Wabun Lake road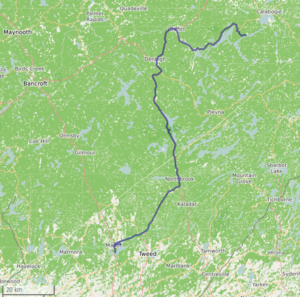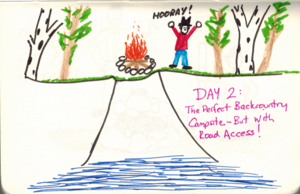 6:00 Got up. Slept ok. Had to replace my sleeping bag with a blanket. The kids crawled out of their sleeping bags and got cold around 4:00-5:00.

It was a nice sunny day. Made breakfast and got the kids up, was ready to go around 9. Had to find a place to dump the dirty water and fill up with clean water.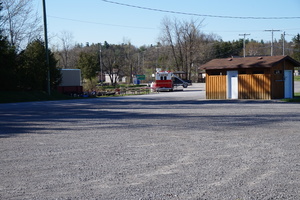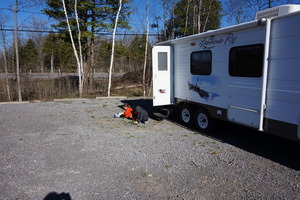 9:40: This is an awesome playground in Madoc I think. I don't know where else we would have made it in 30 minutes.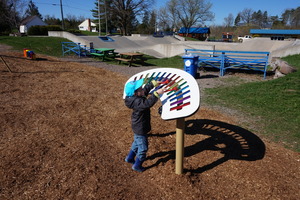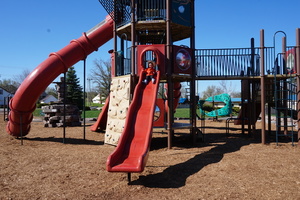 10:30 Stopped somewhere, I have no notes for it. It may have been in Bon Echo provincial park, though I have that written down s 12:30.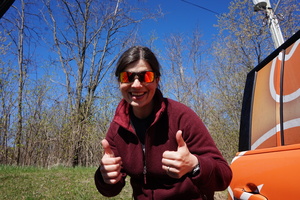 Bon Echo was closed but the gate was half open - lots of work going on there, parking lot was full. One park person we asked didn't know where there was a dump site. Another told me very quickly without thinking that "no, no, the park is closed, everything is closed". So I went in and found the dump site and got rid of our waste water.

I didn't want to risk using their drinking water, decided to use bottled water until we found a less risky source.

15:00 Wabun Lake road - Norcan Lake public access point. It had a sign saying "enter at own risk". I drove in all the way to the end without the trailer to check the road. The truck can pull a trailer over this as long as it's dry. We decided to risk it and went in.

At the end of the road on the right there are several campsites. There was noone here, but I was sure it would be busy on weekends or in july/august [on a later trip I confirmed it does get quite busy].

Did some fishing with Nikita's toy rod and decided to stay here for a second night.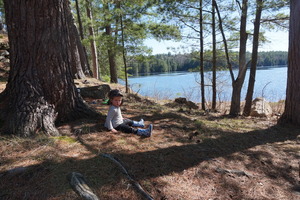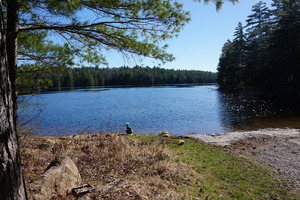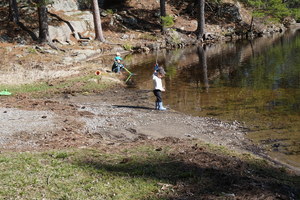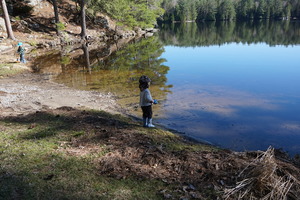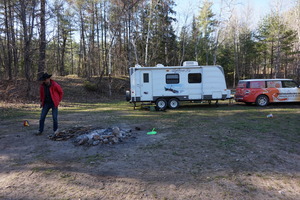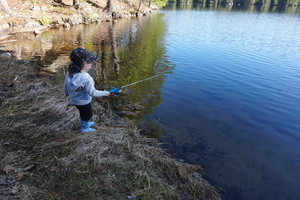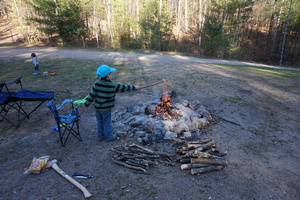 Went to sleep before 22:00. It seemed that we were getting tired a lot, wasn't sure why.

It felt colder than the previous night, didn't expect I'd be getting out of the sleeping bag that night.

Day 3: Wabun Lake road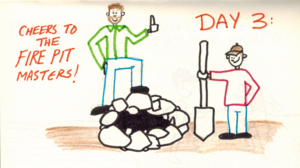 Woke up couple of times at night to change Natasha's diapers and to feed her. then slept till 9 - was pretty rested in the morning.

Kim went into the bush to pee and stepped on a broken beer bottle. What pigs some people are. I cleaned the cut with alcohol, made a pad for the bottom of the foot, and bandaged it on. Taped with elastoplast. The cut didn't hurt and didn't look big but it bled a lot and better safe than sorry.

Several ATVs and dirt bikes showed up, one of the ATVs was towed all the way there. Then a car pulling a trailer with two kayaks. That same couple drove in again in the evening - they must have had two cars to shuttle themselves for a one-way kayak trip.

I decided the rock circle we used for a firepit could be improved - so I got to work and fixed it with the kids' help. It worked very well for a great fire in the evening: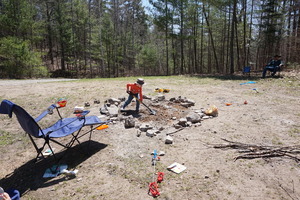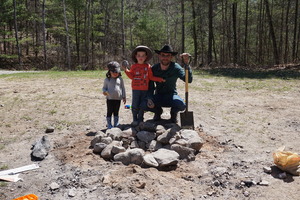 [On a later trip I found this firepit didn't pass the test of time. I guess it wasn't as good as I thought.]

Then I had a quick swim in very cold water: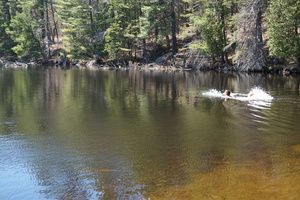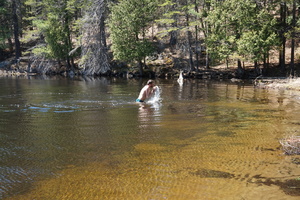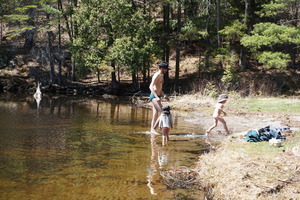 Brought in a couple of old trees and practiced cutting them into firewood using an axe. It was heavy, sweaty work but I got it done.

Went for a hike not far from the campsite (there are trails and ATV trails to follow). The second turn right off the ATV trail which I found on OSM didn't exist, ever as far as I can tell. Carrying both Nikita and Sasha at the same time was a lot of work.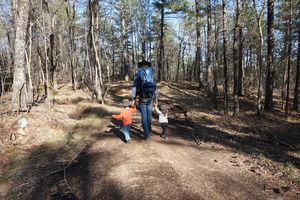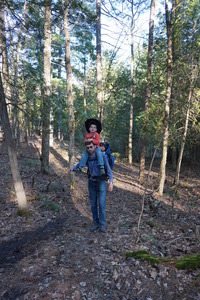 18:50 Convinced Kim to go for a dip after the hike: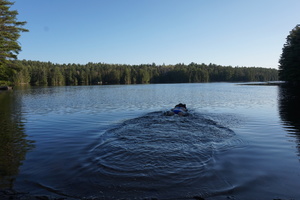 21:15 How nice: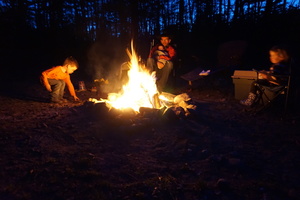 Day 4: Wabun Lake road to Gatineau park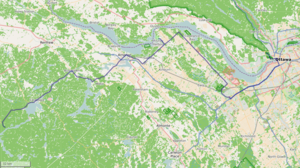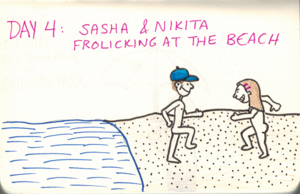 Didn't sleep too well because of the children. But I must have gotten some rest.

Another clear, sunny day - decided will have to start putting on sunscreen.

The day before opened the awning. Had to break off a holding tab. The awning smelled disgusting, but the smell cleared off by the end of the day.

12:30 Leaving. All the lights working except the left turn. Grrr.

13:30 Asked at a trailer park if we could have some water for the trailer. They said theirs was off until the 15th. Stopped to relax and swim at White Lake beach nearby. A very nice mini-beach. Water much warmer than the day before.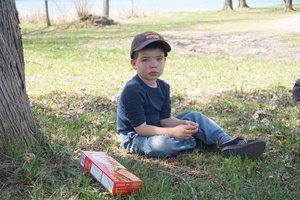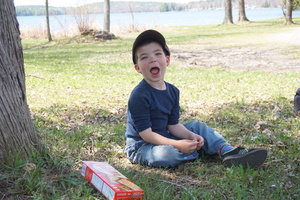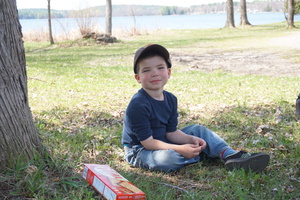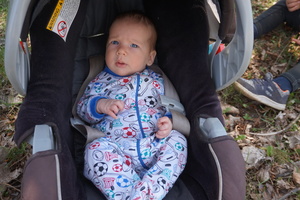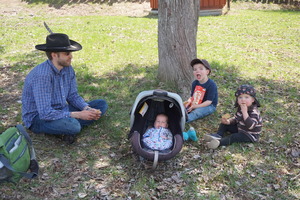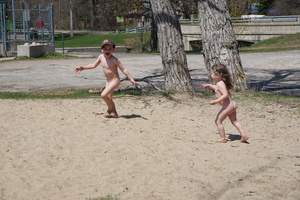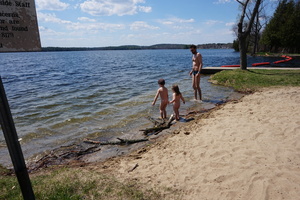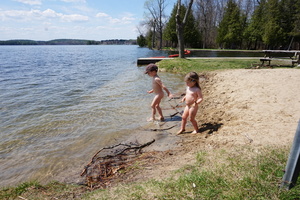 16:00 Walmart in Kanata. Had lunch here.

18:30 Still at the Walmart. Problem with the light wasn't the butt connector I was suspecting. Needed to replace the lights controller. And I was really hoping not to have to do that for the third time on this trip. Those things really need to be built with a fuse or something.

Got to Gatineau park and the parkway was closed. I worked on the car in the dark, and put in a new powered controller, which didn't help. Turned out the left blinker wire going into the car-end 7-blade connector was severed and not repairable.

I got so stressed about all this crap that had a hard time falling asleep. That and the fact that we were parked in a Gatineau parking lot which was used a lot. When we arrived (around 19:00) it was still almost full.

Day 5: Gatineau park to Camping D'ange Gardien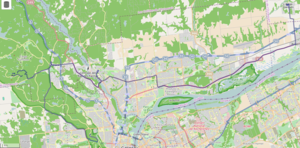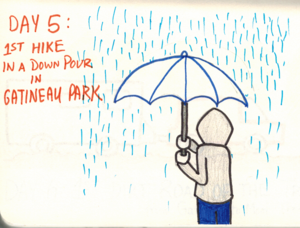 Noone bothered us at night. I was worried we'd get kicked out, we were obviously not supposed to camp in the parking lot.

I got up around 5 and fed Natasha. Started seeing people around 6. At 7 several military cadets started showing up in the parking lot. By 8 there were 20-30 of them in a circle in the middle of the road, right in front of the trailer. None of them talked to me, and Kim was still in bed by the time they left.

Put the car back together.

It rained on and off all day, sometimes hard. Forecast for the following night was 1 degree, but I felt it wouldn't be crazy cold.

We drove to the welcome centre and a guy there made up a hike for us. He also said they don't have any water for the trailer.

The hike was nice. About 4 hours, finished at 15:00.

Planned to go for a full-service site next. Called Camping D'ange Gardien - they said they have water.

16:00 Finished lunch in trailer without using any plates, since all of ours were dirty.

The campground is awesome. Lots of privacy and all amenities. The stay plus two showers and laundry cost us 48$.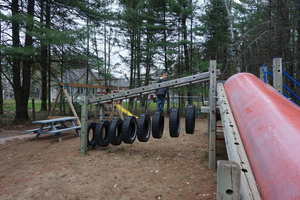 Did a couple of OSM updates and looked up free campsites while there on the park's wifi.

Day 6: Camping D'ange Gardien to Mont-Tremblant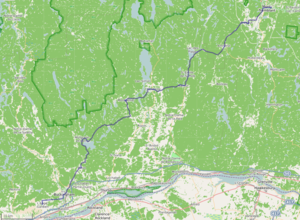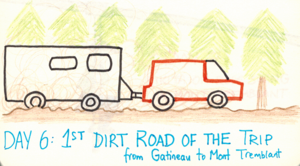 Got up at 10. Slept pretty well despite the cold. Natasha only got up once, not bad for a 3-month-old.

Checkout here is at 14:00. Planned to go to Mont Tremblant.

Took hwy 315. A very nice drive, except a portion of it is gravel. Not a lot of people drive here though so even the gravel road was in reasonable condition. I didn't think anything broke, but some water splashed out of the toilet bowl.

We stopped at an intersection soon after the gravel portion for a break, and discovered they have an interesting flyer system here. There are a bunch of flyer bags hanging by the mailboxes, for people to take who want them. Saves the publisher from delivering them and saves people from dealing with garbage they don't want.

Spent a couple of hours at the playground in Montpellier and left at 16:30.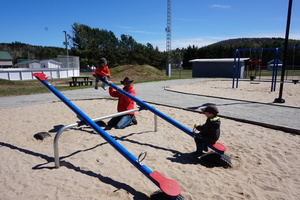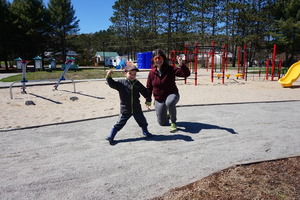 Walked on the main street in Mont Tremblant. A sign at the info centre said it opens at 9:00. Planned to come back the next day and look for a hike to go on.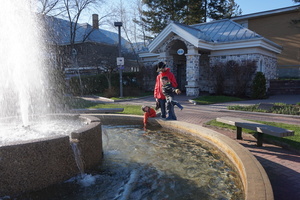 20:00 Parked at SuperC (a Walmart-like store with an enormous parking lot) to stay overnight, hoping noone would complain. It's next to a highway but the traffic dies down at night.

Day 7: Mont-Tremblant to Parc national du Mont-Tremblant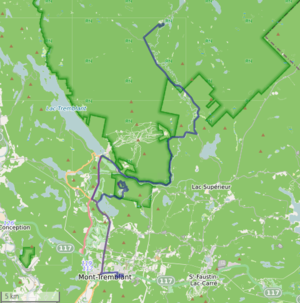 Woke up at 4 to feed Natasha. Slept well all night but coulndn't fall asleep again after that.

I had a textbook Eureka moment, as over a decade of experience and concerns crystallized into a working solution for a serious IT problem. I was so excited about it I worried I wouldn't be able to sleep for the remaining 6 weeks of the trip [6 months later I found that someone is already working on this, of course]. Too bad the new 1500W inverter I bought decided it's unable to charge my laptop's battery. But at this stage notes on paper would serve just fine.

The girl at the visitors' centre was helpful. She said there are some good hiking trails at Domain Saint Bernard and more at the national park but that one is 45 minutes away, and the trails might not be in good condition even though the park is open year-round.

She also said there is water and a dump site for the trailer at the other visitor centre.

At Domain Saint Bernard we paid the 5$/adult admission fee and went on the Mont Onontio hike. About 4km long, Nikita and Sasha hiked all the way on their own.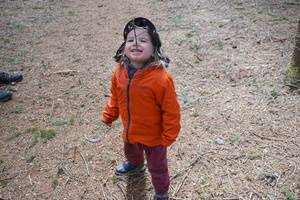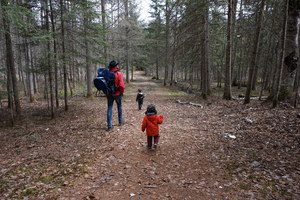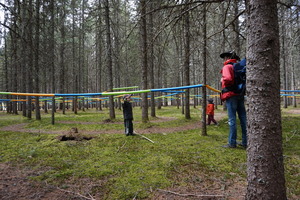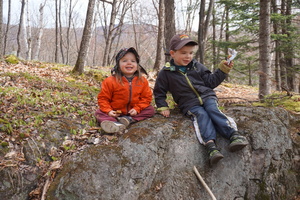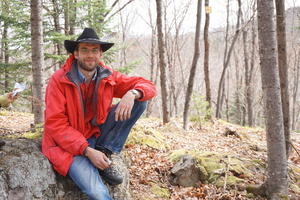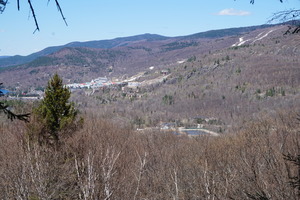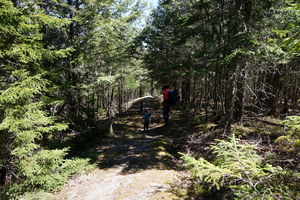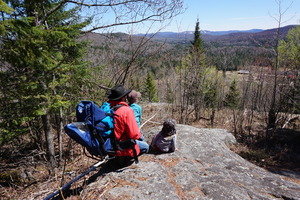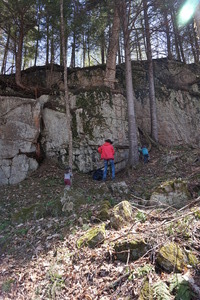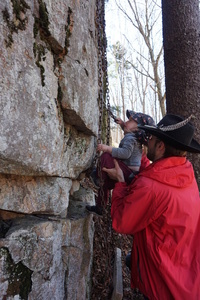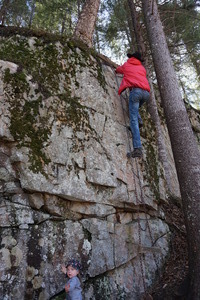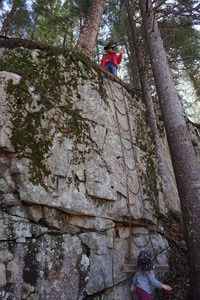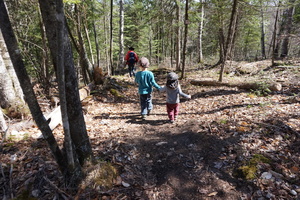 I had a 1.5h nap that felt like 5 minutes while Kim and the kids played at the lake where they had a zipline in the trees.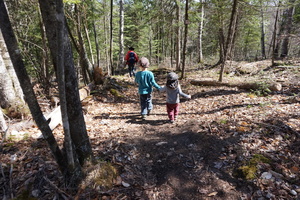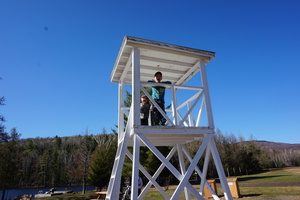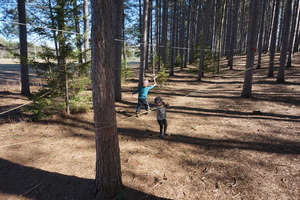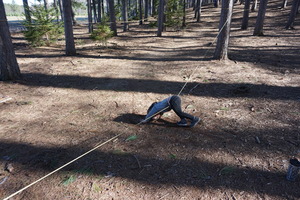 There was a free dump site here.

Drove to the national park. Arrived around 20:00.

The first campground was barred off but the next one (Camping Lac Chat) was open. A very large campground, with paths that were not on OSM. Lots of people here, probably because it was the weekend. There was noone at the park entrance so we didn't pay. But it was so nice there that I figured I might still pay for it on the way out. They even had electricity and RV water on site and an RV dump site nearby.

We figured we'll be too tired the next day to do any hiking, and instead will head back to town and proceed to the next free campsite on our way east.

Day 8: Parc national du Mont-Tremblant to Le Forret Ouareau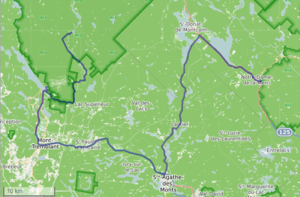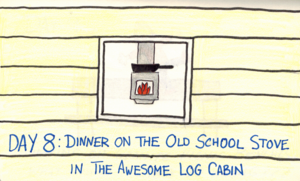 Stayed in bed until 10:30. I wish I slept the whole time but Natasha's screaming ate up at least an hour of sleep, and Nikita got up at some point asking for a sandwich.

Before leaving noticed that lots of campsites had a paper stub confirming that they paid for it.

After dumping our tanks at the station across the road from the campground headed out of the park. The entrance booth had someone in it but I didn't stop to talk to them.

Spent the rest of the day at the Mont Tremblant village. Typical resort town. Surprisingly not deserted but by the time we left it pretty much was.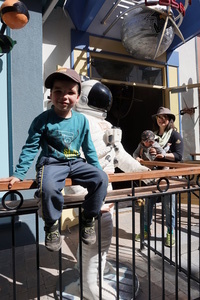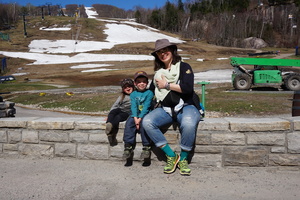 Miller Propane (apparently the only place around to get a propane tank refilled) closed at 17:00 so we didn't refill there but we did find propane eventually at a gas station on the way.

Drove to Le Forret Ouareau info centre to sleep. Awesome place. Noone here when we arrived but expected to see them in the morning. The place has a really nice warm-up shack with a wood stove. I've never used one before, and we used it to warm up dinner. Made tea as well, though the water didn't boil completely.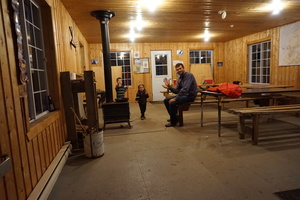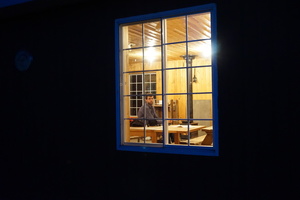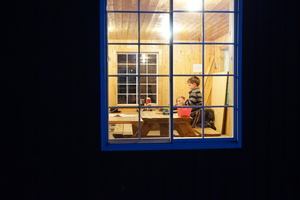 We haven't yet decided whether we'd attempt any hikes in the morning.

I couldn't sleep despite being exhausted all day - my grand project idea was keeping me up.

Day 9: Le Forret Ouareau to Reserve faunique de Portneuf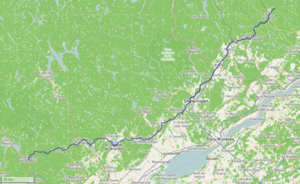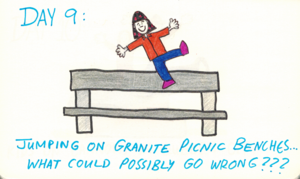 Got up at 7 to feed Natasha. Would have had some decent amount of sleep if I didn't stay up the previous night. Natasha naturally wouldn't go back to sleep until after she screamed enough to ensure I am to worked up to sleep myself.

Didn't have the energy for a hike. I'm not sure we could have gone even if we did. The trails looked seriously flooded.

The drive through the rest of the Laurentian mountains was nice but the couple of hours through the Shawinigan area kind of sucked. Too much traffic, too many people. We kept going towards the Reserve faunique de Portneuf.

After we got off the main highway the drive was very nice.

I don't remember where this was, around 14:00: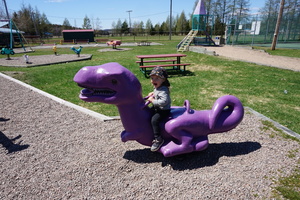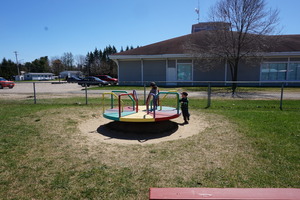 There was a park not far from our destination full of granite benches. I'm used to only seeing such granite slabs in cemeteries, but they were still kind of impressive. Very massive. And slippery :) One of the kids slipped and smashed their head on the bench.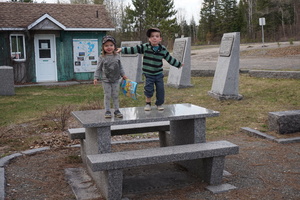 I was hoping there would be noone in the entrance parking lot but there were people in the welcome centre all night. Probably because they were fixing/painting it. Noone bothered us though.

Les Chutes de la Marmite are neat, the fences are very close to the rushing water.

There were swarms of mosquitoes in the parking lot, and many got into the trailer, but we didn't get stung even once.

Day 10: Reserve faunique de Portneuf to Camping Juneau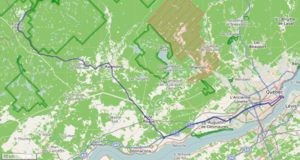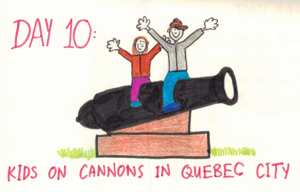 It was a warm night, everyone slept out of the sleeping bags.

Had breakfast and went on a tiny hike to the falls. Nikita got his daily allotment of throwing rocks into water.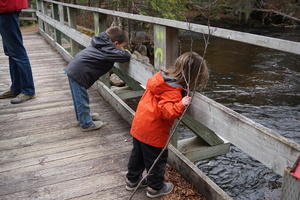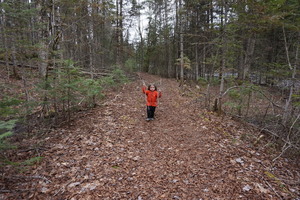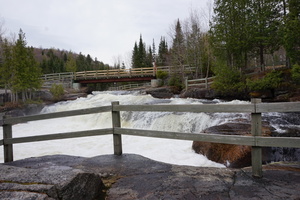 Decided to head to a serviced campground near Quebec City and spend the rest of the day exploring the city.

Left around 13:00.

On our way out stopped to stare at the place where they process the granite they dig out nearby. It's hard to get a sense of scale from these photos. It looks just like a pile of rocks, but there are thousands and thousands of tonnes of granite there. The trucks and stationary machines moving these slabs are massive: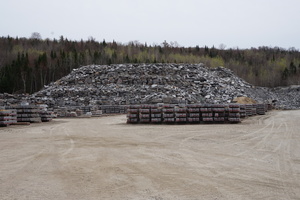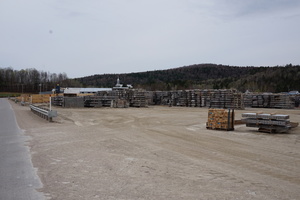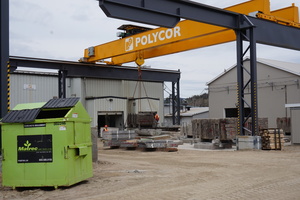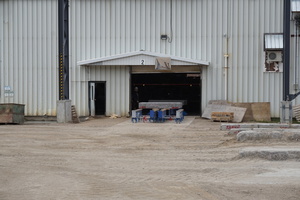 Stopped at a park in Pont-Rouge on the Riviere Jacques-Cartier. The kids did some more rock throwing and fishing with a foam hook: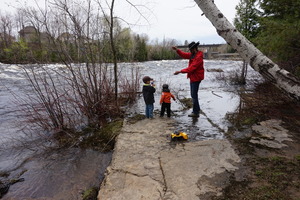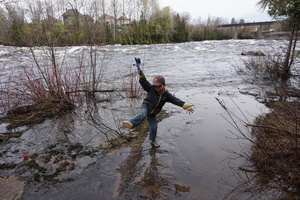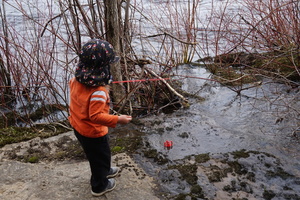 Headed to Quebec City after leaving the trailer at the campground (you don't want to pull that sort of thing through Quebec city). Saw the touristy part of it on the hill: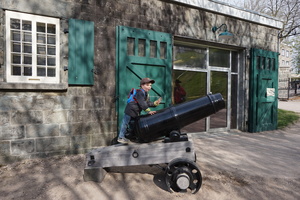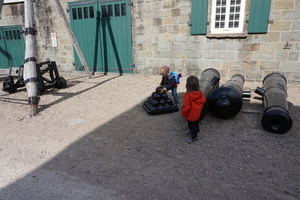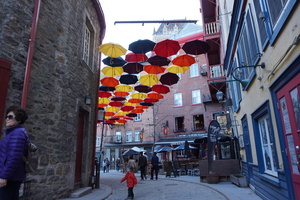 And headed back to the campground.

Arrived around 20:00, and started to transfer campgrounds from freecampsites.net to OsmAnd on my phone.

Day 11: Camping Juneau to le park municipal de Saint-Simeon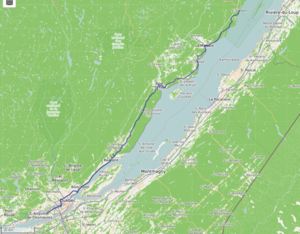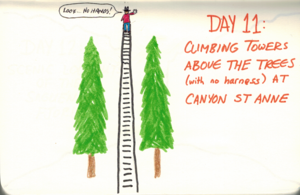 The annoying washer/dryer combination ate 1.50$ of my money and 30 minutes of my time.

Got a phone message from Alectra (my utility company) and picked up the phone for a call from the city of Markham. They said I used 296 cubic meters of water the previous month. That's a lot of water. I'm not sure I have 295 cubic meters of space inside my entire house. The two calls sounded so fishy that I thought it was a scam, but I called Alectra and they confirmed that they called.

I asked my father-in-law to go to the house and see if it's drowning in a lake of water. He found no problems whatsoever. He said he'd wait for someone from the city to show up the following day at 14:00.

I was worried for a while that we actually used 1200$ worth of water, then I thought it must have been a bad meter. [Eventually I figured out that we have indeed "used" that much water via a broken toilet valve in a basement toilet we never use. It leaked from the tank right into the bowl for 6 weeks. I fixed it before we left on the trip but we get billed for water every two months so noone noticed until they came to read the meter.]

We've been thinking of going as far as we can get on the north shore of the St Lawrence. The lady at an info centre gave us 4 books about that area. Said lots of people go up there and we should have no trouble with gas or groceries.

Stopped at the Canyon Ste-Anne tourist attraction that left a bad taste in my mouth. The entrance surrounded by barbed wire like a prison, fences and DO NOT signs all over the place. Shame, it would have been really pretty if I didn't have to look at it through wires.

We went on the two suspended bridges. It would not have been worth the 28$ we paid for the two of us except I found a really tall tower to climb. They forgot to put a sign at the bottom of it, must have figured noone is tall enough to reach the ladder when it's raised.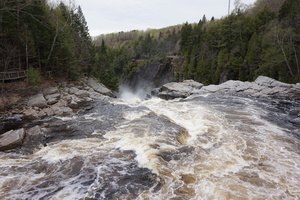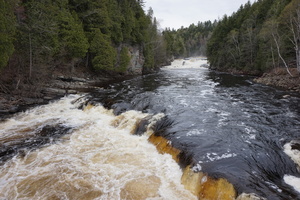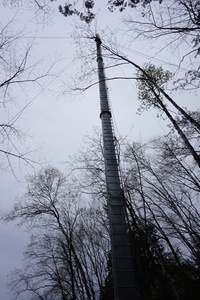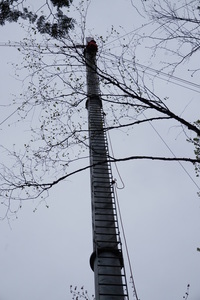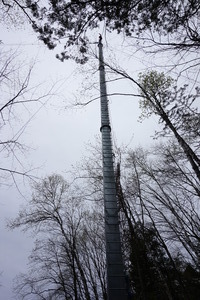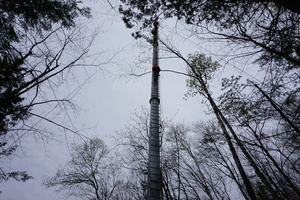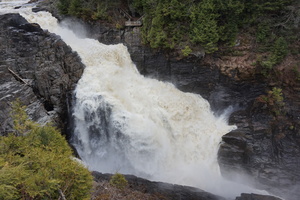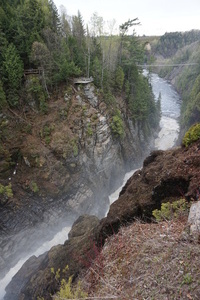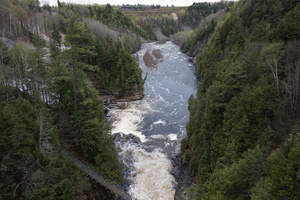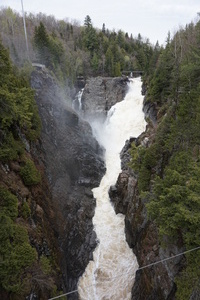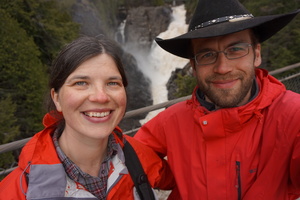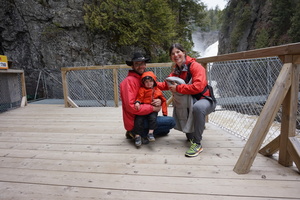 They have neat metal cables on the side of the canyon you can walk on but there's so much safety shit here that I won't be coming back.

Sasha climbed like a champ: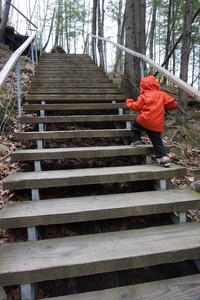 Done lunch around 17:30.

Signs like this are not uncommon: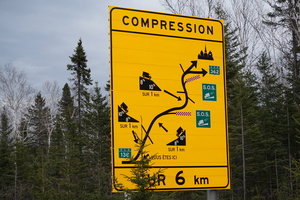 Decided to go to Tadoussak for a free campsite despite that we'd arrive there pretty late. About half way there realized that we'd need to take a ferry to get to it and it probably wouldn't be running this late.

The sea route is very pretty and surprisingly densely populated. Couldn't find any place to stop for the night until we came across a visitor centre which could have worked but it had a map which mentioned le part municipal Saint-Simeon. Headed there.

A very nice campground right on the beach. 3 degrees outside when we arrived.

Day 12: Le park municipal de Saint-Simeon to Saguenay river rest area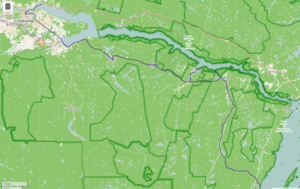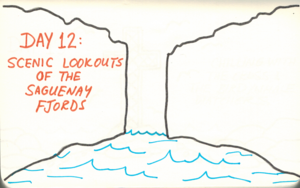 Overnight it wasn't as cold as I was expecting. Had power and water, but no sewer connection.

Paid in the morning - 28$.

Went to see the sea. Nikita fell in the water trying to fish from the top of a slippery rock.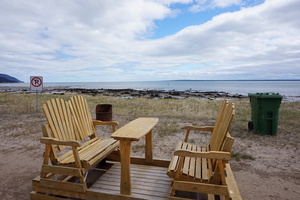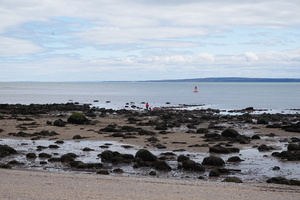 Packed up to go around 13:00.

16:00 Lunch at L'Anse-Saint-Jean.

The fjords are somewhat interesting, though I suspect they get much more impressive in other places.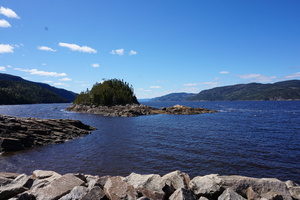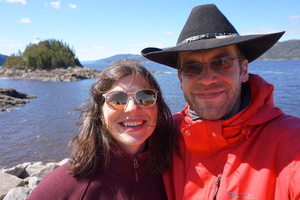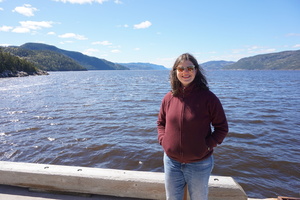 At the entrance to the park national du Fjord-du-Saguenay there was a sign saying the road is "barre" in 50m. We didn't feel like risking having to back up that far and didn't go in.

The free campground in Saguenay was literally a commercial parking lot near the info centre in downtown - very unappealing. We drove to the Saguenay river rest area instead.

It's the place to be for rednecks and teenagers but it's still a nice park on the water.

Went to bed before 22:00. Everyone was very tired.

Day 13: Saguenay river rest area to Les Escoumins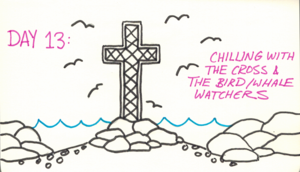 Got up at 5 to feed Natasha. It was very cold outside - not just frost but the water puddles outside froze over too. I felt well rested, didn't need to go back to sleep.

10:00 Leaving. Cool but sunny day.

10:30 Stopped at Saint-Rose-du-Nord where Nikita had a fit about blueberry icecream not being blue.

14:45 Drove to and walked around a little at the lakeshore in Tadoussak. We could have stayed here for free. It's quite an impressive ocean view, and a popular place for whale watching, though you'd need powerful binoculars to see anything in the water.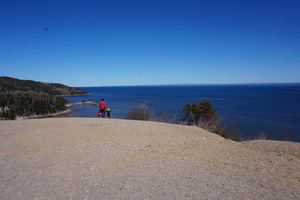 16:00 or so got to Les Escoumins. The hockey rink parking lot looked too boring to stay at so we went to the quay. It's col because of the wind here (wind from the west) but we decided to try sleep there. In the worst case we'd have to move back to the hockey rink.

21:00 The wind mostly died down. The tide exposed a lot of large boulders that were hidden under the water.

I had a half-assed nap during the evening with the kids jumping on me, but got enough rest that I thought I'd stay up for a while reading.

Day 14: Les Escoumins to Baie-Comeau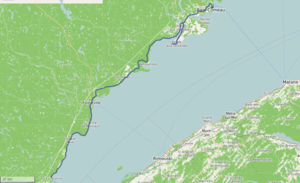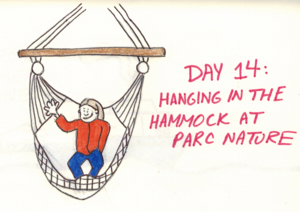 Got up at 9:30. The night wasn't cold at all, barely used any propane for heating.

Leaving at 11:15.

While driving decided not to go all the way to the end of the highway, and instead take the ferry from Baie-Comeau. The drive became more interesting later in the day but we stuck to that plan.

This was a rest stop somewhere on the highway looking south towards Ponte-des-Outardes. The water was so still it seemed unreal: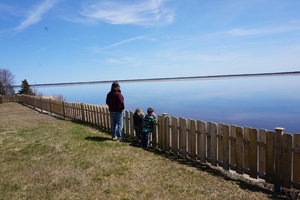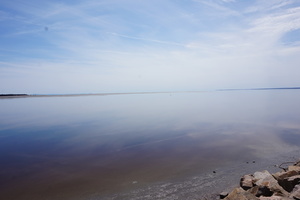 The Parc nature do Pointe-aux-Outardes was closed but we just left the trailer before the entrance and went in anyway. It's got a lot of cool stuff, but some of it looked unkempt to the point that I wonder if the park was permanently closed: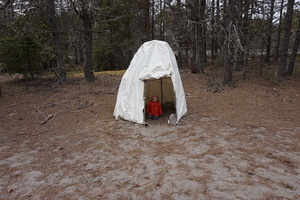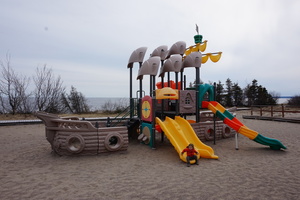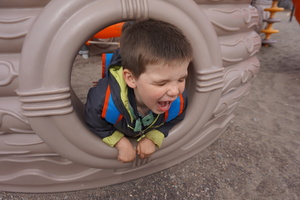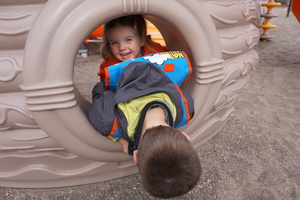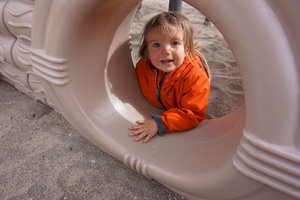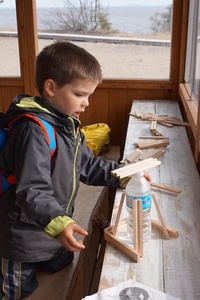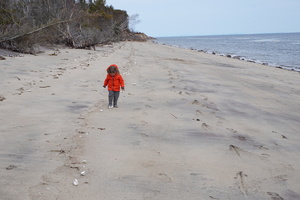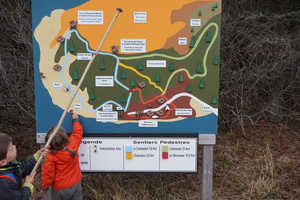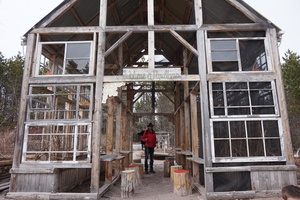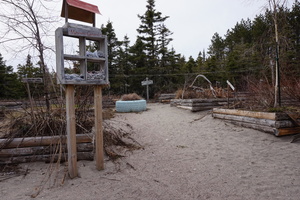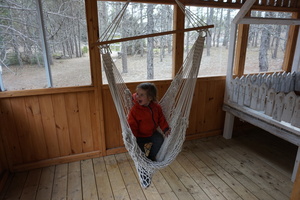 Couldn't find the free campsite Parc des Pionniers and stopped at Le Jardin des Glaciers instead. It's a huge parking lot next to what used to be a church. No services and we were running low on water and power reserves. Nice view of the seaway.

Weather got much warmer but significantly more windy. At night it started to rain, which prevented me from doing a check on all the mechanical stuff.

Day 15: Baie-Comeau to Camping aux Pignons Verts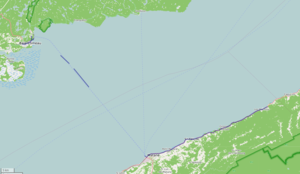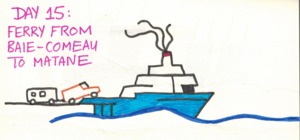 This was the first night of the trip I didn't sleep "just because". After I fed Natasha at 2:00 I read some of The Three Musketeers and then just couldn't fall asleep until 6 or so. Had a headache for the rest of the day because of that.

Only one ferry runs on sundays at 17:00, but none of us were in a hurry so that was fine.

Had lunch at Mike's which had surprisingly good food and went to the ferry for boarding at 16:00.

The regular boat was being repaired and the replacement required the trailer to be backed into it. I tried to do it in front of a large audience, but despite keeping my cool gave up after just a few meters. Backing up onto a ferry is not exactly like backing up into a driveway. They got a valet to do it for me. This guy's backing up skills are nothing short of amazing. I don't care if this is all he does all day every day, I still can't believe he did that with practically no assistance.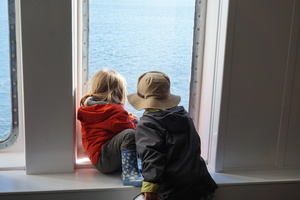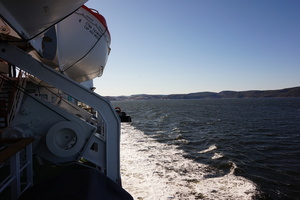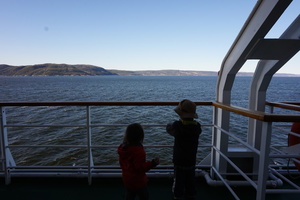 Arrived at 20:30 to Camping aux Pignons Verts - a full service campground for 32$. It was exactly what I was looking for for that night.

Day 16: Camping aux Pignons Verts to Camping Municipale du Mont-Saint-Pierre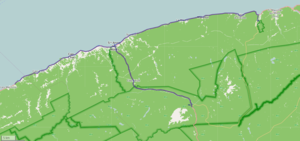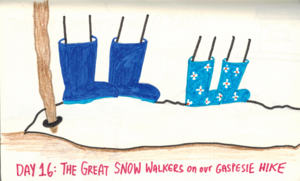 Camping aux Pignons Verts is a really nice campground. It's taken care of with love.

Had a shower, didn't need to do laundry.

Leaving around 13:00. This was a quick stop somewhere on the highway: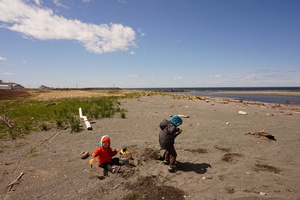 The big activity of the day was a 3.8km hike in the Parc National de la Gaspesie (La Sailiere or some such). Had to pay 8$/adult to do the hike but it was worth it - really pretty.

There was a ridiculous sign blocking part of the path, saying there are some special goats there that won't have sex if people are around. Some people really need to find better uses for their attention and spare time.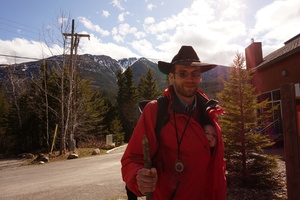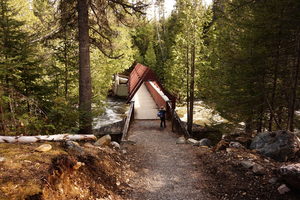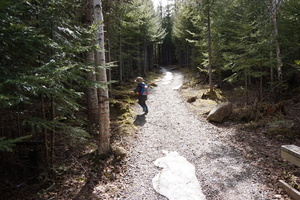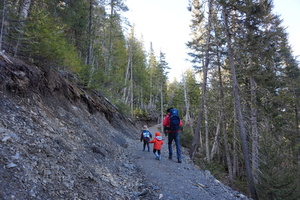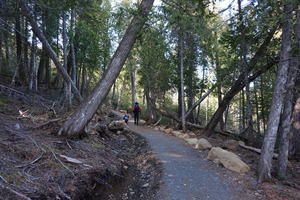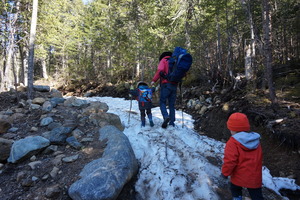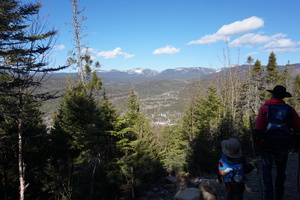 Both highways 14 and 16 are unpaved. Actually 14 is paved in the beginning but it has a sign saying it's unusable, and we didn't risk it. Had to drive all the way back on 299.

Mountains are very pretty, I almost felt like I was back in the Rockies.

The drive east from there on 132 was awesome - almost entirely right next to the ocean (no point calling it a seaway here, can't see the other side any more). I wonder if this road was built on top of a beach that was the only horizontal surface between sea and enormous cliffs right next to it.

Kim didn't want to stay at one of the road construction rock repositories next to the highway and none of the municipal stops in the area allow camping.

Took a gamble and drove to the closed municipal campground Mont-St-Pierre. Luckily the gate was open and there was noone there. Looks like a great place to stay, probably even worth paying for.

Supposedly it doesn't open till mid-june, but it looks like they might be starting to get it ready around this time of year. I hoped we wouldn't have trouble getting out the next day.

Day 17: Camping Municipale du Mont-Saint-Pierre to Haldimand beach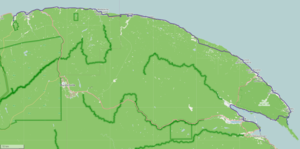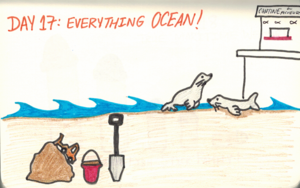 Slept fine. Up at usual, at 6 and then again at 9:30.

Made a small fire for Nikita with the sticks that were already in the firepit.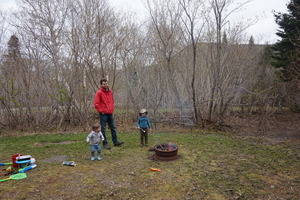 this was the first time Nikita rode his bike on his own. Sasha (two years younger) was less hesitant: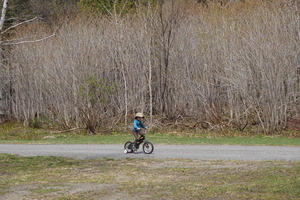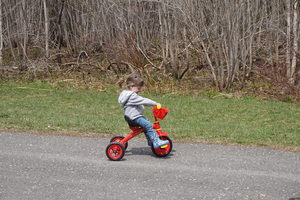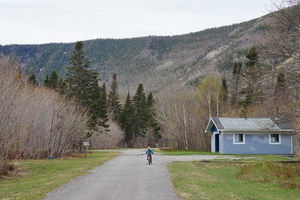 Someone drove in and out with a utility trailer past us. Kim said it looked like lobster cages in there. Didn't bother us.

On the highway a cop followed us for about 20km - really annoying.

14:00 We turned off at Cantine des Pecheurs to get some authentic seafood. Tasty, but expensive. Pretty filling though. I wasn't hungry later at a late dinner time.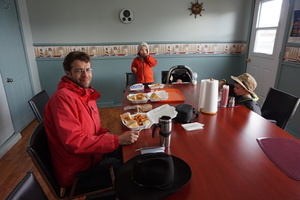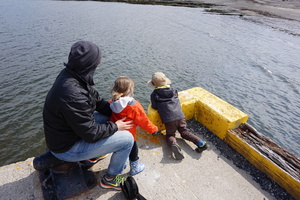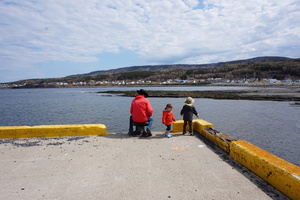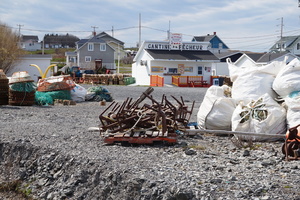 We stopped at the Forillon national park. Camping was closed and I didn't feel like arguing with the park people in french. Honestly these people think it's their job to keep people away from as many interesting things as possible.

We did go for a short hike. The way down to the water was closed (for no clear reason, probably "not safe") and there were a couple of signs saying no access to the rocks on top (maybe they feel the birds are shy like the goats). I ignored that of course and found the best views around, including the rocks which you can't see in detail from the "allowed" access. We left the park with me fuming about damned stupid people.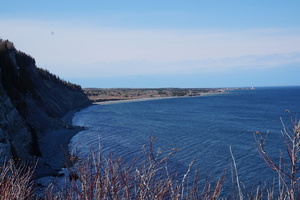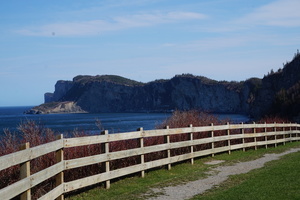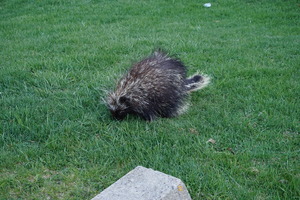 Drove to Haldiman beach noted on freecampsites and found lots of "no RVs at night" signs. After double-checking the website I confirmed that we can camp next to the road instead of in the parking lot and we stayed there.

Saw a seal in the water. It didn't like us and swam away.

Went to bed at 22:00.

Day 18: Haldimand beach to Camping des Etoiles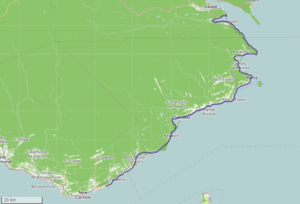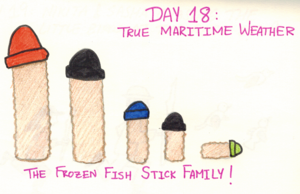 Up at 4 to feed Natasha a little bit. Couldn't go back to sleep. Finished reading the Three Musketeers (in russian).

It rained all night stopped around 6.

Everyone else got up pretty early too, so we were ready to go by 10:30.

Started to look at trailers in Newfoundland - thinking of selling ours. I was beginning to get a little tired of it. [at this point we were still thinking of going all the way to Newfoundland, which we didn't end up doing]

The drive on this section of the Gaspe is nowhere near as interesting. Rocher Perce might have been interesting except it was so cold and windy that we didn't spend any time even trying to see it closer.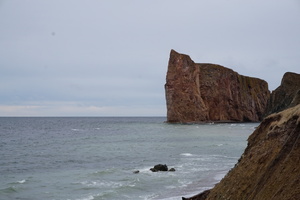 I started to get very tired, having not slept half the night.

We also ran out of water so we stopped at the next nearby full-service campground - Camping des Etoiles. A clean campground entirely for RVs. I didn't like it. Too many rules and signs, not enough stuff to do. And very cold wind with no shelter whatsoever.

Though I might spend a whole propane tank on heating that night.

Day 19: Camping des Etoiles to side of Steward highway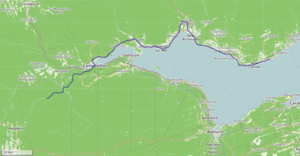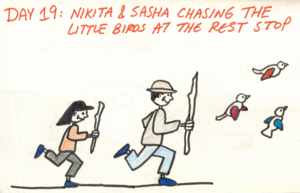 Took as much advantage of this 40$ campground as I could, but didn't feel in the mood for a shower.

Went past the "defence the passer" sign to look at the ocean. the kids spent an hour there too.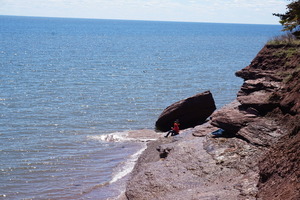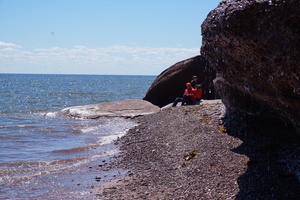 Left at 13:00 or so. The drive was a little nicer today but still boring.

Got to New Brunswick much quicker than I expected. Decided to go visit Jeff Alpaugh in Fredericton and headed south on highway 17 - just another 401-like highway, two lanes. Very desolate.

Didn't have much to choose from for camping, but I noticed quite a few trails leaving the highway. Many of them looked big enough for the trailer and there were no signs. Stopped to look at one of them and chose to stay there. Could easily drive in to be 20m away from the road, and be mostly sheltered by trees.

It looked like a truck road that hasn't been used recently. Later I walked all the way to its end - it would take a hell of a truck to go down and up this road, and I didn't see any evidence of ATVs. It ended on what I think was a former railway. Thought we might go on a hike there the next day.

I started arranging for the trailer ownership to be mailed to Halifax for us. I found that apparently there is such thing called atlantic time, which we were now in.

Day 20: Side of Steward highway to Mactaquac provincial park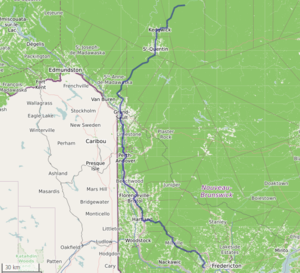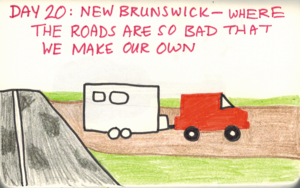 Slept fine. Got up at 5 and so did Natasha with Nikita. Didn't go back to sleep after that.

Went on a 3 hour hike on what certainly was a railway at some point and might be the Appalachian trail now. Nothing exciting but quite pleasant. Didn't see anyone on the road.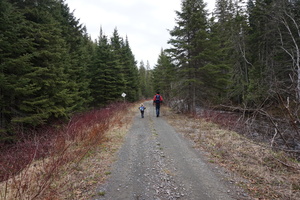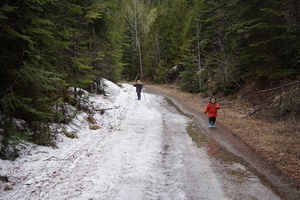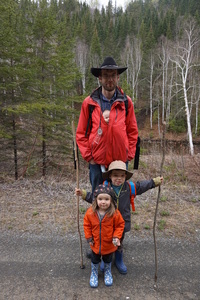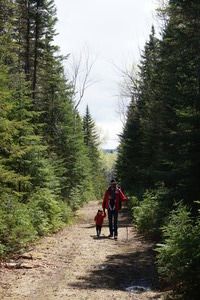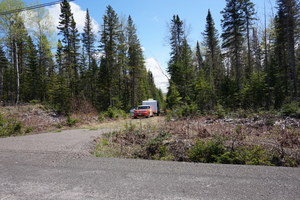 Left at 14:30.

Hated the drive on 17. Fast, boring, and too busy to enjoy.

Got off on highway 255, hoping to find a less annoying road. It's definitely less busy but also uninteresting.

Irwin seems to own a very large chunk of New Brunswick. They use it for logging and they have their own lumber yard, and that makes all that land private with no access.

Didn't find a single pull-out to have lunch. Went off the road onto a farm access road and immediately realized that I'm stuck. The mud wasn't deep at all, it was almost solid, but the rain from the previous night made it as slippery as snow. I could not back out, even though the slope was insignificant.

Within 5 minutes a guy with a large pickup truck stopped and pulled us out. Thankfully I had a towing rope and the bumper on the trailer was attached well enough to pull it and the car back.

That happened just north of Saint Andre, which is where we later stopped for lunch (in a paved bingo hall parking lot).

Hwy 130 was a decent drive, though didn't see the river much. Highways 105, 575, and 104 were a broken disaster - almost as bad as a gravel road.

Did over 300km of driving this day, so that I could make my 13:30 appointment with Jeff in Fredericton the next day. Jeff Alpaugh is the guy who makes all my shirts. A great guy and a great product. Kim also made an appointment for 11:30 at the university (hockey related).

Headed to the Mactaquac provincial park because of the low fees. Arrived after 20:00 as it was getting dark, but even in the dark this looks like a great park. Thought we might stay here for more than two nights. No water on site but free showers nearby (could wash dishes there too). Planned to leave the trailer here as we went to Fredericton the next day.

Day 21:Fredericton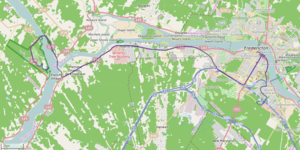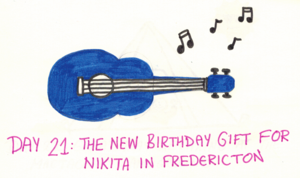 It looked like the fridge in this trailer turns itself off when it runs out of gas and does not restart when gas is reconnected. It was warm this morning even though we had two full tanks. And of course it doesn't have a light to say whether it's currently working or not. How fucking hard is it to have an LED light up when the thing is on?

Visited the St. Thomas university arena for a meeting with the coach. Right after that went to see Jeff and Emily and buy them lunch.

After that walked down Queen street and back on King street. Found a music store and asked for an instrument for Nikita to learn some basics. They gave us a ukulele.

Would have stopped at Princess Auto as well but forgot my tools, so we headed back to the park.

Don't know what we did that evening. I may have tried to sleep.

At night couldn't sleep despite being exhausted. Stayed up till 2 writing up last year's trip.

Day 22: Mactaquac provincial park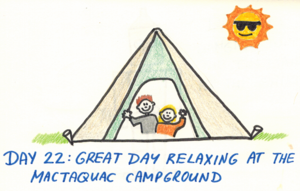 Didn't have any plans for this day except trying to get some rest. I slept till 11, then after breakfast did dishes and laundry.

Almost everyone left the park in the morning. A couple of people left some firewood at their sites and I figured that would be more than enough for a great fire in the evening.

Spent a couple of hours at the lake. The water was just a bit too cold to swim for a long time.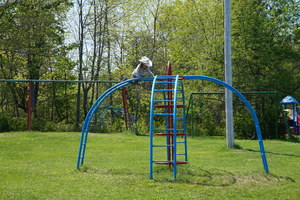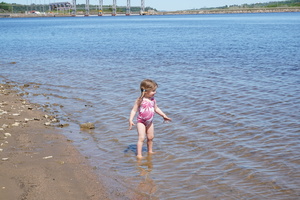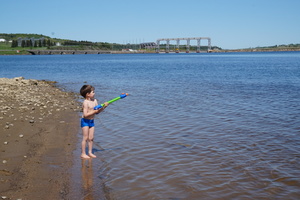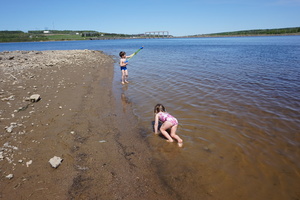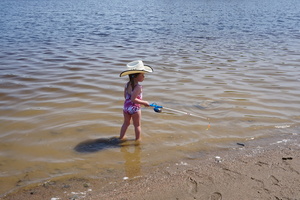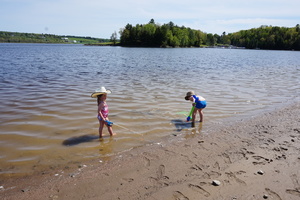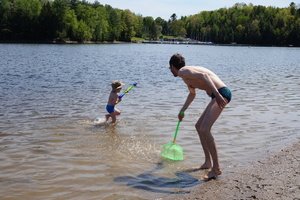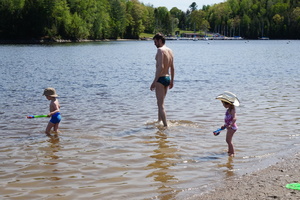 Split the gathered wood with my axe and had lunch at 17:00.

Between 18:00 and 19:30 the black flies decided they do want us for dinner after all. It got bad enough that we had to hide in the trailer. Bug spray didn't seem to work at all, which is my experience with black flies.

Had a shower and by the time I came out there wasn't a single one left flying outside. Maybe they just need to eat before a good night sleep. There was still an hour of daylight left.

Collected plenty of leftover firewood from vacated campsites. The campfire was the last event of the night.

Couldn't sleep again till 2. And only got to day 13 of the previous trip. [Writing this page this far took me about two weeks. I don't know why it takes so long.]

Day 23: Mactaquac provincial park to the Shire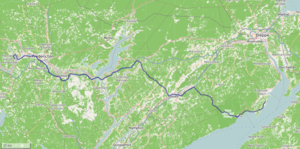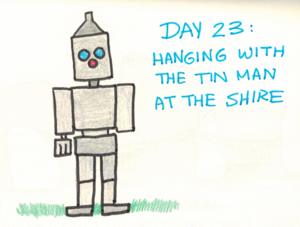 Black flies are out and active in the morning. Had breakfast with my headache and managed to leave almost in time (12:30).

Went to Princess Auto first to return the light controller I replaced for no good reason and exchanged the car-end 7-blade connector which had the left turn wire severed since that gravel road in Ontario. Took them 30 minutes to process the refund and exchange even though I gave them my phone number and they found the purchase in their system.

Got groceries at Sobey's and everyone except me had lunch in the parking lot. I felt like death, probably from lack of sleep.

Left at 16:15, decided to take the transcanada. Had enough off-road experience for the day already, following OSM directions.

I drove most of the way but felt more and more sick. Asked Kim to drive the last 40 minutes as I curled up into a ball.

My stomach could only handle a granola bar for lunch and a grilled cheese sandwich for dinner. I stayed in bed the rest of the evening.

At the Shire the owner welcomed us and said to park anywhere. The campground was a bit of a challenge to get into but we managed to back in after a couple of tries. There was only one other couple here, nice young people from Germany. We chatted with them for a bit and went to sleep.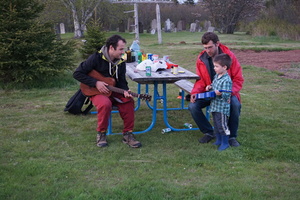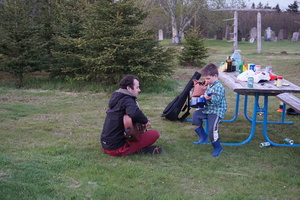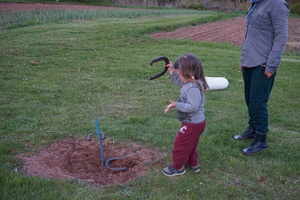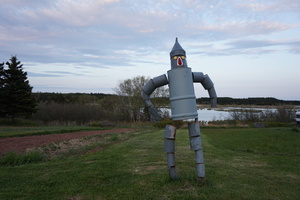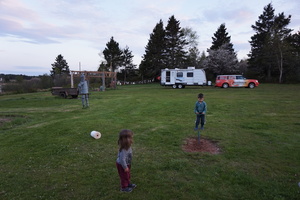 Day 24: The Shire to Summerside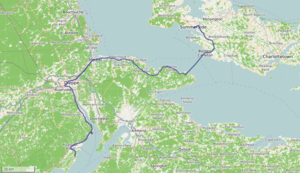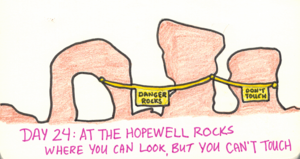 I woke up for a minute in the middle of the night feeling well, and went back to sleep happy.

Got up with Natasha at the usual 5, feeling great. No headache and no stomachache. Stayed up, walked around a little.

It's a nice campground next to a lake, and the road is very quiet. There's a cemetery next to it as well. Hard to read the ancient stones, but looks like they're all from the 1800s.

Around 9:30 went to see the Hopewell rocks without the trailer, haven't yet decided whether will stay at the Shire another night.

The rocks looked really impressive, the largest of this type that I've ever seen. Unfortunately they didn't look pretty, because the idiots decided to put ropes and warning signs around practically the entire thing. They had the brains to remove them for the photos in their promotional materials.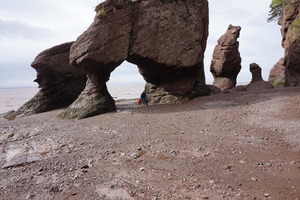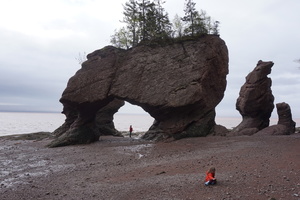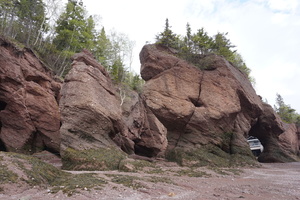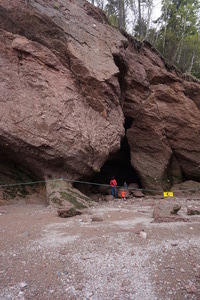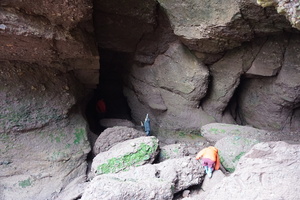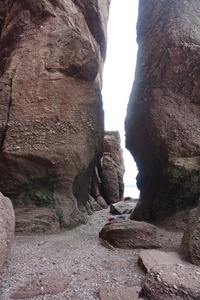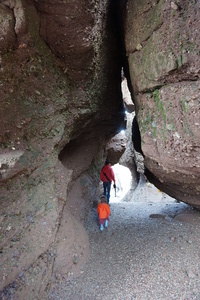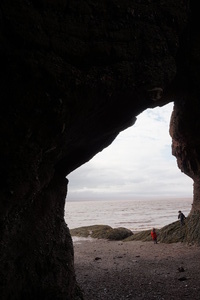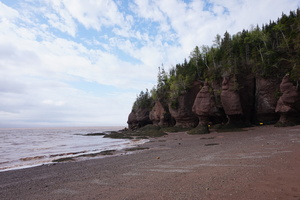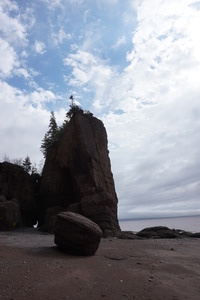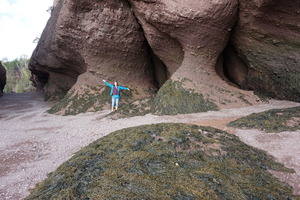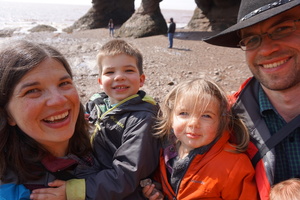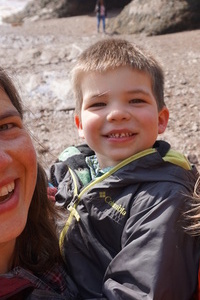 As we were leaving I asked one of the workers how come there wasn't a rope next to the ocean to prevent people from drowning. He wasn't quick enough to figure out what I was saying and started explaining that if people are that stupid.. then he figured it out and got all defensive. Whatever, I'm now expecting this sort of stupidity everywhere there are people. If you want to enjoy nature you've got to go where noone else is.

Went back to the trailer, about 25km, and decided to head out to PEI.

Stopped at the big lobster in Shediac (which claims to be the lobster capital of the world). I had to try it as a slide. That was kind of exciting.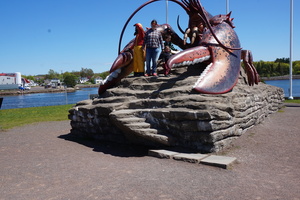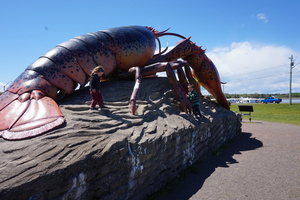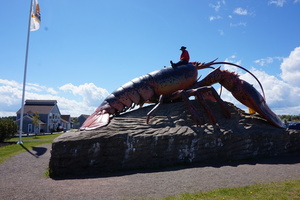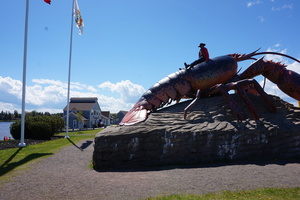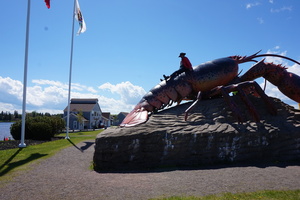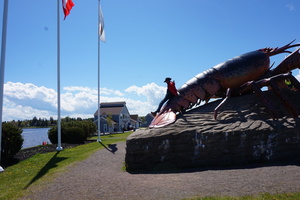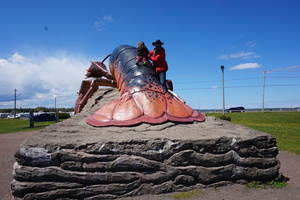 Spent some time at the water there too. Observed (more than once) a new concept: a drive-through playground. The parents drive to the playground with their kids. The kids get out of the car and go play in the playground, while the parents sit in the car the whole time. I wonder if the lobster is a monument to the world's capital of laziness and obesity.

Got over the long bridge which I wondered about since my motorcycle trip but turned out to be pretty boring.

The PEI visitor centre and all the tourist stuff closed at 18:00, an hour before we got there.

Drove to the free campground (a parking lot) in Summerside. It's not so bad as it's right next to the ocean.

The Stanley Cup finals were happening, the following day was game 2. The coach and assistant for one of the teams was from this town, so we planned for Kim to go see the game the following night without us.

Game 3 was on saturday, we wouldn't be in PEI for that long.

Day 24: East end of PEI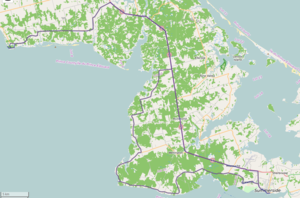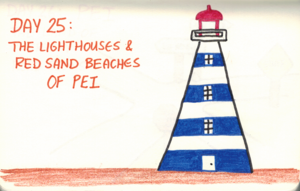 Slept ok. Should have used the sleeping bag as a bag rather than a blanket from the beginning - wouldn't have tossed and turned for an hour.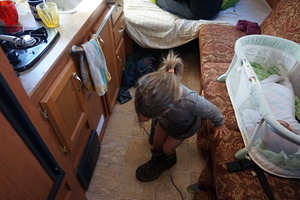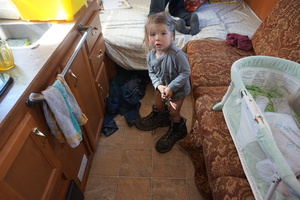 Took the kids to look at a coast guard ship. A search-and-rescue boat arrived too. One of the guys chatted with us a bit. He got a jellyfish out of the water for Nikita to touch. Nikita immediately decided to taste it. He said it was salty.

Visitor info centre is walking distance from the parking lot, but we didn't know that so we drove to it.

The guy there said you can drive across all of PEI in 3 hours. But he didn't know how slow we are.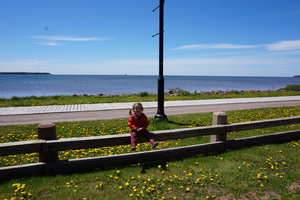 We took one of the 3 PEI coast drives to the West Point lighthouse and spent 2-3 hours on the beach there. Went swimming.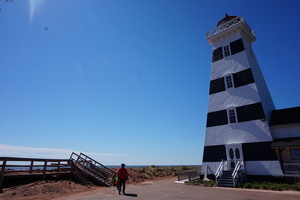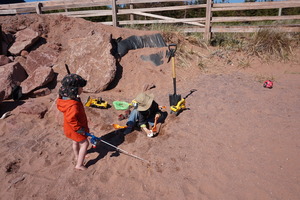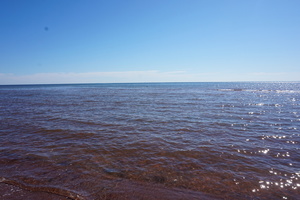 Came back at 19:00.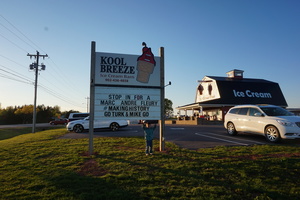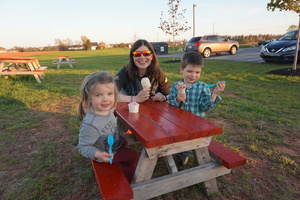 We needed to be in Pictou on sunday night, so we had to spend a few days doing something else. I figured at least PEI has really nice ocean beaches (possibly the only ones in all of Canada).

This parking lot is obviously the place for young ones to hang out. Again lots of them here coming and going all evening.

Day 26: Summerside to Cymbria campground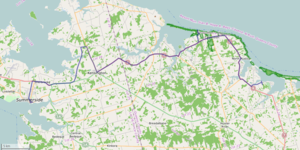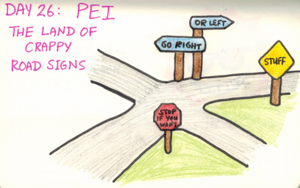 Went on the north shore of PEI looking for beaches. Went to the Cavendish park. The park was closed and campground gated but the beach was still accessible. Spent a bunch of time there. Swimming was better and not too cold this day.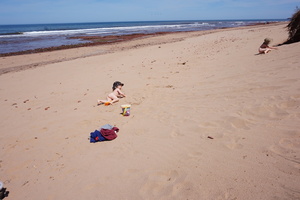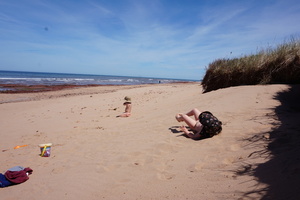 Nikita found a crab with a missing claw.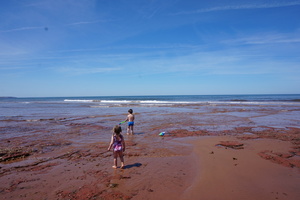 Had lunch there and went to the Cymbria campground for the night, which looked very well taken care of. Got all the hookups and it cost us only 32$. Free shower. Walking access allowed to a beach on private property.

No good for swimming but nice to watch the sunset.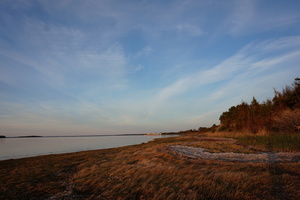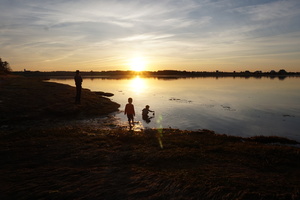 Had a shower.

Day 27: Cymbria campground to East Point lighthouse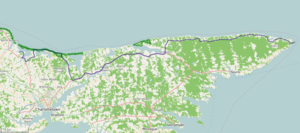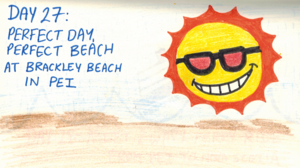 It was an extremely quiet night. Slept well enough between 2:00 and 5:00. I thought getting Natasha up at 2 would get her to sleep till later but no, as usual she woke up and made enough noise to make sure I'm completely awake.

At least I got to work on the West trip webpage. I was really hoping to finish it on this trip, there's so much other stuff to do at home.

Kim had a shower and the two older kids had a bath. There's a bath for kids only at the campground.

freecampsites.net says there are a couple of good spots on the east side of the island. We headed in that direction, planning to stop at a beach or two on the way.

The first one was very close - broccoli park or something. This one was also not open yet but access to the beach parking lot was available. Spent a couple of hours there. Went back to the trailer at 15:00 when I felt I'm starting to burn. 25 degrees this day and full sun - a great beach day.

From there drove all the way to the East Point. Got there at 17:00. Nobody on the north-eastern road, I guess all the tourists go to the beaches. Climbed down to the water - it's really pretty here. Red rocks smoothed over by the ocean. Even the concrete that fell down from the old house foundation is being shaped into round pieces.

Wanted to stop at a fish shack but haven't seen a single one all day. We were planning to go to the Little Harbour parking lot but decided to stay in this parking lot instead. Noone bothered us.

It rained all night.

Day 28: East Point lighthouse to Caribou/Monroe's Island provincial park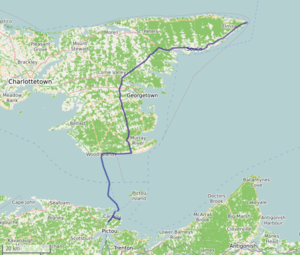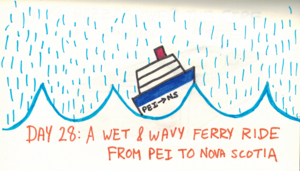 Had breakfast and a tea/coffee at the coffee shop near the lighthouse. I figured we owe them for not complaining about us staying there overnight.

The cafe owner said in july-august the place is crazy busy and he needs 3 people to serve all the customers.

We headed to Charlottetown to find baby formula and a crappy tire for a replacement coupler pin but found a decent grocery store and home hardware in Souris where we bought everything we needed.

Made it to the ferry over 2 hours early for the 16:30 boat.

Forgot to figure out where we are going next before disembarking and there was nowhere to stop at the exit so we drove out of the way 4km and came back all the way to the ferry for the correct turn.

It rained all day and in the evening. It looked like a wedding in the campground, almost got stuck between cars parked on the sides of the road.

Found a very nice campsite and set up for the night. So nice to not need to deal with trailer popouts in the rain.

Day 29: Caribou/Monroe's Island provincial park and Pictou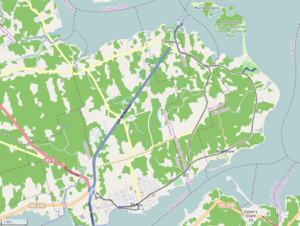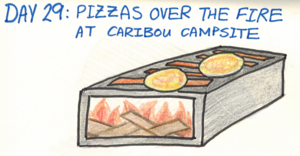 Got up at 2 to feed Natasha. Went to see the ocean. It was very dark, very windy, and cold. Thought the fishing the day after next was going to be interesting.

The rain stopped at some point at night and by the time I got up at 10 things were on their way to being dry.

Went to Pictou to check it out. They sell beer only at a special store here.

Made a fire and pizza on the grill. It almost worked except it burned a little on the bottom.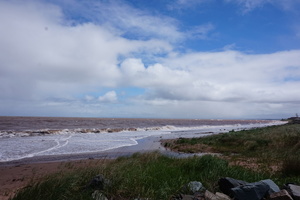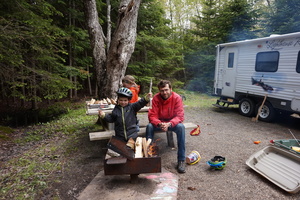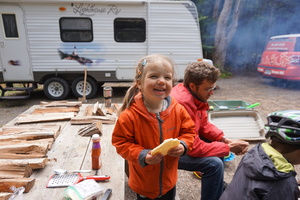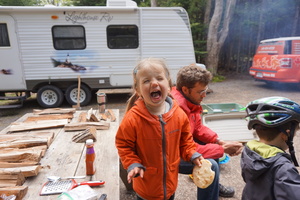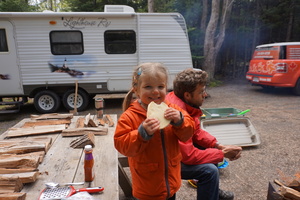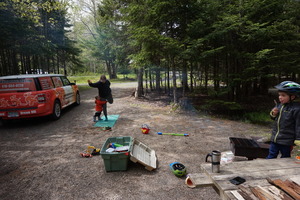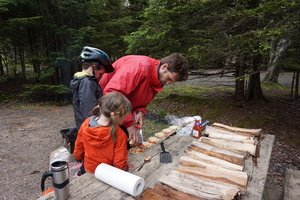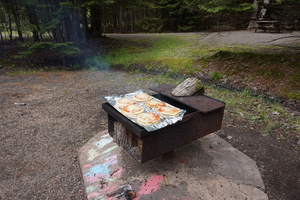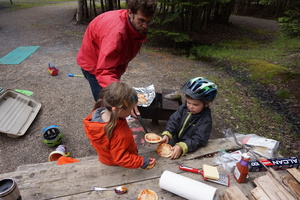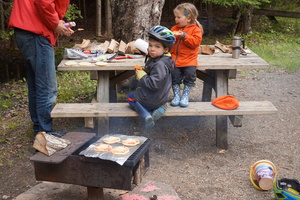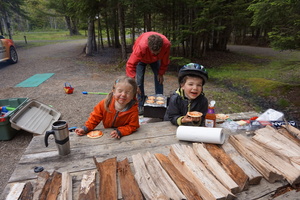 I had a nap for an hour or two.

Went to New Glasgow to try the local pizza. It was pretty good.

Made another fire for marshmallows.

Day 30: Caribou/Monroe's Island provincial park to Truro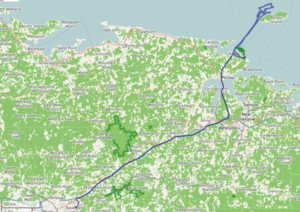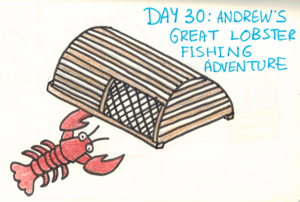 Got up at 2:45 to get ready for lobster fishing with the dad of one of Kim's college hockey friends.

Arrived at the wharf at 3:45, boat leaving at 4:30.

Eventually the boat owner came in (I guess they don't call him captain) and we went off.

It was fun overall. In the beginning I felt really unsure on the boat. The waves weren't big but the small fishing boat was swaying so much that I felt I need to hold on to something, lest I fall over the knee-high side.

The other 3 people on the boat had no trouble moving around it.

Didn't feel sea sick for the first hour or two, then did for an hour. Not bad enough to throw up, just feeling very tired.

I volunteered to help but was told there wasn't much for me to do except stay out of the way. I soon saw why - there is a lot of work to do and they're very efficient. 56 lines, 5 traps per line. They bring the boat to a GPS-marked buoy,
pull it out with a winch, empty them, put in the bait, drop the line back in, sort the lobsters, band their claws, and repeat 55 times.

Eventually I was given a job - banding. After a few minutes I was a pro at it. While working I completely forgot to pay attention to the boat rocking, and felt great.

Got back to the wharf at 10:30. I didn't touch any food on the ocean but drank nearly all of my 1 liter of tea. I would have drank more if I had more.

Noone went to pee while we were out. Not sure if that's the expectation.

The catch of the day was poor according the owner. It was all unloaded when coming back, to be put on a truck to go to a distribution centre (I forgot whether it's in Toronto or Montreal).

The weather was calm and sunny (as soon as the sun came up). I had lots of layers on, including waterproof pants and jacket and boots. You definitely need that unless you hide in the cabin.

I was very tired when I came back to the campground. There were workers in the campground and I thought I might have to pay for our stay but I was told "the park opens on friday". I couldn't figure out what the implication of that statement was, so I just went on my merry way back to the campground.

Drove to stay in Kim's college hockey friend's driveway for the night. She is the daughter of the guy who I went fishing with. I slept in the trailer with Natasha. The battery was completely dead. Plugged in the trailer overnight.

I had a glass of wine which was way too much for me, especially being so tired and having eaten so little all day. I couldn't eat much after the fishing trip.

Day 31: Truro to Cheticamp campground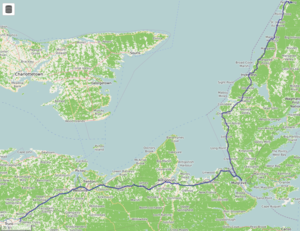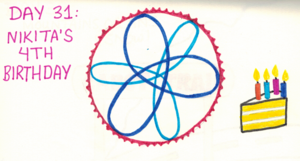 Didn't sleep very well even though Natasha only woke up once to eat. Woke up with the same nasty headache, probably mostly because of the cold.

Had a shower and did laundry at the house.

It was Nikita's birthday. We had a cake for breakfast. For the rest of the day he was saying "too bad it had gluten" and too bad he couldn't share it with our hosts.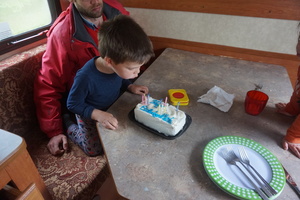 I couldn't finish my breakfast.

Kim drove for an hour or so because I was too tired. I tried to sleep in the passenger seat and in the trailer while Kim drove, neither of which worked very well. The trailer has no noise insulation whatsoever and a terrible suspension. It's very uncomfortable while driving. But I got enough rest to take on the rest of the drive to Cape Breton.

The Cabot Trail is pretty nice, especially compared to the rest of the maritimes' landscape. But it was getting old. I've already seen all that on this trip.

Stopped at Chaticamp for the night. Had electricity and washrooms but no water, which was fine - we had lots.

Day 32: Cheticamp campground to Antogonish info centre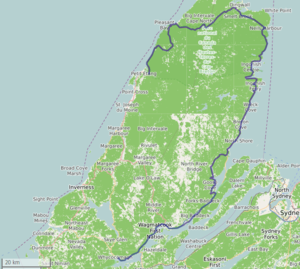 (last part of the day is not on the map)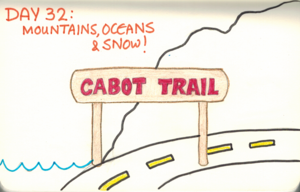 The headache and exhaustion were gone but I got back to being unable to fall asleep at night. Even so I started to doubt that I'd be able to finish the write-up I started. We were going to be heading home in a few days.

Got up at 10. Holy crap - this campground was buzzing like a hive. I considered paying but decided instead to get out of there in a hurry.

We had breakfast in a parking lot on the road.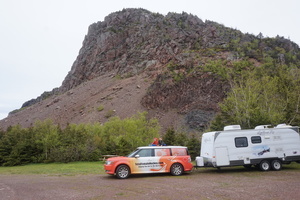 Didn't pay at the drive-through entrance to the national park either. I figured we're just driving through, definitely weren't going to do any hiking that day.

The landscapes in the park are really nice. The hills aren't tall enough for me to call mountains but they provide the same types of views.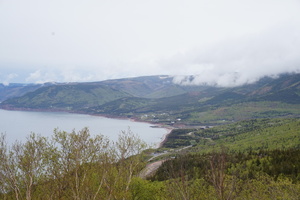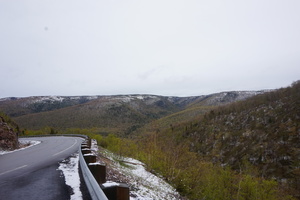 Soon after leaving the park on the east way down - the road got boring, and it seemed to be taking for ever to get back off the island. Or peninsula I guess.

Decided to go to Antigonish for the night.

Stopped at a weighing station but it didn't have an external display.

Must have spent 45 minutes driving around Antigonish looking for the visitor info centre from freecampsites.net. Eventually found it.

Day 33: Antogonish info centre to Dartmouth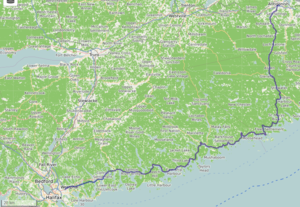 Finally slept very well all night. Kim got up with Natasha.

The drive down to the ocean wasn't very exciting but nice enough.

Stopped at a ship-wreck-yard on the way.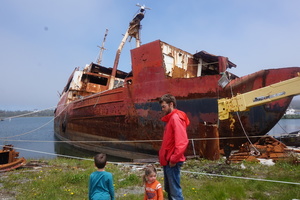 Not much interesting stuff on the rest of the way, except an awesome playground on the water near Sheet Harbour 36: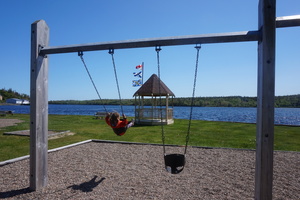 Had lunch there.

Went to stay in Dartmouth (a Halifax suburb) at another one of Kim's school friends' house.

Day 34: Lunenburg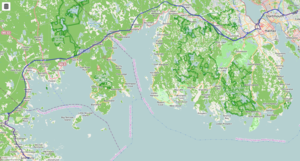 Slept well enough, but felt dizzy in the morning. Kim suggested it might be because I didn't drink enough water the day before. The day before I bought a pack of coke cans and drank several. I was wondering whether I'm becoming sensitive to sugar in my old age.

Drove to Lunenburg. Cute town. I liked it even though it's a tourist trap. Too bad it's so far from Halifax (where we returned after), I didn't enjoy the drive.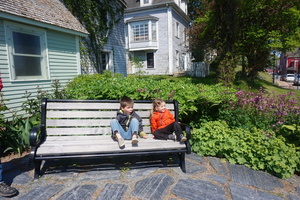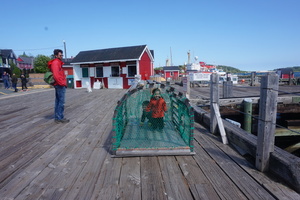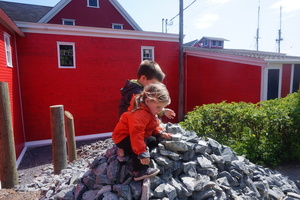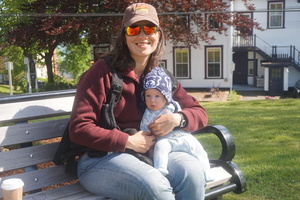 Someone said they're interested in seeing the trailer the next day - that would be very convenient but I wasn't going to be holding my breath given that this was the only reply I got to the ad.

Finished writing up last year's trip after midnight. [And finished writing up this trip on the 5th of january 2020.]

Day 35: Dartmouth to Halifax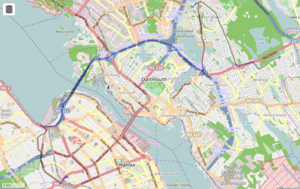 Again got up at 5 and couldn't go back to sleep.

The water here tastes like rust or something and my stomach was not happy. Drained all the water out, hoping that would find better water in Halifax.

Drove to yet another one of Kim's school friends. Yeah she's got that many.

Turns out trailers pay more on the toll bridge. Luckily I went into the "change" lane. The machine didn't accept nickels or dimes but it ate one and gave most of the rest back.

Didn't do much in Halifax. Just hung out with the hosts and did groceries for my drive home.

Mu stomach felt way too bad to have lunch. I just had an Oh Henry bar before dinner.

I don't remember which park this was at: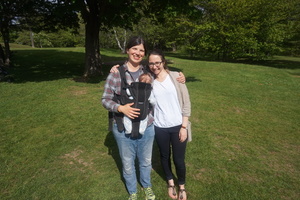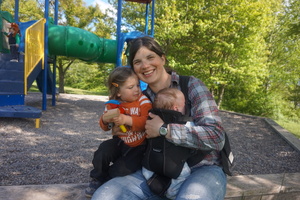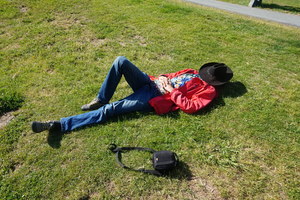 Both in Dartmouth and where we were in Halifax the landscaping is really nice. It doesn't look artificially manicured but just natural and in good taste. I have got to do some improvements to our yards.

The host gave me several types of seeds for edibles for planting at home.

Day 36: Halifax to Hartland covered bridge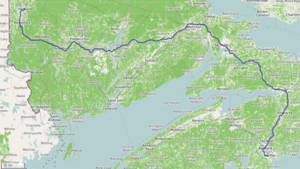 Got up at 5 at first. Then slept on-and-off till 10.

Went to the airport at 11:30 to send Kim home with Natasha. Left there at noon.

The kids fell asleep at lunch time, so I had lunch by myself in the trailer.

Stopped at a gas station around Moncton and tried to feed both kids, but only Sasha ate. Left there around 17:30.

Gas usage was terrible. The latest tank lasted for 245km - much worse than any of the rest of the trip. Maybe it was the highway, I don't know what else could have caused it.

Day 37: Hartland covered bridge to Parc des Ecluses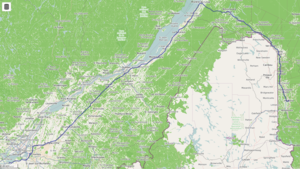 I don't have any more notes from the trip. I'm going to assume that I was in marathon mode, driving as much as I can handle and stopping as little as possible.

I don't know where I took this: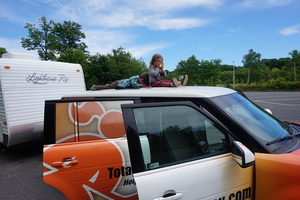 The place we stopped for the night wasn't that bad. It's a very large unused field next to a hydro plant.

Day 38: Parc des Ecluses to Markham


And the last day didn't even get one photo. But everyone survived and made it home intact.

I sold the trailer about a month later. It was much harder than the last one. Still, we only lost a couple of grand on the purchase/sale of the trailer. Couldn't have asked for a better deal.

Success!

Epilogue
It was a good trip. But whether it's me getting too old or the third newborn sucking the last of my energy out - it was not as enjoyable as it could have been. Overall I liked the trip east better.

Still, given how little money we spent on such a long vacation - I'm not sorry we did it. It was definitely an adventure that contributed to shaping us as people and as a family.

If you have questions for me, please use this form.