Toronto to St John's (Newfoundland) and back on a Motorcycle
August 2012
Contents:

I always wanted to go on a really long motorcycle trip, my dream was to one day go around the continent - at least to Alaska and around the US. I didn't have that kind of time this summer but I had just enough (20 days) to go on a ride to the easternmost point in North America (on the edge of Newfoundland) and come back.
I had a notebook with me as I usually do on my trips and I made notes about interesting things I saw, but unfortunately I lost it when I was almost all the way there. That was so sad! So this page is built from memory, with the help of the photos.

On the way there I took the scenic route, a very lucky choice of road through Vermont and New Hapshire. Maine was the most boring part I thought, New Brunswick and Nova Scotia not much better. Newfoundland was nice, despite the face that I had to go on the transcanada most of the way.

A trip of this magnitude need a lot of preparation, and getting the stuff you need is actually one of the simpler things. Here's my checklist, you can use it as a starting point to make your own. Notable things on here:

Phone: this was used as a phone but the primary function was maps. I didn't have a roaming package so when in the USA I used HTC locations, which has offline maps. If you don't have an HTC phone - you can use MapDroid (it's not as pleasant to use but it works and is free). Also I installed Open GPS Tracker and I used that to keep a log of where I've been. This one also supposedly has offline maps but setting them up is nearly impossible, so I just used the app for tracking.

Glasses: you will be sorry if you don't take sunglasses with you! and if you don't have a full face helmet - bring your bottle of glass cleaner with you (if you don't have one - just put some windex in a small spray bottle).
If you have or can afford to get waterproof pants/coat - get them, on a trip this long you are likely to get rained on for several days.
Preparation: Bike

The phone USB cable: this would be plugged into a cigarette-lighter-to-USB charger/adapter (10$ from Sayal), plugged into a female cigarette lighter socket (2.50$ from Sayal), wired into the accessory plug on the bike. So the battery end of the cable was plugged in 100% of the trip (hidden under the speedometer) and the other end was plugged into the phone most of every day.
The phone was sitting in a small pouch zip-tied to the handlebars - DIY handlebar bag. That worked very well actually, but it would have been nice if I had somehow attached the bottom of the bag so it didn't flip over at high speeds on bumpy roads.
For such a long trip you have to make sure you won't need an oil change on the way. You could do it, but it's so much easier to do it at home with all the tools you're used to. My bike needs an oil change every 10K, so I just changed it right before leaving and so didn't have to worry about it till I returned.
The most important part is the setup for carrying all your stuff. If you have a large bike with lots of storage space you probably just need a bungee net. Me - I had to build a rack for storing my luggage, that was a neat project actually. You can see it here.
Do a test ride before you go - put everything on, and go on a joyride. Make sure you find lots of speed bumps - you'll have no choice on the real thing. I am proud to say that I didn't need to do any adjustments, the 5 bungee cords were holding the bags on perfectly.

Preparation: Roadmap
I asked around for advice about the road, and got lots but basically it boiled down to: stay away from major highways. The actual planning I did in several steps:

Figure out the roads all the way to the destination. Turned out that Telling Google Maps to avoid highways and a couple of checkpoints did the trick.
The hardest part is deciding on things to see on the way. I sort of gave up on this, deciding that the trip itself will be the fun part, but still I wanted to make sure I get to Mount Washington, and saw as much of the ocean as possible.
Figure out how far to go each day and where to sleep. My plan was to stay at provincial and national and state parks (which worked out very well). There are lots on the way, and I only had to make small detours.
Print one- or two-page maps of every day's trip, so you can see all the highway numbers. Even if you have a GPS - I wouldn't want to rely on a single piece of technology. Or you can buy cheap paper maps of every province/state you're going to and draw on that.
Finally - look for gas stations on the way. A bike is not a car, and to be safe - plan to refuel every 100km or so. My bike normally does 220k per tank, though later I found that was wishful thinking. I used GasBuddy on my phone for this - for some reason it was easier to use my Android phone than a website to do this, go figure. Mark the locations of enough gas stations on your paper map so you don't have to worry about it on the way.

Preparation: Time off

I happened to have a job that pays poorly but allows me a lot of free time, so getting 3 weeks off for this trip was a piece of cake. For most other people that will be much more challenging. I decided to spend most of the 3 weeks on the way there, and rush back - I think that was a good decision for me, but the way back was definitely taxing.

Preparation: Partners

It's probably better to go together with someone else - if you have friends who are into motorcycles and have the time to do this. Alternatively you can go by yourself - that has its benefits too, you never have to worry about what the others would like to do, you just do whatever you want whenever you feel like it :)

I was going to have a partner or two but they chickened out :)

Day 1: Markham (Ontario) to Higley Flow state park (New York)
And after all that preparation and a good night sleep... I'm off!
I didn't expect to hear that highway 7 goes all the way to Peterborough, and it turns out it doesn't really. At a small scale it looks like it does - but really it's a bunch of separate roads that were branded as Highway 7. Luckily there are lots of signs, so I didn't get lost on the way.

The only tourist stop today was Peterborough. For some reason I was surprised that it was pretty there. By a stroke of luck there was a welcome centre right on my way. I wasn't planning for it but that day I found these places are super useful for travelers, even if you're not into shopping and gambling :) You can usually get a map (in the US you can even get a free map of the state you're in), and more often than not the person working there will be nice and helpful with answering your questions.

I said I only have a couple of hours, and got some recommendations for Peterborough highlights - the Canoe Museum, the Lift Lock, and the Botanical Gardens. I went to see two of these (was planning to see the gardens, since they were free, but simply forgot). The booklet they give you at the visitor's centre has coupons for some of the attractions too, easy way to save a few bucks.

The museum was nice, I loved the ridiculously long boats - this blue one is just unbelievable, it's longer than a typical house! There were also a lot of older canoes made out of bark and dug out of tree trunks.

These views I think are from the top of the hill in Ashburnham Memorial Park, right next to the Lift Lock. The loft lock is very old (almost 100 years I think) but still in active use. "The world's highest hydraulic lift lock". That left side started going up just as I finished asking the lady at the information desk about it - pretty cool to see if you haven't seen something like this before.

Some random photos on the way. I am clearly fascinated by big buildings, those two are probably the new and the old version of the same farm, one facing the other:

Here's the site of the Battle of the Windmill, it's kind of cute. That's the US on the other side of the water: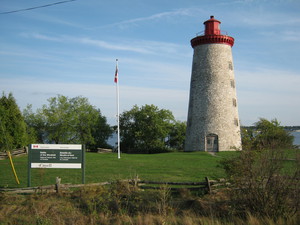 The crossing at Ogdensburg was great, I was the second person in line and had to wait only about 30 seconds. The guard looked curiously at my redneck setup, and asked me to confirm how long I'm planning to be in the states (I said 3-4 days), but let me go without trouble.

This is where I had dinner (Pizza) in New York state, I didn't feel like searching for food - I had to get to the campsite quickly as the day was waning. That turned out to be a bit of a pattern - almost every day I would arrive just as darkness came, give or take an hour. Strange given that almost all of the days were less than 500km of riding. So no more photos today.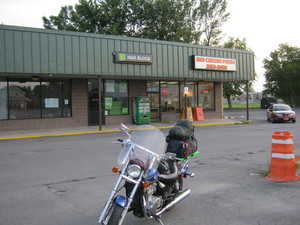 Arrived just after dark, was pleasantly surprised that the park office was still open, till 22:00 I think they said. This kept happening to me on the trip, and except for one park that closed at 21:00 most closed either at 22:00 or 23:00.

Day 2: Higley Flow state park (New York) to Gilford Woods State Forest Park (Vermont)

I asked for a site with electricity (that's what the grey pole is for), but that was of no use for me. Actually I shouldn't have bothered to take my laptop at all. Also I don't think I ever bothered to make a fire - I was usually too tired to search for wood.

Not long into the day the mountains came. It's really awesome riding: up, down, left, right, right, left, on and on, a rider's dream! I tried to film it but I'm not a good enough rider to be able to steer on those kinds of roads with one hand, so no videos of me enjoying myself.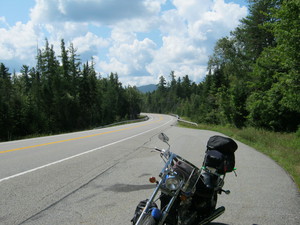 Lake Placid is also in these mountains, they had the olympics there a couple of times. It's a pretty little town, I left my bike on the street, walked around, had lunch. There was probably a lot more to do here, but I didn't know what, so I didn't stay much longer than that.

Steep!

Over the water is Vermont.

The bridge is to Vermont, it is a replica of a bridge that was there for many decades up till 2007 or so. On this side of the bridge are the ruins of two forts - one british and one french: Fort Crown Point.

Had dinner at a hotel restaurant right on the intersection of 125 and 100, not far from where I'd sleep that night (Gifford Woods State Forest Park). I enjoyed this cork board outside the restaurant, it looked like it might be all the business that happens in the whole region, there aren't any cities.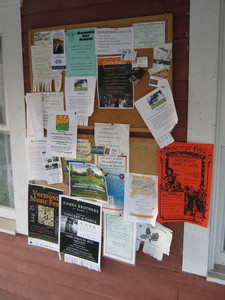 I arrived pretty late (darkness) but there wasn't anything to do in the park anyway. Strange also that it was right next to the busy highway. No matter, it was a good enough place to sleep.

Day 3: Gilford Woods State Forest Park (Vermont) to Mt Blue State Park (Maine)
These are from the east side of the Vermont / New Hapshire border:

Unfortunately all I remember about the location of this bridge is that I made a wrong turn to get to it, turned left one intersection too soon. It's neat because it appears to be made completely out of wood, including the arch. Quite an engineering feat if that's true. Only pedestrian traffic is allowed:

Another one of the many gorgeous views: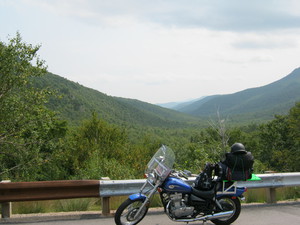 Not originally on my plotted route, this is one of the places I definitely wanted to visit: Mount Washington, the tallest peak in the north east (I think I read somewhere), almost a 2km climb. It's a very cool climb, definitely worth doing if you're around, even in a car, though in a car it's got to be a lot more challenging since the road is very narrow and you have to share it with opposing traffic and riders like me who want to pass you.

There are lots of very nice views on the way, but these photos start from the top, I didn't want to stop and shot photos on the way, it was having too much fun :)

Those are clouds!

At the top of the mountain there are a handful of buildings, this is one of them, built as a hotel a long time ago, not sure why it's no longer used (it would be very cool to stay there for a night):
See the cairns? Those are for people who climb this on foot, I will definitely do that, hopefully next summer:

And check out the railway, I'd be more scared to go on that, it's very, very steep!

"The highest wind ever observed by man was recorded here" 372 km/h! After the climb I wasn't very surprised to see this sign. It wasn't a windy day but it was very windy on my way up.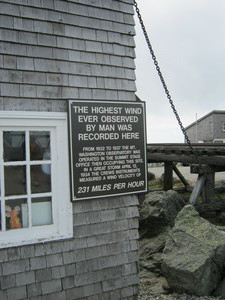 Compare these two photos with the ones above, the difference here is that now we're inside a cloud, rather than looking at it from a distance :)

And back down, that's the mountain:

Before getting to the following crossroads I wasted at least 45 minutes going the wrong way, I think it was north on highway 5, I was so pissed off. The reason for the wrong turn was the more than 3 different Rumfords in the area. I though I made it past Rumford but I didn't.

No wonder american kids don't know any geography. This is how someone's idea of a joke became reality, I found all these villages on the map later (not being sure whether they're made up). Had to stop even though it looked like rain was coming: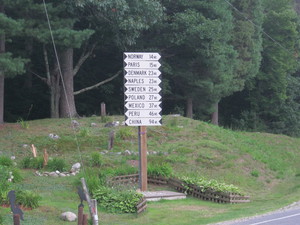 And the rain came, pouring down. I should have put the bags into garbage as soon as I suspected rain, this is a lesson I never learned on the trip. Because it was also getting dark I didn't try to wait it out. Even though I was told in Vermont / New Hampshire rain typically lasts less than half an hour - the last thing I needed was to ride through a torrent in the dark. It did stop after 20 minutes, just after making sure I was completely soaked :)

And if it wasn't for the wrong turn I may have missed the rain, and I would have made it to the park while there was still some light on the road. That light would have helped me figure out that the campgrounds were far, far from where I thought they were. The campground is on the south west side of Webb lake, not North East of it as I expected.

Figuring that out was an adventure, took all the composure I could muster. The problem isn't just the lack of signs that are visible in the dark - the problem is that all around the northern part of the park there are houses, which means driveways, which are hard to distinguish from small roads until you're right on them. In the end - man, good thing I had enough gas, I spent at least a quarter of the tank going round and round in the dark.

At some point I stopped a driver going by, asked about the camping and he said oh yeah, he thinks it's up farther north. Good thing I decided not to listen to him and went back to School st. I found the campground sign where I least expected it, pointing the way I didn't expect, but that leap of faith paid off. After two hours of crazy searching in the dark in the fog in the rain I found the park office, wooh. Having a flashlight helped a lot with the set up of the tent.

Day 4: Mt Blue State Park (Maine) to Mattawamkeag Wilderness Country Park (Maine)



One thing I learned about Maine on this trip is that there's nothing there :) Maybe I just picked a really unlucky route - but this was really boring. The one thing on the way that was worth making a photo of was this hydro plant that I wasn't allowed to go into, but there was noone there so I went:


The park itself was a little freakishly far from the road. It's only about 15km, but on gravel roads and there are many forks (for ATVs I think). Still, I made it without trouble. The guy running the place said he's never seen a bike puncture a tire there (that's what I was mostly worried about) but it happens to a car now and then.


Looking at this photo I'm not sure why, but when I was there I really didn't feel like going across, I was worried there might be a deep hole in there. But an SUV crossed it without stopping, which gave me some confidence. On my way back the next day I didn't see this at all, it's likely flooded periodically or at random times during the day.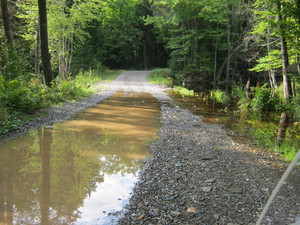 Had enough time today to take it easy, dried all my stuff. The rack got all scratched from the plastic rails on the bottom of the bag. I still haven't decided whether those rails made the whole setup more or less stable. No major damage though, looked like it will last the rest of the trip (it did).

Also I made a photo to show how to lube the chain on the road: on my bike all I needed was a phillips (cross) screwdriver and a newspaper. I took the chain guard off, put the newspaper between the chain and the tire (you really don't want lube on your tires, especially on the sides), lubed the length of chain accessible on the top side, rolled the bike back, repeated a few times, and it was all done. Much easier than I expected, I normally do it with the bike raised off the ground.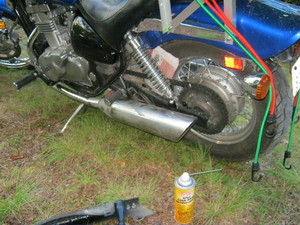 The park itself would have been not very interesting but nice and quiet if it wasn't for mosquitoes. There are swarms of them, so lucky me that I had a mosquito net. I'm not sure why I didn't bother to look for firewood, probably too tired to bother, but that would have probably helped scare off the bugs.

Day 5: Mattawamkeag Wilderness Country Park (Maine) to New River Beach Provincial Park (New Brunswick)
Slept well enough (actually I did every night on this trip, and woke up early enough without trouble). More than one night I found that insects love getting in between the outer and inner layers of the tent and sleeping there. At this campsite it was long-legged spiders and a fluffy caterpillar :)

The rest of Maine was even more boring than the day before. Also I made it to the border at least an hour before I expected it, probably dazed off on the bike :)

Fredericton downtown was cute enough, but very empty. That street with no cars or people on it is the main street going right through it. Went for a walk around for an hour or so.

This tiny little building used to be a jail. Almost looks nicer than a typical house built these days :)

This is a sort of vaguely interesting contraption in the park on the St John river. Looks like a cross between a garden shed and a lighthouse on the outside, on the inside after you eyes adjust to the darkness you see this, it's a live image of the outside, I was half expecting to see an image of when it was built a long time ago.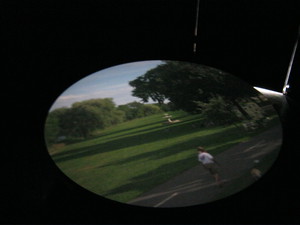 The river:

Used google maps to find a restaurant with good reviews, that was pretty good (sadly I don't recall what it was called). It had a very handy power plug I used to charge my laptop and internet to replan my route.

The problem was I received an email and a phone message from Marine Atlantic telling me that my ferry has been rescheduled for some reason, and now I have to be there just six hours earlier than my original reservation. Gee, and what if I didn't have a phone (that could read email) with me? Because of this I had to cut off half of the Nova Scotia trip (a loop of the west end of the province).

This is highway 7 (popular number!), 100% unpaved, I don't think the photo does it justice - it's quite a dirt road and I'm just happy it wasn't wet.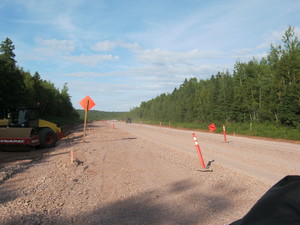 I was happy to see something that looked almost like a mountain in the distance: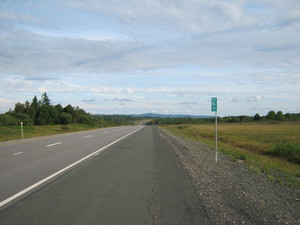 Decided to go look at Saint John today. What idiot decided to have two St John cities in Canada, I wanna get my hands on him..

These are the reversing falls, very cool concept and looks nice even when only flowing downward. Unfortunately it's a 12 hour cycle so I'd have had to come back either at 2 in the morning or 14:00 to see it flow the other way, could not be done on this trip.

The black parts of the cliffs are how far the water rises when the tide comes, pretty cool. And I'd really like to hear the story of that poor guy's green house :)

New River Beach was a pretty nice park. This kitchen with working wood burning stoves (I've never seen one before) also had power plugs, great for recharging laptop and camera batteries.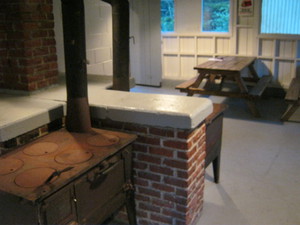 It sucked a little that the park was next to the highway, but that was also good because I hadn't eaten yet (it was already dark) and there was a motel restaurant not too far west on the highway (on the south side). Had a little adventure paying for the food - didn't have enough cash and they had the old-school mechanical credit card device that the lady didn't quite know how to use. She was happy to take american cash which she took at par, I was happy to get rid of it.

I'd have loved to spend a few hours around this park. Maybe go for a swim, a hike on Sentier Chittick's Beach Trail, but I decided to go on for some reason, maybe I was hoping to see PEI.

Day 6: New River Beach Provincial Park (New Brunswick) to Murray Beach Provincial Park (New Brunswick)

Before I left I had to make a photo of the moss they have growing out here instead of grass, it was really pretty and unbelievably soft: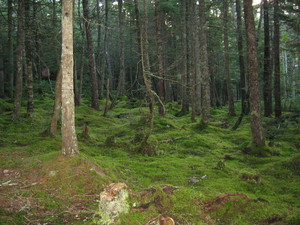 Went on a quick walk on the beach, all of this gets flooded by the highest tides in the world (I think they said 6 meters):

At some point (I think in Sussex) I found a DIY car wash with a pressure washer and decided to clean my bike a little. I knew it wouldn't be perfect but it had a lot of dirt on and I wanted to clean it a little at least. Cost me 3$ or so and didn't do too bad a job (finished the pipes using some crumpled newspaper). When I got home I noticed in my manual it said do not pressure wash the bike, cause water will get into places it's not supposed to get into and that's bad. Oh well, good thing I only did it once and didn't get stuck anywhere with a carburetor full of water :)

Petitcodiac river, getting close to Moncton. I'm not sure if it floods all the way sometimes, it looks pretty strange with all that sand in the middle of it: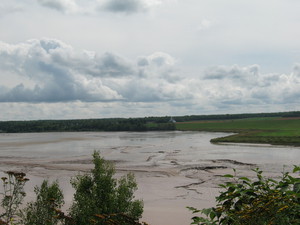 Moncton is horrible with parking. if you're planning to visit, pay attention: this building in the photo is the tourist information office, and in front of it is the only place downtown where tourists can park for free, even though the sign says max 1 hour (I asked inside). Everywhere else it's metered paring, not free even for motorcycles.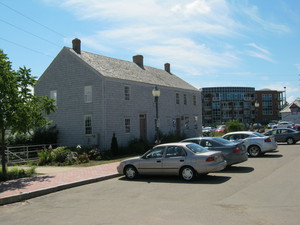 The parking thing pissed me off quite a bit, I walked around a little:

Stopping also at an artisan workshop. Then went to Centennial park where I was told I would find one of the neatest things in the city - TreeGo. It looked really cool indeed, you get to climb an obstacle course built in tree crowns. But it takes 3-4 hours to do including the training, and it might require a reservation, so I didn't stay, maybe next time.

Park on the beach again, of course, I wanted to see as much ocean as possible. This beach is pretty decent. No Bay of Fundy thus no extreme tides.

Notice the trees, they are normal size :) I didn't think I'd go far enough north to see no real trees, but it's pretty close. No big trees at all, the biggest ones are pines maybe six meters tall.

Didn't mind the lack of privacy, actually I asked for something closer to the beach rather than closer to the trees. Mostly RVs in this park.

Had dinner at a bed and breakfast somewhere off highway 955 close to the PEI bridge - it was nice. At this point I started to wonder whether anywhere in the maritimes seafood would get cheaper. It never did. Some of it (not all) is indeed very fresh, but the same price as anywhere else. Disappointing, I was hoping to be getting stuffed with seafood in the maritimes.

Day 7: Murray Beach Provincial Park (New Brunswick) to Caribou-Munroes Island Provincial Park (Nova Scotia) via Halifax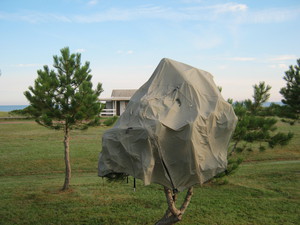 I wanted to see PEI, go on this really long bridge, but the 28$ toll really turned me off. It's not like they have a lot to see in PEI, the bridge was the main attraction. The toll is charged on the way back, so if the way is not divided I could have in theory turned back before reaching the toll booth, but I didn't feel adventurous enough: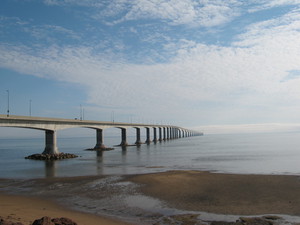 The Marine Atlantic screw-up changed my departure time tomorrow from 22:30 to 18:00, which means I had to be at the port at 16:00. This forced me to replan my route for the day - and instead of going to the Kejimkujik National Park I decided to stay in one of the provincial or national parks near Halifax. I was at least going to see Halifax, and everyone's recommendation - Peggy's Cove.

So I rode all the way to Halifax, mostly on bigger highways, I felt in a hurry. Got really annoyed that both the new and the old bridge to get across the harbour in Halifax require tolls, though the old one wasn't too expensive. I haven't asked what the new bridge's toll was.

Same problem with parking in Halifax, plus absolutely ridiculous one-way-street downtown, people must have thought I was showing off driving round and round and round. Spent a bit of time on the harbour, this is the only thing I thought worth photographing. There was the Titanic museum which I may have gone into if I wasn't worried sick about parking, so I didn't.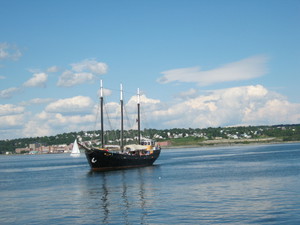 Next stop - Peggy's Cove. At least 3 people I know told me I should go there. Maybe my expectations were worked up too much, but honestly - I didn't see the point at all. It's pretty sure, and sort of a little bit unique, but I don't recommend the long detour from Halifax just to see it:


But in there was another visitors' centre where I took the provincial parks booklet and read on a bench. Turns out none of the parks near Halifax where I planned to stay allow camping! And I was going to be picky, go to one closer to the ocean, but no.

At some point today I lost my notebook (I wrote that down in my phone :)). Bah!

So I worked out a new plan for the rest of the day, a plan that would make the following day less stressful if I managed it: go all the way back north across the province, and stay at the Caribou-Monroes Provincial Park.


Day 8: Caribou-Munroes Island Provincial Park (Nova Scotia) to Port aux Basques (Newfoundland)

Maps: As you can see from the map screenshots from day 7 the GPS stopped working some place around Halifax so there are no maps for this day.
The new plan worked, and I had a whole morning to spend on the beach. This beach is beautiful, excellent sand and nice swimming water:

A bit later it's been suggested that I should have visited the Cape Breton Highlands national park - and I probably should have, I haven't even noticed it before.

These are the ferries in North Sydney, mine is the one in the middle. It's hard to see in the photos, but there are a lot of cars and trucks that get loaded onto there.

I got put in the blue line, guess they don't think much of motorcycles :)

It took a good 3 hours to get loaded on, but finally we were off. And as we were leaving - another boat pulled in to take our place.

I don't know if it was the lack of waves, but I didn't even get close to being sea sick. I suspected that in a big boat like that you can't really feel it, and on this trip it seemed my suspicions were confirmed.

There were loads of empty seats - I guess most of the boat is for cars and trucks. I should have slept more, but I was too excited and there was the discovery channel to watch on TV.

Day 9: Port aux Basques (Newfoundland) to Gros Morne National Park (Newfoundland)

When I started planning I was going to go from Port aux Basques to Terra Nova in one day, figuring that there'll be nothing to see on the transcanada, but later I changed my mind, no point in rushing. The new plan was to also stay overnight at Gros Morne (turned out to be a great decision).

Arriving at Port aux Basques at about 4AM:

Several people already mentioned I should not ride in Newfoundland in the dark because they have a Moose infestation. So I decided to stay at this Tim Horton's until daylight. Nice sign in the ditch :)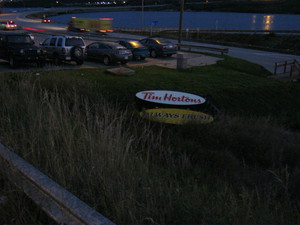 Newfoundland has mountains! Quite tall too, and very impressive. I was so happy to see them after so many plains in Maine and the rest of the maritimes:

There was, thankfully, a visitor's welcome centre at the park entrance where the highway splits into 431 and 430. They will give you a map and advice on where to go, lucky that I stopped there.

Ive seen several of these constructions. I think the purpose is to serve as a parking spot. Quite bizarre but makes sense given how far down the houses are from the road, wouldn't want to try a climb like that in the snow. This particular one I hope is abandoned, doesn't look too sturdy :)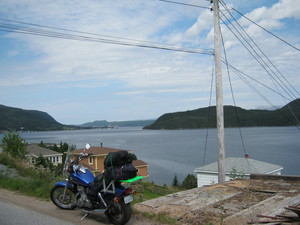 More pretty mountains:

At first I thought I'd stay at the Green Gardens campground, but for some reason I didn't realize that those are not accessible by bike from the highway. This is the map at the highway access point, it's a five kilometer hike to get to the water. Normally I'd have no trouble backpacking that, but I didn't have a backpack, my luggage was definitely not hiking-friendly.

I decided to go on the hike anyway, since it was early. I thought the map said it's a 250m climb, but actually it said it's a 250m descent, so climbing from the highway to the cairn that's at the top is the easy part, then it goes way down.

Very pretty:

There isn't any campground near the water, what people do is just set up camp on the grass on top of this hill. The waves looked really big, and there were lots of rocks, so I didn't brave going for a swim, just walked along the shore for a bit before turning back:

On my stroll I was taken aback seeing an enormous dinosaur skeleton. Actually it turned out to be a moose, I had no idea they had such huge spines. The poor guy fell off the really, really tall cliff, didn't have a chance. You can only see the skull and spine in the photos, but there were also the legs there (still with skin on them), everything else was gone: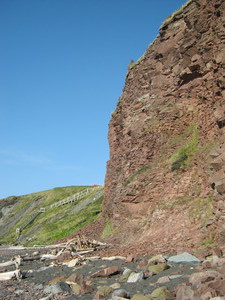 Half way back to the bike I passed a couple with a baby in a kind of backpack carrier. Those were some cool people and a damn well behaved two year old! My niece could use some lessons from her. Turned out they were staying at the same campground I finally decided on (Trout River), the spot right next to mine actually.

Day 10: Gros Morne National Park (Newfoundland) to Terra Nova National Park (Newfoundland)
Redneck gas station in Trout River :) Worked well enough though.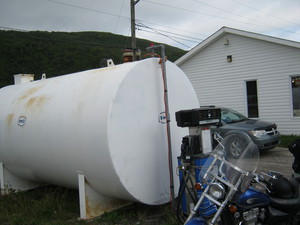 When I saw this I knew what was coming, and come down it did. I got rained on a lot this day, so this is the only photographic memory of that day: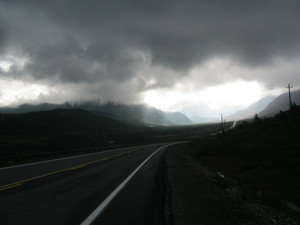 Before I got to Gander it started pouring really badly. So badly that even cars were pulling over. I don't know how I manage to ride in weather like this, but I managed somehow.

Stopped at the Tim Hortons, there was another wet-to-the-bone person there, a recent highschool graduate hitch-hiking across the country (from Vancouver). She was on her way back already.

I (almost) hydroplaned all the way to the Tera Nova park, got a map at the visitor centre, and stayed at the Newman Sound campground not far from there.

Day 11: Terra Nova National Park (Newfoundland) to Argentia (Newfoundland)

Shockingly it stopped raining just as I started setting up the tent, so I got to sleep dry. I tried to dry my clothes too by pulling a rope under one of those roofed picnic areas, but that didn't work. Problem is: any time after darkness you'll get dew on your stuff, even if there's no fog. I thought this only happened in the mornings, but no, it does as soon as it gets dark.

No matter, I got used to starting the day in wet clothes and drying them on the bike. How long it takes depends on the weather of course, but generally speaking I don't feel uncomfortably wet any more after a couple of hours.

Went into a straight shot to St John's, this is a view of the Cabot tower from down in the city and a view of the city from up on that hill:

Before heading back home I wanted to make sure that i get to the eastern-most point in Newfoundland, which is also supposed to be the eastern-most point in North America, though I'm not convinced that the island is part of North America.

This is Cape Spear, and of course I had to get down to the actual eastern-most point, not the almost-eastern-most-point up on this side of the fence:

I forgot to take my compass with me, and wasn't actually sure which way is east:

Success! I've made it as far east as I possibly could have. Now I just have to go all the way north and west and south..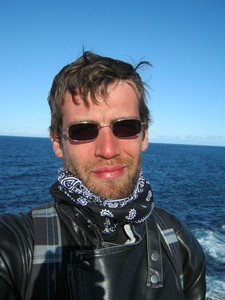 If you're observant enough you may notice that my lips are in bad shape and I'm wearing a bandana. My lips got all cracked and felt like they were going to fall off. I guess it's surprising it hasn't happened much earlier. The bandana would have helped if I were wearing it all along, at this point it was just damage control. The next day I bought some lip balm, that was much better for my poor lips.

This is a canon they built during world war 2 to shoot at german submarines, it's never been used:

This is on my way back already, on the transcanada near highway 90. You might notice that the sun is setting. That's important, because, you see, I had plenty of time to make it to the 10:00 boat.

Those ravens are all over the place. They are the real wildlife in Newfoundland.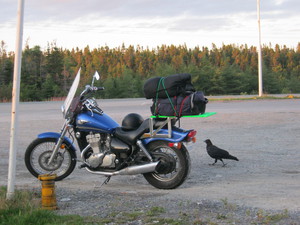 I arrived to the port a couple of hours early, and there was nobody there other than a guard. Of course it turned out I was not a couple of hours early but a couple of hours late. For some weird reason I was so convinced the boat leaves at 22:00 that I didn't even bother checking my booking, which was sitting in the pouch in front of me for the last three days.

Sucks! The boat ride was not really optional, there's no other way to get back home from the island. Next one from Argentia - four days later.

Lucky me that the guard pointed me to the office and the ladies at the office found a solution for me: I'd go all the way back across Newfoundland the next day, and get on the boat in Port aux Basques at 21:45 (leaving at 23:45).

For the night I didn't have time to find anything other than the RV park right next to the port. I don't know much about RV parks (never stayed at one before), but this one was a little depressing. For 25$ I got a pad of grass to set up my tent and.. that's about it. It was ok, jut really weird.

Day 12: Argentia (Newfoundland) to Port aux Basques (Newfoundland)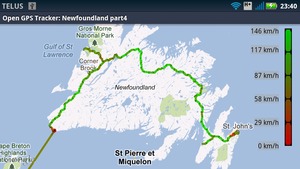 I've already decided by this point that I'll be in a rush heading back. The trip took a long time, and though there was much more that I haven't seen than I have, it was time to get back. This day I still took some photos, but not many.
This is where I slept, with a view of the ocean I couldn't see in the dark: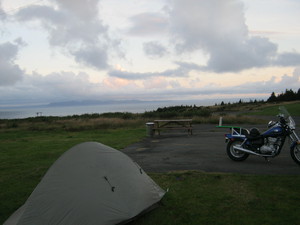 Some random bridge and dam on the way back:

This is what I looked like on the way. I walked into a Tim Hortons like this once, I think I freaked the girl out a little. I just wanted a donut, and was going to pay for it too :)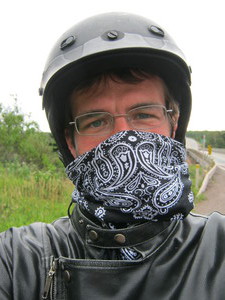 And I did indeed make it all the way back to Port aux Basques without incident. I think it dripped a little but nothing worth paying attention to.

Since I had enough time and I needed lots of energy for the next day - I went to explore the town and find a place to eat dinner. Found one place (forgot the name, the one sharing the building with Greco Pizza) and asked whether they had a table, was seated at one that was just freed up. Sadly after 30 minutes of waiting I just couldn't wait any more, so I left without anyone even asking me what I wanted. Maybe I was supposed to order somewhere else, I don't know.

Got loaded onto the middle deck again which you would think is the lowest deck but it isn't. The ground level is the middle one, and the floors in it open to let cars drive down to the lower level.

Days 13-15: Port aux Basques (Newfoundland) to Toronto (Ontario)

The way back was crazy. What took me 8 days one way I did in 2.5 days on the way back.

The first day I got to the border between New Brunswick and Quebec on highway 2, stayed at Parc Provincial de la Republique. So close to Quebec everything turned french, but the guys at the park entrance spoke english.

Right after I was done setting up the tent and I wanted to go have a shower - the rain started pouring, I didn't even realize it was cloudy. I don't remember whether it rained before on that day or not.

The second day I went through Quebec, got rained on a lot in the morning. At some point I wanted to stop and make a photo of the St Lawrence - it's enormous! Though looking at the map I guess I shouldn't have been surprised.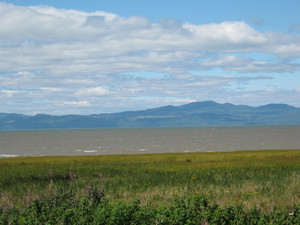 Riding through Montreal was horrible, worse than the 401 during rush hour, and the city is as big as the GTA.

I didn't want to stay overnight in Quebec, I always felt uncomfortable there because I don't speak french. I made it with no trouble to Cornwall and stayed at a motel. I should have stayed at a park, but I guess I was in too much of a rush to think about it.

At this point I was so close to Toronto I could have theoretically gone all the way home, but stopping for the night was a good idea.

The next day I stopped at almost every single rest stop on the way, and lied down for 10 minutes each time. Had no reason to rush, was almost home, and was at no risk of getting home late.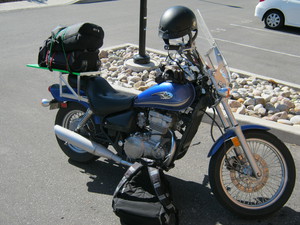 And I made it back with no further adventures. It looks lie my bags are a little deflated, not sure why - I didn't eat that much of the food, and I only lost a tiny notebook.

Wooh, now (3 months later) as I finish writing this page, I am even more impressed with my achievement. This was an awesome experience in so many ways, everyone should do something like this at least once in their life!

The end.

If you have questions for me, please use this form.