Cross-country RV trip West: Toronto to Vancouver Island

1 may - 22 june 2017
Contents:

Ontario:

Manitoba:

Saskatchewan:

Alberta:

BC:

Return:

Preparation
Again, almost no planning and preparation for this one, crazy given the scope but that's how I do these things. The preparation consisted of buying a used trailer, testing it, and packing up our stuff.

At first I looked to rent a trailer or drivable RV for the trip but that turned out it would have cost me over 10000$, perhaps as much as 14000$, and that's not including the gas. I figured out pretty quickly that even if I buy one and resell it at 10% of the purchase price - I'll end up saving thousands of dollars.

Buying a used travel trailer is hard. I didn't know much about them, didn't know what they're supposed to cost, and didn't know what problems to look for. So I looked on Kijiji to get an idea of the market, found a couple that looked like what I wanted, and bought one of them for 7200$ without much adventure. It was a 2005 Jayco Jayfeather - a solid shell with the beds folding out of it for sleeping at the front and back. The truck capable of pulling two metric tonnes we already had: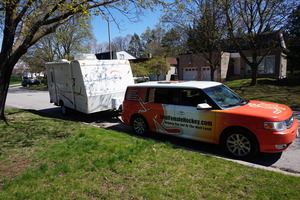 For someone used to roughing it with a tent (once even without a sleeping bag) this is a house on wheels. It's got potable water and a tank big enough to was dishes a few times, a stove, fridge, microwave, full washroom with a shower, a furnace, and air conditioner. The microwave and AC require the trailer to be plugged into an external 120V AC power supply (RV sites have 30A hookups which are more than enough). Everything else works off the two propane tanks with a little help from a built-in marine battery (like a car battery but what's called a "deep cycle").

In the intro here I'll just tell you that if you intend to do something like this - you better be able and capable of dealing with mechanical and electrical issues both on the trailer and the car. I wasn't a professional with either, but I knew enough to figure it out on the road.

I no longer have the lists of stuff to bring that I used at the time, but here are some updated ones: Every trip checklist.odt, RV trip checklist.odt, Outdoor trip checklist.odt, and Children trip checklist.odt since we had a three-year-old and a one-year-old with us. There's some overlap in these lists because I don't use all of them every time.

For testing we took it to the only campground open so early - Craigleith provincial park. The 23rd of april - one week before leaving on the big trip. It's far enough that I'd check how the trailer pulls and stops and it has full service sites available for testing the water/sewer/electrical stuff. Oh yeah - these things have two dirty water tanks. One "black" for the toilet waste, and one "grey" for everything going down the sink and shower.

The driving was tracked using OpenGpsTracker, and the screenshots are of the same: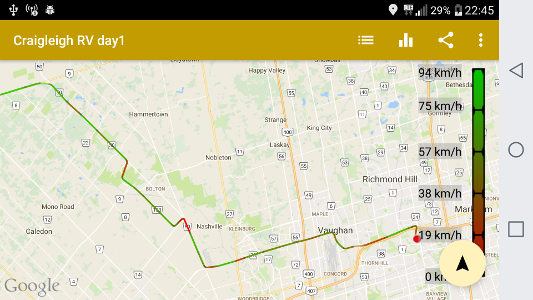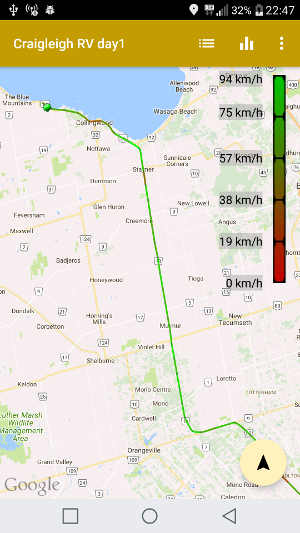 The weather was nice, just cold enough that you needed a jacket.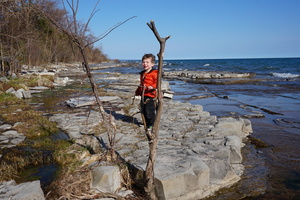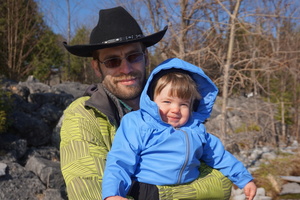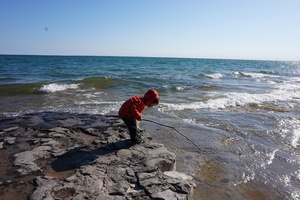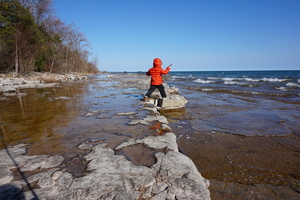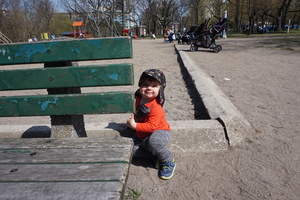 Day 1: Markham to Algonquin provincial park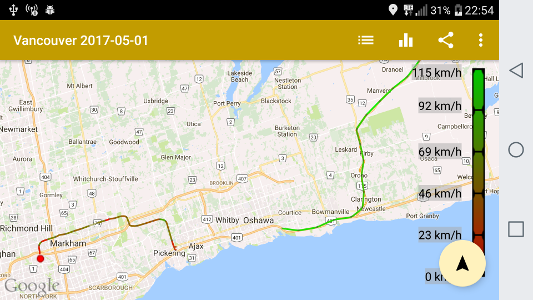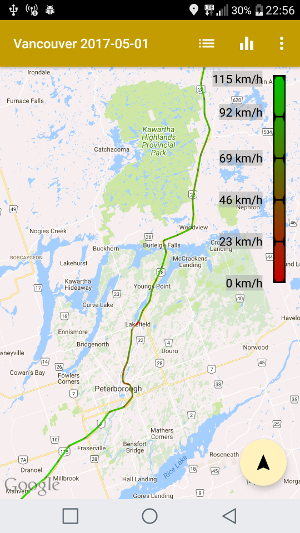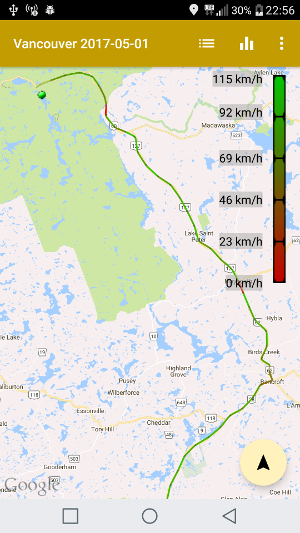 For the first day we headed to Algonquin park hoping to find a place to stay even though all the campgrounds are supposed to be still closed.

Somewhere north of Ajax on highway 7 we stopped at a gas station because the tire pressure light came on, it was at about 20psi. I pumped it up using the crappy portable pump. After dealing with that in a couple of minutes the brake controller light went off - saying the controller lost its connection to the trailer's brakes. Wiggled the 7-flat connector and couldn't find a problem. As I was checking the brakes - I discovered the right brake light on the trailer was burnt out. As I was removing it - it shattered in my fingers, cutting them.

Drove out of the way a bit to get to the nearest Crappy Tire. Went in there several times: to pee, to buy a new 7-flat trailer-end connector, to buy a new bulb and two fuses, and to buy a butt connector. Did lots of work all in pouring rain. I was basically swimming in the puddle the whole time. Almost out of blind luck I discovered that the butt connection from the harness to the left trailer brake was broken. I fixed it.

Done the fixing at 14:00. Had lunch at Tim Horton's because I needed to warm up. Then we continued on the planned route despite the fact that we've barely just started.

Some time around the next stop I found that the right stop light on the trailer burnt out again. Turns out there was a crack between the light's housing and the removable red translucent cover, so when it pours - some water will drip into the inside of the light, and if the bulb is hot enough - a single drop will crack it.

In Bancroft, at the next Crappy Tire stop (maybe I should stop calling it that given how many times we stopped there) I looked at the automotive adhesives section, there were lots to choose from. Many tubes of various gasket-makers, ranging in specs from high pressure to high temperature to flexible silicone. I was looking for something to cover the crack in the top of the light while at the same time allowing me to remove it on rare occasions, so I needed sticky and not sticky at the same time :) Thankfully (what a rare event!) a guy at the store was helpful and recommended I use Tuck tape. That was hard to put on in the rain but it held well enough until the end of the day.

Arrived to Algonquin park late but still in the daylight, here's the only photos from the day: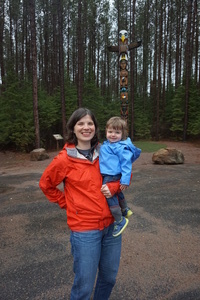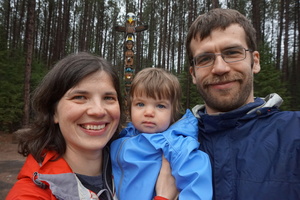 Everything was closed but there was a hut with maps. We went to the first campground on the way - Pog lake. We skipped Rock lake, the weather wouldn't allow us to enjoy that one. Noone was here but there was a gate across the campground entrance, just to be annoying.

I walked over to the whitefish lake entrance and yey, found no gate there. Picked a site we liked and parked to camp. It was still daylight when we arrived but it was dark by the time I finished setting up the beds - perfect timing.

Kim started making dinner on the stove, and it quickly became obvious that the battery on the trailer wasn't charged. Wasn't sure why, I thought it could have been because the fuse for the trailer power+brake connection was burnt out for longer than I thought, or that I left the lights on in the trailer for half the day, or perhaps the fridge was running in DC mode all day. Luckily we had a fully charged 4xAA battery lantern and a 2xAA battery flashlight. So we avoided using the trailer lights in order to be able to use the water pump for cooking and washing dishes.

Had yummy tomato sauce pasta. The two burners on the stove made so much heat (and CO2 that we had to open both the door and the window, which both had screens to keep the five mosquitoes in the park out of the trailer. They must have been male mosquitoes, we didn't get stung even by the ones that made it into the trailer.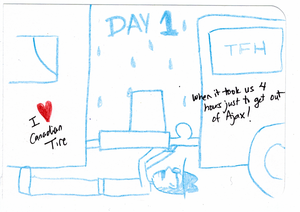 Day 2: South to north of Algonquin provincial park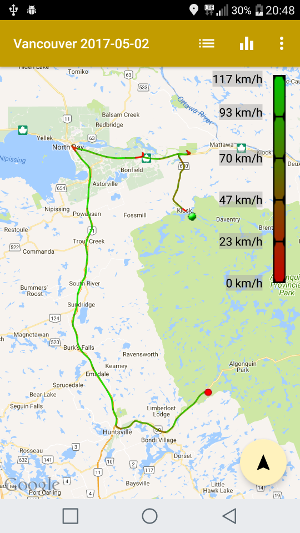 Woke up at 4:00 but felt well rested. Didn't need to use the furnace at night. Hoped that the kids were warm enough. Nikita was sleeping half way out of his sleeping bag but he didn't feel cold to the touch.

I read a little and a quarter to 6 there was already some light outside. The morning felt colder than the night, maybe because of the fog.

Went on a hike around the campground while Nikita was sleeping. Sasha fell asleep in the backpack. There are some super nice campsites deeper in the park. The road was blocked near the end by a fallen tree. I guess they don't come to deal with that sort of thing until it opens, which would have been three weeks later.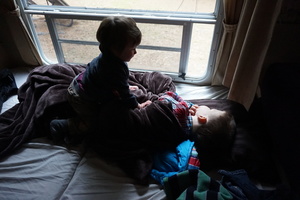 More electrical adventures this morning. The trailer supply fuse in the Ford Flex burnt out again, which I figured was the reason the battery wasn't charged. I just realized that I had the trailer lights controller, the trailer power (used also for charging the trailer battery while driving), and the brakes on the same fuse. Replaced the 10A fuse with a 20A, thought I might have to go even higher.

Also found that both the left and right turn signals in the car turn both side signals on in the trailer. Wasn't sure when was the last time I checked that they worked properly.

The tire pressure on the same tire was low again, but I couldn't tell by how much - my gauge broke as well and I didn't have a screwdriver to check it (I no longer remember why I needed a screwdriver, it said so in the notes so I wrote it in here as well). The dump station in Algonquin had its water turned off, as did all the taps in every campground. Drove into a campground that had people working there and asked about water - we were told there is only water in the washroom.

Stopped at Walmart to get a screwdriver and a big container of water because we couldn't find potable water anywhere. Hoped the 2x8 liters would be enough for drinking and cooking, though not for washing dishes.

These photos are from the Hardwood Lookout trail in Dorset: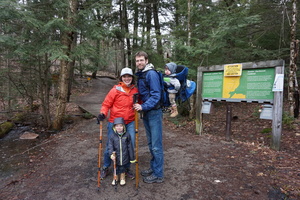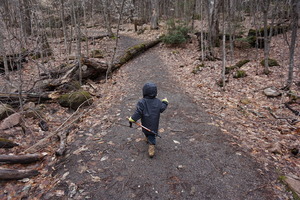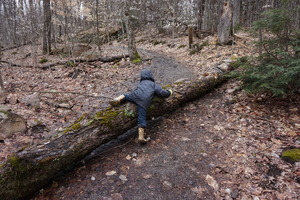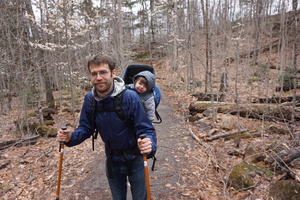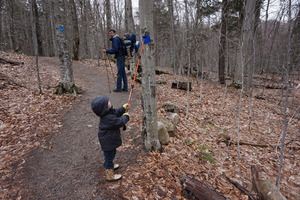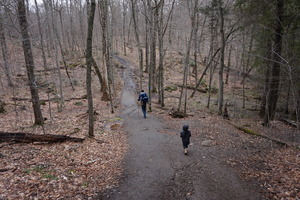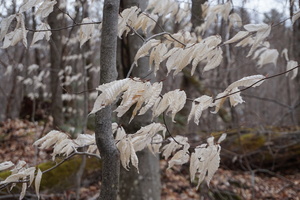 Nikita quickly developed a habit of touching every trail marker with his (his mother's actually) hiking stick.

The kids didn't last long after that: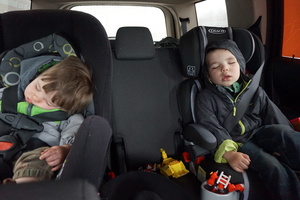 We stopped at six provincial parks near North Bay, five of them permanently closed (Wade's landing, Widdifield, Mattawa River, Southbay) and one closed for the season (Samuel de Champlain). The last campground was gated buy very busy on the grounds, probably because of the whatever centre it had inside it. There was some out-of-the way space where we could have stayed but we didn't want to risk getting kicked out and moved on.

Our last chance was the Kiosk campground in Algonquin. We figured it's far enough off the main road that we'll be fine staying there even if we had to park in front of a gate. We didn't need to - this one doesn't have gates :) There were several cars in the parking lot, almost certainly belonging to canoers who went into the backcountry.

We picked a campsite and managed to park in it, barely. The wheels of the front-wheel drive truck started spinning in the deep mud going both backwards and forwards with the car still hanging half a meter over the driveway.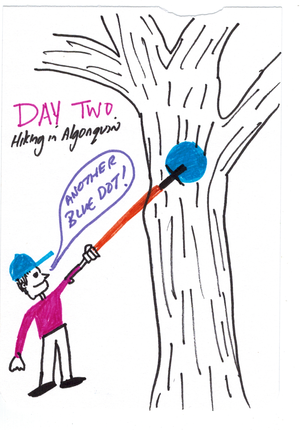 Day 3: Algonquin provincial park to Manitoulin island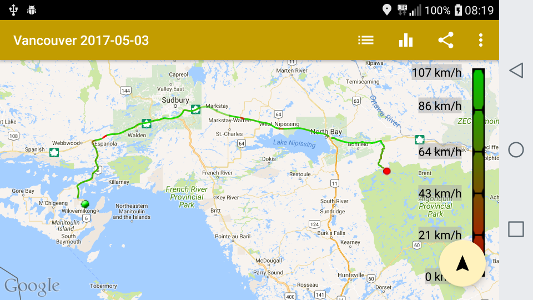 This night seemed colder. The kids seem to be figuring out that blankets are a good thing but Nikita still got out of his sleeping bag two thirds into the night. I woke up every hour or two and checked on the kids. Finally I got up at 7:30 with the sun. There were almost no clouds and everything looked very pretty. I hoped for a nice weather day.

The Kiosk campground is quite small but quite pleasant. Has just a little bit of a beach. Typically peaceful for the Algonquin interior.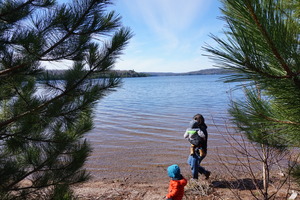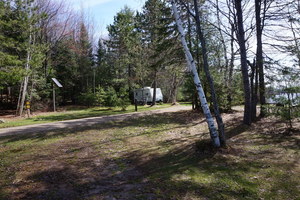 We drove to a Canadore college campus where I had a meeting scheduled at noon. I was almost late but the drive was much less stressful with the sun out and the roads dry.

The drive to North Bay was ok but definitely not spectacular. My meeting went an hour longer than planned and on our way out we decided to go to the Manitoulin island. I've never been there before - it was always out of the way, being an island.

These photos I think were from a rest stop somewhere on the way - it had an ATV trail which made a nice hike. Nikita found a large stake and found it works well as a spear.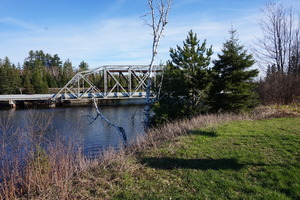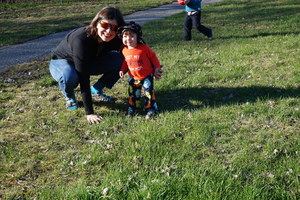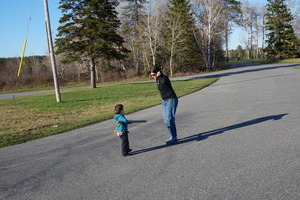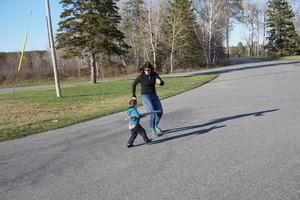 Parts of the drive were really nice and parts were boring. There's something unique about the Manitoulin island landscape - not spectacular or breathtaking, but smooth and quiet. Like regular farmland with a twist - the large smooth bedrock in the landscape. It reminded me a little of the Bruce peninsula. We started thinking of staying here a couple of nights.

At the bridge we ran into the largest swarm of mosquitoes I've ever seen. Later the park owner said they're not mosquitoes, and he was correct.

Kim called some RV parks while we were driving and we found one that was open, named Batman. It's a nice park. Clean and quiet but with plenty of trees. We got a great spot near the water because we were the first non-permanent trailer there.

We were able to clean ourselves and do laundry and fill up the water tank. The showers weren't open yet.

Nikita continued his throwing rocks in the water well into the sunset.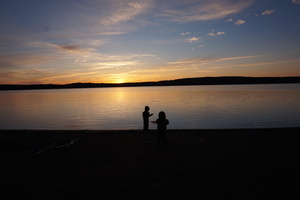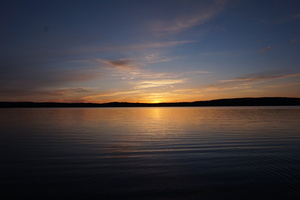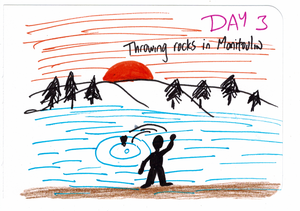 Day 4:Manitoulin island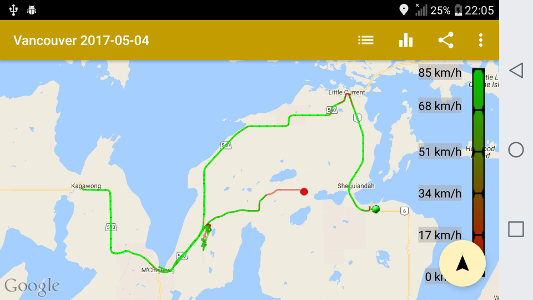 This night seemed not as cold as the last. We woke up at 9:30! Nikita kept taking his blanket off, I didn't know what to do with him. Sasha was better behaved.

The water was turned off as we were making breakfast, and I didn't yet fill up the fresh water tank. We had just enough for breakfast, but not for anything else. It was turned on a couple of hours later (someone was doing a minor repair at the pump).

We opened the awning - to see it work more than for any other reason. I don't know why this is such an in-demand feature for trailers. It must be for the type that park it in an RV park year round.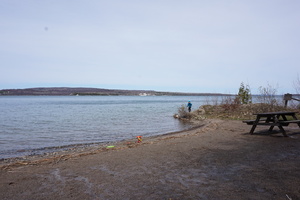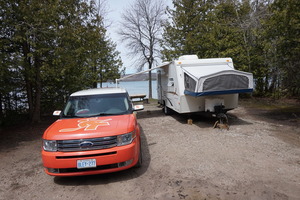 Nikita's rubber boots cracked when we were on the beach - had to plan to get him new ones.

We had power at this campground though I felt we didn't really need it now that the battery was charging properly.

I wasn't impressed with the water heater in electric mode - the water gets warm which is better than the ice cold water outside but it's nowhere near hot and not good enough for washing dishes. Later on I tried again and it seemed to warm up the water properly. Go figure.

Checked the level of the gas (by lifting the tank) and it seemed that everything including cooking uses very little. The biggest consumer was the furnace which we kept on all night (on a thermostat) during the test trip.

The little bugs I thought were mosquitoes are such a mess. They are so easily killed and make nasty smudges. Car was covered with them.

We had lunch at the trailer before heading out to explore the island.

I figured out why the landscape here reminded me of the Bruce peninsula: as the crow flies they are practically next to each other.

We hiked about two thirds of the Cup & Saucer trail. Had to carry both kids most of the way. Nikita was not going to hike on his own, and even when holding a hand would only go for a few minutes before getting too tired.

Nikita also peed his pants near the beginning of the hike, Kim had to go back and get new pants for him while we waited.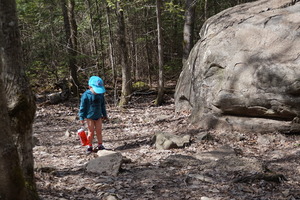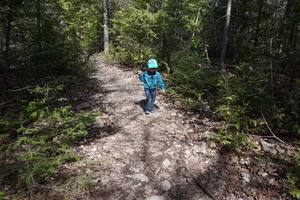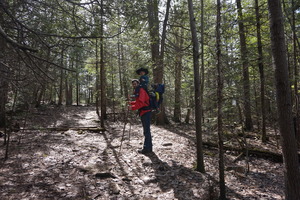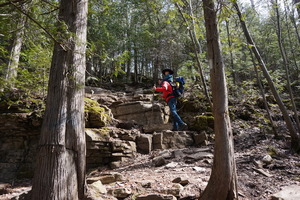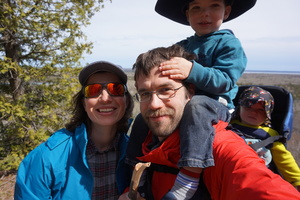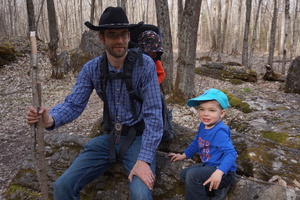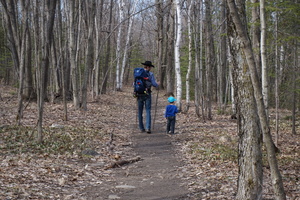 Also visited the Bridal falls. The falls were ok, Kim liked them more than me.

The tire pressure keeps dropping below the warning level, I kept inflating it blindly just to get it to shut up. My pressure gauge was fine, it's the new battery I put in it that was not good. It provided 1.4V even though it was new and said 3V on it. Good reason not to buy bargain batteries.

We did some laundry and used the computer. The jeans didn't dry.

Made a fire and roasted some marshmallows.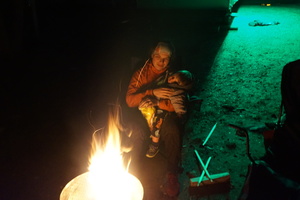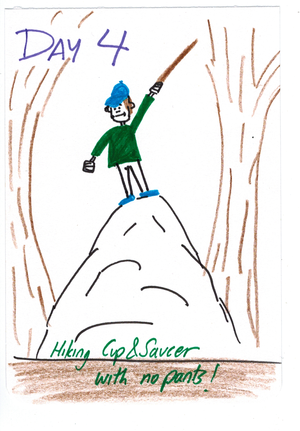 Day 5: Manitoulin island to Sault Ste Marie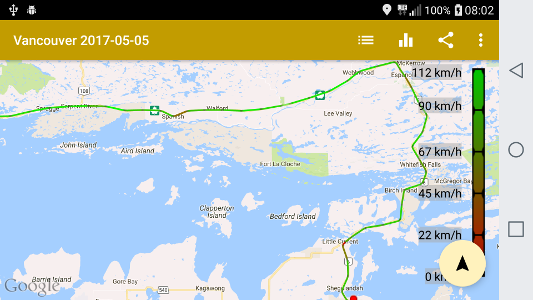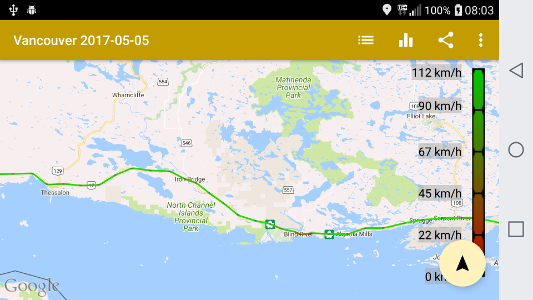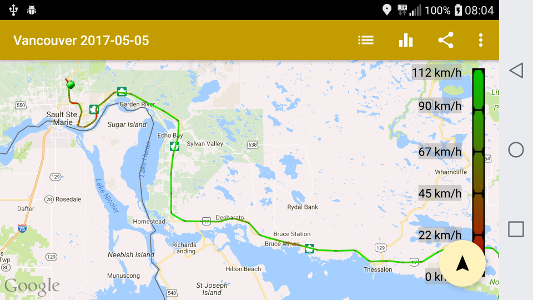 Woke up around 8:30. Nikita never kicked his blanket off, I guess he just didn't like the sleeping bag.

As I was about to brush my teeth I noticed 10cm of water in the bathtub. The sensor was saying that the grey water tank was full but I figured it must be wrong because we only washed dishes a couple of times since the last dump. But I guess it really was full. We stopped using the sinks and later did dishes at the dumping station. Though I used the clean water - the process was still stinky and annoying. The station had a water spout but not hose, I had to attach my own.

After a few minutes of driving I realized that I'm sick and not suited for driving. Kim took over and drove the rest of the day. I was knocked out the whole time, slept all along, and didn't see anything until Sault Ste Marie. Kim said the drive was pretty nice.

Looking at the GPS track - she drove a long way, I didn't even realize it until now.

Found an awesome park in the Sault on the waterfront, spent an hour there. Got new hiking waterproof Merrell shoes at Mark's. My running shoes at the time (and still now a year later) were Merrells and though I've been abusing them near full-time for five years they still work as well as new.

Camped at KOA. The guy working there said members get a 10% discount but I checked and there are only 2-3 of them on the way to Vancouver.

They had a compressed air hose which I used the next day with my new 6$ CR3032 battery from Home Hardware.

At the beginning of the day I removed the spare tire from under the propane tanks in the front and put it in the back of the trailer. I was trying to see whether a lighter tongue would make a less bumpy ride. It didn't make any difference.

Had a shower for the first time on the trip, it warmed me up and felt great.

I've had a headache for a long time which was finally over.

No photos from this day, since I wasn't functioning.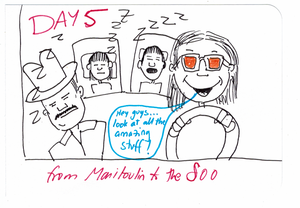 Day 6: Sault Ste Marie to Pukaskwa national park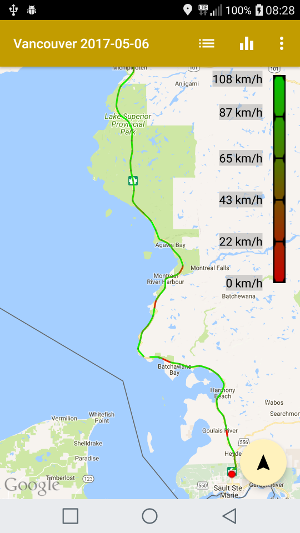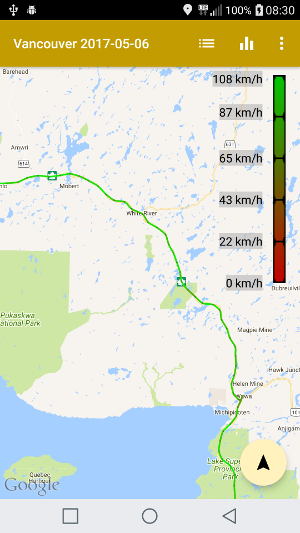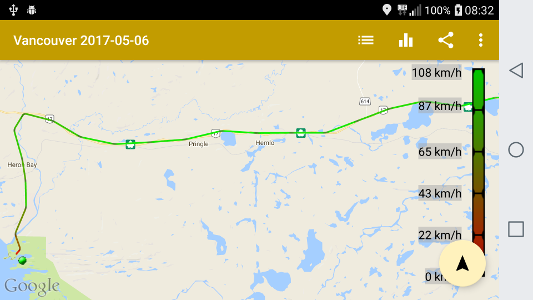 The big compressor at the campground was handy but not as necessary as I thought. The crappy little one I brought worked well enough if I held the nozzle with my fingers during pumping.

Spoke to a guy who came from Alberta and he said highway 16 is all broken and that something might be flooded in Saskatchewan. I didn't think he sounded particularly reliable.

Spoke to another guy in an awesome-looking VW bus. Turned out that it was designed from the beginning to be a camper van and it was mostly original. It came from the UK and cost 6k in shipping alone. The guy said he goes to California in the winter and his van has never seen snow, which explained why something so old is not rusted all through. Apparently these VW buses are popular enough that there are now even chinese knockoffs and finding original parts is a big deal in those circles.

Here's me farting around at our campsite: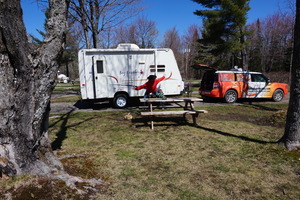 All the parks from the Sault until Thunder Bay are closed completely. There are countless pull-offs that aren't scenic but could be used if need be. Wouldn't want to try and park a trailer in some of those at night though, might end up stuck in a ditch.

Found a beach for the kids at one of the closed campgrounds. Too cold for playing in the water but the sand was great. Sasha discovered that filling shoes with sand is lots of fun.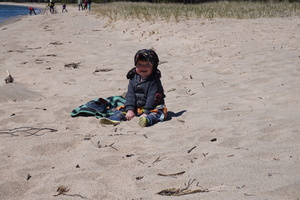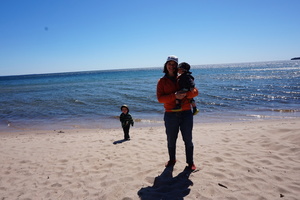 The views throughout the Lake Superior provincial par are incredible for Ontario, I'm almost tempted to call them mountains. After getting out of the park it got boring, though it improves on and off until Marathon.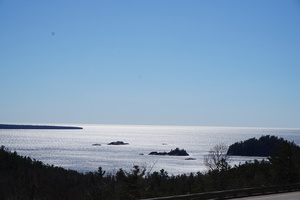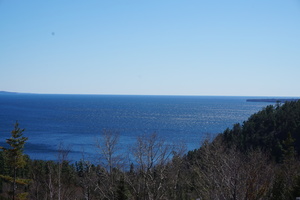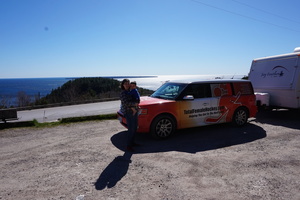 In Wawa we found what they claim to be the smallest Canadian Tire in the world. I didn't go in, since noone else was interested, but I had to make a photo: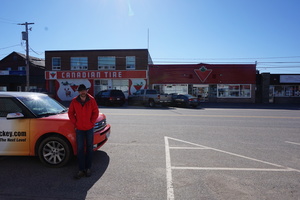 The entrance to Pukaskwa national park wasn't obvious, but we found it south of Pic River. Camping was gated but they had a parking lot for day use and we set up the trailer to sleep there.

Forecast for the morning was -4 degrees and I didn't feel like dealing with frozen pipes, so I drained the fresh water tank, let the taps dry, and drained a half a liter of the grey water on the ground. The black tank was empty already. Luckily there was an outhouse we could use.

Kept the furnace on all night at a minimum setting, which I thought was 5-10 degrees. Hoped that would not spend too much money on propane that night. Opened the valve for the second propane tank now (haven't yet filled one on the trip).

In White River we found the home of Winnie the Pooh. They have a statue of him in a park on the side of the highway.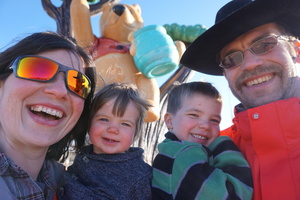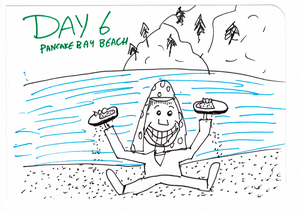 Day 7: Pukaskwa national park to Thunder Bay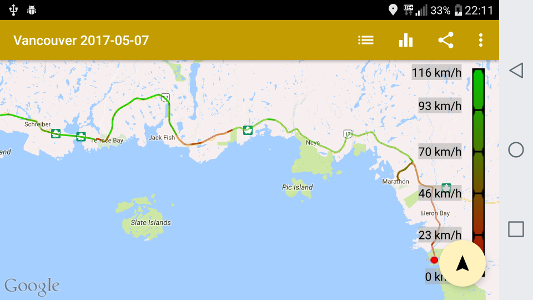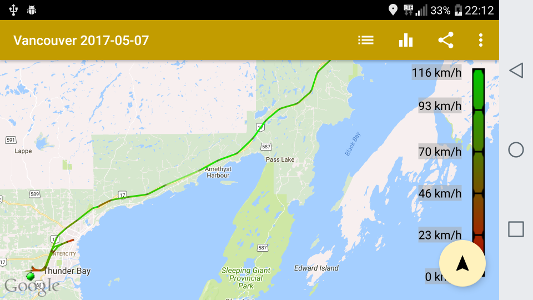 For a closed park this parking lot sure gets a lot of traffic. Some probably just come here to use it as a turnaround, but later some hikers showed up too.

These photos are from the park entrance, not the hike: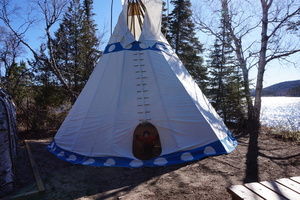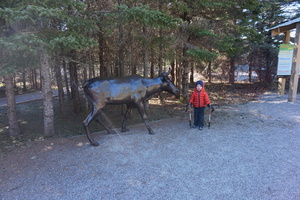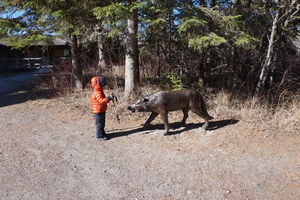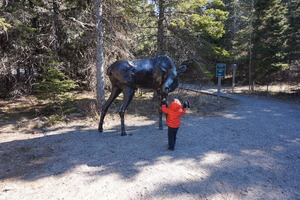 After breakfast we headed out on a short hike too. Not a hard one but not trivial either. Maybe an hour or an hour and a half long, with some climbing. Nikita hiked the whole thing himself and I carried Sasha in the backpack.

A sign said the climate on the shore of lake Superior is closer to what you'd find much farther north, because of the cold water. It looked like that too - the dwarf trees reminded me of Newfoundland.

The drive to Thunder Bay was uneventful. Some good views on the way, these were from a stop on the way with a big waterfall, I didn't write down where: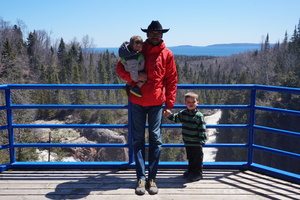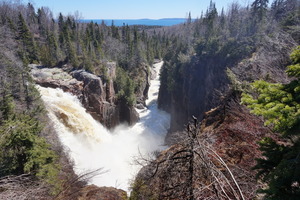 Eventually the highway turned into a divided one with four lanes and that sucked. We stopped at the Terry Fox statue, it's amazing what this guy did. Apparently on his cross-country run he made it this far, which is why there's a big park dedicated to him here: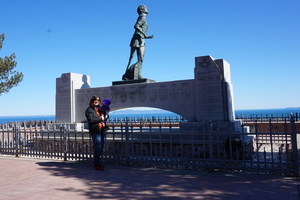 We stayed in the driveway of some friends of Kim's - very convenient. Didn't bother draining the water again because looked like we'd be having temperatures like this for a while. Nothing broke in the cold (as far as I could tell).

There was supposed to be a dump station near a hockey rink here somewhere, we planned to use it a couple of days later before leaving the city.

Had dinner at Hoito, which was supposed to be some kind of big deal around these parts. I didn't get it.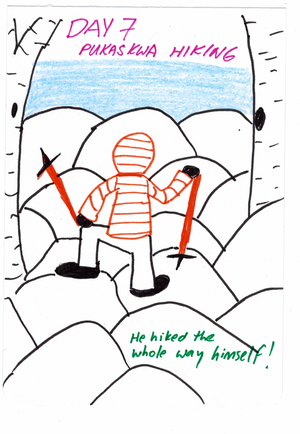 Day 8: Kakabeka Falls provincial park

We left the trailer in Thunder Bay for the day. Had breakfast at Hoito's again. I returned the nice new shoes I bought because they turned out to be too small and I couldn't find others that I liked and I didn't already have.

Went to Kakabeka Falls which several people recommended. It turned out to be pretty good, mostly because it wasn't ready for visitors yet :)

The falls themselves at the front of the park were more annoying than impressive because of all the "safety" shit everywhere you turned, but I enjoyed the trail. We started on the 1.2 km bullshit one "accessible to people with physical disabilities" but luckily there was a second trail with no signs, which a park worker told us "is a little wet". That trail was great, at least in contrast with the rest of the park.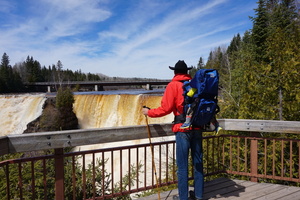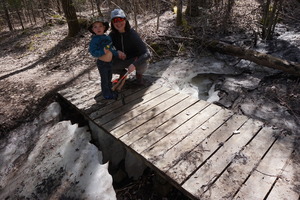 The second trail had much smaller falls which I enjoyed much more, no fucking signs to tell you which direction to breath in.

We stopped to eat lunch half way into the hiking loop: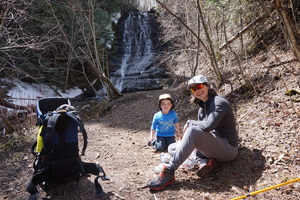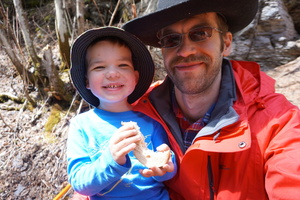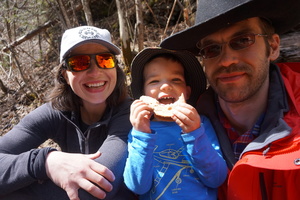 This photo was of the more exciting parts of the trail. It's not me going into the bush - this is the actual trail :) You can kind of see that the trail is completely covered with melting snow (and 20 cm of water under that), one side is too steep to be able to climb around it, and the other side is flooded with even deeper water. There was a brave lady there with a tiny little dog, I think she decided to turn around. Luckily I had tall, waterproof boots: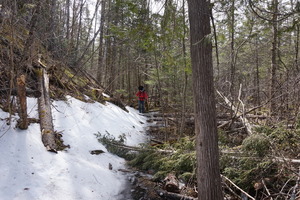 These are from the way back: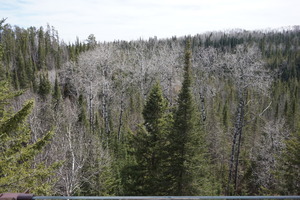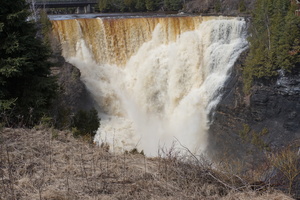 Had dinner at Kim's friends' house. Also used their vice to tighten the hitch ball, which was rotated a little for some reason.

The drive to Kakabeka falls was directly on the next day's route west, but Kim wanted a day off driving so we didn't mind a 60km trailer-less drive which gave us something to do for the day.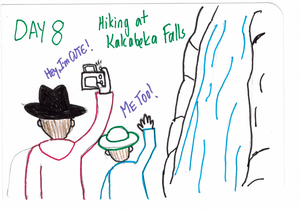 Day 9: Thunder Bay to Fort Frances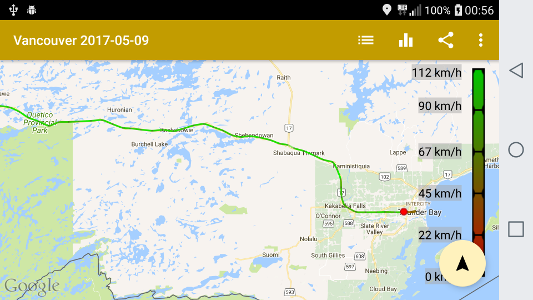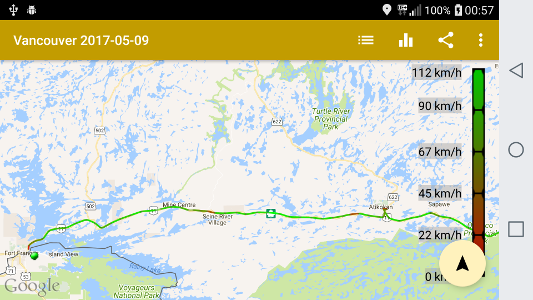 Woke up with the rain. Not to much, but it got the trailer fold-outs wet. It looked like with its design the water from the outside of the fold-outs shouldn't make it into the inside the trailer even after they're folded. By the end of the trip I still haven't figured out why and when the mattress on the rear got wet periodically.

Left Thunder Bay at noon after getting propane and groceries. This was my very first time refilling a propane tank. It cost 20$, definitely worth it if you use more than one or two a year.

Luckily Kim reminded me to dump the sewage before we left. I couldn't tell whether anything in there froze. It always took a while to drain the grey water tank.

Took the highway 17 route - "mom's", for Manitoba-Ontario-something. It's the slower, less traveled one compared to highway 11 but it was in very good condition.

We refueled before Kakabeka falls the previous day and had plenty of gas to get us to Atikokan. We skipped several ghetto gas stations on the way and refueled at a big one in town (I learned this lesson on a bike trip when it started choking on bad gas).

Stopped at Little Falls in town for lunch. Great place to stop, and noone there. Went on a very short hike with the kids on the ATV trail: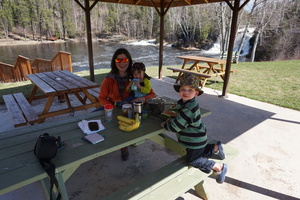 Look at this hooligan: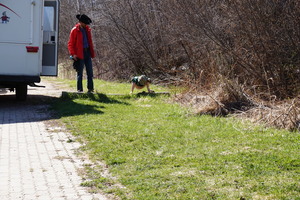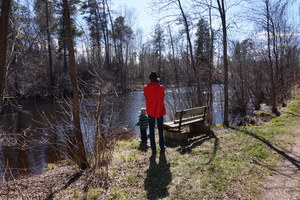 But this one is cute: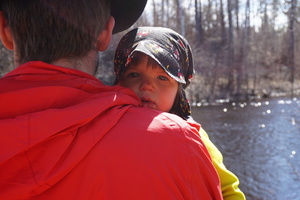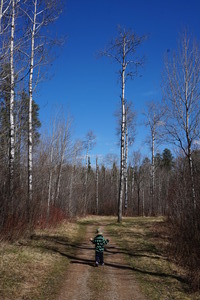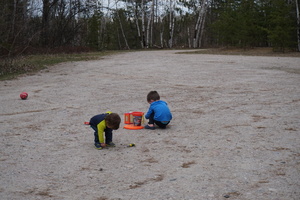 The quality of the drive today was 50-50. I was wondering whether this is what it looks like when the tall hills of northern Ontario slowly turn into the prairies. I didn't have much of an idea where the prairies are supposed to begin. (p.s.: it's in Manitoba).

At 13:30 we saw a sign on the road saying we're entering the central timezone. That gave us a free hour that day which we thought we'd use to find a place to stay for the night.

I was looking for it but completely by accident we stopped at the unmarked exit to nonexistent Glenorchy and non-operational Little Turtle Lake park. But we weren't going to try to get to it on the sand & gravel road.

There are many pull-offs on the side of the highway here, and many unmarked roads, probably used for logging. We could have easily stayed in one of those but decided instead to go to the Pithers Point park in Fort Frances.

The park looked nice, on the lake shore, but with a hell of a lot of drivers going through it. Probably not border services agents, they're not that good. Also probably not drug dealers, I saw a 10-year-old in one of the trucks. I thought maybe it was bad GPS directions combined with a one-way-exit off the highway. The tap water in the park is brown and there was an advisory posted about contamination, but at least we had electricity. Thought we might end up listening to trains all night.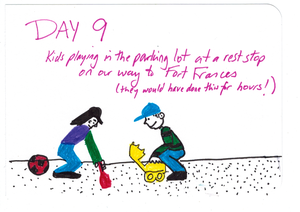 Day 10: Fort Frances to Rushing River provincial park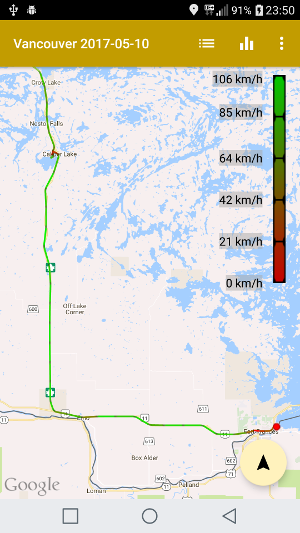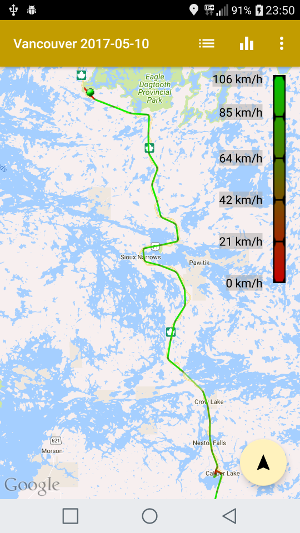 Trains and drug traffickers ran all night non stop. It was warm so I slept OK and so did Sasha, so I didn't wake up that much despite the annoying, non-regular, train brake and truck engine noises.

There was only one other trailer in the park, this one: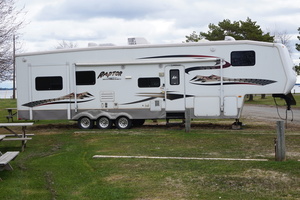 It's the biggest trailer I've ever seen. 7 tonnes, six tires. Hard to imagine that any kind of pickup truck can tow this thing but I guess it can. It's clearly been parked there since last year, I suspect it was abandoned, or maybe someone was killed inside (and the body is still there), or maybe it's a real-life version of the trailer from Breaking Bad.

We dumped the tanks at the park, and still managed to leave by 10:30.

After we passed Emo it almost started to look like the prairies (flat farms) but later it went back to typical Ontario.

We made it to the Rushing River provincial park around 15:00 and decided to stay there. The park was closed of course but they had one parking lot without a gate.

We went to hike the two trails (2km + 5km):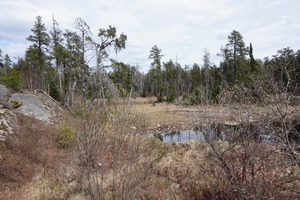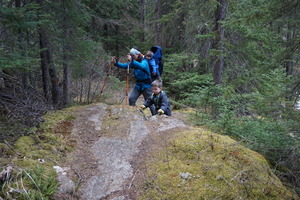 This tree looked almost like a snake, I still find it fascinating how they can grow on little more than bare rock: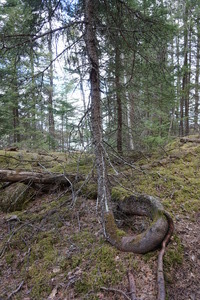 Nikita discovered that sliding down on rocks is fun: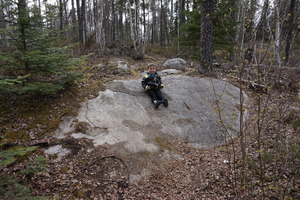 And we found some brain-shaped mushrooms: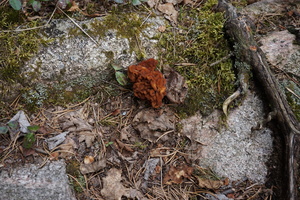 By the time we returned everyone else was gone from the parking lot.

I've discovered something I've been suspecting for a few days: the right side of the trailer was about 5cm lower than the left. I moved the trailer to a horizontal position and it hasn't changed the difference. I thought maybe the load wasn't distributed well (most of our stuff was on the right side) but I didn't have the patience to double-check that theory.

We've been more-and-more seriously thinking of selling the trailer in BC.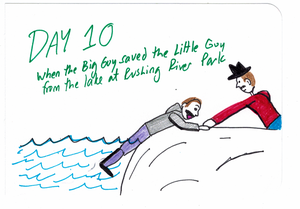 Day 11: Rushing River provincial park to Winnipeg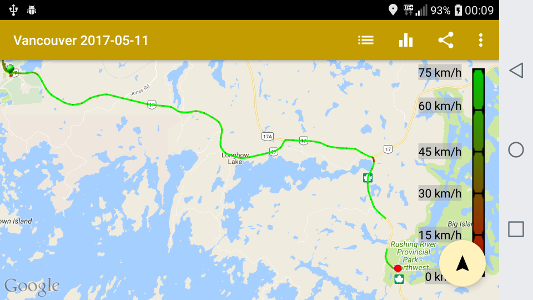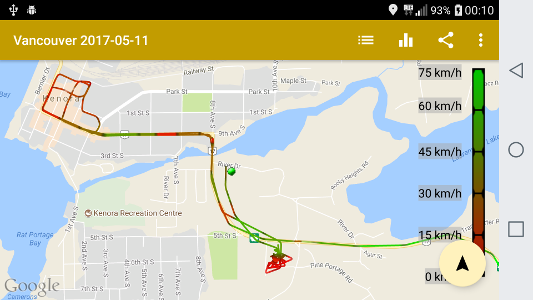 (maps past Kenora are missing, I must have forgotten to turn the tracker back on)

I woke up around 7 from the cold. Couldn't keep myself warm and turned the furnace back on. I woke Sasha up as well by trying to cover her better with with the sleeping bag. It doesn't seem to be the coldest night yet, maybe it just felt colder because of the nearby rapids.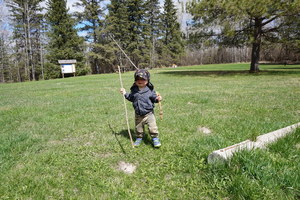 Left at 9:30 or something ridiculous like that. Got to the Manitoba border pretty quickly. The Ontario-bound info centre was open but the Manitoba one wasn't. It wasn't clear whether it was closed for the season or due to renovations.

Went off the trans-canada to highway 44 - a longer, more quiet way to Winnipeg. For a couple of stretches there are rest stops every five minutes, also trails and campgrounds. Must be a natural reserve of some sort. OpenStreetMap didn't seem to have the area mapped very well at the time, and I discovered that my Koodo (Telus) phone doesn't work in Manitoba, Winnipeg was the only place where it wasn't roaming.

Highway 44 is narrow and not perfectly smooth but it was good enough for driving at 60-70 km/h. At some point after looking at the map long enough I realized almost all of our way though Manitoba is through a swamp. I've heard that at some point earlier from someone who was talking about bugs in the summer here.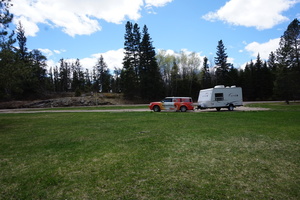 After highway 44 ended we proceeded on 15, getting a taste of the prairies to come. A road over 100km long with a single slight zigzag in it, otherwise perfectly straight! And another weird thing about it - the surface of the road is not higher than its surroundings (no ditch of any kind). It was pretty weird, I wasn't used to that.

Found a visitor centre on Google Maps when my phone stopped roaming. It turned out to be near the museum for Human Rights and I remembered that someone recommended it. It's also right in the middle of what must be the most hip crowd I've ever seen. Had a 50$ dinner there. Thought of coming back the following day with just the car and spending the day there.

The visitor centre was closed. Of course, why would you keep a tourist centre open after 17:00!? Morons.

For some reason I don't have any notes about this, looks like the Princess Auto parking lot in Winnipeg. Nikita is helping me replace the burnt out trailer lights controller, because the lights stopped working properly some days ago. Kim and Sasha went on a long walk to get groceries and then walked around the store waiting for us to be done reassembling the truck: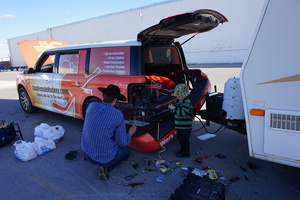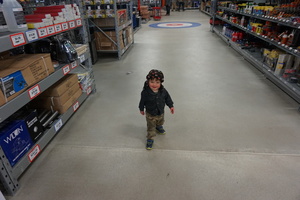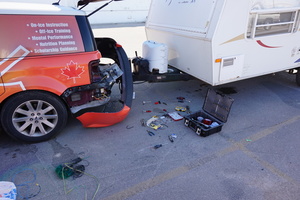 I made a photo of this to remind myself to stop being cheap with simple things. That tester would have saved me hours of time and stress if I had it from the beginning. It's a must-have on a trip like this.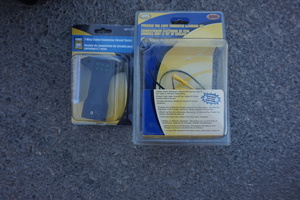 And again, the only provincial park nearby was also closed until the next day. We drove 30 minutes to get to it and there are gates everywhere. No RV parks nearby either. So we drove back to Winnipeg and parked at Walmart. Seriously guys - a thousand kilometers of nothing in all directions, and the only place I can park an RV is in the Walmart parking lot? Shame on you!

Walmart customer service said it's ok to stay in their parking lot as long as we keep it in the back.

Was hoping to get some much needed sleep.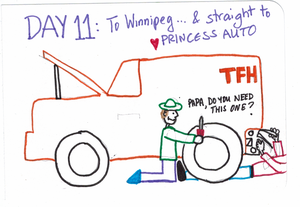 Day 12: Winnipeg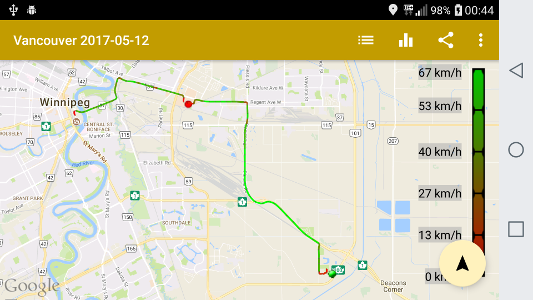 What a horrible night, straight out of a horror movie! Woke up around 2 with the sound of heavy metal dragging on the pavement. At first I thought it was one of those huge metal garbage bins being emptied by someone who didn't know what they were doing, but eventually I went outside to have a look. Would you believe that these people use a loader to sweep the parking lot? Yeah, that's right. Took them at least 45 minutes to finish the side of the parking lot we were on before they moved on to the other side of the building, but they returned an hour later with the same fucking loader and a dump truck.

Here's something to help me remember that night: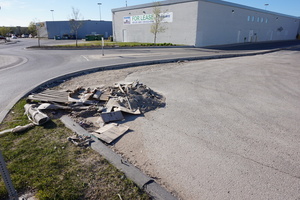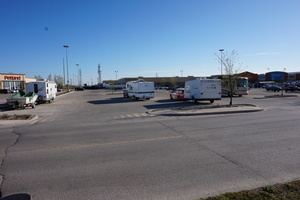 Back in hipsterville, the visitor centre guy was useful. Nikita found a new friend too: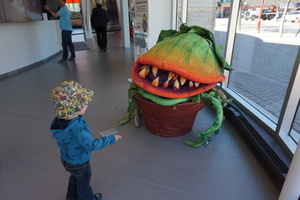 We couldn't go on the riverfront trails because the river flooded them, so we walked around a little in the parks at the top: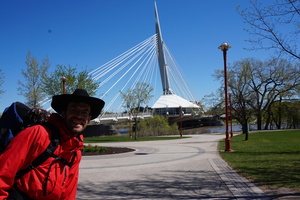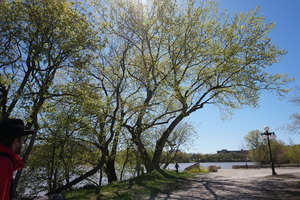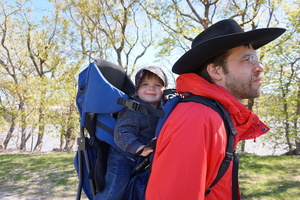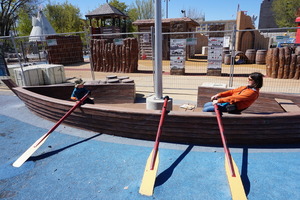 Then we headed for the children's museum, which is basically a huge playground. Nikita got to control a real hydraulic loader and both kids must have spent over an hour catching furballs flying at them from the ceiling, playing in the water, and controlling a crane: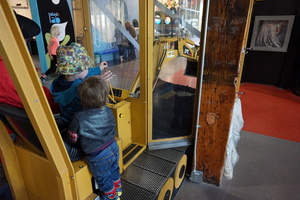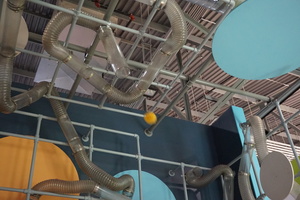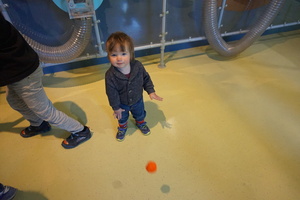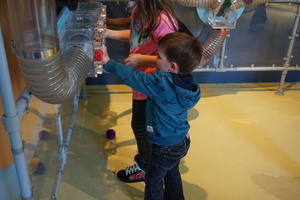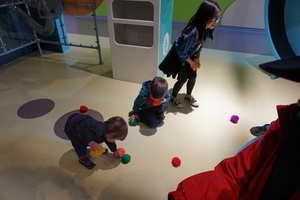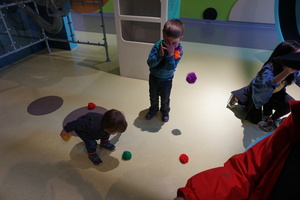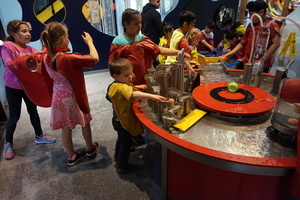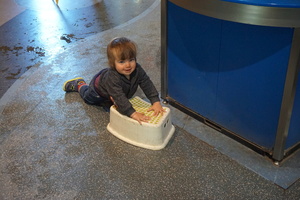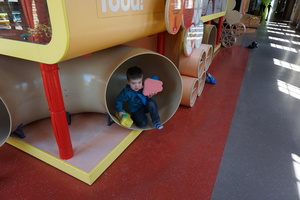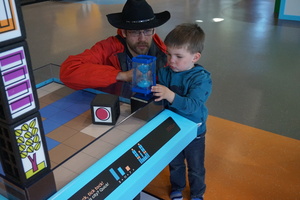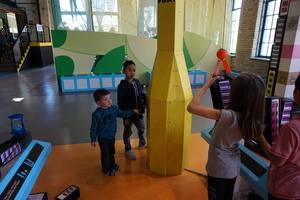 That's all he had energy for: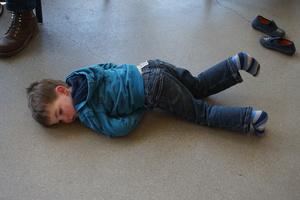 Then we went to the "Human Rights" museum - a great place for ignorant people who will come out of it knowing as little about human rights as when they came in with. They do have a nice view from the top: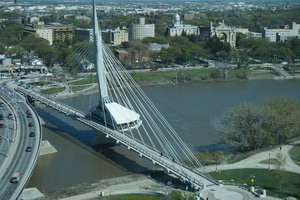 By 16:30 I was also completely drained. Badly needed a good night's sleep. The visitor centre dude said there's a KOA but it's 45 minutes away. Almost went there anyway but read Google reviews from people saying it's near a noisy highway - the last thing I needed.

Went instead to another campground: "Town & Country". Called them and they said it's been open for a month, and they have potable water. That was all I needed to hear.

This was the first time I've seen a sewer connection at every campsite. Pretty convenient actually.

I just had enough energy to set up the popout beds, crawled into a sleeping bag, and fell asleep. Didn't sleep that well for the first half of the night probably because it was too cold for me and I didn't put my sweater on. Finally got out of bed, turned the furnace on, put on a sweater, and slept much better.

Despite my fears I woke up at 9:30 feeling reasonably well rested.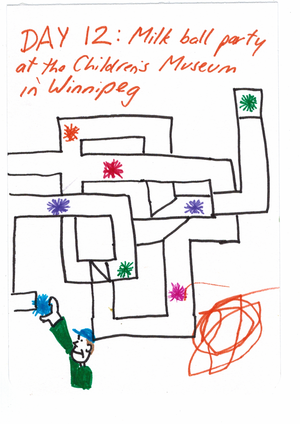 Day 13: Winnipeg to Riding mountain national park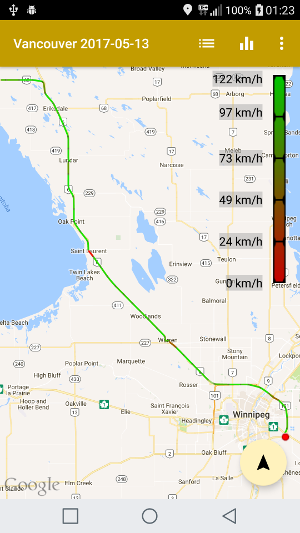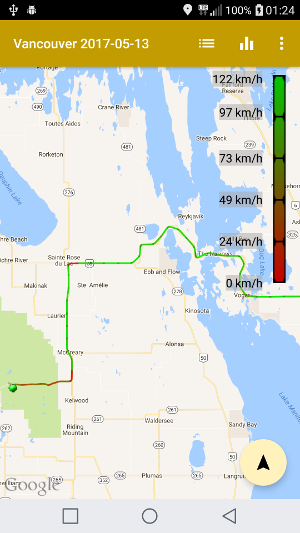 Had a ghetto shower, spent 3/4 of the time fiddling with the two knobs - reminded me of my childhood. I expect much of the prairies will remind me of when I was small - Saskatoon did the one time I visited it.

Avoided the trans-canada again and went on highways 6, 68, and 5 - a northern route to Riding Mountain. Almost entirely farms.

Stopped for a break in Lundar where we had a conversation about random things with a 13 year old boy - he was very expressive for his age. Kim had a chat with a mom and her 11 year old daughter who of course plays high level hockey, traveling all over Manitoba in order to do so. Looks like we stirred up the whole town when we drove in, the downtown actually came alive for about 10 minutes.

Stopped also before the bridge across Manitoba. A quiet place, nice view across the lake, with a decent beach. Maybe this was it, I'm not sure because it looks like the time on the camera was off: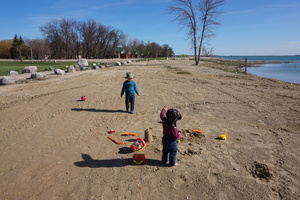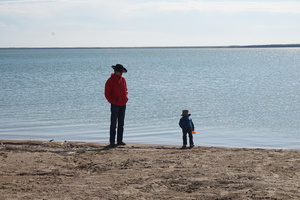 Can see the Riding mountain escarpment from a good distance. I was wondering whether it was the only hill west of Winnipeg :)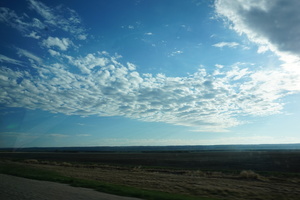 There was a gate at the entrance but noone in the office. Luckily the highway going through the park was not closed.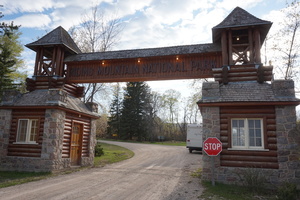 At the top of the switchbacks there was a nice view with wheelchair-accessible binoculars, to make sure everyone is equally unable to use them.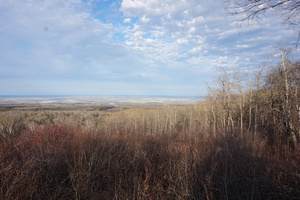 At some point today I realized that I don't have Manitoba in my OSMAnd, that's why it seemed to be mapped so poorly. And I still didn't have that updated, need a wifi connection to do it. The only map of the area I had was a paper MapArt book of Canada. Should have taken one of the french brochures at the park entrance left over from last year, so we wouldn't need to drive half blind.

The first turn to the left was gated, but that may not have been camping anyway. The Whirlpool lake road was open but had a sign saying no trailers. I didn't want to risk it. Before the following campground there was a rest area which looked an awful lot like a campground, sans parking. So we stopped there, pulling as far off the turnabout as we could. Only one car drove by in the evening and didn't stop.

Made a fire in the provided firepits with provided firewood. Wasn't sure why it was there for free - wondered if the trees were cut down because of some disease or maybe they were actually smart enough to figure out that it's cheaper to provide firewood than to waste your time preventing burning fires, as most parks do.

The fresh water tank in the trailer was 2/3 full so we had everything we needed for dinner, breakfast, and even lunch the following day.


Day 14: Riding mountain national park to Moose Mountain provincial park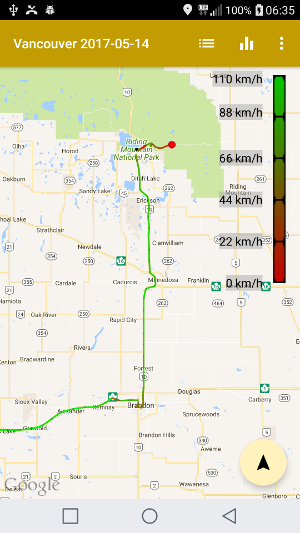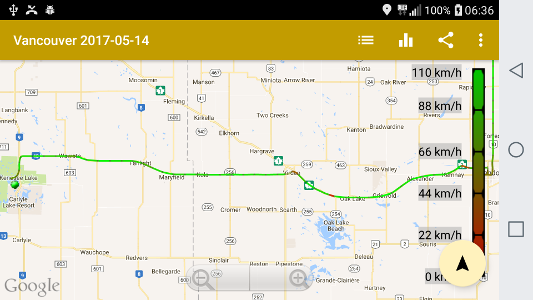 I didn't sleep very well. Sasha was up for a long time in the middle of the night and it started raining too. The rest area was very well sheltered from the wind, and I was very warm most of the night. I turned the furnace on only once, after getting up in the morning.

I found it was a pretty bad idea to try and fold the trailer popouts while it's raining. Waited until after breakfast and the rain stopped. By the time I went to pack it up - it was nearly dry.

Same bumpy road on the west side of the park. In one spot I was wondering whether I'd get stuck - and I surely would have if there was any slope at all. Finally saw some wildlife, very exciting given that we've been driving through the country for two weeks: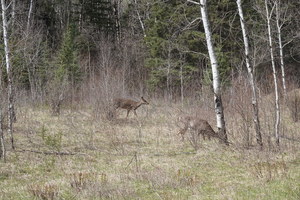 Other than that on our way out we saw one truck on the left in a picnic area and no other campground. Good thing we stopped where we did the previous night.

Wasagaming is a bustling place, lots of kids too. Nice place but too busy for my liking. I found some bulls that looked like me: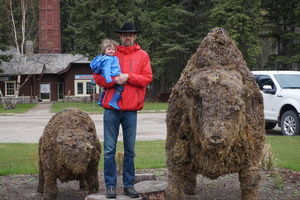 We left the trailer on the street and drove back into the park to do one of the hikes.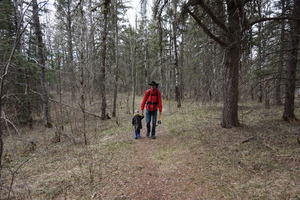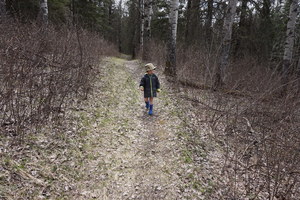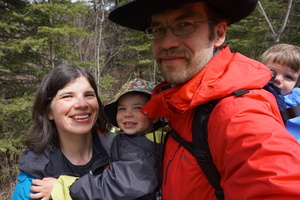 After returning Kim made lunch and we went to the ice cream store. Left around 16:00.

Drove to Brandon to get diapers from Walmart. Walmart here closes at 18:00 on sundays, as does everything else. Snuck into Safeway and bought the groceries we needed.

The Walmart wifi was useless, but in the same plaza there was an Ashley's which worked well enough to finally get OSM maps of Manitoba, Saskatchewan, and Alberta.

18:45 left to go to the Moose Mountain provincial park.

Another timezone change on the Saskatchewan border so we arrived even later than I thought we would, but were able to set up without difficulties.

There are mosquitoes here. I freaked out a little (weakened nerves) and covered all of myself but it was unnecessary, there were only a few flying around.

The campground we stopped at was not one that OSMAnd/Google were giving me directions to, it was right off the access road.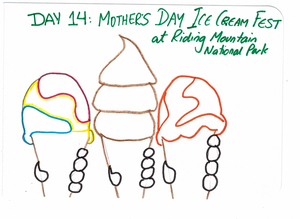 Day 15: Moose Mountain provincial park to Moose Jaw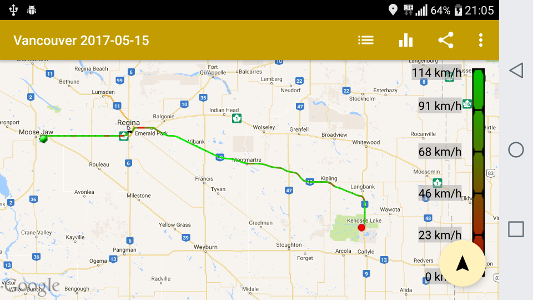 At about 2:00 one of us got sick and after failing to sleep through it we headed to Regina to get to a walk-in clinic at 9:00.

Didn't have enough gas to get to Regina and the earliest gas stations open is 7:00. I pulled into the parking lot for one of them and we slept there for a couple of hours. I'm glad we did - I needed the rest for a safe drive.

Googled whether we would be ok with health coverage in Saskatchewan and it looked like we should be able to use the Ontario health cards, though doctors in Saskatchewan have the option to charge us and we'd have to get reimbursed back home.

One of the best-reviewed clinics in Regina was Aliance Health, which turned out to be on the university campus. Doctor's visit was quick, and the pharmacy was right there. Maybe we were lucky that it was the summer on a university campus or maybe it's always this good here - great.

Had lunch at Smitted - very filling.

Went for a walk in Wascana park, had to do some interesting parking in lots designed for regular cars.

Nikita fell in the water from a boat launch. I pulled him out and was going to make him walk back wet, but Kim gave him her sweater. Here he is, little Yoda pretending to be sorry: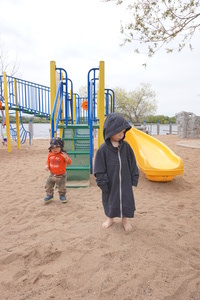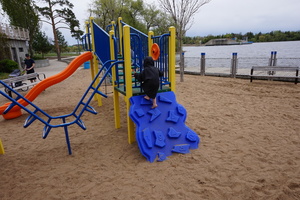 Continued to go to Moose Jaw for the Prairie Oasis which was recommended to us. Needed water and a dump site. Arrived there around 15:00. A half-decent place. Got all three hook-ups and used chlorine to disinfect the fresh water tank again just in case (it wasn't the reason for the earlier illness).

Finally got a chance to inspect the suspension properly. There was definitely a problem, likely since I bought it. Wasn't yet sure whether it's fixable or how much I should care. The problem was the shackle on one side was flat on the frame body. Best explanation I could come up with was that the leaf was broken, but I couldn't find any evidence of that. Planned to call some mechanics the following day and see what it will take to get it fixed. Wrote some phone numbers down for trailer repair places I found on Google Maps (one of them ended up being a tractor-trailer type of place, I haven't thought to avoid looking at those).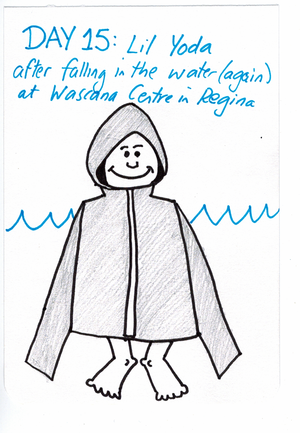 Day 16: Moose Jaw to Grasslands national park (east block)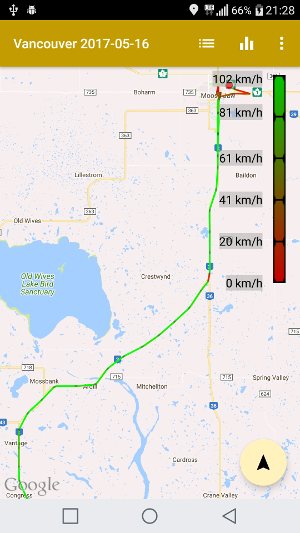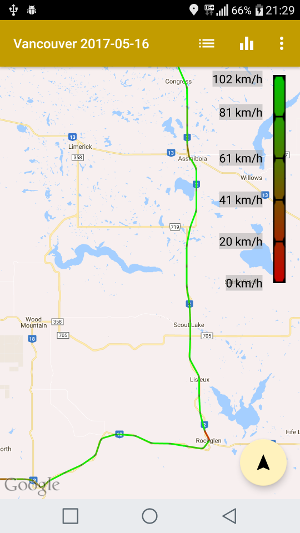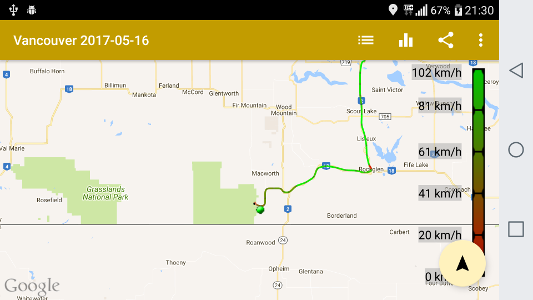 Slept ok, would have been perfect if it weren't for the noise at the park entrance. Couldn't decide whether a noisy night is normal with an RV or we've just been very unlucky so far. p.s.: In retrospective we've definitely been unlucky, there are many quiet campgrounds that allow trailers.




CJay trailers was awesome. Spoke right to the guy in charge when I came in, he quickly had a look together with me, was just as confused as me about the cause, but found a cheap and easy solution. The centre-to-centre distance between the bolts on the right was 1cm bigger, maybe from the beginning or maybe something got bent. So he just replaced the shackle with a slightly longer one. Trailer looked great after that, distance to the ground equal on both sides. He did remark that the springs give very easily. I figured I should continue to take it easy on bumps. Here's the old part: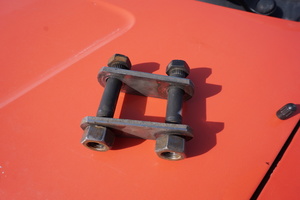 Moose Jaw looks nice too. Could be just the springtime making it look better, but I like it.

Kim went to a Starbucks to do some work and I went to a big park to make these notes and plan the rest of the day. Had lunch near that same park and went on our way south. About 20km south of Moose Jaw realized there are no gas stations for a long time and had to turn back to fill up.

Flat fields turned into hills pretty soon. They actually look really nice. A unique texture and colour. Fuel economy seemed to have improved with the suspension fixed but I wasn't yet sure by how much.

I don't remember which small town this was in. The park was next to a community centre and the library was still open: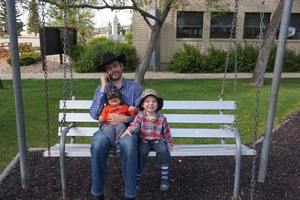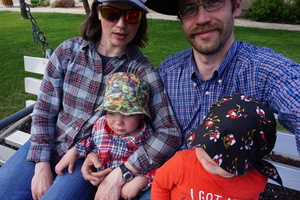 The park is at the end of a 19km gravel. Real happy I had the suspension fixed. Nobody here from the park but there was a horse trailer. Two horses from London, Ontario - the owners drove all the way there in 6 days. The guy said he wanted to see how the horses will handle it and found that they did very well. He also mentioned how friendly people were on the way and how hard it is to find help on a weekend. They only came for a couple of days. That seemed strange to me, but I don't know anything about horses.

It gets dark well after 22:00 here.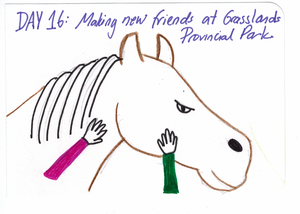 Day 17: Grasslands national park (east block)
I slept terribly, not sure why. I thought it was the noise the last few nights but maybe I was actually sick. Or maybe I had a headache that kept me awake.

There's construction going way some distance away for these weird "tentnic"s (which we've seen in several places on the trip) but they didn't start making noise until about 11:30.

Went on a great hike on an unmarked and partly untrodden trail. Reminded me very much of Peru, minus the mountains. Got distracted from the headache at the beginning but it came back later, making me very tired.

I thought the teepees close to the campground were decorative but apparently people do rent them out to stay in. I can't say I see the point. They are way taller than useful and unless you're making a fire (which I doubt they allow) a tent is much more practical.

I don't remember why the fence was there, but I don't think it was private property. Maybe something to do with hunting or herding.

We were told they found some dinosaur bones here and Nikita was very excited to find this one. We were later told it was likely from a deer and we should have left it alone (I thought so too).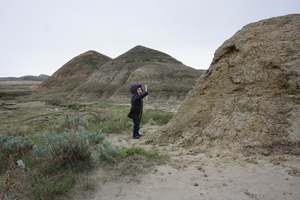 And they have wild cactus here, really - just like Peru, but somewhat smaller :)

After returning from the hike had lunch. I took a couple of Tylenols and went for a nap. I slept for five hours, slept pretty well too.

Figured out we probably don't have enough gas to pull the trailer to the next station. The very knowledgeable and nice park lady (Brenda) said they can get us 20l of gas the following day at cost. It might be a common request here, it's quite a desolate area. She said the locals mostly have their own gas tanks they fill up from.

The zip tie going to the car-end 7-flat connector broke and the wires dragged on the gravel for a while. The insulation on the brake wire got stripped just a bit. Tied it up with electrical tape and used my last two zip ties to tie the wires to the hitch bar.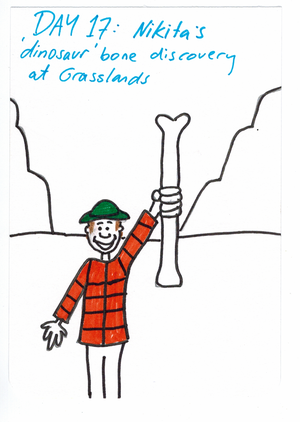 Day 18: Grasslands national park (east block to west block)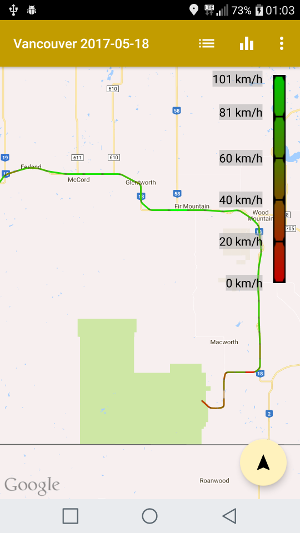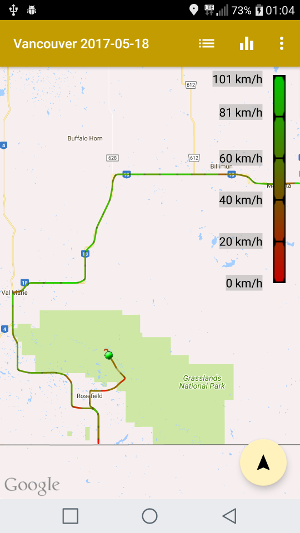 I got up at 4:30 but felt very well rested. Didn't take any headache pills the previous night but slept with a hat on. I think that my head getting cold may have been the problem all along. What a difference such a small thing can make! My tent has the built-in insulated hood but I don't sleep in one position, and that doesn't work for me.

By 5:00 there was lots of light outside already. Lots of birds singing. Didn't expect so many given the lack of trees, I guess they must nest in the grass just as well. There was frost on the ground. Had the furnace on all night but hoped to still have enough propane left for the following night.

While reading BSR (what cool work) I heard some howling from the construction site. My guess was coyotes - too wimpy for wolves and the park brochure said they were eradicated here.

We went on a short hike up the hill that had telescopes at the top: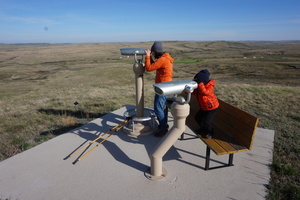 Then since we were waiting for gas to arrive anyway we went for just a little drive to get to another unmarked and mostly untrodden hike. I really liked this one, we got to climb these interesting hills: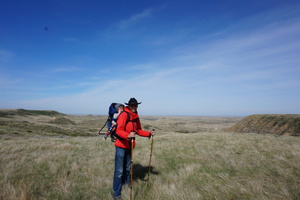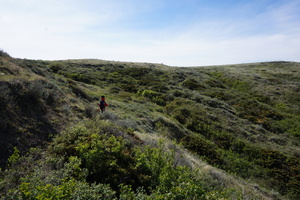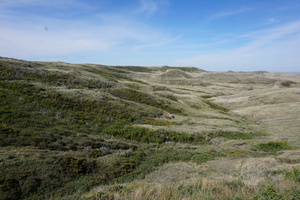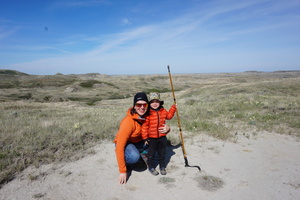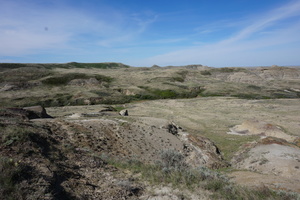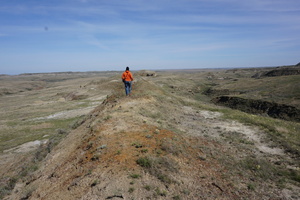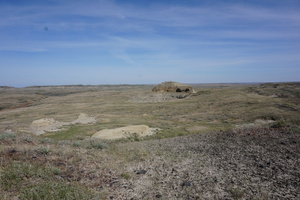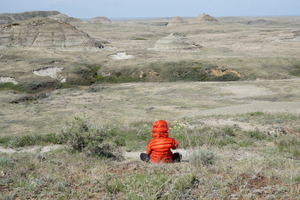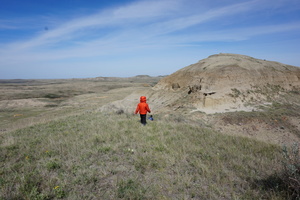 The dirt here is really strange. It seems so crumbly and substance-less that one would think all these hills would get washed away with the first rain. Brenda explained that the reason they don't is that this dirt turns into a very different consistency when it gets wet. They call the landscape "badlands" because nothing will grow on it.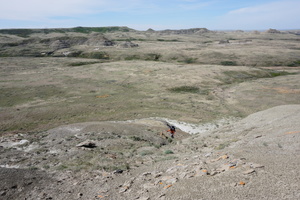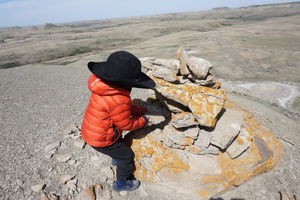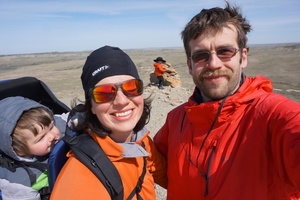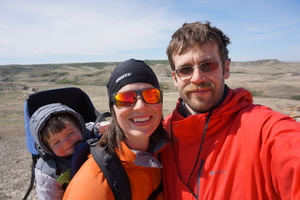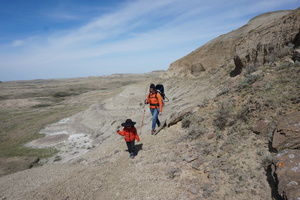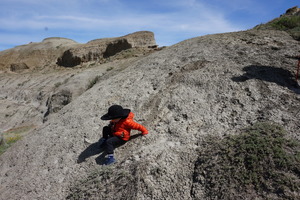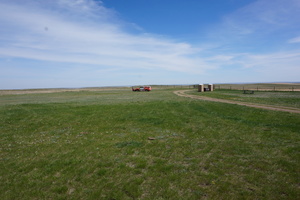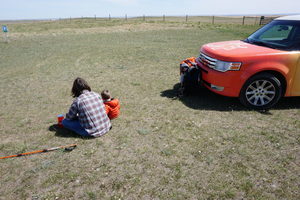 I don't know that the photos do it justice (I'm not even an amateur photographer, I basically don't know what I'm doing). It seemed like we were inside a western movie.

After lunch and getting the can of gas and almost losing the tire valve cap (I've been adding air to that one tire every day) we started driving towards the west block of the park.

Saw some interesting deer common around these parts: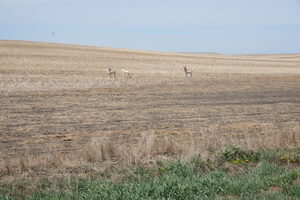 Stopped at a CO-OP gas station and a nearby grocery store. I bet it went out of business and got new owners, who were new immigrants from Asia. The dad was bagging groceries and holding their baby the rest of the time, the mom was working the register. This was the store: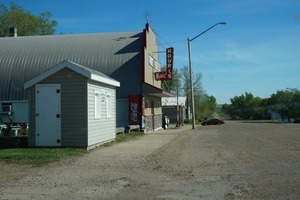 Went through Val Marie semi-on-purpose. What a crazy detour that was. Ended up 5 meters away from the american border after taking a wrong turn. Not a lot of border security people here :) though there was some kind of electronic device on a post on the road, could have been a tiny camera or just a sensor.

Prairie dogs (which I believe are also called gophers) were everywhere. A couple of entire fields filled with colonies. You cant's see the animals in the photo here, but just look at the number of hills, each housing a family, as far as the eye can see: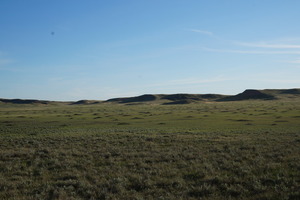 These holes aren't just in the grass either. Several times I thought I was going to run one of these animals over on the road and then it just d

isappeared

- into a hole they dug right in the gravel road.

One of the stops before the campground had a lasso which we had fun with: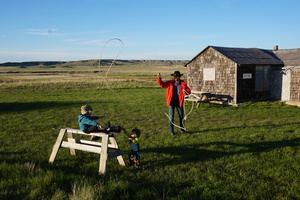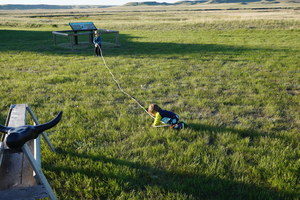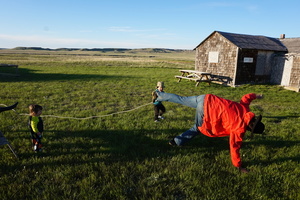 Eventually we made it to the campground. The campground was also full of gopher holes, some of them big enough you had to worry about the car getting stuck in them.

The sites here don't have water but one wheelchair-accessible site had a tap that worked as long as you held it so we used that to fill our tank. Planned to head to the Reesor ranch the following day.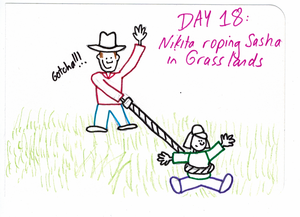 Day 19: Grasslands national (west block) to the Reesor ranch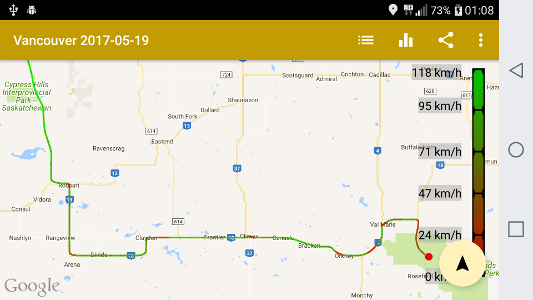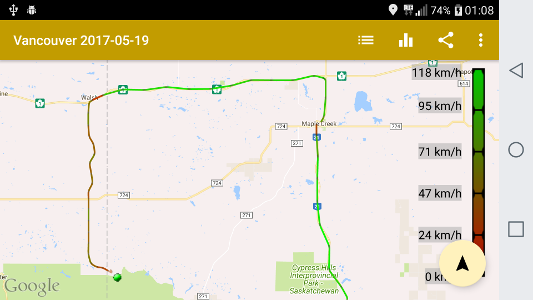 Saw a herd of bison on our way out, they are trying to reintroduce them here: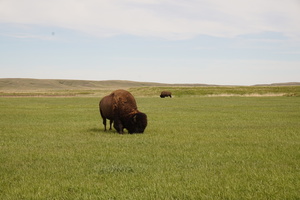 This was a railway-grain-loading station: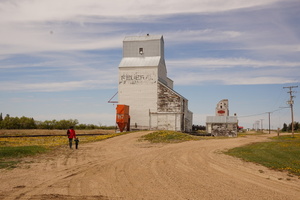 Holy shit highway 18 is such a dusty piece of crap, no pavement for 100km! At one point the pavement ended and the only way to get around would require back-tracking a very long way, with no guarantee of a better road there. After all that we ended up going on the trans-canada anyway to get to Alberta. Sucks, I guessed that was to be our final Saskatchewan experience. The entire trailer was covered with a thick layer of dust - not just on the outside but every surface on the inside too.

If the suspension hadn't been fixed by now - the trailer would have ended up completely destroyed and abandoned here on the side of the dirt road they call a highway here.

Had lunch at 14:00 on the side of the road, with still a long way to drive left :(

We wanted to stop at the interprovincial Cypress park, but didn't have the time. I was still thinking at this point that there would be an "on the way back" and we could see it then.

Stopped in a surprisingly hip town - Maple Creek. They had a neat toy store and we got a couple of puzzles there for the kids. Also had the tastiest cinnamon bun I ever had from the bakery across the street. My credit card was no longer working here.

This is one of the enormous farming rigs we saw on the road at some point this day. It wasn't the biggest one. The biggest one was so massive it literally took up more than the entire 2-lane road, towering 10 meters above us. I don't know how we managed to get past it.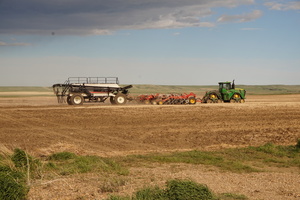 Went to the Reesor ranch via the trans-canada / Walsh. Interesting that the ranch is in Saskatchewan but the only two ways into it are from Alberta.To get to the ranch it was another 33km of gravel - not that it could compare with Saskatchewan's highway 18.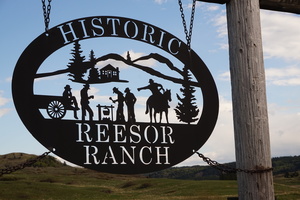 The hosts (Scott and Teresa) are very nice. Scott does the stereotypical Alberta banter but he actually has a good heart and is quiet intelligent. I don't know why some albertans act that way - it doesn't make a good first impression.

Had electricity (and water I think) but no sewer on site, though they told us we're welcome to dump the grey water right on the ground (which makes a lot of sense really).

Found that the gravel road destroyed more zip ties. I tied more of the brake cable to the axle with electrical tape. The only tie holding the car-end 7-flat connector broke again too. The crappy little plastic fresh water drain valve under the trailer cracked and I was watching the fresh water drain out on the road as I was speaking to Scott. He was great, gave me a new tap and tools to install the PEX fitting. In return I fixed a minor plumbing problem in the bathroom - so trivial I was wondering whether he had it just to test tourists like me for common sense :)

We planned to have breakfast at 9, for me to go horse riding at 10, and for Nikita to go on a pony ride after that.

I went to bed just before midnight. Worked on the expenses spreadsheet.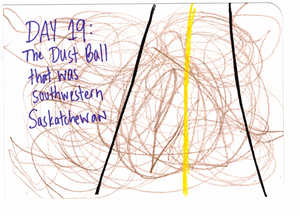 Day 20: Reesor ranch
I slept very well but still got up first, about 7. This was the most quiet night to date - just dogs barking.

Breakfast was good.

I liked my ride. I wasn't allowed to go off on my own or do anything interesting, but the horse (Pablo) was lively and did some trotting out of the line. Fun.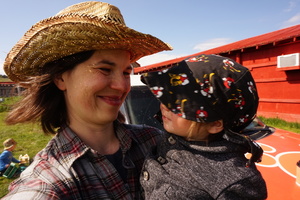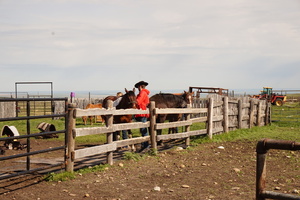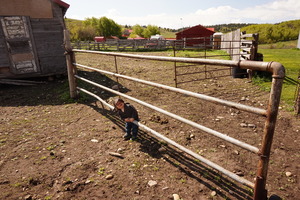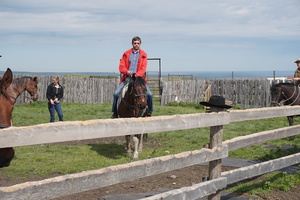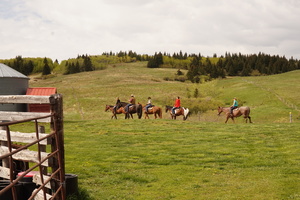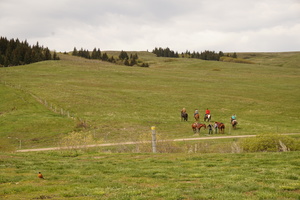 Had lunch in the trailer. Nikita had his ride at 14:00 and loved it. After some initial apprehension he was very good on the horse: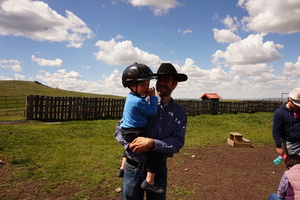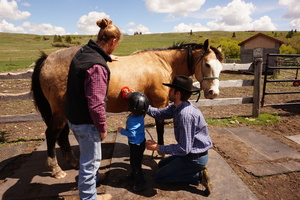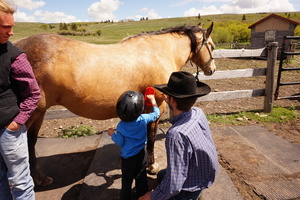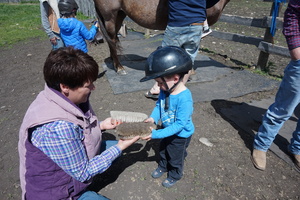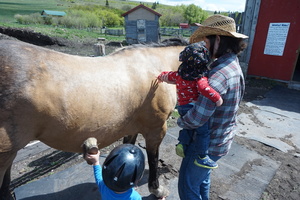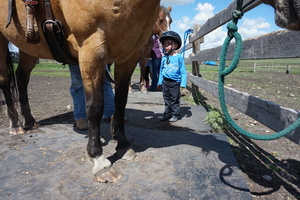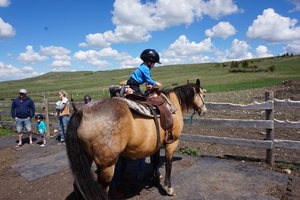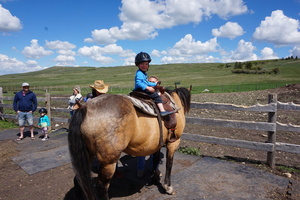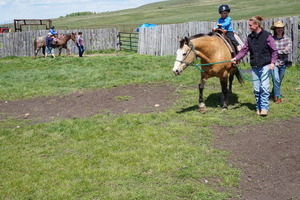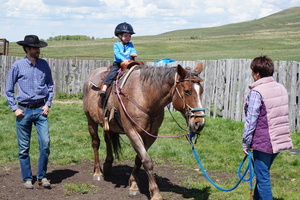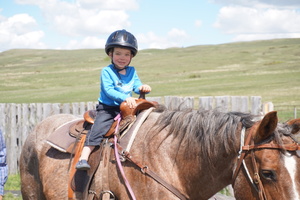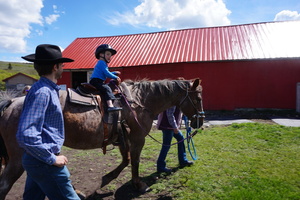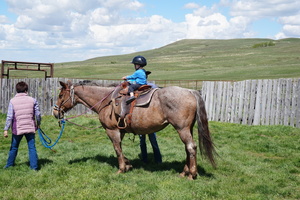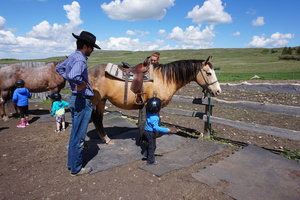 This is what the inside of the door looked like after the previous day's "highway":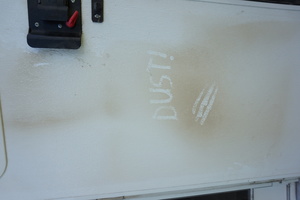 Kim went on the horse as well, at 15:20: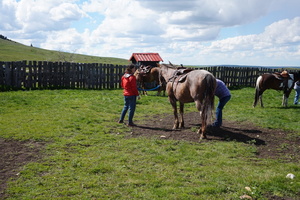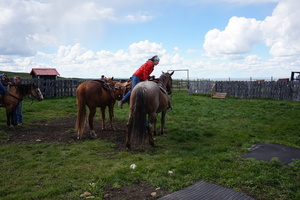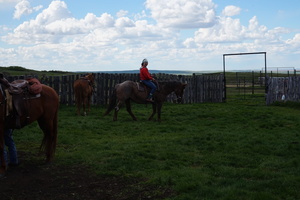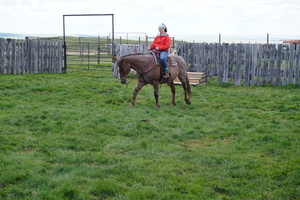 While she was doing that I fixed Scott's watch strap, the weather stripping on two of the doors in his house, and replaced the battery on an old ATV. He had a garage full of tools and parts. I would have stayed and done more work around if he gave me a horse for an hour to just go and ride without supervision, but he was worried about liability. I guess they're just as boring in Alberta as anywhere else, I was hoping they would be a little more exciting, as they're made out to be :(

Had steak dinner in the hall, it was pretty good though not what I expected from Alberta (another stereotype that's no longer true).

I was feeling exhausted, probably from waking up so early. We went on a hike on the ranch in the same area as we were horse riding. That woke me up a bit.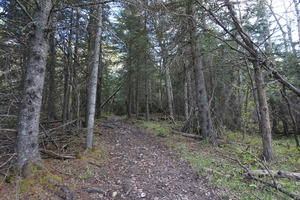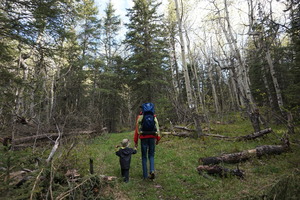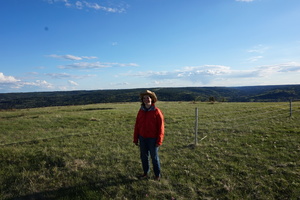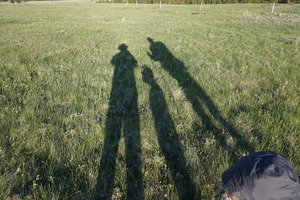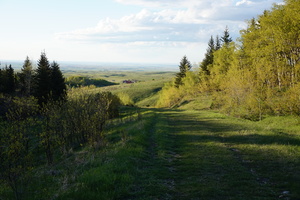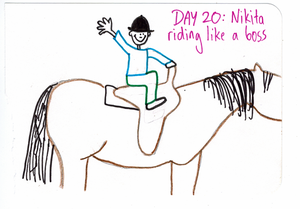 Day 21: Reesor ranch to Hussar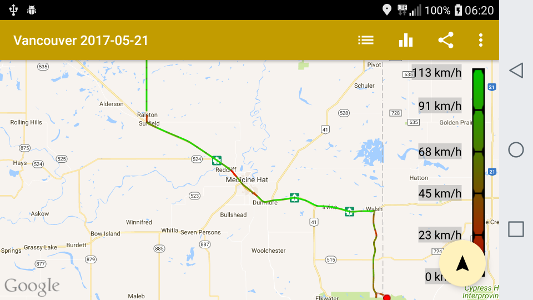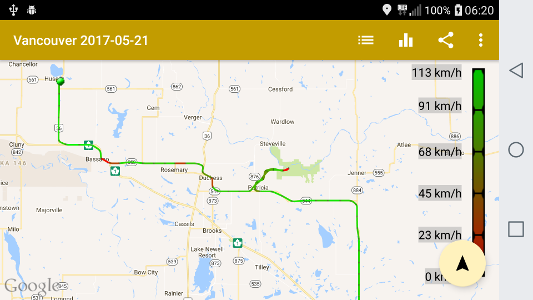 Woke up early again, around 4. Maybe the birds that start singing an hour before dawn kept me up. We needed to drive far in the following three days in order to get 3-4 days in Jasper. Thought we might also have to stop at a walk-in clinic again.

Had breakfast and went on a shorter gravel drive instead of the 32km we came in on, because our truck "has enough power to get up that hill". The truck sure had enough power to get up, but it had to pull two tonnes behind it, and it couldn't make it the last 5m to get over the top of the gravel hill. We had to back up all the way (almost ending up in the ditch a couple of times) to try again, but the second time only made it half a meter farther could see the tire tracks). Had to give up and go back on the north route out.

The Alberta welcome centre was open this day and Kim got some maps while I discovered that the power wire going to the 7-flat connector was severed. I taped it up while cursing all existing gravel roads. Later we stopped at a Crappy Tire in Medicine Hat and I bought some more butt connectors, fuses, and extra long zip ties. I made sure not to get any cheap zip ties - by this time I learned that when they fail they cause enough damage to keep me busy for hours finding and fixing the problem.

Also bought a fancy crimping tool which didn't work well at all. It had some counter-productive ratcheting mechanism. Returned it immediately.

Stopped at Dinosaur provincial park and was shocked at the landscape that came out of nowhere. In the photos it looks like we're on top of a hill but it feels like someone carved this Jurrasic Park out of the plains we were on (Alberta has almost as much flat farmland as Saskatchewan and Manitoba). The park had no spots left, I thought we might have to start booking camping before we get to the campgrounds we were headed to next.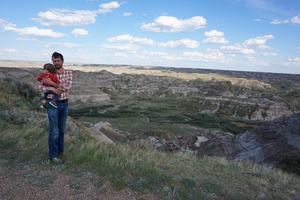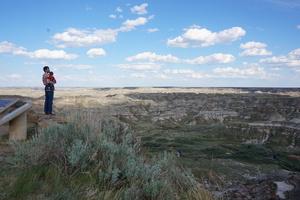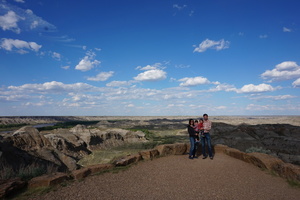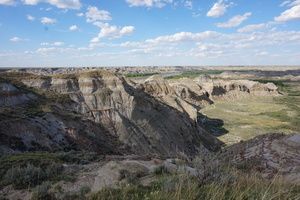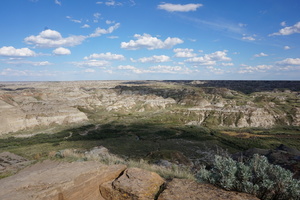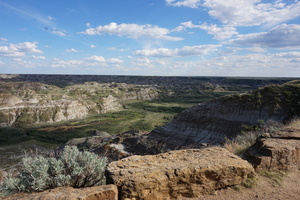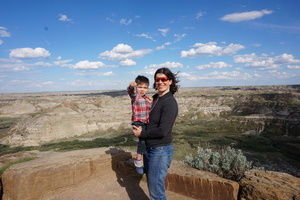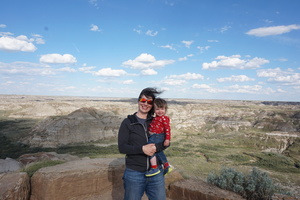 Planned to get to Little Fish lake to stay for the night so that we could get to the dinosaur museum in the morning and keep going after that.

Our fuel economy went to shit again - one time drove under 250km on a full tank. Thought maybe the air filter was full of dust but miraculously it wasn't - it was just dirty. Maybe because it's in the front of the truck.

Saw a camping sign at Hussar (on Deadhorse lake) and decided to stop there. This one wasn't even on the Alberta map - I guess it wasn't commercial enough.

It must be called Deadhorse because horses got killed by mosquitoes here. The campground appears to be free and it had only one other group of campers with music but they were far enough and not too bad. I went to sleep without too much trouble.

This was the first night that I didn't need a sweater while sleeping.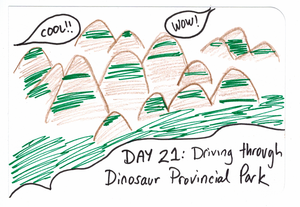 Day 22: Hussar to Red Deer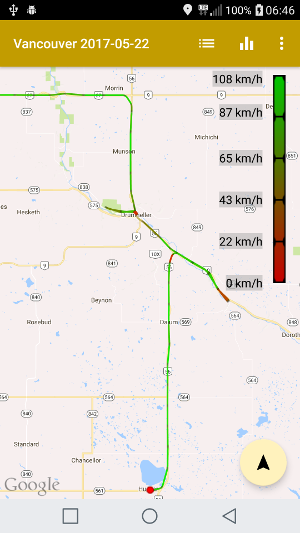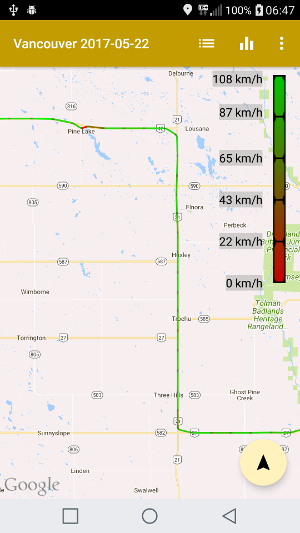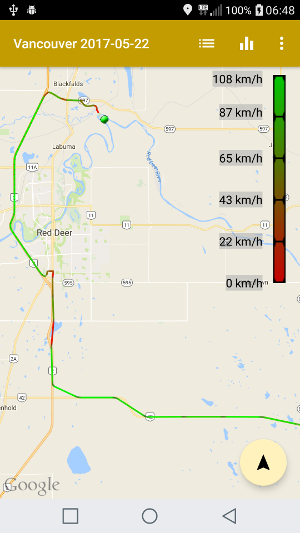 The mosquitoes weren't swarming in the morning but there was still enough of them that we needed bug spray.

I considered that the fuel economy fail from the last couple of days was caused by driving with a full fresh water tank and 1/3 full black water tank we've been hauling around. That's us in the campsite: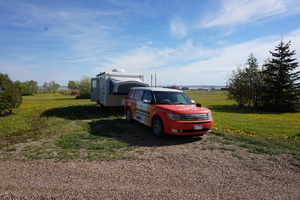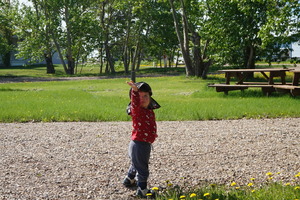 Turns out Drumheller has quite a few attractions. We went to see that Atlas coal mine but we weren't allowed in with kids under six. What an asshole thing to do to make people drive all the way there and then turn them away from the main attraction. We looked at the machinery on display outside (check out the size of those battery packs) and left.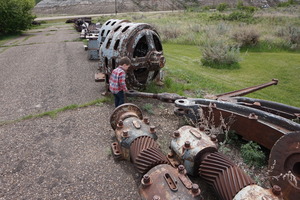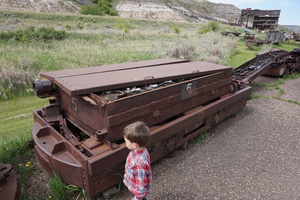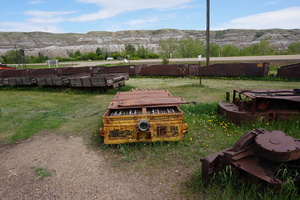 The trip wasn't completely wasted though - we drove through more badlands just like the Dinosaur park and enjoyed that.

This was in Drumheller I think: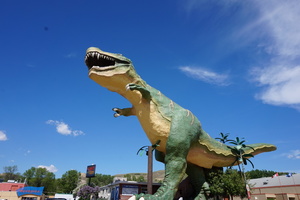 Also went to the Trekcetera museum which we got free tickets for at the visitor centre. It mostly has Star Trek costumes and gadgets, with a good portion from my favourite The Next Generation - really neat, though not spectacular. The isolinear chips don't look nearly as interesting up close :) and Diana Troy looks short in the show, but she was apparently also very skinny, or else I don't know how she fit in that dress.

The dinosaur museum was cool too. I would have found it more appealing if they clarified which parts were artificial (some percentage are) and had gave more info on each specimen, it seemed they just give you the latin name and that's it.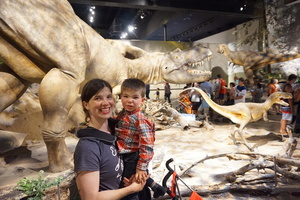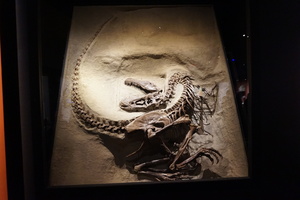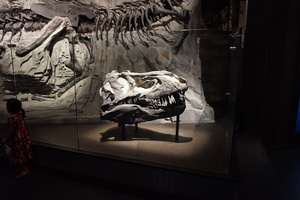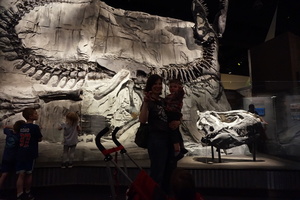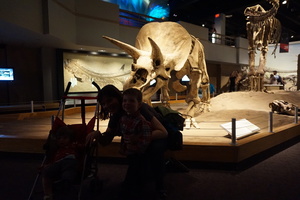 The sandbox outside with the fake dinosaur bones was a nice touch: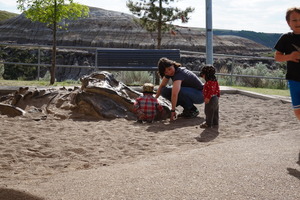 Stopped at the empty weighing station south of highways 56 & 9 out of curiosity, got the following:

1100 for the front truck axle
2610 for the two truck axles, this would include the tongue weight
1510 for the rear truck axle, again this would include the tongue weight
1380 for the trailer axle, this would not include the tongue weight

I'm guessing those are kilos, and now that I think of it - it looks like there may have been 400kg on the tongue, double the suggested 10% of the trailer weight. Well they should have put the axle closer to the front then, the only control I have over it is adjusting the height of the coupler!

Went to the Burbank campground. It's a nice one, lots of trees.

Was considering going back to Red Deer to replace the tires. Supposedly there's no sales tax in Alberta, and 13% on four truck tires is nearly a hundred dollars.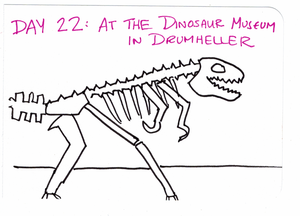 Day 23: Red Deer to Goldeye Lake campground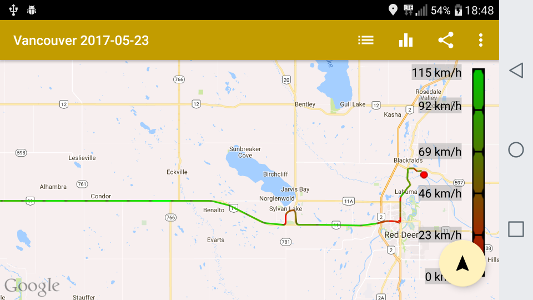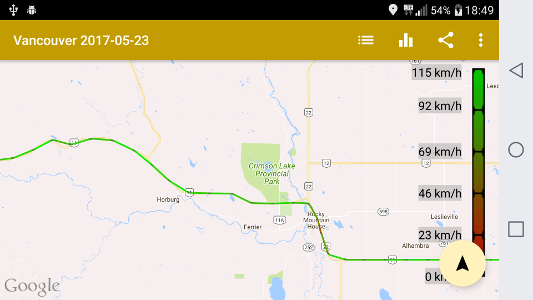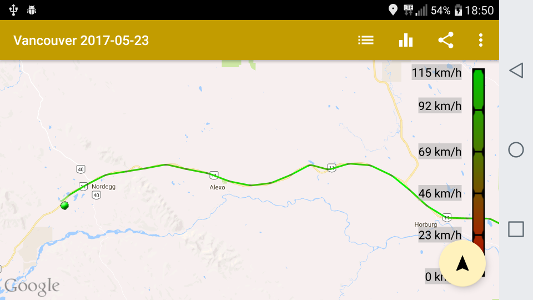 Of course I woke up with the sound of train horns, topped by a fly that turned out to be a bumble bee and refused to die. It was 18 degrees in the trailer with the window open all night.

Needed 235/60R18 tires, Red Deer North didn't have them in stock. They had the right tires in the middle Kal Tire in Red Deer. Actually I asked specifically for summer tires but they gave us all-seasons, I didn't argue having never had summer tires.

Checked the lights on the trailer before leaving - the left turn light was not working. After I replaced the bulb - none of the lights were working any longer. The 7-flat tester tool also showed nothing working. Turned out (again!) that the zip ties holding the power cable going from the front to the back on the truck broke and the cable was dragging on the ground. I must sound like a broken record, and that's how I felt at the time. About 30cm of the wire was stripped of insulation and the copper core was definitely broken too. That anything worked at all was some kind of a miracle.

By 16:30 we had new tires, got a new hitch pin, visited a doctor who charged a 40$ out-of-province fee, visited a pharmacy, had a rushed lunch, repaired the power cable, and replaced the engine air filter just because I thought it must need replacement.

Got some news about why my credit card wasn't working: turns out someone tried to buy 1000$ worth of flooring somewhere in Saskatoon, which took the card over the limit. Luckily the charge didn't go through so there was nothing to reverse. Unluckily they can only send a new card to my home, which is inaccessible right now. Whatever, between the two of us we had four credit cards.

We've never figured out who was responsible for the fraud. My wife thinks it CJay trailers, I think it was the ghetto CO-OP gas station on day 18.

Finally saw the mountains in the distance!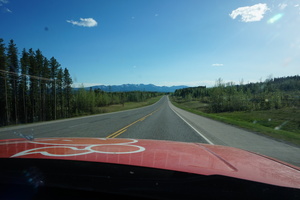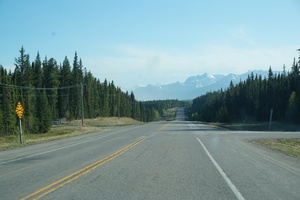 Made it to the Goldeye Lake campground - no amenities but easy to get to which was perfect. The 32$ price included 12 pieces of firewood, we only used half of that and it was plenty: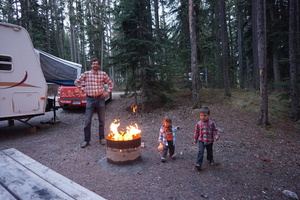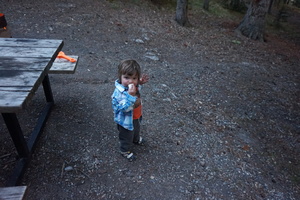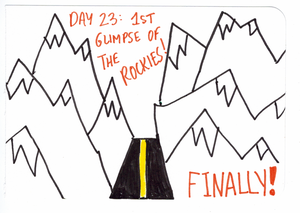 Day 24: Goldeye Lake campground to Banff campground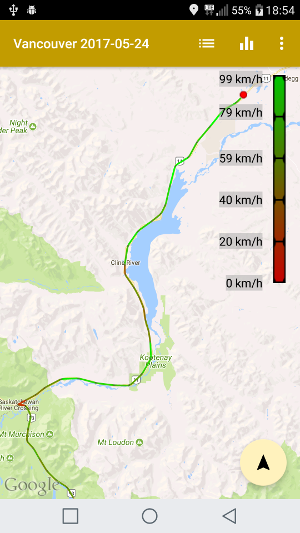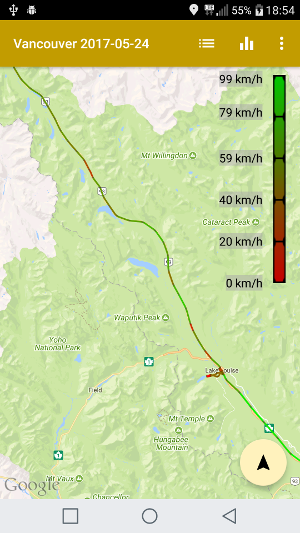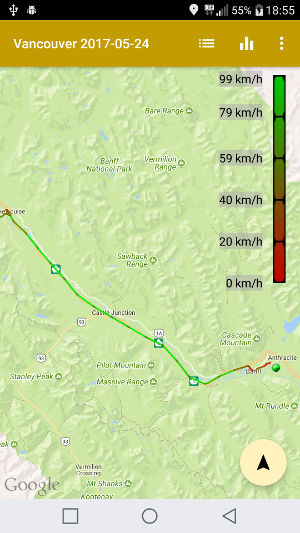 I woke up in the middle of the night because of a super-intense wind. Luckily there were lots of very tall trees which sheltered us from it almost completely. I wouldn't want to be in the open (especially driving) with wind like this.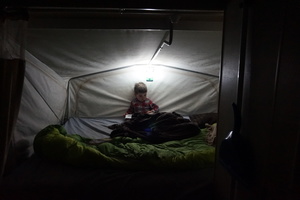 We ran out of water but had enough for breakfast in a 4l bottle. Washed the dishes in the lake.

The rain started in the morning and went until noon when it turned into snow, even though it was +8 degrees. I was not expecting that. This was the first time we folded the trailer wet.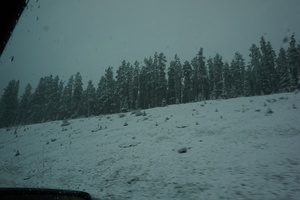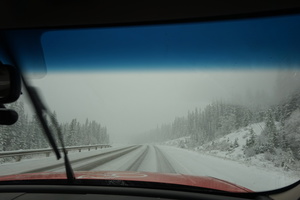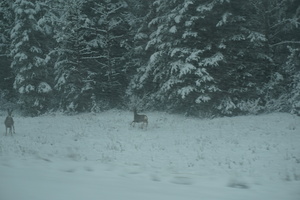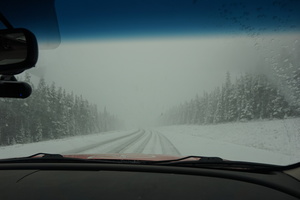 Changed our plan due to the weather. Instead of going to Jasper would go to Lake Louise and Banff during the rain.

This is Saskatchewan River Crossing - the only gas station in three directions, had to pay a ridiculous 1.50$ per liter of gas. This is what the parking lot looked like. I had to use one of Kim's fancy hockey sticks to clear the snow. And there was enough to make a snowman: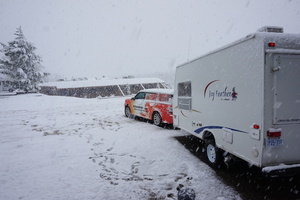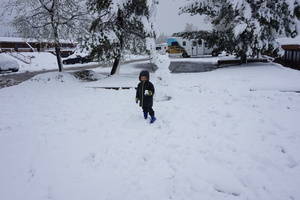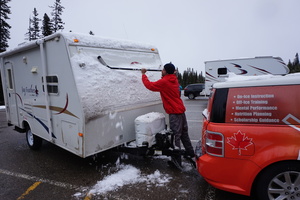 It was only 76km to Lake Louise but it took a long time. Obviously everyone took their winter tires off already, just as I have (it was nearly june!). Our new all-season tires worked very well except in one place where we had to stop behind someone and I wasn't sure we'd be able to get enough grip to get moving again.

There were several people in the ditch, but noone needed/wanted our help.

Lake Louise is tiny, except for a good-size hotel on the actual lake. Gas here much more reasonable than a dollar fifty a liter. The weather suck so we couldn't even see the glacier, it was supposed to be in the middle here: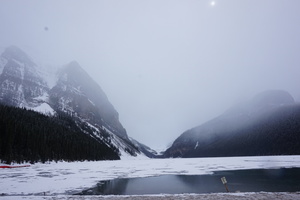 It was still neat but we decided to come back another day.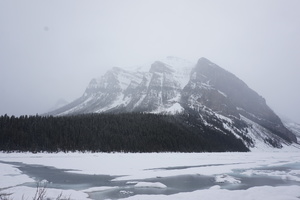 Got to Banff without many adventures. On arriving I found that when I turned the right turn signal on - the left one blinked instead. The record scratch causing the skipping keeps is long... The lights controller was fried again. I felt really annoyed having to fix this shit over and over again.

Had dinner at Boston Pizza. Set up the trailer without any trouble even with the snow in the foldouts from the morning.

Didn't sleep well. Guess what? They had trains going through here horning so loud you can hear them all the way in Banff. Stayed at the Banff campground which was almost full, despite the weather.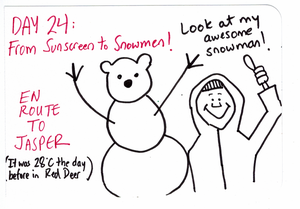 Day 25: Banff campground to Three Sisters campground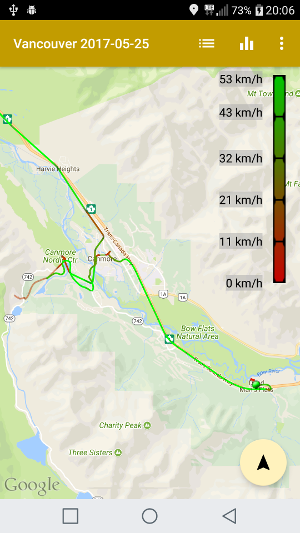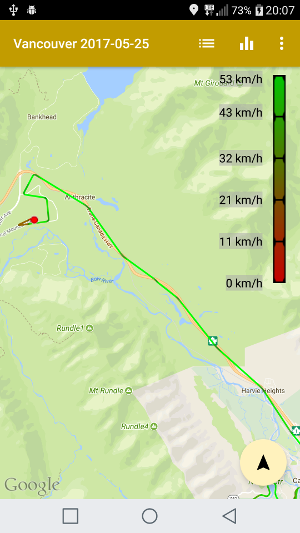 The weather was much nicer than the day before. I had the furnace on but it only ran in the first half of the night. Didn't have any rain in the morning, even saw the sun poking through the clouds now and again.

Had a shower.

It rained on-and-off for a couple of hours but eventually it cleared enough that you could see the mountains.

Some photos on the way, tried to avoid the fence but what can you do: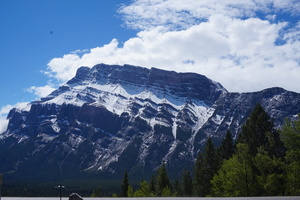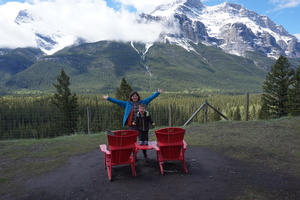 Went to Canmore, visited the Nordic Centre and looked at the olympics stuff.

Someone recommended the Grassi hike and we went on the nordic version (which wasn't very hard) and also climbed to the top of the reservoir (it may have been called Whitemans pond).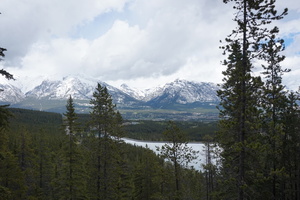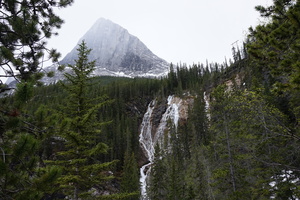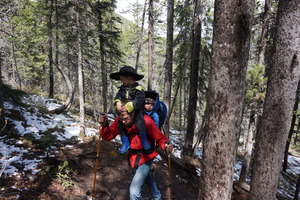 This is the lake half way up: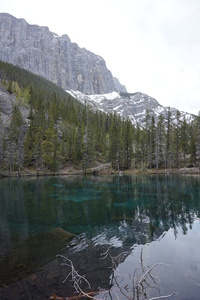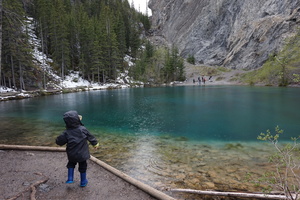 Rock climbers really love this. We've only seen a couple going up but I imagine it's very popular: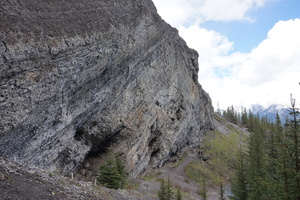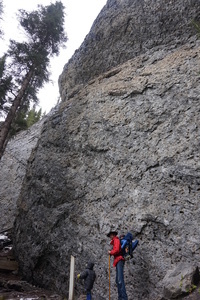 Also good for children: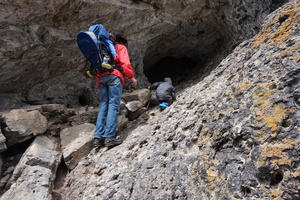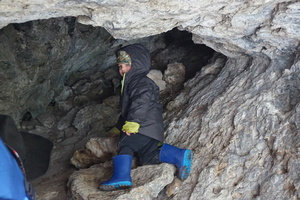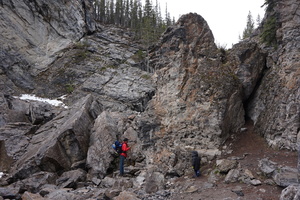 Canmore had a Crappy Tire. Got a new lights controller there to replace the burnt-out one. Also removed a couple of the running lights to lower the current draw.

Went to camp at the Three Sisters campground. No amenities, but also no railway (I checked in advance :)). There was highway noise but that was much less annoying - more constant.

I lost my sunglasses somewhere this day. Which is a bigger problem for me than other people because my sunglasses are prescription glasses, I can't just buy some off the shelf somewhere. I thought I noticed them fall out of my pocket at some point but didn't dedicate any attention to it. I couldn't remember where that happened so didn't even know where to look.

Got an awesome campsite right next to the Bow river (for some reason I wrote down Saskatchewan river) - scary fast but we just told Nikita to stay away unless he's with us and he listened.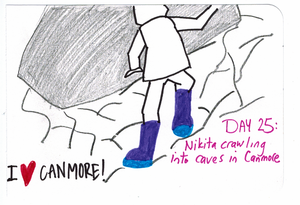 Day 26: Three Sisters campground to Lake Louise and back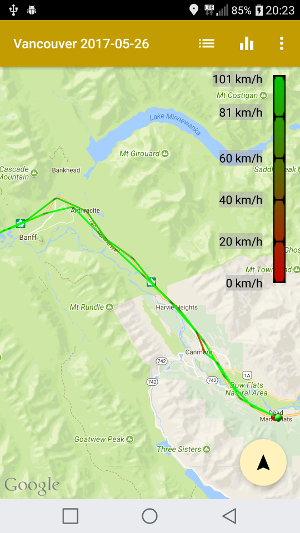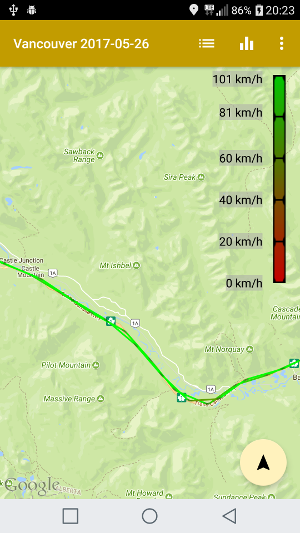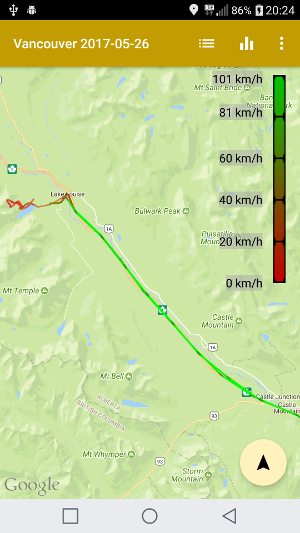 It was sunny and clear - looked like a great day for hiking. Even without sunglasses. But I found them, they were in the car besides the seat. Had perfect weather for the rest of the day.

Went back to Lake Louise and saw the glacier this time: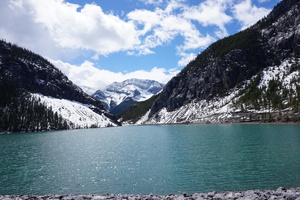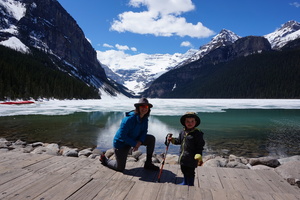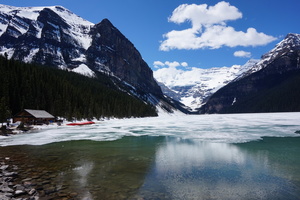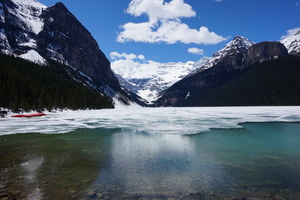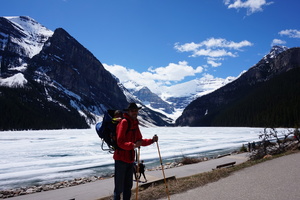 Were told by some awesome helpful Parks Canada person by the lake that if we wanted to go on a nice hike we should go somewhere else, that there's an avalanche risk. Bullshit. Why do they lie to people? Haven't they heard the story of the boy who cried "wolf"?

We hiked up to the tea house on Mirror Lake. The entire path was covered with snow, but it wasn't hard to get through wearing boots: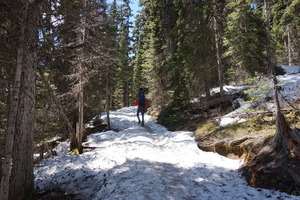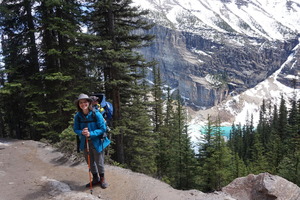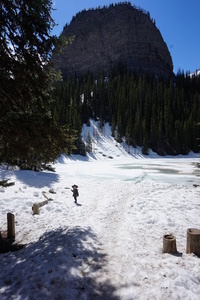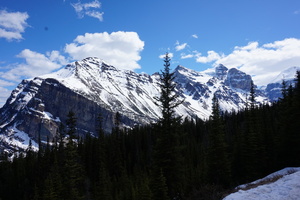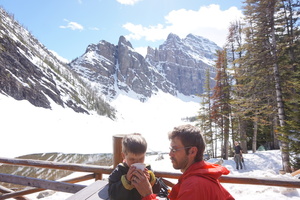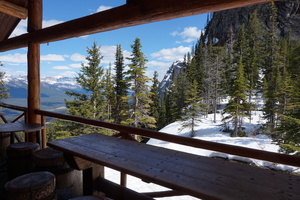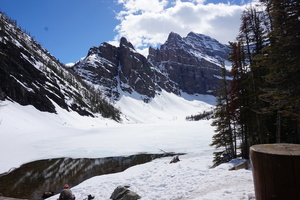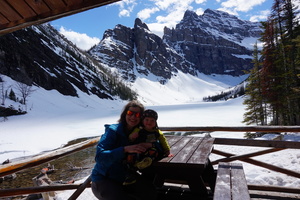 It was a great hike but I decided I want more, and I will go that way: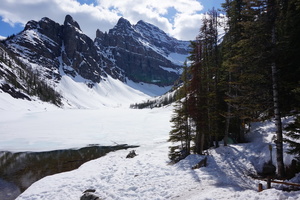 I made it as far as the trees you can see in the open on the left here: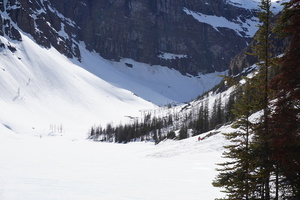 Getting there I went through two clearly exhausted avalanche chutes. On the entire hike the snow is over a meter deep, and around this time of year when half of it is melted it's often melting at the bottom, not the top. I don't know why, maybe melt water running down on the ground level warms up the ground. Many times I ended up in the snow deep to my chest, and it's not easy to climb back out of that. Hiking sticks were critical: for testing the snow, for support hiking, and for climbing out of the deep snow. I enjoyed it thoroughly.

I would have gone farther, but the area past that really did look like an avalanche risk and I didn't feel like experiencing that.

Got another shadow photo on our way back: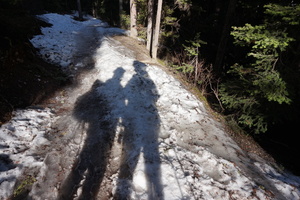 This is the great hiker when we made it back down to Lake Louise: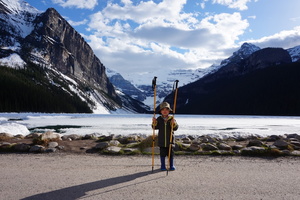 In the parking lot as we were packing up a guy was getting ready to go in, carrying a snowboard. I asked him where he's going to find snow and he pointed to the top of a mountain. Said he hikes up there with snowshoes, and snowboards down when there's enough show. Awesome!

That was all the hiking we had time for that day. Got some groceries including water with a 2$ recycling fee I didn't understand what to do with. I was kind of glad they charge for this kind of stuff when I thought about it. People would recycle more and better.

We returned to the same campground, it was completely full by the time we got there - friday night. I wasn't expecting it but I should have. Plan was to do one more hike the next day and go to Calgary from there.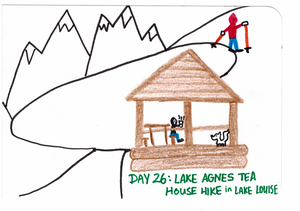 Day 27: Three Sisters campground to Okotoks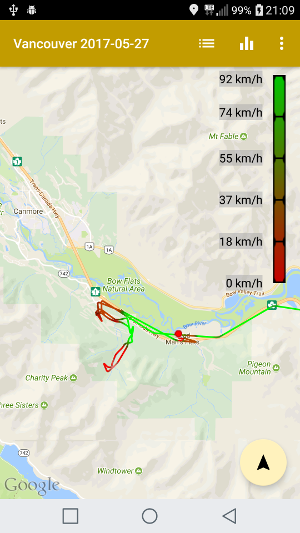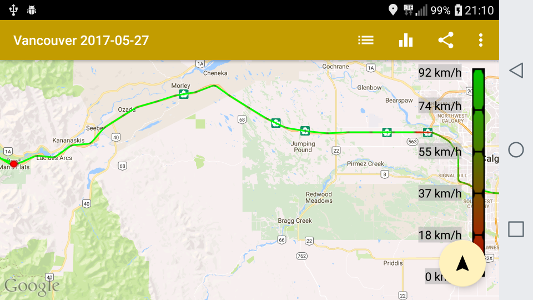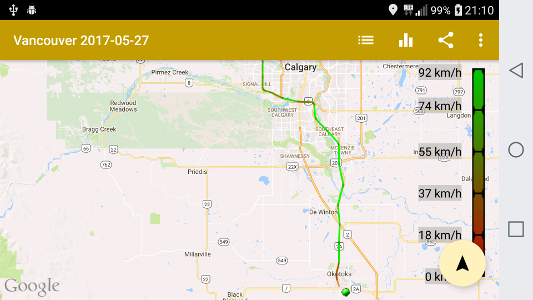 Got up at 7:30 but felt well rested. Didn't have enough water to do dishes but at least that meant less weight pulling around that day.

Thought a hike would be great but couldn't figure out what's up with parking at trail heads on the highway based on the map I could see in OpenStreetMap. We've been seeing cars parked on the grass on the other side of the shoulder/ditch (presumably hiker's cars) but there's no way we could get a trailer in and out of that.

Went to the Three Sisters village. Parked in a school parking lot - nobody here, it was a saturday and also the subdivision (yeah) next to it is still under construction. Looked so weird to have a suburb in a tourist resort, though I guess that must be pretty common actually.

The GPS on my phone wasn't very accurate but the trail would have been impossible to find without it. It runs through the construction site and some roads that are being built before turning into a real trail. One of the people in front of us today told us that the Middle Sister trail is used very little but someone did hang pink ribbons to mark it, which was very helpful.

We only hiked along the stream, probably didn't even make it to the foot of the mountain, but it was a nice hike anyway. Would have been better if we didn't need to take an hour to get to the trail start here: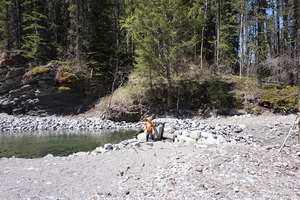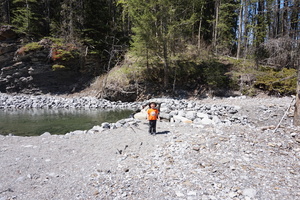 Here are some more photos of the trail: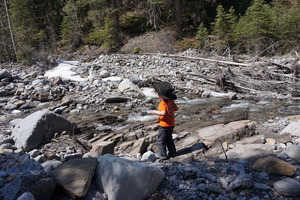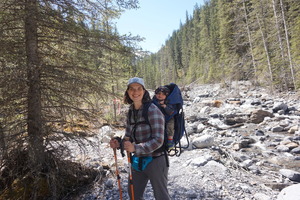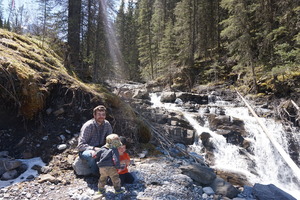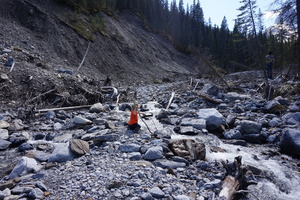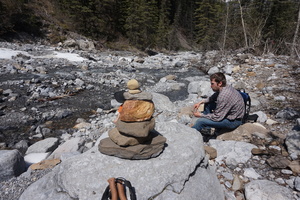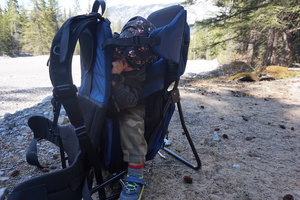 And when we came back: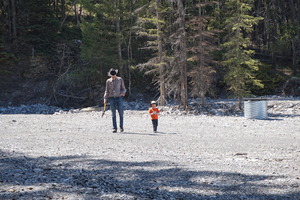 Had lunch in the school parking lot and drove to Okitoks to stay in an acquaintance's driveway for Kim's camp the following day.

By now I've decided I really want to sell this piece of junk trailer. Not that it was in particularly bad shape, but all trailers are made so poorly that I'd be going crazy trying to keep things functioning up to what I would consider to be a reasonable standard. Thought we might be able to manage it in the Vancouver area if the price were good enough.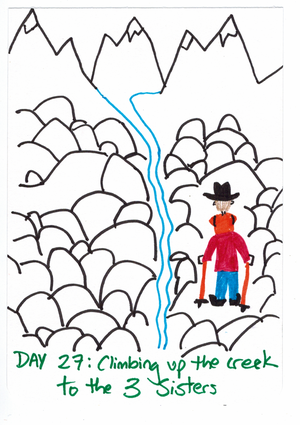 Day 28: Okotoks

Slept pretty well, despite being next to a noisy local road.

Kim had her camp in Okotoks and the rest of us went to a park for a few hours.

Had a nice barbecue with the hosts and stayed another night in their driveway.

Had power and water but had to be careful with waste water because there was no RV dump site nearby.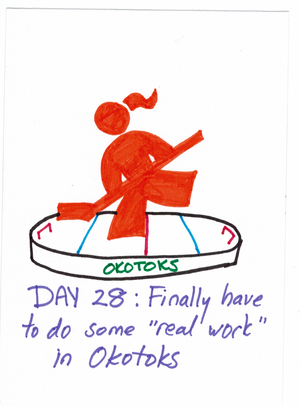 Day 29: Okotoks to Thompson Creek campground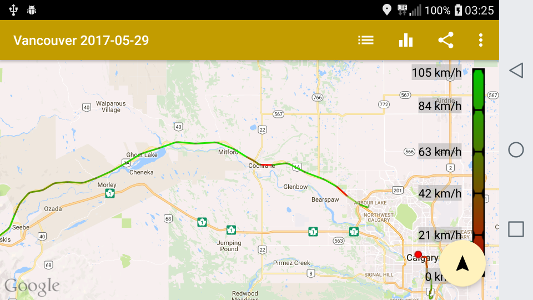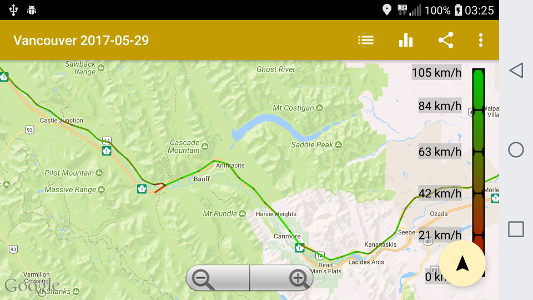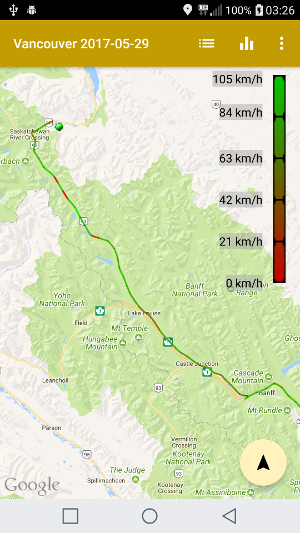 Got up at 7:30 and were ready to go soon after 9.

The brake controller showed the brake cable was disconnected but that was just the connector not plugged in well enough. I never understood who came up with this connector design. It's terrible for a constantly shacking and vibrating, and sometimes being taking a good hit location.

Left the trailer at Walmart for a few hours, and stopped by Princess Auto to return the failed lights controller I bought in Winnipeg.

Went for a walk on Kensington (in Calgary). Kim lived there for a couple of years when she played hockey.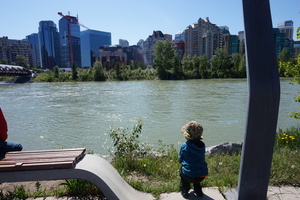 On our way out stopped at Lammle (a tourist trap full of souvenirs and workers who know nothing of the practicality of what they sell) to get Nikita a fake cowboy hat and Kim a straw one.

Drove on highway 1A to Lake Louise - a completely different drive from highway 1. The trees are right next to the road so you don't see the mountains as much. Still a nice drive though.

Then took 93 north - a completely different experience when not in the middle of a snowstorm. Very pretty.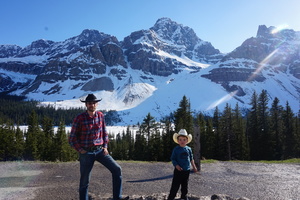 Not many campgrounds on the way and those that we found were closed and gated. Went 10km east on highway 11 to the first campground there. No services and operated privately.

They were trying to catch a bear, we didn't see it.

Got 12 free pieces of firewood included with the park's fee. I burned all of them this time because they didn't burn that well, probably they were a bit wet and there was no wind to help them burn.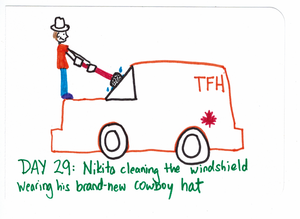 Day 30: Thompson Creek campground to Honeymoon Lake campground, Wilcox Pass hike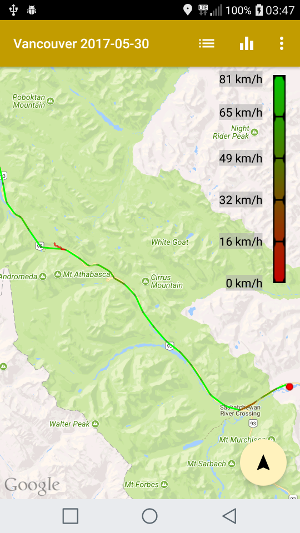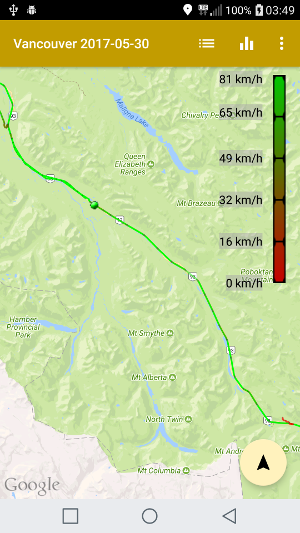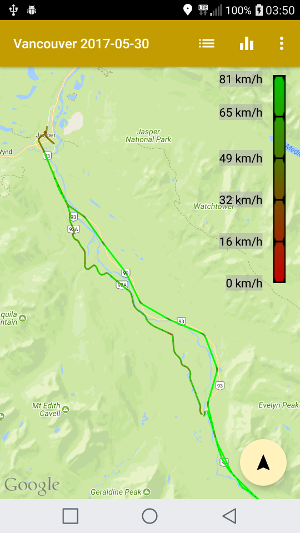 Slept pretty well again. It seems to be correlated with the temperature at night.

Park trucks are still driving around periodically, I guess the bear is still around or maybe they just do that here. I remembered an annoying campground operator doing that in Quebec on one of my bike trips.

This is what a bear trap looks like: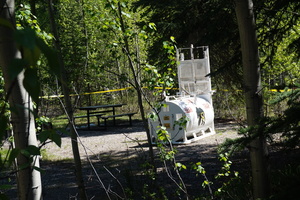 Drove towards Jasper. Got 20$ worth of gas at the crazily overpriced gas station just so we wouldn't have to worry about it. Gas is at regular Alberta prices in Jasper.

On the way had to pull the trailer on an enormous switchback. These are pictures from the top, you can see the road we climbed up from in the first one. It almost looks photoshopped - it's hard to imagine this awesome view could be real: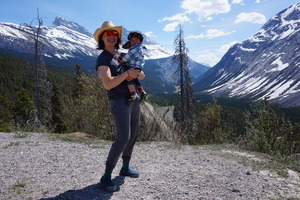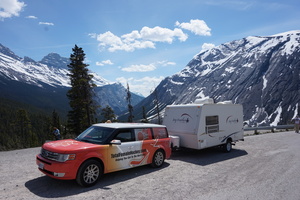 Had plenty of power to make it up, despite how large the climb was.

Went on a nice hike (Wilcox Pass). It said it's 8km, probably one way, but we only made it about 2km in as far as a small cairn. Following that the trail was in the open and completely snowed in, impossible to find unless perhaps you already knew it. There weren't even footprints to follow.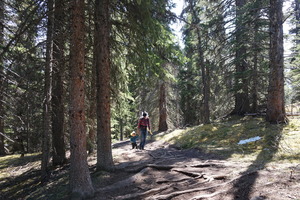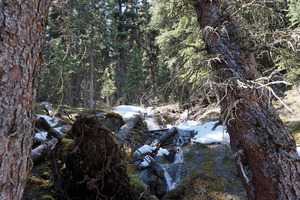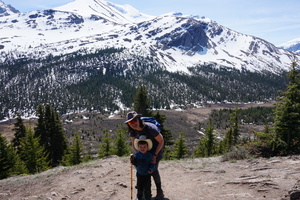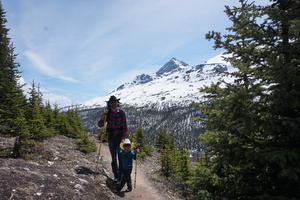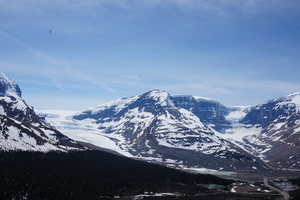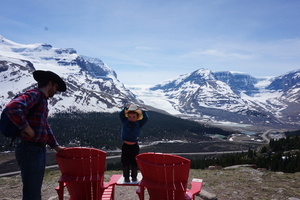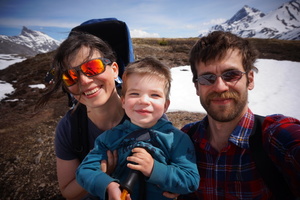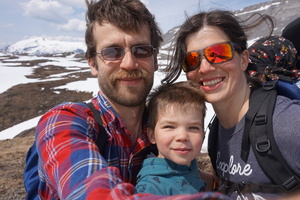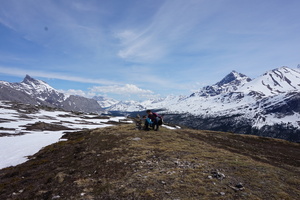 On the way we got some great views of the glacier (I think Athabasca). The one that has the massive-tire tour buses drive onto it. There's no way those guys got as nice a view as us, though I guess they can say they drove on the top of a glacier and got to walk on a dirty pad of ice.

Coming down we walked past a herd of wild goats. They didn't seem to care that we were there, but weren't asking for food either: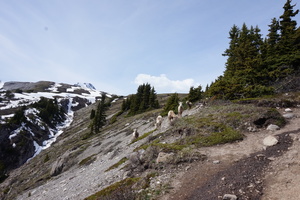 Classy Nikita: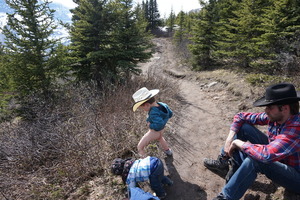 On the drive to Jasper saw some more wildlife. Rams on the highway were causing tourist ecstasy: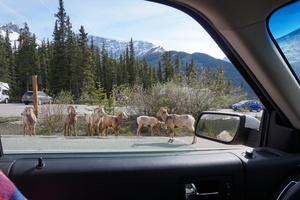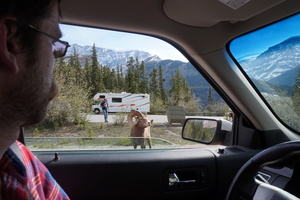 And saw reindeer (I think) also: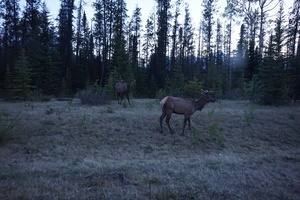 Jasper is the same type of thing as Banff but smaller. We had dinner there. Then we drove back to the trailer which we left at Honeymoon Lake to sleep. The cheapest paid camping I've ever seen: 15.70$ per night plus 8.80$ for the fire, with all-you-can-burn firewood.

That fire kept us up till midnight.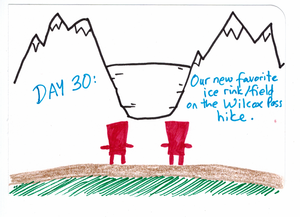 Day 31: Valley of the Five Lakes hike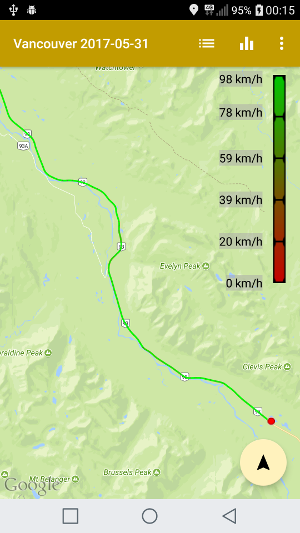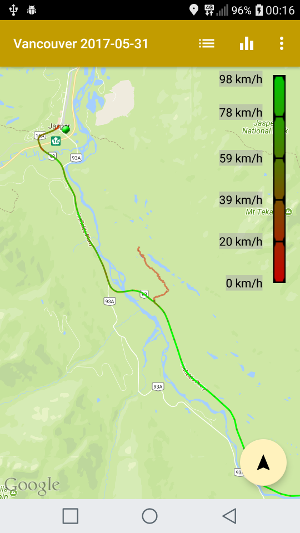 Slept terribly, Sasha kept making bullshit noises at night, but rested enough.

Had breakfast and left the trailer at the campground again to go hiking for the day.

Did the Valley of the Five Lakes hike. It said "moderate difficulty" on the map, but it should have been called "easy". It was nice enough though.

At our the campground entrance there was conveniently posted the weather forecast for the day: 60% chance of rain. Luckily it rained very little. I wore my rain pants for about 1km into the hike and then took them off, didn't miss them.

We kept our rain jacket shells on - they made us hot but kept the many mosquitoes away from our skins. I remember there were many years when I refused to use bug spray, I thought it was for sissies only. Since then I've seen enough to know that sometimes it's the only realistic option.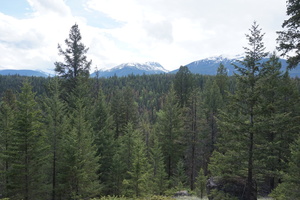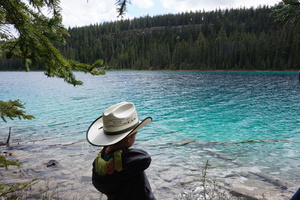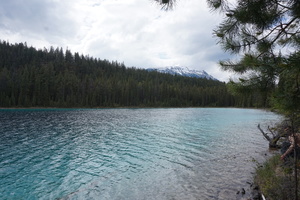 Finally I got to go swimming. I've seen many clear blue lakes, and this one was one of the nicest. To this day I remember the first one I saw in the Carpatian mountains and feel sad that at the time I didn't have the balls to go swim in it. Noone there to look at my naked ass except my wife and you: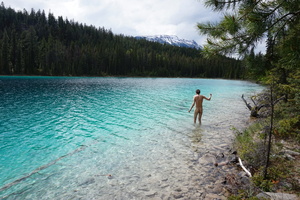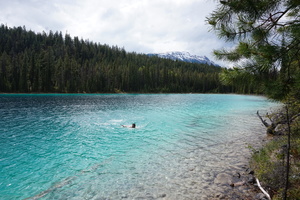 It was cold but very refreshing.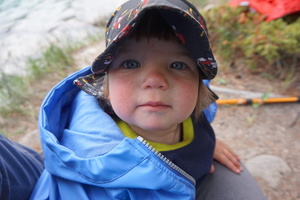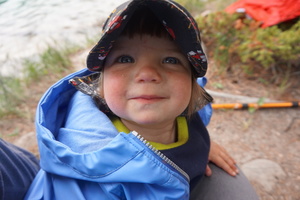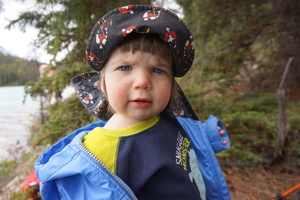 These are from the same hike: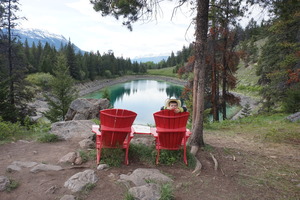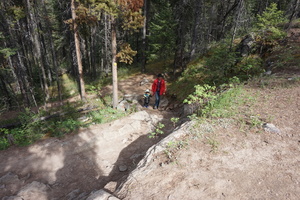 Had ice cream in Jasper and drove back to the trailer to sleep.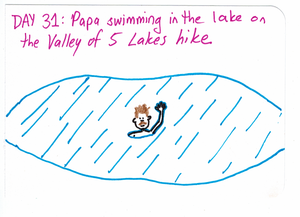 Day 32: Honeymoon Lake campground to Pyramid Mountains campground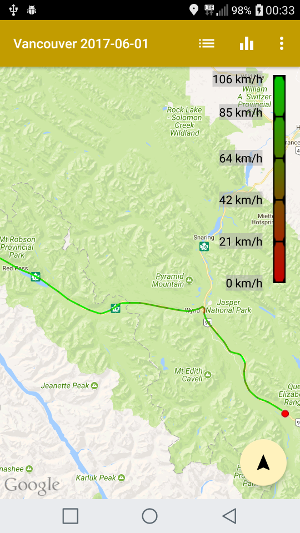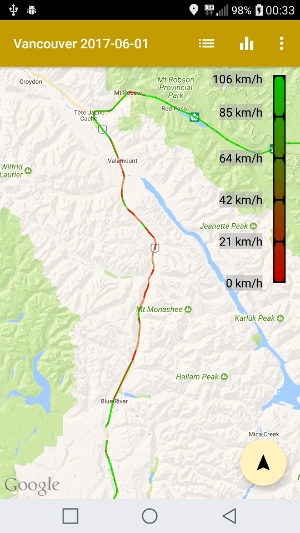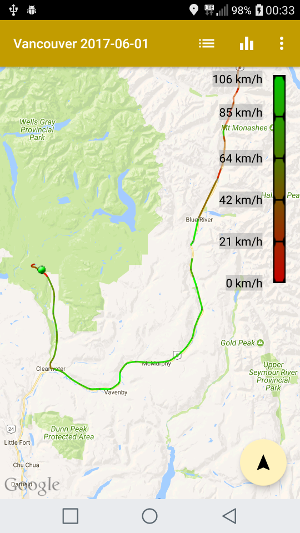 Fueled up in Jasper, afraid of a bus driver's prediction that gas will cost as much as 2$/l in BC.

Crossed into British Columbia this day, gaining one final hour on the trip. Had a partly rainy day.

Got to the Mt. Robson visitor centre and had lunch in the parking lot there. The lady there was very helpful with advice on the types of things we could do.

The upper part of the mountain was in a cloud and we didn't see it. Too bad, would have been good to see the tallest mountain there. Highways 16 5 are busy, with commercial traffic, but it's still a nice drive.

Did grocery shopping in Valemount.

No hikes today - too much rain. A couple of times it was really pouring down, other times dry and clear. Plus we were tired.

Didn't have much to choose from in Clearwater for restaurants but found one hipster trap on the way north to the parks. Kim enjoyed it but I didn't - all pork, too much fat, and that despite the fact that they really tried to cut all the fat off before serving it.

Kim said she saw a bear on the side of the road. I missed it.

Stopped at the first provincial park out of the two available: Pyramid Mountains. Nice campground - great privacy and well designed, flat, spots. Too bad it was the beginning of crazy bug season - mosquitoes everywhere. We hoped that bug spray would allow us to enjoy it anyway.

This must have been at the campground: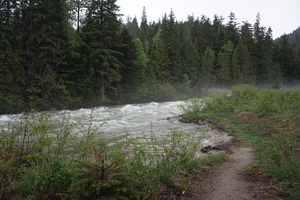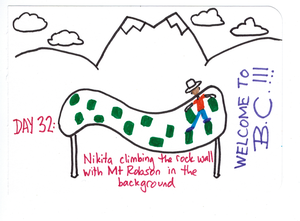 Day 33: Pyramid Mountains campground to Paul Lake provincial park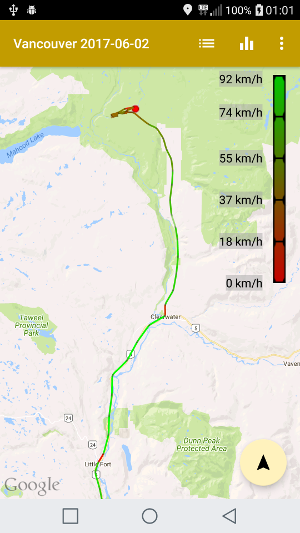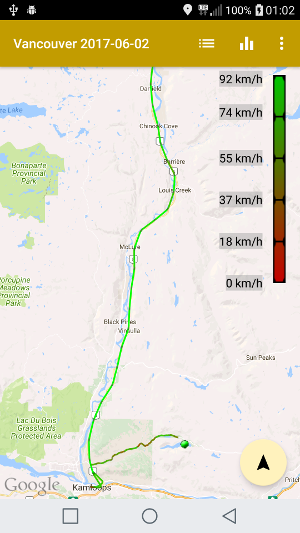 Woke up with the birds and couldn't fall back asleep right away. Looked like we were done with the cold for the season. Sasha slept under a blanket and dind't kick it off despite moving all over the bed.

Mosquitoes seem to be less active in the morning but you just have to stop for 30 seconds for all of them to find you. They must have a means of talking to each other.

I managed to nap for another hour or two - which was helpful.

We packed for and went on the Pyramd Mountain trail but turned back after 5 minutes of hiking. Mosquitoes were crazy, some biting right over fresh bug spray.

Refusing to give up completely we drove to see the Helmiken Falls - which was quite nice. Lots of tourists, but worth the 4km drive to have a look: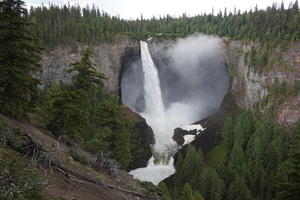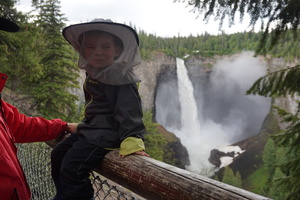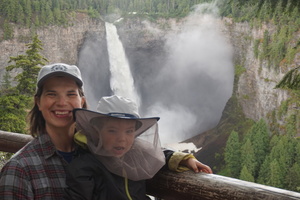 As we were there making photos rain started pouring and hail joined in so ran back to the car and drove to see the bridge.

On the other side of the bridge we found a hike going to the same falls, though it had a different name in OpenStreetMap.

The mosquitoes were just as bad here but we decided to soldier our way through. We put the two bug nets we had over the kids' heads, covered ourselves with bug spray, and hiked quickly - which really does help.

Stopped for a few quick brakes and a lunch break at the end, near the falls: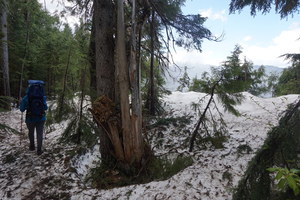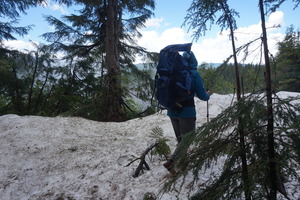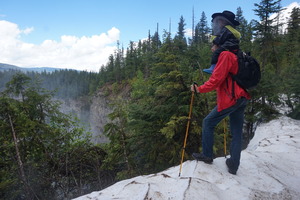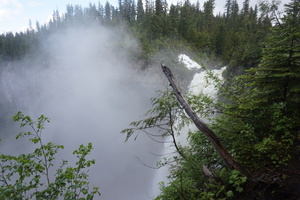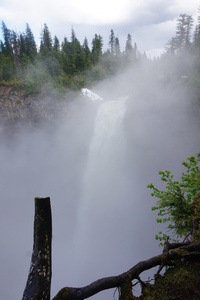 Definitely worth the hike to see that up close. And it was good that we first saw it from a distance from the other side, it gave us a greater appreciation of its size.

Originally we planned to stay another night but the bugs were too much so we left, heading south towards Kamloops.

Arrived to Kamloops in the dark. The drive reminded me of Cusco (Peru) for some reason.

The Kamloops downtown is full of hipster redneck weirdos. We parked in a shopping plaza lot for 1.50$/hour. It was empty but whatever. Had sushi for dinner just before the restaurant closed.

There's a strange concentration of homeless people here. Unless they're doing loops and I kept seeing the same ones.

Drove to Paul Lake provincial park to stay for the night, hoping to find an unreservable spot to stay for the weekend.

Arrived to the park entrance in complete darkness and as we were trying to figure out where to go the park night shift dude pulled up beside us. That was lucky because there was exactly one spot available for the two nights. We got it, paying him 36$ on the spot.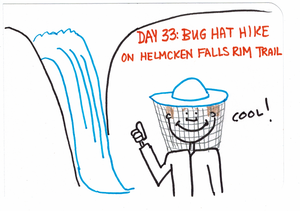 Day 34: Paul Lake provincial park to Camloops and back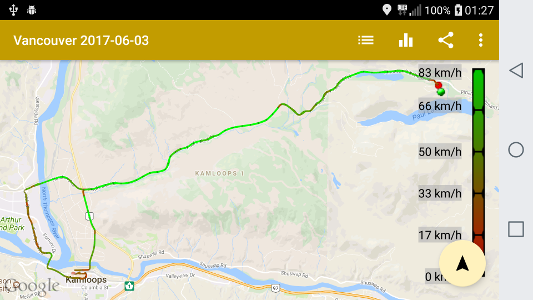 I felt tired and wanted a break. There was enough stuff to do that I felt I was ok without a hike that day.

Went to all five camera stores in town, looking for a lens cap to replace the one I lost. None of them had anything close, not even in their piles of assorted old junk caps. I figured I might be able to find one when we got to Vancouver or I might have to get one back home where we bought the camera.

Did groceries at Save on Foods, got their discount card for free while giving them no personal information whatsoever - that was weird.

Went to the water park on the river and spent three hours there: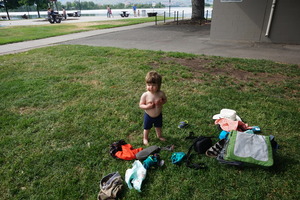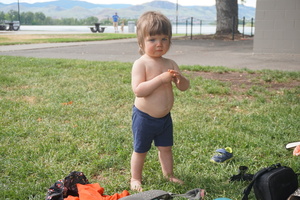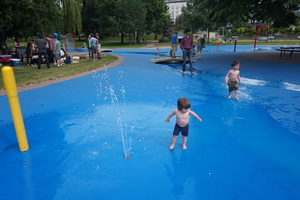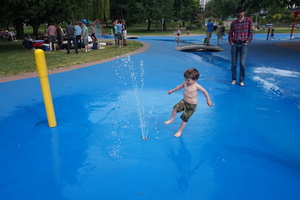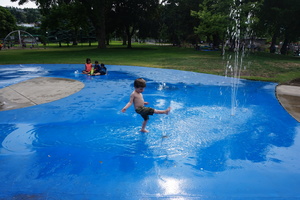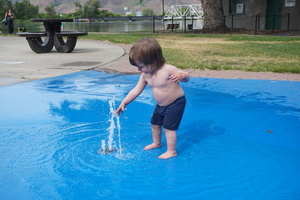 Had dinner at the campsite, ran out of water when washing dishes.

Not many mosquitoes here but enough to keep you annoyed.

They charge a fee for dumping at the campground, but I thought I saw a free one in the city.

Nikita fell asleep around 7:30 and the two of us were also very tired so we went to sleep at 9:30 and fell asleep immediately.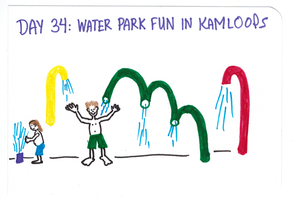 Day 35: Paul Lake provincial park to Kekne Bay campground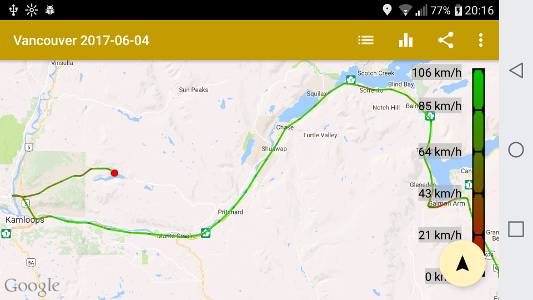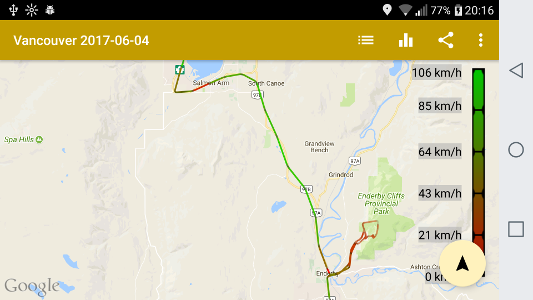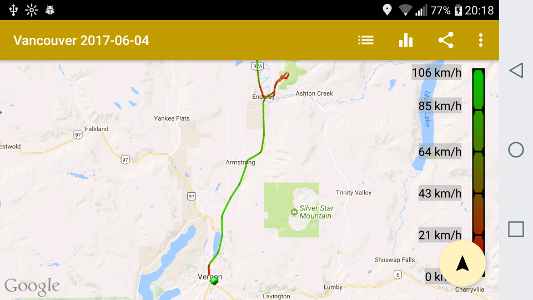 Got up around 8:30 and had breakfast, packed up pretty quickly.

Thought of getting water at the dump station but someone was there and I didn't want to wait.

Dumped for free in the city, later saw another dump station sign, and later a couple more.

Drove to Enderby's welcome centre which was closed. Had lunch in the park there by the overflowing river, and went on the Enderby Cliffs hike.

8km one way, this one I would call "intermediate". The mosquitoes about as bad as the park yesterday, with pockets of real nastiness. I was wondering how quickly the sweat washes away the bug spray.

This hike is a slow but constant climb up. The 8km one way was very near our abilities at the time, though I felt I was starting to get better at carrying Nikita on my shoulders. All these photos are from that hike: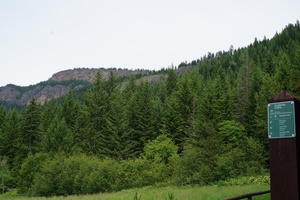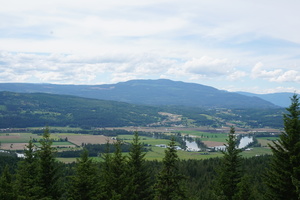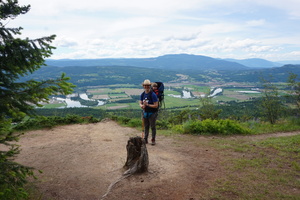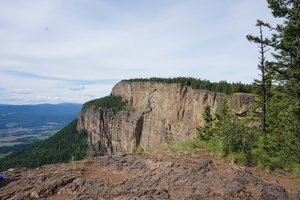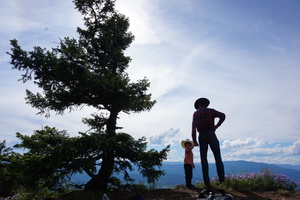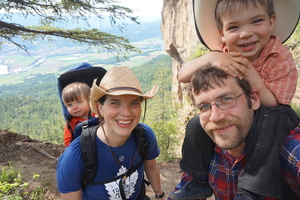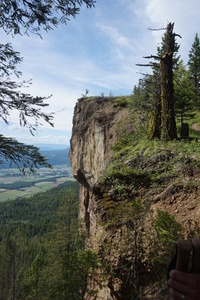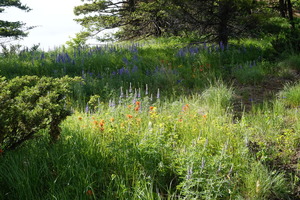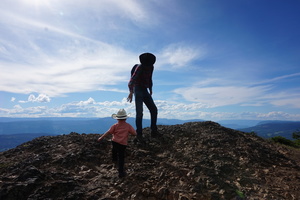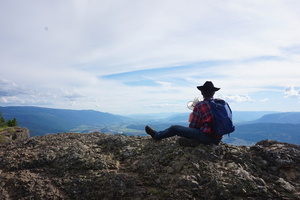 We were the last ones off the mountain. One car left in the parking lot, maybe they made the wrong turn somewhere on the mountain (there are many branches near the bottom).

Had a late dinner in Vernon at Boston Pizza. Then drove to the Kekne Bay campground. It was almost 2/3 full.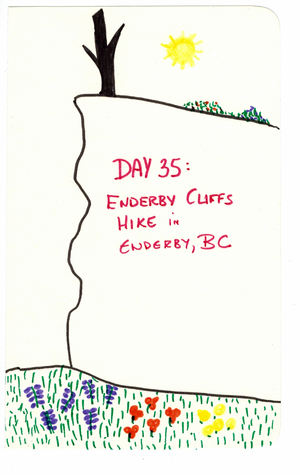 Day 36: Kekne Bay campground to Kelowna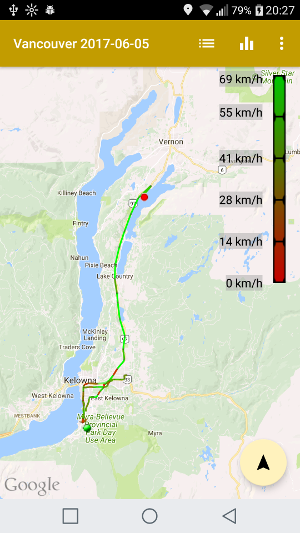 Got up at 7. Not a cloud in the sky. Had a shower at the campground - that felt nice despite the annoying button I had to keep pushing and the lack of temperature control.

Nikita wanted to go to the playground so we took the trailer there.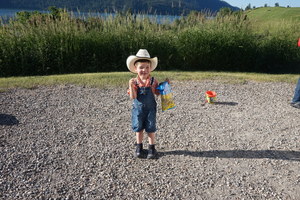 The campground host came by the trailer and took 32$ for the night. Said he's never seen this much water and that it's the rain that made the grass so tall and green, normally at this time of the year it's all yellow. He also mentioned that many decks are flooded and so is one of the other campgrounds but no houses are.

We drove to another one of Kim's friends' house in Kelowna.

What a nice city! I've not been impressed by anything else on our way as a place I'd actually like to live in, but this one yes for sure. It's small yet big enough, its economy is obviously doing pretty well, and the weather is awesome. Probably not much snow in the winter but we don't really get it in Toronto either.

Kim had another camp here - running from 17:00 to 21:00. During that time I did some catching up to email and the kids played in the park and in the arena hall.

We picked up Nikita's birthday cake from the grocery store and went back to the trailer.

Had a slice of birthday cake and went to sleep - the first night of the trip not inside the trailer. It was fine, though not necessary - the trailer was perfectly comfortable, except perhaps compared to my own bed at home.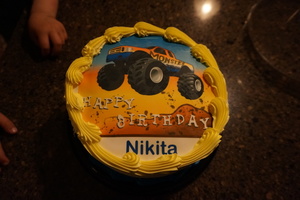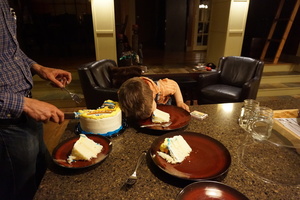 I need to buy a new, nice pillow for myself. The 30-40 year old down-filled pillow I brought with me lost too much of its fullness.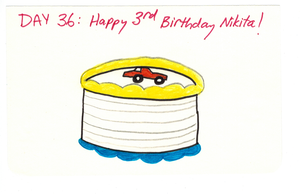 Day 37: Kelowna
Spent the day in Kelowna. All the beaches were flooded so we didn't spend any time on the water. Hiked up onto the Apex "mountain" which was kind of a waste of time compared to what BC has to offer, but it's the best they've got in the city: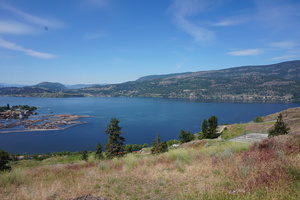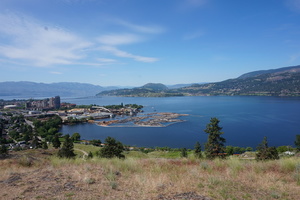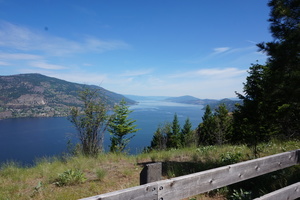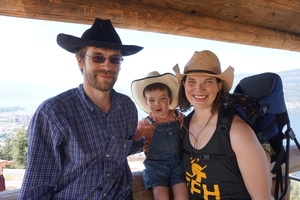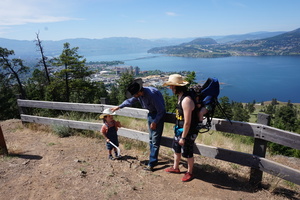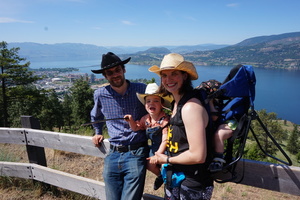 Spent more than two hours in the pool with Nikita. After he agreed to get into it - it was very hard to get him back out. Thanks to the host he looks like he's finally starting to learn to swim.

Drove past the Okinagan College - looks like primarily a trades school. Drove up to UBC - it's quite a large campus. Didn't go inside because didn't have a tour guide.

Went to the downtown, had dinner at one of the few pubs that didn't ban children.

Found the Regent Park of Kelowna - a homeless people congregation.

Kim did the laundry at the house.

Sat by a backyard fire late into the evening and went to bed with a nasty headache.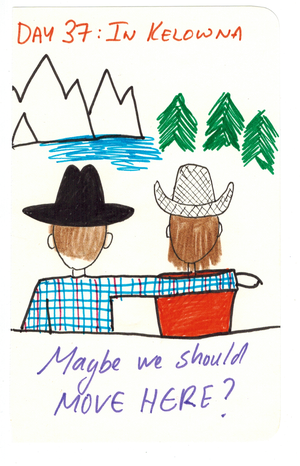 Day 38: Kelowna to Skihist provincial park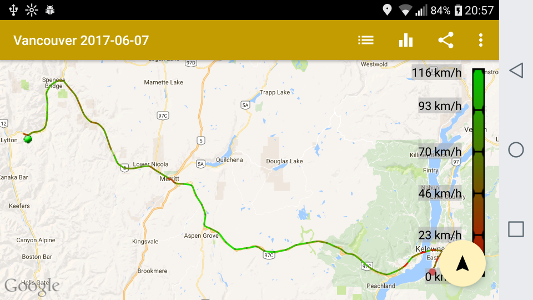 Packed up, said good bye, and left.

Took highway 97c to Merrit and highways 8 and 1 to the Skihist provincial park. This park is far from the river (which is neither accessible nor visible) so it's a bit deceptive that way.

It would have been great to sleep in the Goldpan provincial park (just minutes east of here, right between the highway and the rushing river) but I was dealing with inevitable whining issues that happen on a trip this long.

Arrived around 18:00. Not much to do around here, but at least there weren't any mosquitoes so I could relax at a picnic table.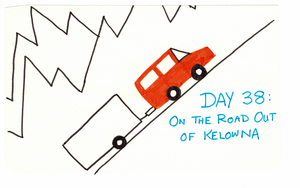 Day 39: Skihist provincial park to Alice lake campground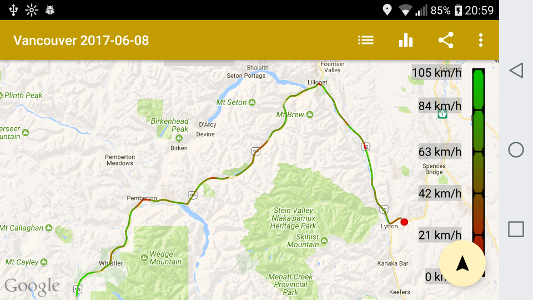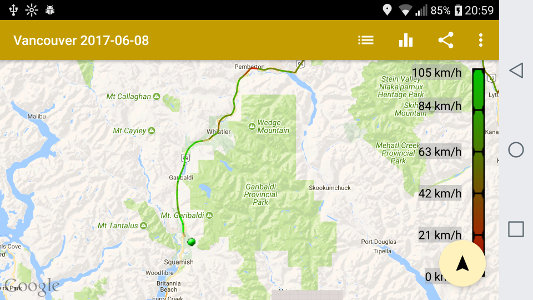 They made us pay an extra 5$ for dumping, which made this a 28$ campsite - one of the most expensive ones we've stayed at for a while.

The road getting here was amazing, likely one of the best in all of Canada. I sat in the back seat for an hour which was a mistake - I felt nauseous for hours after that.

Saw the new cheapest campsite that's not completely free: 12$.

Didn't stop in Whistler - figured it's just touristy shopping.

Can't remember where this was: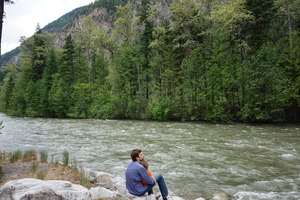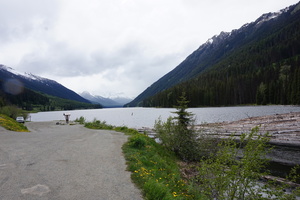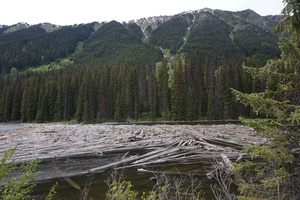 Stayed at Alice lake. In the morning I only checked availability here for this night and it was only half full. At the entrance they told me there were zero spots available on the following night.

The campground is very pretty, full of huge redwoods (I think):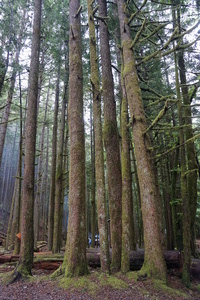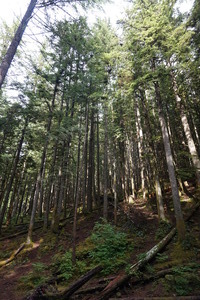 Cute playground too: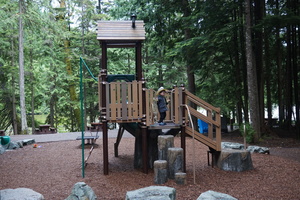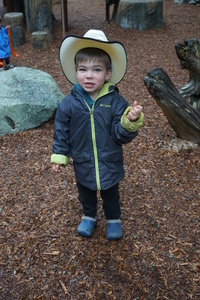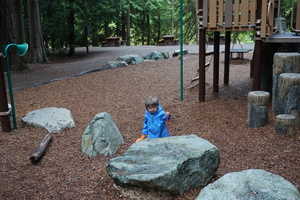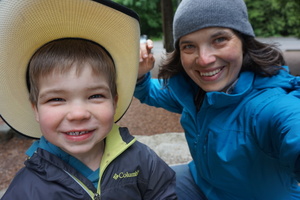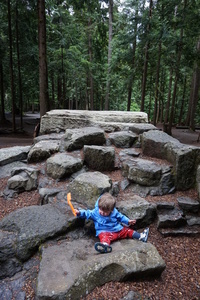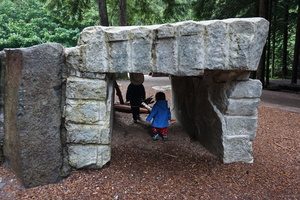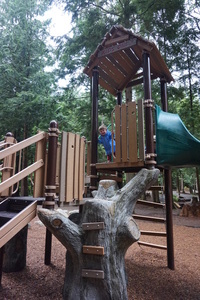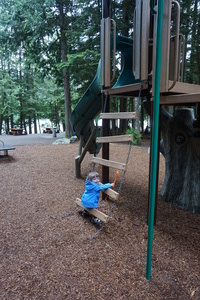 Beach was flooded, same as every other beach we've passed in BC.

Had to deal with some shitty group playing music so loud everyone in the park could hear them. I went to complain but the noise went on at least between 20:00 and 21:00. I used that time to fantasize about setting their car on fire :)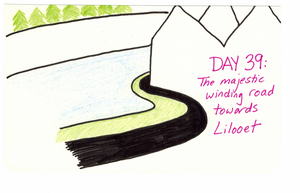 Day 40: Alice lake campground to the Stawamus Chief provincial park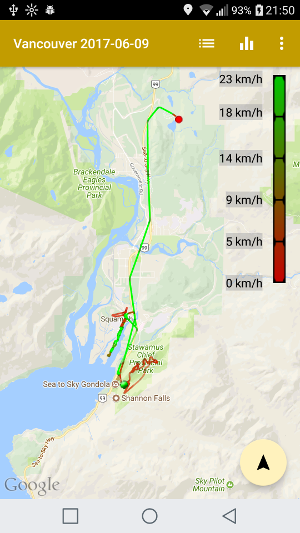 Managed to pack up and leave before 11. As we were leaving noticed a gathering of at least two pickup trucks, one cart, and six park workers - they were putting out a smouldering fire in a fire pit, looking very proud of themselves. Mind - everything in the park was soaked so badly you couldn't set the campground on fire with a can of gasoline. And where were they the previous night when they could have done something useful?

Drove to the Chief, this is it as we're approaching it: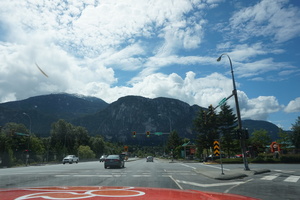 They call it the largest granite monolith in Canada, though I don't understand how they could have possibly determined that it's a monolith.

I was worried about parking there but we found lots of parking - got a decent angled double-spot that mostly fit the truck with the trailer.

Spent most of the day climbing the first peak, then the second, and finally the Chief. The weather was most of the way, but on the final way down the Chief got lots of blind rain.

Looks like most people here only do the first peak and very few make it to the third. So obviously I enjoyed the third peak the most.

Lots of cool climbing, much of it very challenging with a passenger on your shoulders.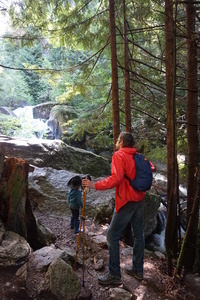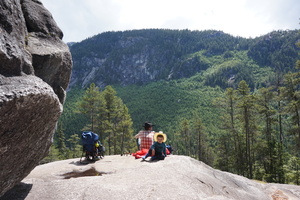 Look at this big-man 3-year-old: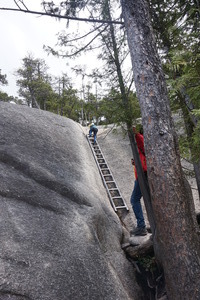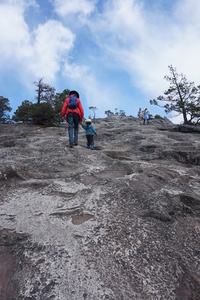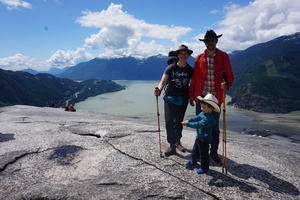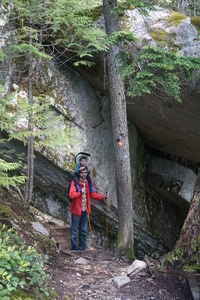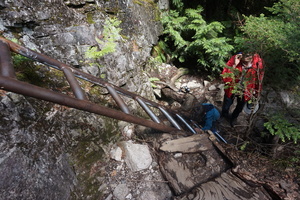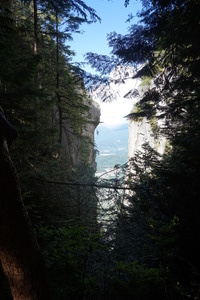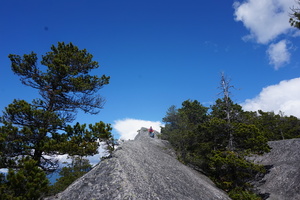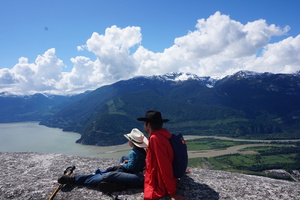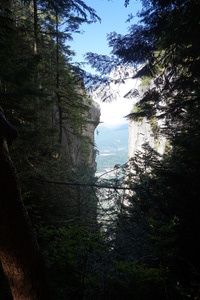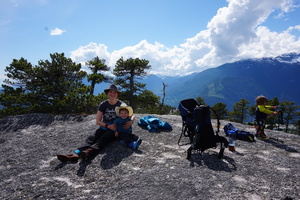 This is Nikita hunting chipmunks, who are obviously used to being fed by some of the few who make it up to the final peak: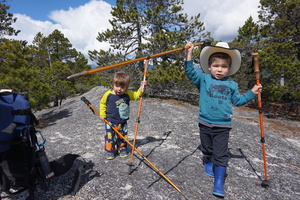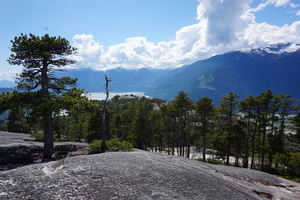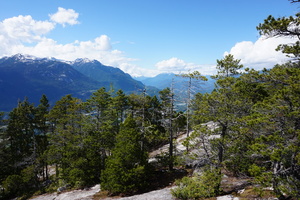 The chief really is the tallest of the three peaks, it just looks smaller from the highway because it's farther. I noticed the same on the Tea House hike (on day 26) when I thought the peak next to me was the highest and it turned out to be barely a peak at all.

The Chief has a campground with the new price record - 10$. The campground was half-empty, including the drive-in part. The only explanation I can come up with for something this close to Vancouver is that the spots are really small. Just big enough to fit the trailer, had to leave the truck in the parking lot.

Before going to sleep had dinner at a pub in Squamish. Surprisingly small place. I couldn't understand that given the insanest-in-Canada real estate prices in Vancouver. Maybe the traffic is terrible.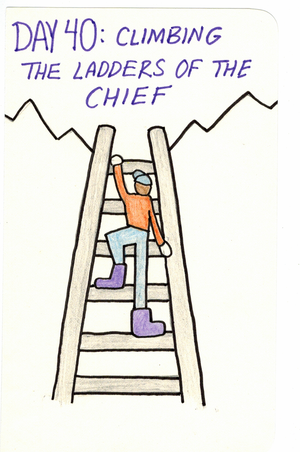 Day 41: The Chief to Living Forest park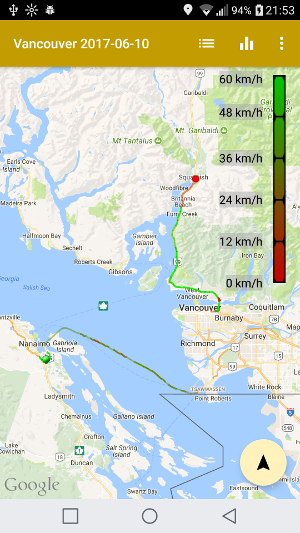 Slept fine, the highway wasn't that noisy. And the big waterfall nearby makes some good background noise.

Here's a view from the bottom of the chief, on the other side of the highway: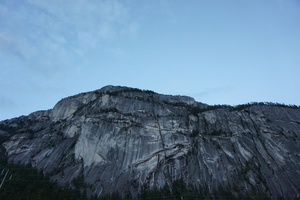 While flossing my teeth in the morning one of my fillings popped out - a huge one. Tooth didn't hurt but without the filling it had a very sharp edge that cut my tongue like a nasty saw. It was so bad that I couldn't chew or swallow.

All the dentist offices in Squamish are closed on saturdays (some closed even on fridays) except one, which is open by appointment only.

Not knowing what else to do I used Kim's nail file to smooth the jagged edge a bit and it seemed to have worked a little.

Drove to Vancouver, spent time on a hip tourist street (or maybe the locals everywhere in Vancouver are this weird). Got ice cream from a fancy place which felt like a 45 minute walk away.

Then drove to the central Vancouver ferry terminal to go to Nanaimo on a discounted fair. Because the trailer makes us 36 feet long the deal saved us 50$, but it was still very expensive: 140$.

This was my second time on a ferry and I wasn't completely clueless, so we waited comfortably in the playground for the boarding to begin.

The crossing was uneventful - very calm sea and very little wind: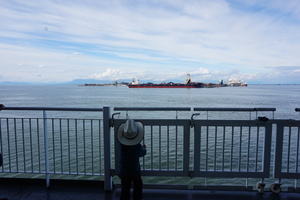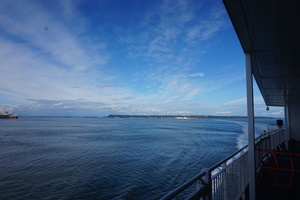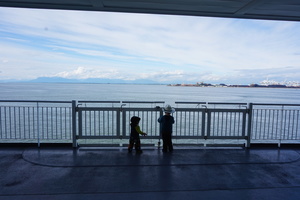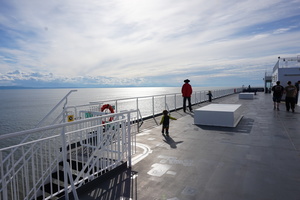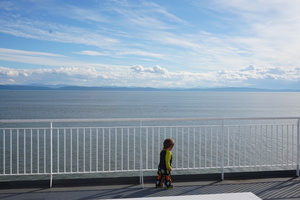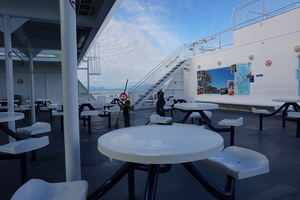 It took longer than I expected - I forgot we're not going directly across.

Gas in Squamish and Vancouver was crazy expensive, the highest we've seen on the trip including in all of BC (but not counting Saskatchewan River Crossing).

On the island we headed for the Living Forest park based on a recommendation. No more 12$ camping :) but the campground was nice.

Stayed next to a girl scouts group - they seemed to be enjoying themselves.

Paid 8$ for firewood and enjoyed the fire in the evening.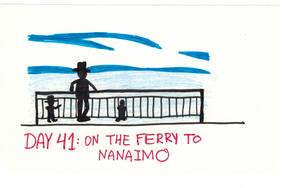 Day 42: Living Forest park to Rathtrevor provincial park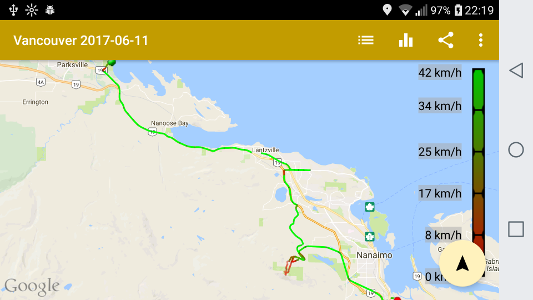 Slept ok. Got water from the tap and washed dishes in the dump station parking lot. This one costs 5$ unless you stayed at the park in which case it's free. They should send the people running the Skihist provincial park a memo.

Drove to the Mt. Benson hike. Had to park half way in the ditch, there was no room for an RV.

The hike was very nice. Quite steep, we took the "straight up" way.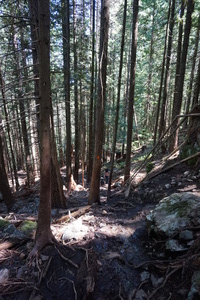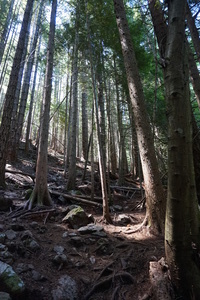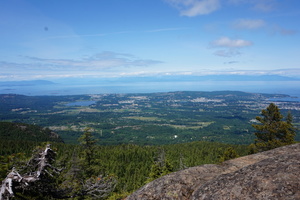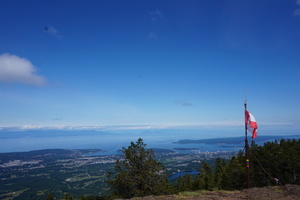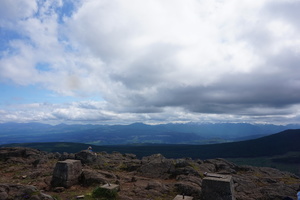 On my way down I broke my hiking stick. Can't say it saved me from damage this time, but it has many times in the past. I wish my wife would listen to me and learn to use hiking sticks properly...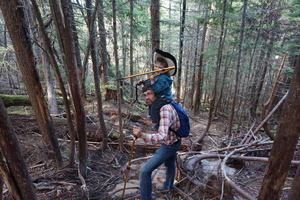 Had dinner at another one of Kim's friend's house and went to the Rathtrevor provincial park. It was almost completely dark when I set up the trailer.

Nice campground, great trees. No beach and it's facing the mainland but it's not like you can swim in this ice water anyway.

The people next to us in the park were playing some card game but they weren't obnoxious.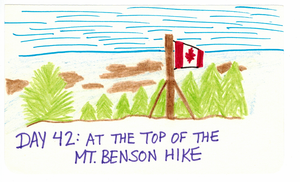 Day 43: Rathtrevor provincial park to Bella Pacifica campground (Tofino)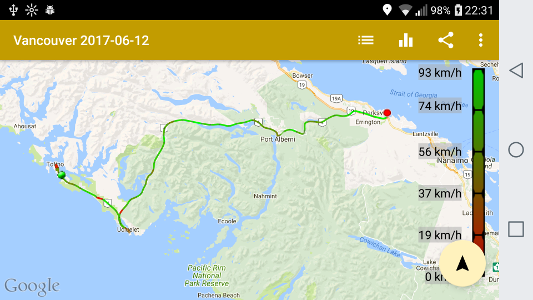 This day was the farthest west we've gone on the trip.

The drive turned into a crazy mountain roller coaster, a long one (more than an hour). Lots of fun but I actually felt sick more than once, despite being the driver.

Ukee is not worth going to - nothing to see there, just a bunch of cottages and resorts. The one "beach" wasn't a beach at all: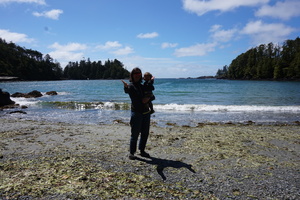 Stopped at Combers Beach - it was free because of Canada 150. I can't believe they charge people for access to the one public beach on the entire coast. Assholes.

Went on a walk on the beach on the Pacific ocean. Not even crazy I could swim in it, it was impossibly cold.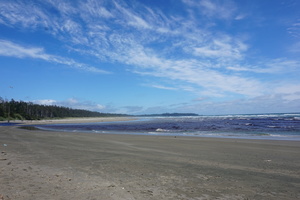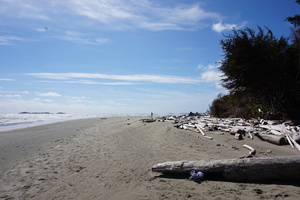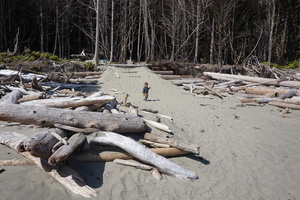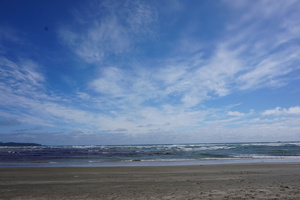 But if you have a wetsuit you can go kiteboarding, it looks like lots of fun: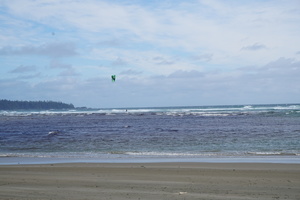 Saw a starfish (dead I think) and a sea lion - it flopped away before I got near.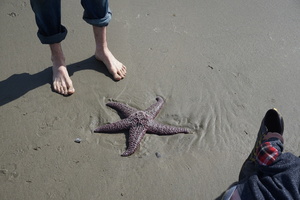 The trail that goes from the parking lot to the beach goes through rainforest, I wonder if it's the only one in Canada. It's very dense and deep, I would be afraid to even just step into it.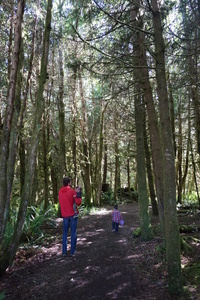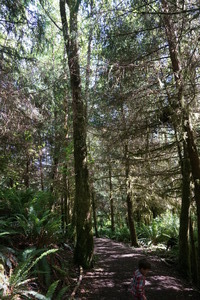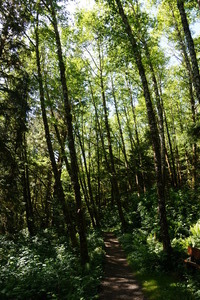 Tofino was nice, but nowhere at all to leave the trailer. All street parking says "No RVs, no trailers, no camping".

Seems that the main occupation here is surfing. Rentals and lessons everywhere but the air was very cold and the water not much better so I didn't even ask whether I could try.

Pulled the trailer to the Bella Pacifica campground and took the last spot our trailer could be tetrised into. Awesome campground, looks like it was carved out of the dense rainforest.

It has a great beach too, I think it might be supposed to be public but good luck getting to it if you're not a property guest. Looks like making a fire on it is common. I walked over to the rocks on the other edge that get flooded by the tide. Saw what I think is called barnacles, and weird spongy plants/animals that close when you touch them. That stuff probably looks much nicer underwater.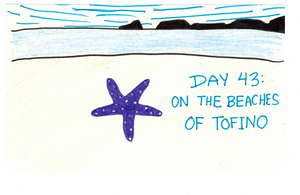 Day 44: Bella Pacifica campground (Tofino) to Bamberton campground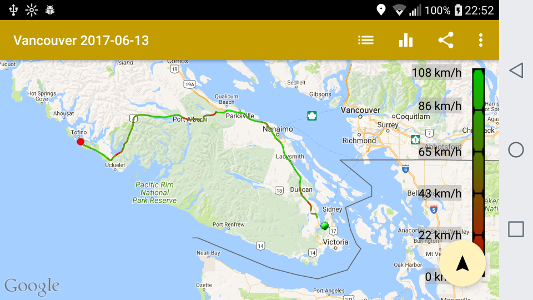 The credit card that we cancelled on the trip was being used for the internet service, which is also used by littlesvr.ca. TekSavvy says the phone wait time is 60 minutes. Would seriously suck if they killed my server when I'm on the other side of the country and unable to do anything about it.

Drove to a coffee shop in Tofino and left. Stopped at a beach access on Lynn road which didn't say "no parking".

Saw a bunch of surfers. I'm not sure if that's how short surf rides are supposed to be (about 1 second) or the waves were too small.

The drive back on highway 4 wasn't as stressful as the way here. I guess any familiarity with the narrow twisties makes a huge difference.

Stopped in three places on the way, including one for lunch. Neither of them were noteworthy.

I don't remember where these were taken: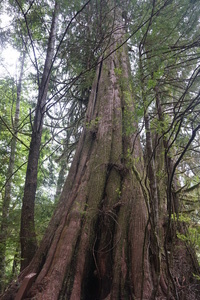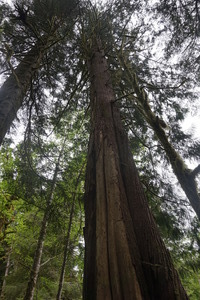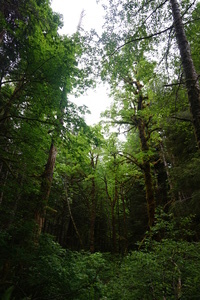 In Parksville at a Starbucks with free wifi I composed a Kijiji post to see whether I can sell the trailer on the island. I got a call before even leaving the parking lot from a guy who was interested. His place was on the way to Victoria so we stopped there to show it. Sold it for 7000$ (200$ under asking), to be delivered on thursday when we went to sail to the mainland.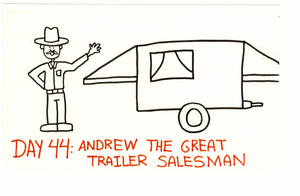 Day 45: Bamberton campground to Goldstream campground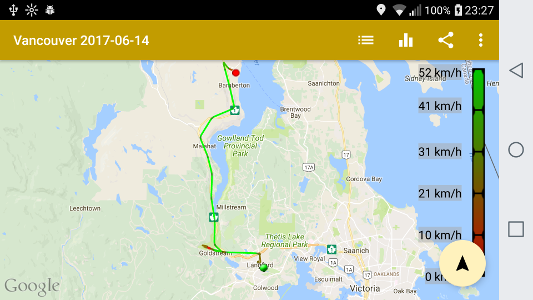 I was up til after 1AM discussing another offer for the trailer and telling ten other interested people that it's sold. This one guy seemed very serious and offered 8000$. He was from Surrey, which would save us a few hundred dollars on hotels while Kim ran her camps saturday-sunday in Richmond. We could sell the trailer on monday and head straight home with no delays.

It was also nice because the original ownership for the trailer was still in Vancouver where we had it mailed.

I tried to pay 20$ for the site but there were no envelopes left - I've never seen that before.

Pulled the trailer to the Goldstream campground and left it there.

Drove to Victoria to the Cadboro-Gyro park. Nikita would have loved it but he just fell asleep when we got there: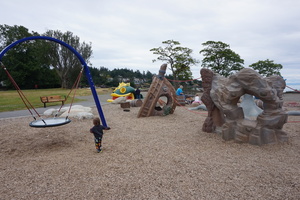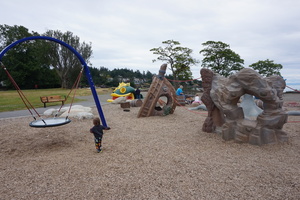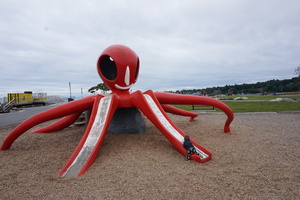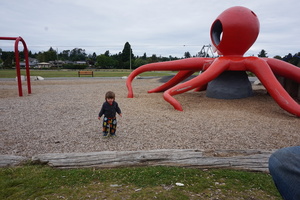 I wish I were sleeping too, I felt exhausted. But instead drove to downtown to return the 200$ the first buyer gave me. He was very upset, I was completely taken aback. I really felt like I was being extra accommodating by driving quite a bit to bring his deposit back to him but he tried to lecture me about how he hopes that I teach my kids that a deal is a deal. I don't know which planet he came from but that's not how this world works. I was upset for the rest of the day because I did shake his hand and say we had a deal, but I never felt I should have given him the 1300$ discount just for being first.

The drive out of Victoria between 15:30 and 17:00 was hell. Good thing I wasn't in the mood to explore the crowded downtown. It looked like it had some nice old buildings but the rush hour would have driven me insane.

On our way back was thinking of options we had - leave the campsite and get a discounted sailing would have been ok but we were exhausted. Kim had camps saturday and sunday in Richmond. Incredibly there are no campgrounds anywhere in any part of Vancouver or even Richmond. Found one right next to the ferry terminal. Called and was told that no full service sites were available but a few electricity+water. Didn't make a reservation fearing it's going to be a noisy shithole.

I called my mom and she had a good idea: fly the kids home. The flights back are reasonably priced: 611$ per person, Sasha was young enough to go in Kim's lap. The flight leaving at 10:45 sunday night arrives at 7 in the morning because of the timezone difference. That was perfect: Kim and the kids could skip the grueling rush drive across the country and I could do it without extra distractions, leaving right after selling the trailer in Surrey and sleeping in the car on the way.

Almost booked the flight on a Tim Horton's wifi when we remembered we don't have an ID for the kids. Called WestJet and didn't get a straight answer but we thought they said we can do without ID for an in-country flight.

Went to sleep very happy with all those arrangements.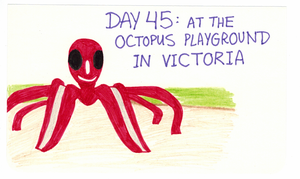 Day 46: Goldstream campground to Peach Arch RV campground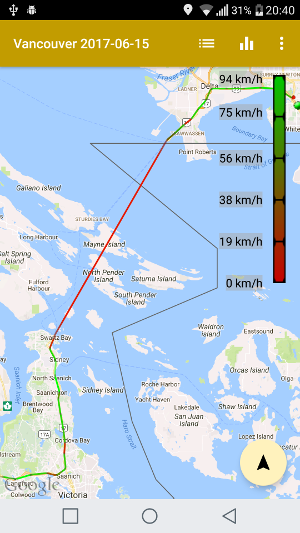 Didn't sleep wonderfully but got enough rest.

Had breakfast and drove to the ferry. Filled up the gas tank on the way, it's 15 cents per liter cheaper on the island compared to the Vancouver area.

Got on the ferry without a reservation, with only a 30 minute wait. Paid 190$ - only 50$ over the discounted rate.

The playground on the boat was small and not very exciting but it's good enough given a critical mass of children to play with each other.

While on the boat I decided that Canada Camping is too likely to be a craphole and called Peace Arch RV which had some spots available for the weekend. Paid 160$, the most I ever paid for camping, but that was for four nights so it wasn't as bad as it seemed at the time.

Around 15:15 we went towards the Vancouver downtown to get the trailer ownership and what do you know - six lanes of traffic converged into one!!! with the only warning, "congestion ahead". Assholes. Spent literally an hour in the slowest lane in the 2km just before the highway 99 tunnel. Didn't even have a chance to get off. Abandoned the idea of traveling into downtown and spent the rest of the evening at a mall.

The two hour trip that way took 20 minutes in the opposite direction. This kind of shit happens almost every time I drive through a city when on vacation.

It poured rain all day today.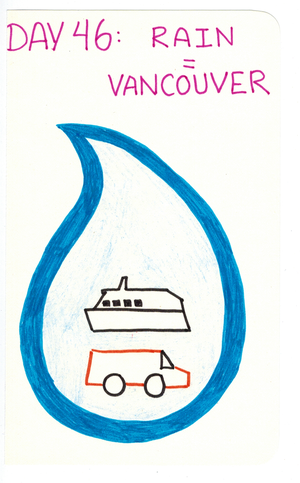 Day 47: Peace Arch RV campground to the Grouse Grind and back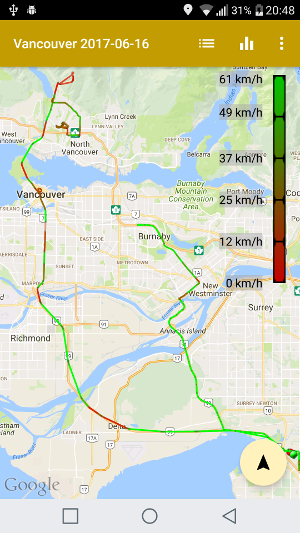 No rain this morning and it looked like it might be a reasonably dry day. Was hoping to go on a hike.

Didn't have the awful tunnel issue today, but I marveled at the 3-lane bridge. How old must it be that they thought 3 lanes was going to be enough?

Drove to the office to finally get our ownership. I hated driving through Vancouver, same as any other city I've been through.

Went to hike the Grouse Grind but of course it was closed. It even had people sitting there to prevent you from going on it. They were claiming that they were working on the trail - might have been true because I saw 2-3 guys at the top and bottom of the mountain with old posts and such. So we went on the BCMC trail instead.

A great hike up, only had two short straight stretches and one short dip down, all the rest of the hike was climbing. Should have brought hiking sticks since this wasn't the "vertical" climb I was expecting where sticks would be a hindrance rather than any help.

Here are photos from the top: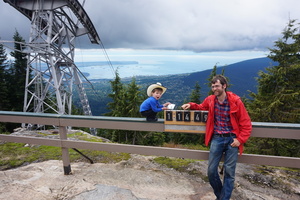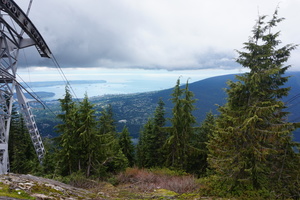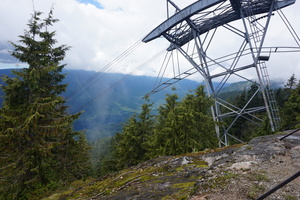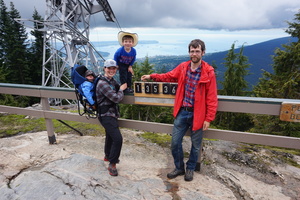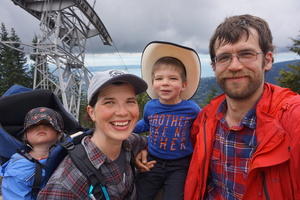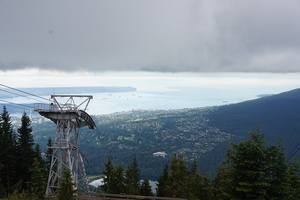 And those are the last photos of the trip.

Missed the lumberjack show they had going on at the top of the Grouse. Too bad - I would have loved to see it. But I did watch a bit of a violin performance by high school kids from Texas - very talented, it was a pleasure.

Had dinner and spent some time with another one of Kim's friends.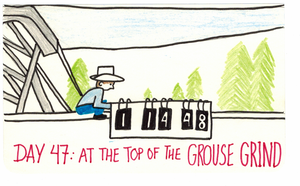 Day 48: Peace Arch RV campground to Richmond and back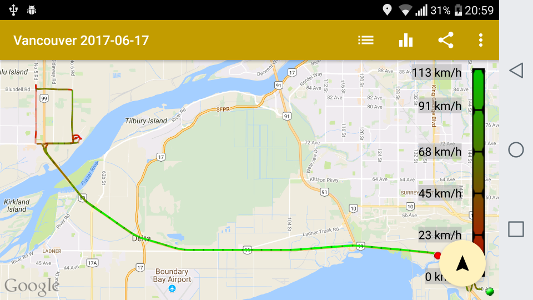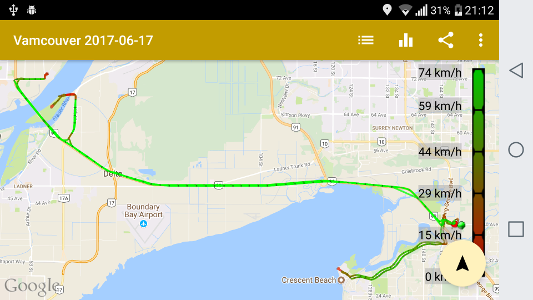 The second trailer buyer came in the morning with his girlfriend to see the trailer. All his "yeah for sure you got a deal" bullshit has turned into "meh, I don't know, I have to make some calls", followed by a ridiculous lowball offer. Payback for me reneging on the first deal :)

Luckily there was a lot more interest out there.

Took Kim to her camp in Richmond, reposted the ad, took the kids to splash in the ocean (which I was told is this cold year round) and picked Kim back up.

Couldn't sleep most of the night, worried about the stupid trailer sale.

Day 49: Peace Arch RV campground to Richmond, the airport, and back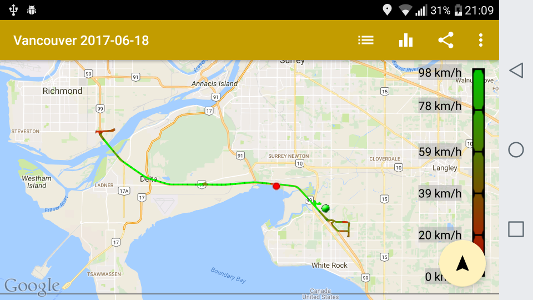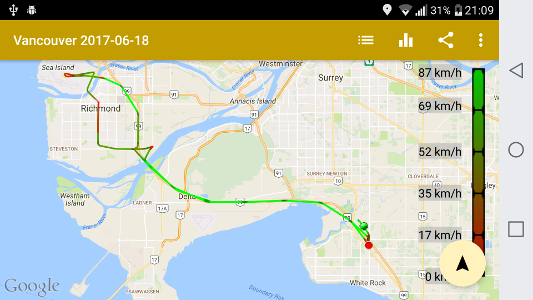 I started getting anxious, wanted to go home. It rained all night, and I was sick of this crap.

I dropped Kim off, drove back to the trailer to prepare for another trailer showing. But the person cancelled.

Played with the kids. Went to Home Depot and found that the lumber prices are exactly the same as they are in Toronto, the same species of wood too. Went to Staples to print copies of birth certificates for the kids just in case for the airport.

Picked Kim up, had dinner in Richmond, and dropped everyone off at the airport.

Thought that I would sleep better (so much easier with noone else there) but I couldn't. Instead watched a lot of Netflix. The Human Planet show is amazing. There's so much I've not yet seen! And probably won't in my lifetime.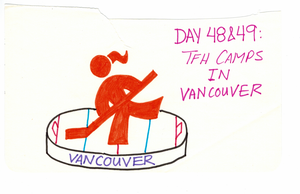 Day 50: Peace Arch RV campground (BC) to Banff (Alberta)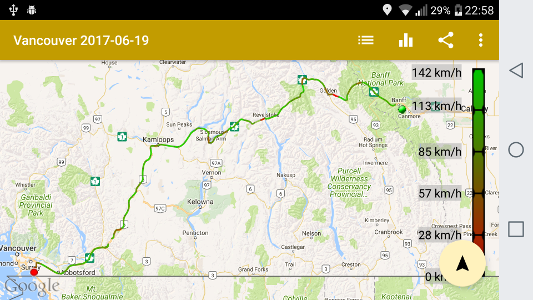 (second part of the day was not tracked)

Slept ok but got up early. Campground is awesome but the residents driving on gravel woke me up.

It didn't rain at night but the outside of the trailer popouts was wet anyway, probably the dew. That was annoying because I had a serious buyer lined up for viewing that afternoon.

The drive was uneventful. Had to turn back once to get gas. The Coquihalla would have been a great drive if not for the broken pavement. It's a large highway with a 120km/h speed limit but it's still scenic, making it likely the nicest section of the trans-canada in the country. Very few rest stops on the way.

Stopped at one rest stop marked in Openstreetmap (but no sign on the highway) and dried out the pullouts. Mostly. It started dripping rain a little again, lucky that I didn't manage to fall asleep while waiting. Looked fine for viewing.

WOOO!!! Sold it, for 7600$.

The only possible better arrangement would have been to sell it in Surrey, but I was happy it was over.

Still had 20 minutes to deposit the draft before banks closed at 18:00. It cleared immediately. I planned to mail the manuals to the new owners as soon as I got home. I hope they liked the trailer - it was good enough to us on a very long trip.

With so much excitement losing that ball and chain I headed straight home on the transcanada without any rest.

Got to the Alberta border inside the Banff national park at 23:58. It was pitch dark but driving at night I got to fly through the construction zones and traffic was very light. It was so good I thought I might want to drive at night the entire rest of the way.

Stopped in Golden to try and get some bread to finish the salami I had in the car but everything was closed. Even the Tim Horton's here closes at 23:00. I spent some time in the parking lot reorganizing all the stuff from the trailer I hastily threw into the truck after the sale, and threw out all the food that required refrigeration.

Day 51: Banff (Alberta) to Brandon (Manitoba)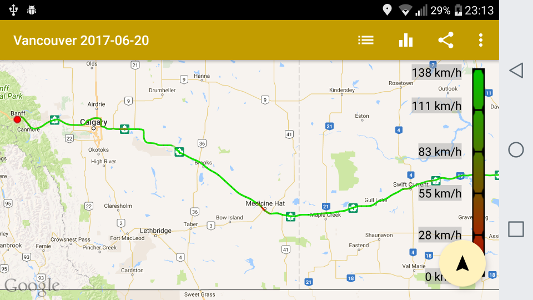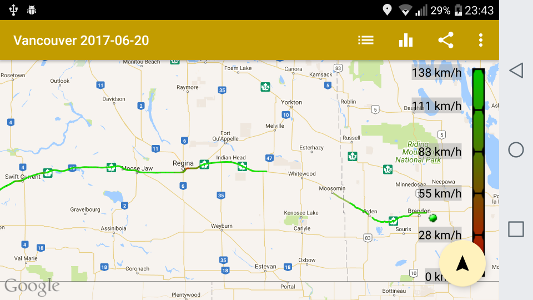 I thought I might have enough gas to get to Calgary but was feeling tired. Stopped in one of the Banff scenic lookouts that had a couple of tractor trailers in it, figured it's unlikely anyone will kick me out at night.

It was very cold at night - about 10 degrees. Weird year, the entire country was cold even in the end of June! [p.s.: wait till you read about next year's trip, that was much colder]. Tried a sweater and blanket to keep me warm enough to be able to sleep a little. I figured if I could sleep till 6 or 7 then I can drive the rest of the day and maybe even skip the Calgary rush hour.

Woke up around 5:30 after sleeping pretty well in reclined passenger seat with a pillow under my back, another pillow for the neck, and a blanket on top. Could have slept more but was excited to keep going and the sun was up, shining into my eyes.

Thought I could go through Calgary before rush hour but forgot that it's an hour later there. The highway around the north of Calgary was fast enough though.

I noticed that the GPS on the phone was saying I am going 3-4km/h faster than the speedometer in the car. I decided to trust the speedometer just in case. Most of the way I did about 20km/h over the speed limit, figuring the risk is still low and the time savings on a marathon like this would be significant.

The drive through the prairies was much easier. Just go. Only needed to slow down when the highway went through towns.

I made a note that for the next trip this way I should figure out what the Petropass Cardlock thing is. I think I looked into it and found it's not for mere mortals like me.

Got to Saskatchewan at 12:24.

There were no rest stops east of Regina but many farm roads. I pulled out on one 120km from the Manitoba border at 19:40 and tried to sleep. At 20:30 realized that sleep wasn't going to happen but the break gave me some extra energy. Decided to carry on. And realized that unfortunately I can't match the Google Maps directions that said the trip can be done in one day and 23 hours.

Stopped at Monsoomin at 21:30 looking for a burger. Of course everything just closed, except for a pizza place. I ordered one with lots of meat.

Finally looked at the map of Canada and saw that I wasn't even half way there yet.

After eating most of the pizza drove on, and stopped in a gravel pit on the side of the highway just before midnight.

Day 52: Brandon (Manitoba) to Nipigon (Ontario)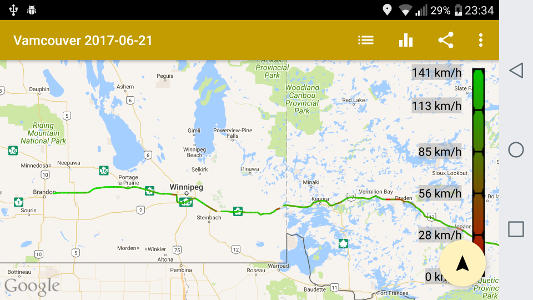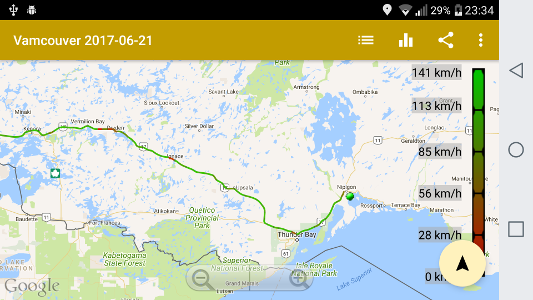 Got up at 5:00 (Alberta time). Felt well rested. Still 363km to go to the Ontario border, and then another day and a half.

Had breakfast at Ti-Beaville (or something). Trucker's special with an extra side of sausage, almost more than I could eat though I was starving.

The Winnipeg bypass didn't have a single coffee shop on it.

Lunch at KFC in Dryden was even more disgusting than I imagined. I couldn't finish it, and considered only eating salad for the following 24 hours.

20:30 got to a Husky truck stop near Nipigon. Bought gas, a tuna sandwich, and a coke. The parking lot here is enormous, even for a trucker's stop. I parked in the most distant corner from the loud tractors. A guy in the store asked me if my hat was a something-buck but I was too tired for a conversation.

Hoped I could sleep. My back and neck were bothering me a lot. These dumb car seats with the fucked-up headrest make it impossible to sit with a good posture. I tried to put a pillow under my upper back and neck, and that felt a little better.

The mosquitoes in the parking lot were more interested in my hat than me - I must have smelled really bad.

Day 53: Nipigon (Ontario) to Markham (home)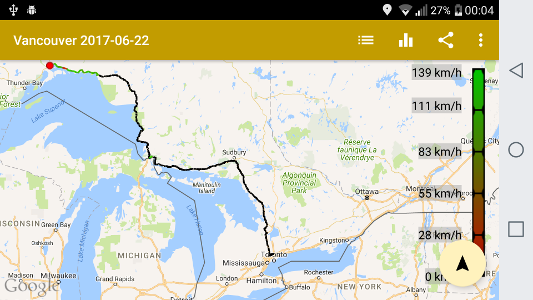 Got up at 5. Slept well enough given the uncomfortable positions.

The chef at the restaurant at the station didn't show up that morning, so I had breakfast down the road at A&W. It was significantly better than a Tim Horton's breakfast.

Less than an hour later I discovered that I didn't sleep well at night after all. I couldn't keep my eyes open. Stopped and slept till 13:00.

Had lunch at a chinese-canadian food restaurant in Sault Ste Marie. It was just stir fry but very tasty.

As I passed Sudbury the rain turned into a downpour. That felt weird because parts of the highway were dry.

At the Parry Sound gas station someone with a flat tire needed a wrench so I lent them mine. For some reason they wanted to give me money, I didn't take it.

If I weren't so close to home I would have stayed in Sudbury or the latest Parry Sound for the night, but I couldn't stop with the destination right there.

Arrived 8 minutes past midnight, safe and sound. I would have made it before midnight if I hadn't spent 15 minutes in a Tim Horton's lineup where they had a new guy without anyone to help him figure things out.

Success!

Epilogue
I don't think I'll do it again but it was a wonderful trip, and I'm very happy I did it once. It turned out to be reasonably affordable too, under 4000$ for four people for two months is one of the cheapest vacations you can sign up for.

I honestly feel I saw everything that I wanted to see in Canada from Ontario to the Pacific coast.

I'm lucky that both me and my wife had the time to take our time, I can't imagine doing this trip in less than the 53 days we had.

The next year (2018) we repeated the experience, but this time going all the way east instead of west.


If you have questions for me, please use this form.