I wanted to build this for a long time. I hate looking through random boxes for a socket that's 1mm larger or smaller than another socket which almost fits the nut I'm taking off :)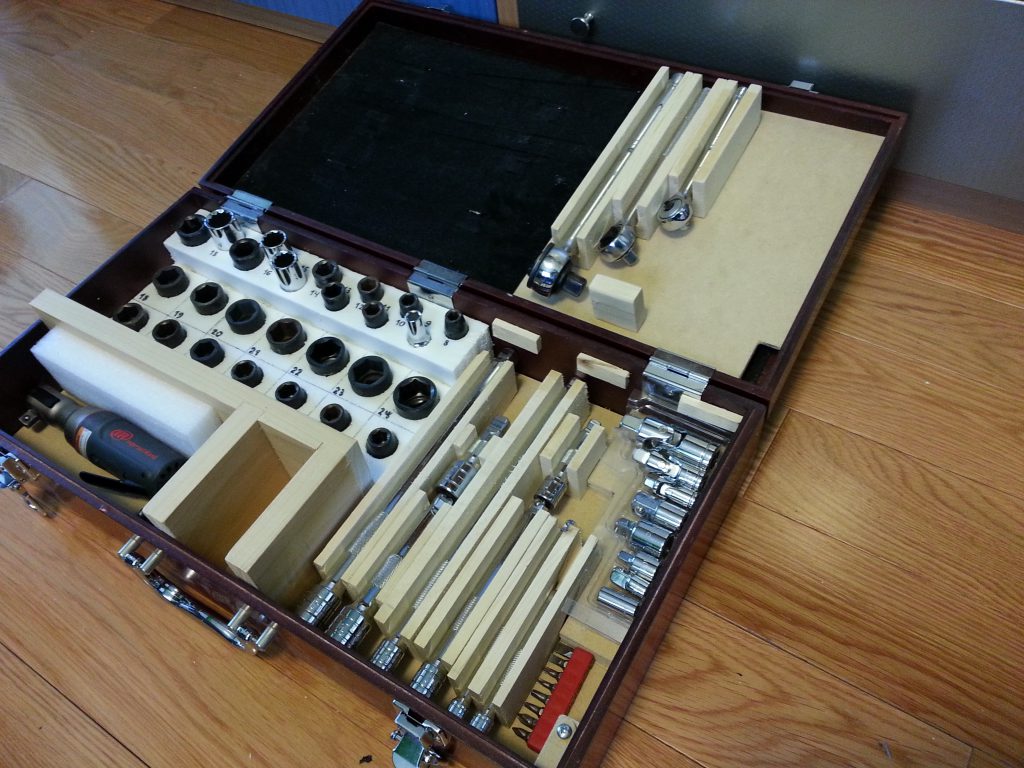 Part of the problem is that all the large socket sets you can buy have some sizes missing. Even the expensive socket sets. So it took me a while to assemble this set. It includes:
Most of the black short and deep sockets are from the original set, which I bought used (I was told it was an impact socket set but now I think that was a lie).
A couple of the short sockets are Mastercraft Maximum.
One of the short sockets and three of the deep sockets are from Princess Auto.
One of the deep sockets is from Amazon.
Crazy, yeah? I also have in here:
A nice short 3/8″ Ingersoll Rand air ratchet with a swivel adapter from Lowe's. My IR impact wrench wouldn't fit in here with everything else.
A wobble extension bar set from Canadian Tire.
A full adapter set from Princess Auto.
And three ratchets and a screwdriver bit set from I don't even remember where.
The box I found at the curb – someone threw it out. It was lined with foam with indentations for what looked like ceremonial spear heads, is my best bet. Something fancy or another that broke or was no longer loved. But it worked great for this purpose.
The holes in the polystyrene (not anything good, just from packing material) were cut with a fret saw. The grooves on the wood I cut with a mitre saw because I didn't yet have a table saw at that time. The dado on the big piece of wood was also made with the mitre saw (mine has a depth adjustment).
Everything except the big wood pieces is held together with hot glue. I was originally planning to make this modular so that I can remove and insert pieces as time goes by. I had to give up on that idea – it was too complicated, but I figured hot glue will be good enough anyway.
I just finished this socket organizer but it seems like it's going to hold. The flimsiest part is the polystyrene, but I wasn't going to spend 20$ on a sheet of better quality stuff from an arts supplier and I didn't have enough drill bits to match every socket size in wood. I need a bit of friction so they don't fall out.
Looks great, works great. Weighs a lot but it's a good solid box that I don't intend to bang around. Now I just have to figure out a good, portable way to organize my wrench set :)