Killarney Canoe Trip
23-27 June 2012
The trip was in june and it was lots of fun, sadly I only got around to writing it up now, in november, almost six months later. That's why there isn't as much text as there should be. I did make some notes on the trip (and didn't lose them, like the ones on the Newfoundland trip).

Packed as usual:

Enough food for five days, lucky me Kim had a better idea of how much food was needed. Turns out eating well actually makes quite a bit of a difference in your performance in the short term, who would have thought..

We didn't have all that much portaging to do so I wasn't as anal about packing light, but still - if we didn't need it, we didn't take it. Backpacks weighed 13k and 9k.

No waterproof coat/pants for me - shame, that would have helped. When it rains you get cold from all the rain water. Recently I got some better clothes for next year, can't wait to try them.
Planning was pretty easy. The park has been expanded not so long ago, so I got a new map, but 5 days wasn't enough to see a lot of the new areas, so we just decided to stay in the "old" park. I bought the new map but I don't think I needed to, all the old stuff looks the same (if you want my old map - let me know, you can have it). The first and last days were half-days, to give us time to drive to the park and get back home during the day.
Canoe booked from Killarney Canoes, they had it (a Souris River Kevlar Epoxy) locked up at George lake so we didn't need to drive it to the start point or from the end point.

Day 1: George, Freeland, Killarney, OSA, Muriel

6:15 Left Thornhill.
8:40 Parry Sound.

11:00 Park office. Almost forgot we have to tell them which lakes we need to book, gave them Muriel, ThreeNarrows, David, and Johnie.

12:00 After spending a bit of time looking for the canoe and going back to the car several times (I forgot the combination or something) we're good to go, this is us:

The map (in ziplock bag of course) was out and we were good to go. Kim started in the front, we kept switching, for variety. These rocks are right on George lake, I don't remember paying attention to them before (probably they're not as visible if you're hiking). I had to climb them of course.

13:45 p380 done, Kim successfully carried the canoe, first time in the last 13 years. No problem. Getting hungry, decided to stop at one of the campsites on this lake just for lunch.

14:00 Oatmeal for lunch. With trail mix and half a granola bar and peanut butter tortilla felt quite full.

Wondering how long the gas would last. It lasted long :) Just in case I had a full can as well as an almost-empty one, but even though most food was cooked on the gas stove - I don't think I even started the full one.
Went for a swim, the water was just perfect.

15:05 Will be going soon. Plan to check things out around OSA for a bit and spend the rest of the day at Muriel.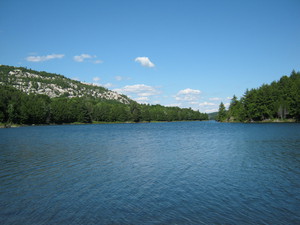 15:45 p455. What is this photo? Oh the typical portage sign, see if you can spot it :)

17:00 p595, a.k.a. Mosquito Portage :) Was bearable though, could have been much worse.

Muriel lake is very quiet, haven't seen anyone here all day. I guess this is out of range for day trippers.

17:30 Our campsite (34) was really nice, up on a little hill. One of these hills is great to jump into the water. I have a video of that, but due to technical complications I won't bother putting it up here.

Instead here is the artist's rendering of the event, as seen through the eyes of Kim: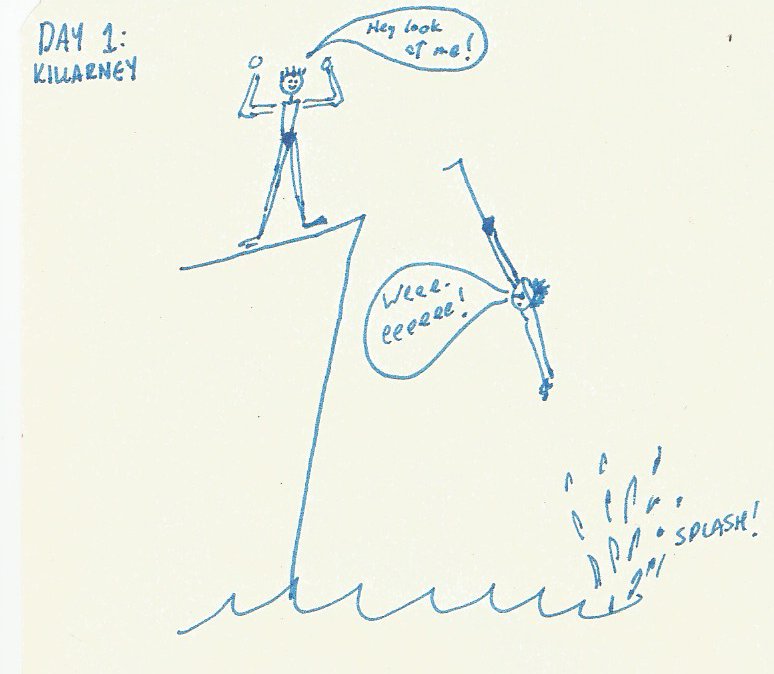 Made a fire. Making soup on the fire was a pain, even though we had the appropriate cookware. In the process I burned two fingers, stabbed myself in the eye with a stick, examined the weird burns acquired during canoeing. All kinds of fun!

20:00 Nothing left to do but relax and wait for time to go to bed.

Day 2: Muriel, Artist, Threenarrows
Started raining about five in the morning. Not pouring but lots of water.

Had a great oatmeal breakfast, put in the raisins too late, shame. We're planning to be ready to go after 10. Feel lucky - no wind and no mosquitoes.

10:15 leaving. Rain stopped just a few minutes after we packed the tent.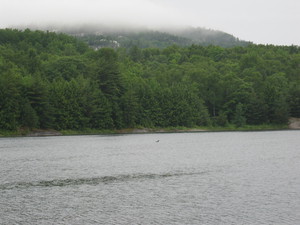 11:00 p700.This is Artist lake with millions of beautiful lilies (which I always try to photograph and never do them justice:

Changed into long pants in preparation for the mosquito swarms expected on the "Steepest portage in the park".

11:40 Kim made it to p700, wants to keep going.

12:25 Finished p1320, woo! Only two or three short breaks on the portage. This is so much easier when you eat well and you have company! On my own I would have had to stop ten times and in the end would have felt much more tired.

13:00 c48, not stopping because it's too early for lunch.

13:30 Getting a little tired, ready for lunch, and what do you know - c46 is here.

14:00 Great lunch, we're off.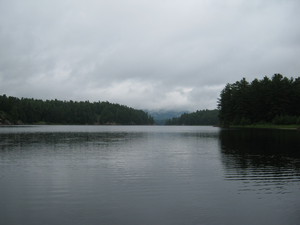 I was hoping to recognize this place and I did, at least the island with the cabin. I stayed at that campsite last time I was in Killarney, hiking the La Cloche Silhouette trail, I have almost the identical photo of the cabin too :)

The campsite must be up there on the hill, just can't see it from down here.

Hey, looks almost like real mountains, up in the clouds, but they're not. That's probably the rain evaporating. Interestingly (I just looked it up) it says on Wikipedia that fog is a stratospheric cloud, just with water from a different source. I didn't know that.

15:45 Made it all the way around Threenarrows to c45. Looks like a great campsite but we just need some rest and half a granola bar for now. It got quite windy on the big lake, going East was especially hard.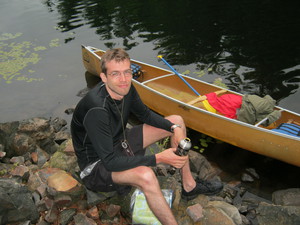 Hey, wildlife!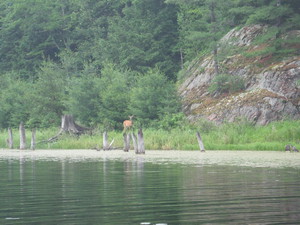 16:20 That's the really neat c42. A cute little island all to ourselves - no mosquitoes, no bears (I presumed) so didn't bother hanging packs, just put them far enough from the tent so it's not much of a risk.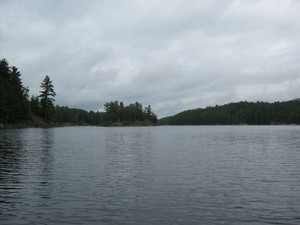 Rain stopped and even some sun came out. Dried everything on a clothesline and even had a swim. Sweet rest and relaxation after a day of hard work!

We went to explore our property for the night, when we came back - the tent was not to be seen on the clothesline. I of course did not attach it in any way and figured that the wind is just a good thing, will dry things faster. Luckily the tent did not get blown into the water, it would have been a very interesting problem if we lost our tent!

Kim's artwork, reminiscing a couple of jokes of the day: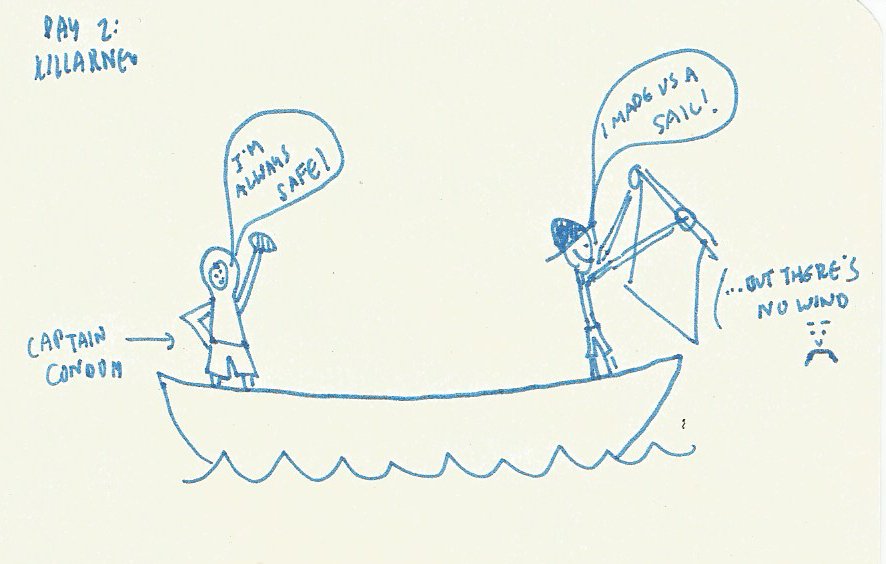 Day 3: Threenarrows, Kirk, Little Mountain, Great Mountain, David

The night was windy at times, but otherwise uneventful.

Got up just before 8:00.

There was no wood on the island but we went across the lake and stole some wood from a beaver dam. I wasn't sure whether I was supposed to feel bad about that or not, it was a really big dam and I only took a few sticks from the top. There would have been plenty of wood around anyway - just had to go across the water.

The wood was a little wet but managed to make enough of a fire to boiled oatmeal water. Boiled the tea/coffee water on the stove.

9:00 All the clouds gone, almost ready to go.

9:30 left. Trees growing out of rocks (typical Ontario Wilderness). The yellow flowers are not as common as the (prettier) white lilies, but still good looking until they die.

11:40 p835. Made two or three wrong turns getting here but no disaster. Getting here there are many marked portages that are not on the map (only 4 on the map), probably because they are so short.

Would you look at these handsome people..

12:30, done with the long portages, made it to my favourite lake in Killarney - Little Mountain Lake. I stayed here last time, was very impressed with the scenery and the blue water. It was less blue this time (gray sky) but still very pretty. We stopped at the campsite to rest and for lunch.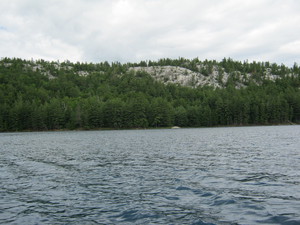 This is the north end of the lake, by p55. The pollen collection is an intriguing combination of disgusting, interesting, and kind of pretty: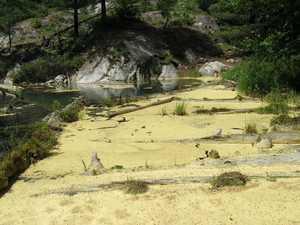 14:40 Made it through Great Mountain lake (which has no mountains). Wind almost killed us, blowing hard right in our face. Feel exhausted, but we're in good shape for the day - just p2945 and whatever we want to do on David lake for the day.

Me taking a breather: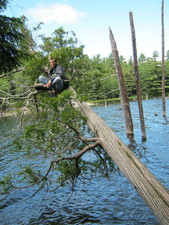 16:15 Made it to David lake! The portage didn't have awful swarms of mosquitoes by the ones that were there were damn annoying.

Kim navigated today, did a very good job.
17:30 c91. Great big rock on this peninsula, perfect for lying in the sun.

Artwork for the day, oh yes, it's about how I through the oatmeal package wrapper into the fire, and it burned, and flew back up (I was standing, and I'm a pretty tall guy), and landed right in my cup of tea! I was just speechless: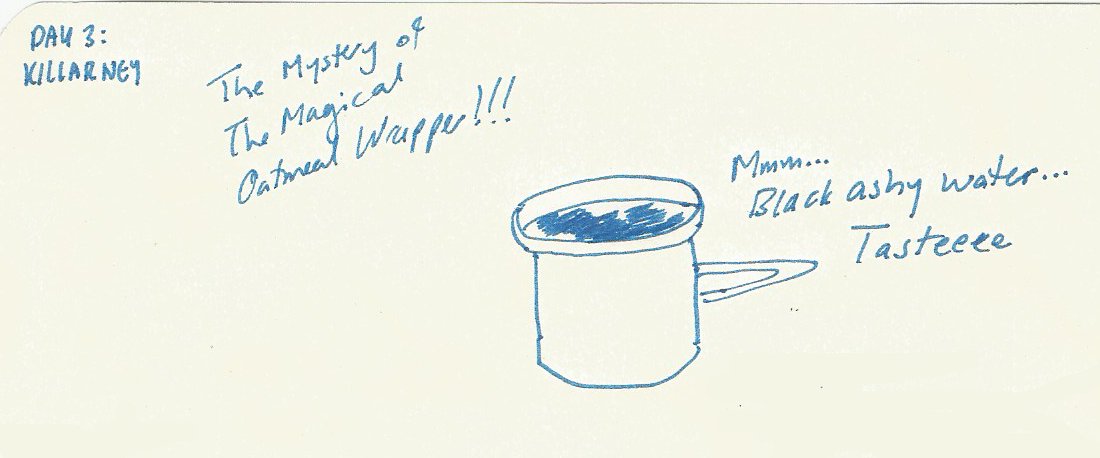 Day 4: David, Silver Peak, Clearsilver, Johnnie

The original plan was to get to Johnnie via Balsam and Bell lakes, but then we looked at the map and realized that we could go climb Silver Peak, and I skipped that on my hike last time, so we switched the plan to this instead. It was worth it.

Have been twisting and turning since 5:00. At some point it drizzled pretty hard but only for a few minutes. Wood stayed dry enough.

7:30 got up.

9:20 ready to go.
Big spider!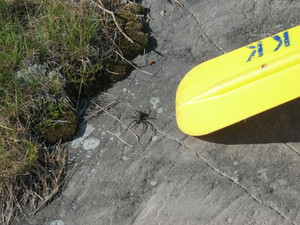 10:30 at p200, except we did the short portion of that, not the 200. Good thing it was short cause I realized we don't have nearly enough water for the climb, and I went back to David lake to fill our bottles up with clean water.

Some people! Really, you pig, you couldn't carry that little bit of stuff with you?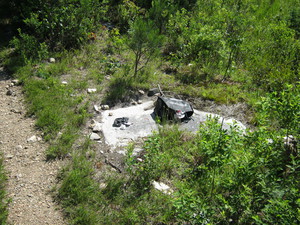 11:10 p980 over. We left the canoe and the packs at the intersection (in retrospect - we should have hung the packs), and walked to silver peak with light feet.

Bears! On the south side of the trail, about 30m into the woods. Kim said she saw a small one up in the tree, I only saw the two bigger ones. You can sort of kind of see them here. I was too busy being excited and making noise and keeping cool to take more photos, shame: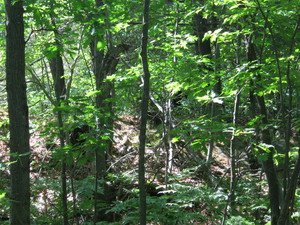 11:45 Trail splits, we're going south to Silver Peak.

12:30 We made it! It's quite a climb. Mostly up, not overwhelmingly steep, but a lot of hard work.

It clearly is the tallest thing around, just like they say. Very pretty.
13:55 Back to the canoe.

15:15 At p830, very nice wind in our backs.

16:30 c67. Couldn't find the campsite right away, almost thought it's in the swamp on the side of Johnnie lake, luckily it wasn't.

In the swamp I mentioned we saw what looked like an otter running along a log, carrying a mouse or something. Neat!

At this point we were both very exhausted. Should have had more water for sure. But after a few hours of rest we felt much better.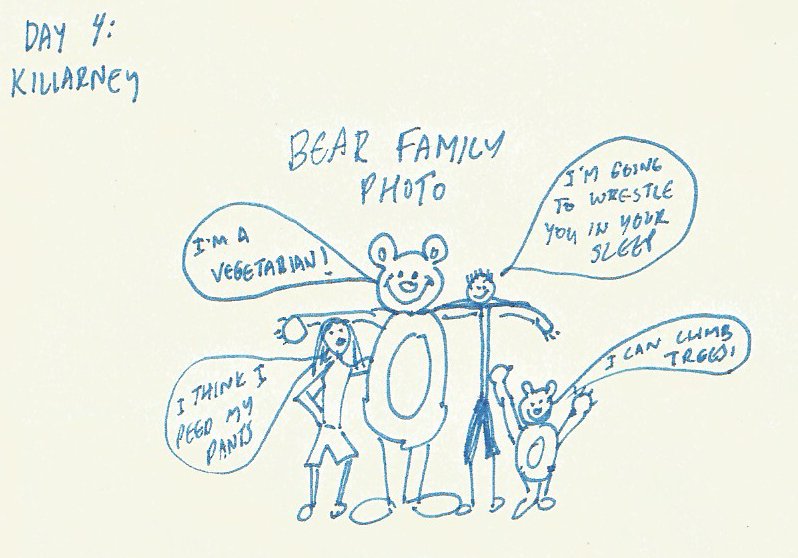 Day 5: Johnnie, Carlyle, Kakakise, Killarney, Freeland, George

I didn't sleep well at all, woke up in the night and stayed up for hours listening to strange noises. Maybe the otter brought his friends. I don't think there was anything big, though it's really hard to tell when they don't move very fast. Could have been a moose, a bear, or a squirrel, they'd all sound the same to me.

Still, I woke up rested enough to finish the trip.

8:35 Ready to go. The last day was rushed - that seems to be typical of my trip endings. So no photos. This was my least favourite part of Killarney anyway - too many people, trails wide enough to fit a truck, etc.

9:45 p940, done at 10:05.

11:20 p1440, the toughest of the day. Getting closer to home though we got our second wind and just kept on going. Finished the portage at 12:00!

12:35 p80

13:35 Arrived to the George lake beach. Lake still full of day trippers, but campsites almost all empty.

Given that we had lots of time and I really wanted to experiment with the canoe, we did that for a bit. First I simulated falling out of the canoe (this is surprisingly hard to do) and tried to get back into it. I managed, the trick is to do it at the end of the canoe, not from a side.

Then I tried to sink the thing, that didn't work. Apparently it has some flotation thingies in the bow and stern so it won't sink completely. It does fill up with water though, and if that happens - the only thing you can do is swim to shore, pushing the canoe in front of you, there's no way you can pump that much water out.

Fun!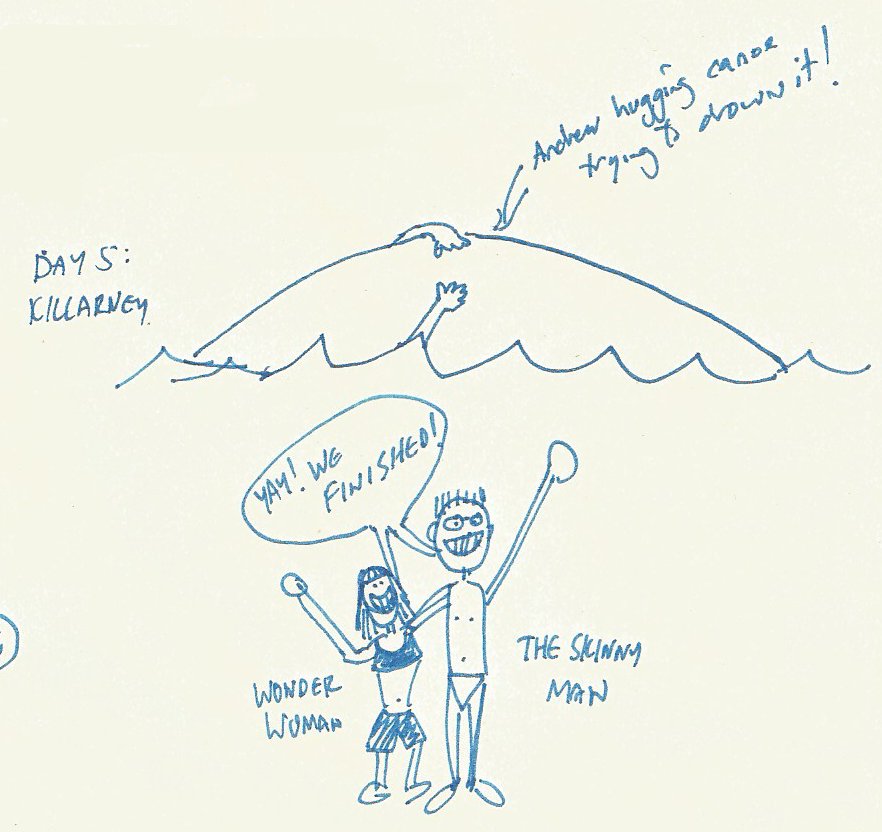 On our way back we saw an interesting contraption, 3 canoes up on one car! And I thought two was too many :)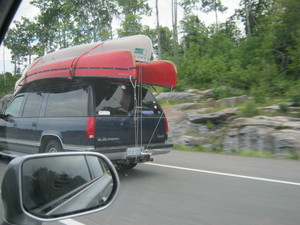 The end.

If you have questions for me, please use this form.