Around the USA in 90 days

4 may - 1 aug 2022
I wanted to see the USA and we did.

Roughly 18000km, 27 states: New York, Pennsylvania, Maryland, West Virginia, Virginia, North Carolina, South Carolina, Georgia, Florida, Alabama, Mississippi, Louisiana, Texas, New Mexico, Colorado, Utah, Arizona, Nevada, California, Oregon, Washington, Idaho, Montana, North Dakota, Minnesota, Wisconsin, and Michigan.

Almost the entire perimeter, not counting New England which we've seen already and will go back to in 2023.

Without a doubt this was the most exciting trip of my life so far, and it will be hard to beat. Given that I only speak russian and english the only possible trip to compete with this one would be to go across all of Russia (or as far as the roads permit). I really hope that I can manage that one day. Or learn spanish again and go all the way down South America.

For the last part of the trip my patience was consumed. On the one hand it was stretched to the limit before we even started (2022). But also the whole thing seemed just a little rushed. I think that's a matter of experience: even with all my travels it's a big challenge to drag three kids around the continent, feed everyone, worry about basics like water, sewer, and electricity.

Financially it was amazingly cheap. 7400$ for gas, 3100$ for camping, 6200$ for food, and 1800$ for everything else. A total of 18500CAD. Roughly the equivalent of 2-3 weeks in an all-inclusive in Mexico. But considering that we would have paid about the same for food if we stayed home: the more realistic total cost was 12000$ plus wear and tear on the truck/trailer.

The trip was easiest on the kids, but they will also remember the least about it. They exceeded even my very high expectations. Maybe this webpage will help them remember more of it.

The overall trip GPX was plotted using umap.openstreetmap.fr - the map might still be there (be patient, it takes minutes to load the tracks fully). At the time of this writing the maps from last trip from 2018 was still there. Here's the overall trip: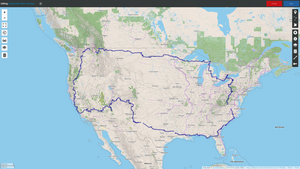 Contents:

Preparation
The last two trips across Canada we bought a used trailer and sold it after the trip. Last year we finally decided to buy one to keep. It's a Grand Design Transcend 247BH. A 9.7m (30 foot) monstrosity, but that's the smallest that would work for us with 3 growing kids.

We took possession of the trailer in november, and used it a several times in the winter. The one modification I knew from the beginning was a must: replace the ridiculous deep cycle lead-acid battery with three 12V LiFePO4 100Ah batteries in parallel. Not cheap, and had to replace the converter (the charging component in the trailer) but the difference is so great - I never even considered feeling bad about it.

Because I don't remember this sort of thing - I've got checklists for packing stuff for trips: Every trip checklist.odt, RV trip checklist.odt, and Outdoor trip checklist.odt. There's some overlap in these lists because I don't use all of them every time.

Apps/websites I used on the trip:

OSMAnd~ from F-Droid. All my navigation was based on this. No internet connection needed to use it.

OpenGPSTracker to record the trip into GPX files. This was the last time I used it, it took a lot of effort to extract the tracks out of it when I was done. Next time I'll try GPSLogger from F-Droid.
ParkAdvisor - the best aggregator I found of all sorts of campgrounds from free to obnoxiously expensive. It even partially works offline (which is critical).
Recreation.gov - needed this to pay for some campgrounds which would not accept cash or any payment at all on site. Used it for booking a few times, though I avoided bookings because if one is needed: the place is too busy for my liking.

NPS (the National Park Service app) - only used it once or twice. It was a brand new app with a lot of potential, so it might have become much less quirky since then. Has some offline features.
Gas Buddy - there are huge differences in gas prices in the USA, compared to Canada.

Reserve America - I don't remember whether I actually used this for anything.
Day 1 (4 may): Markham to Walmart (New York)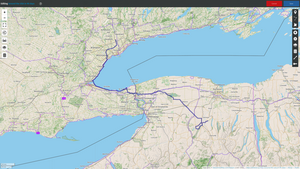 Got up at 8:10. Cloudy but no more rain like the previous day. Put the last few things in the trailer. Left at 10:10. Went on highways 401/427 to get to the lake shore, then got off the major highways, with the intention to stay off them as much as possible for the rest of the trip.

12:15 Stopped by Confederation Park (east of Hamilton) till 13:00. It was mostly closed, or else I would have had a hard time turning around in the parking lot. The Lake Ontario waves didn't look so big but they made nice splashes.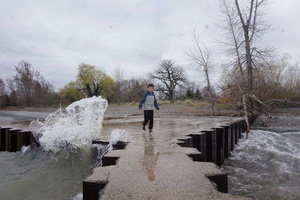 At 13:15 spotted some nicely painted houses and found a place to pull over. These things are amazing. A whole small town full of them. And you won't see anything like this if you go on a big highway! I think this place is called Grimbsby Beach.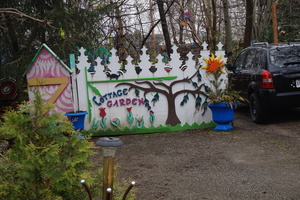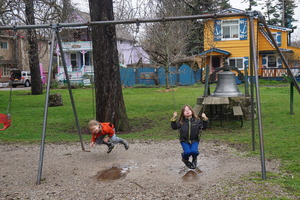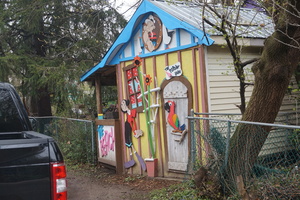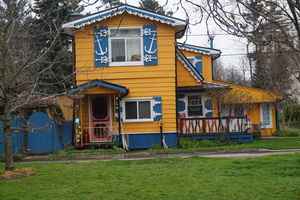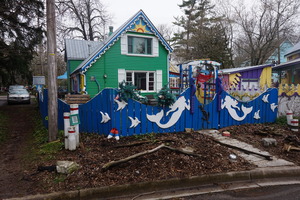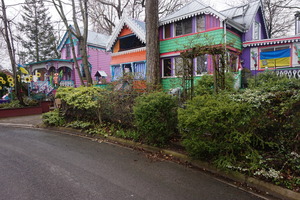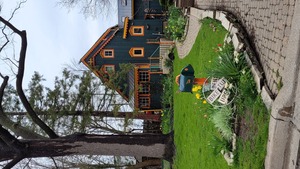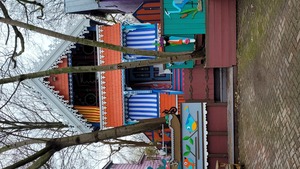 Had lunch beside the Welland Canal. Didn't notice the sewage treatment plant where I tried to park at first, the smell was not conducive to eating. Barely managed to turn around in one shot without going into some industrial private property. It was so tight I still don't know how I did it, must have been pure force of will.

The border crossing was fine - about 10 cars, 20 minutes. Got almost no bullshit from the guard at all, except the food in the fridge. The guy asked whether I have fruit or something and we couldn't remember, he went in the trailer and confiscated a lemon. Basically didn't ask any other questions at all.

Went to the Letchworth State Park. Didn't think the dam was too impressive but the trees are great and looks like there are lots of good hiking trails.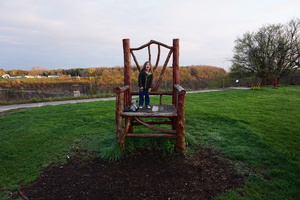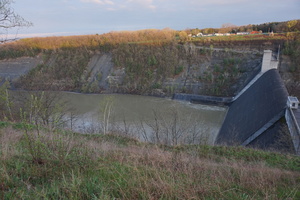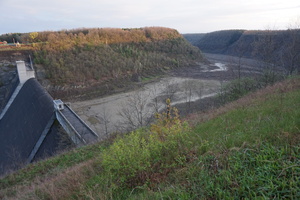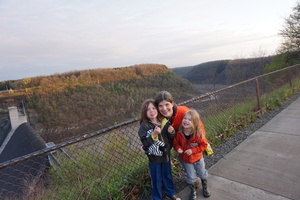 Turned out that camping here is closed till the 20th, but we decided to try to stay for 2-3 days in the parking lots unless we get kicked out. A tiny little security lady showed up in just a couple of minutes while Kim was making dinner, and said we can't stay. I offered to pay the camping fee just to be allowed to stay in the parking lot, but she didn't care to even consider it. She said we can go to Walmart, there are two nearby (in Geneseo and Warsaw).

Drove to Geneseo for the night. This Walmart parking lot wasn't bad at all.

Day 2 (5 may): Geneseo Walmart to Warsaw Walmart (New York)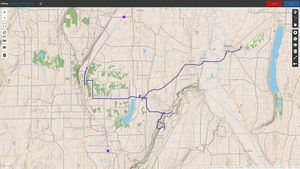 Woke up at 8:00. Slept pretty well, with no furnace on. Went to Walmart to buy some stuff we forgot to bring.

Noticed they had several prepaid SIM cards available. I had a LycaMobile one I bought at home from Amazon, which worked well enough. [Later when the month ran out I paid to renew it, but it did got disabled instead, which pissed me off. For future reference: just get a Walmart sim card, it works just as well - the TMobile network I think. Having read lots about the different providers in the USA: none of them work everywhere in the country.]

Weather looked great. Called nearby campgrounds. Several are still closed. One said 95$/night. Thought might stay at Walmart another night.

Went back to Letchworth, did the Smokey Hollow trail. It looked barely used at all. Wet, but nice. Had a great exit to the river. The crazy kids climbed all the way down to the water and back up a couple of times, pretty impressive.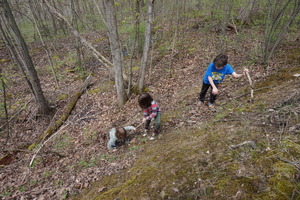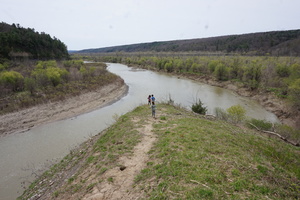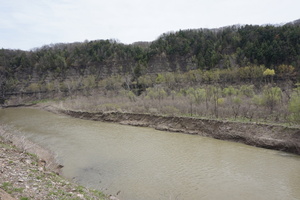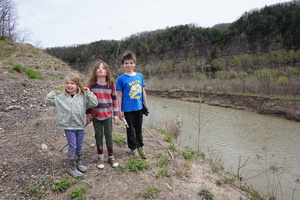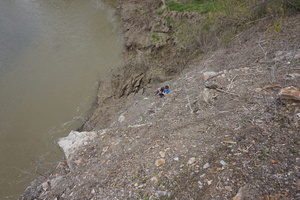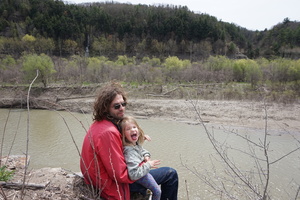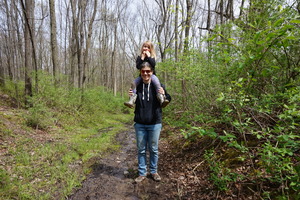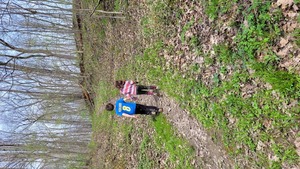 Had lunch in the parking lot. Went for a couple more short hikes at 17:00 the Fitness trail (next to Highbanks Camp Road) was interesting, the kids had fun too. Drove to the Warsaw Walmart for the night.

Day 3 (6 may): Warsaw Walmart to Misty Mountains RV park (New York)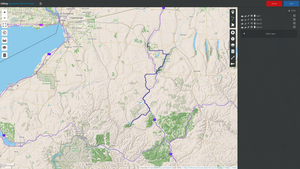 The Warsaw Walmart was even nicer than the Geneseo one.

Went to the fitness trail again. Not my cup of tea but I wasn't going to complain about the kids enjoying exercise outdoors.

Went on a short hike from the parking loop to the river near the Gardeau trail. Bushwhacked for about 10 minutes to get from the end of the trail to the river.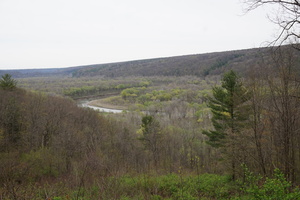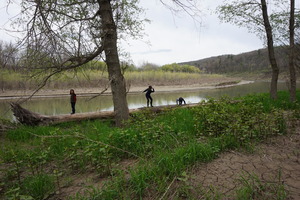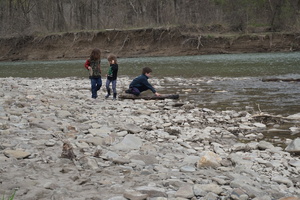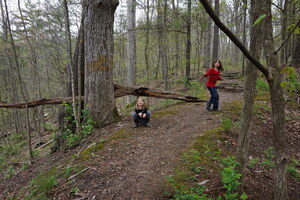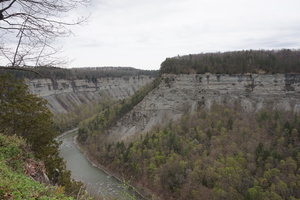 The waterfalls off Park road were nice, but I forgot to bring the camera. The lookout south of the waterfalls was spectacular.

Drove to what used to be called MapleLane RV park, now called Misty Mountains park. I wouldn't have found it if I didn't have Park Advisor installed, it was at the end of a residential street.

At the end of the last stop [this day I think] the the sensor said that the fresh water tank was empty (which was completely unexpected) and the black/grey tanks were 2/3 full (also weird). After stopping here checked again and got much more reasonable readings: 2/3,1/3,1/3. I hoped the sensors on the new trailer wouldn't go so quickly.

Battery at 89% after ~60h without charging and not really conserving electricity at all. What an amazing difference from lead-acid batteries.

Looked at the map - decided it would be good to travel a little longer each day, at least on average.

Day 4 (7 may): Misty Mountains to Buckaloons national forest campground (Pennsylvania)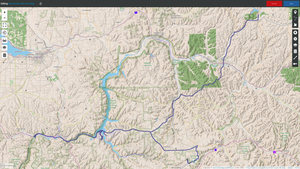 Misty Mountains was a no-frills RV park but there were few people here, it was quiet, and all the hookups worked.

Drove to the Kinzua Bridge state park. Found a closed Allegheny national forest visitor centre with maps of campgrounds and attractions.

Went on a hike from the beach at Kinzua Road & Kinzua Creek to the Rimrock Overlook and back.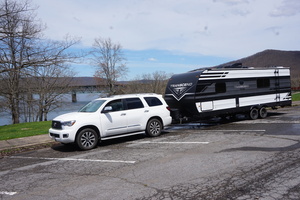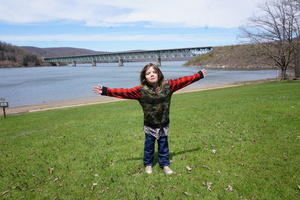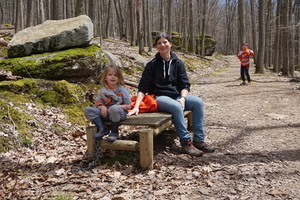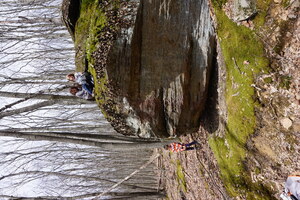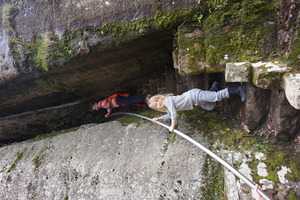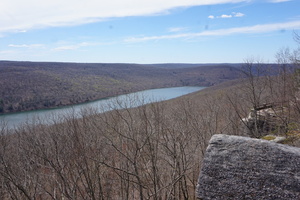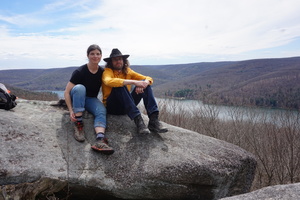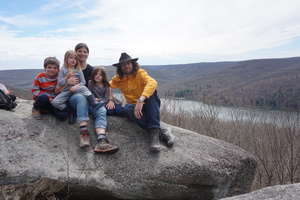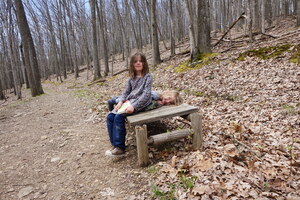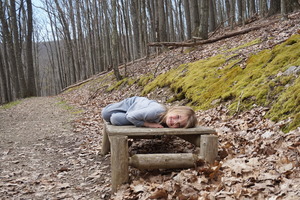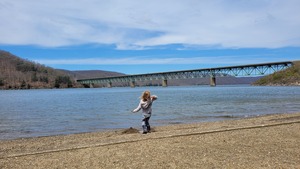 Tried to go swimming at the beach but it was too cold.

Everyone wanted to see the Kinzua Bridge which was in the wrong direction, but we headed there after doing the hike. Sasha got lost in the tiny visitor centre. I guess she just freaked out.

The bridge ruins were even better than I expected, despite the prolific obnoxious "No Climbing" signs. I climbed to the top of the shorter section at the far end, figuring it's too far for anyone from the visitor centre to see. Unfortunately Kim isn't much of a photographer.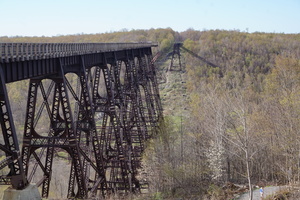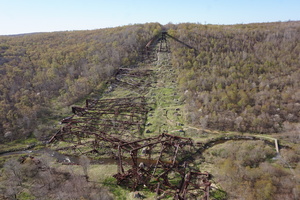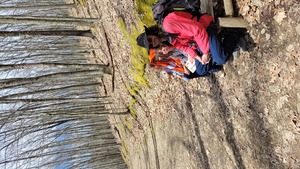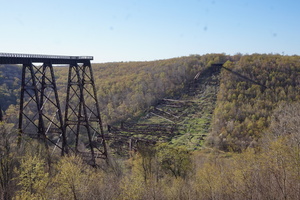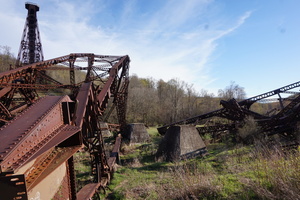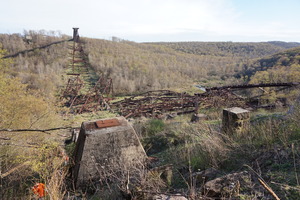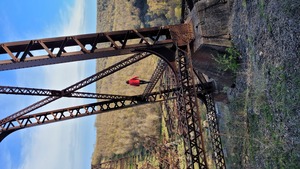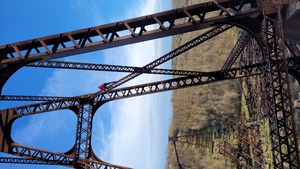 Overall we spent about two hours at the bridge, and it was obvious we wouldn't make it to Minister Creek until 21:30 so we decided to go to Dewdrop instead. But that was closed and gated. Chose to try Buckaloons next because it was an easier drive. Arrived at 21:30 and managed to back up into a non-electric site in the dark.

Day 5 (8 may): Buckaloons to Robin Island national forest campground (Pennsylvania)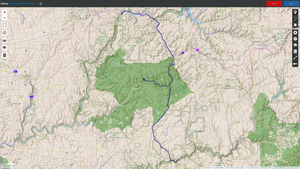 Buckaloons was a 20$ very well spent. Dumped the tanks again even though did it the previous morning.

Had lunch at hwy 666 & Blue Jay rd. I was pretty sure I lost my sunglass clips there, very annoying at the beginning of a long trip since I wear prescription glasses. Spent 20 minutes looking for them with no luck.

Went for a hike on the Minister Creek trail middle loop.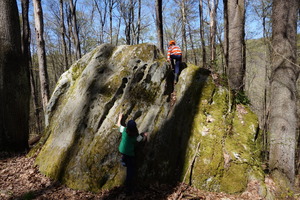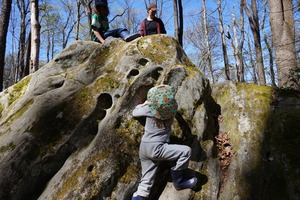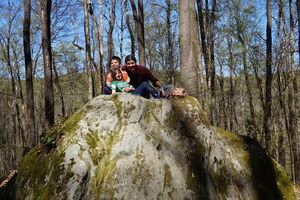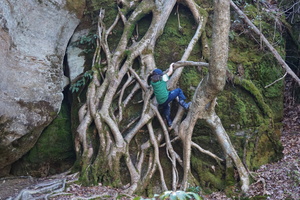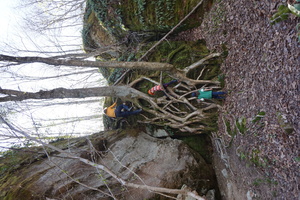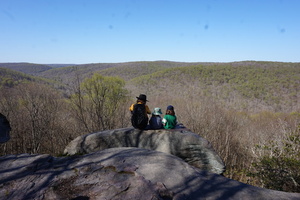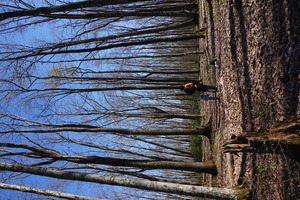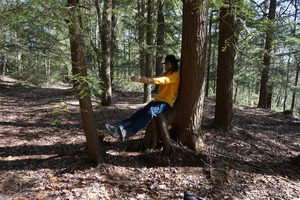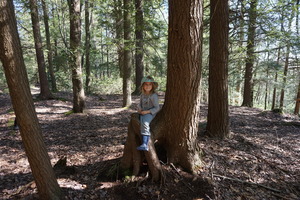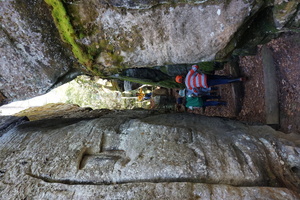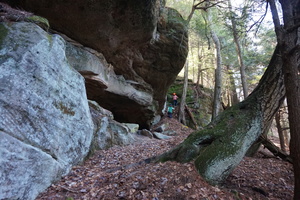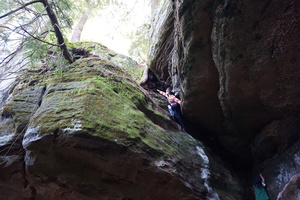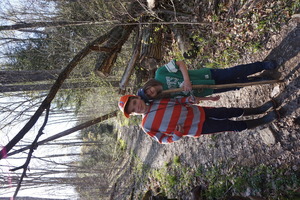 Passed by the Loleta recreation area campgrounds. Only the electric sites had trailer access, I didn't feel like paying for unneeded electricity.

On the way to the Clarion river went down Millstone road [it shows as Greg Hill road now]. Very steep, narrow, and gravely. A bit scary even for me. At one point for a second the brakes locked up (at walking speed) and the truck together with the trailer were sliding down the gravely hill.

The Clarion river campground I was looking for didn't exist, but luckily at the first pull-off near the river I found a map of the scenic river including the campsites. One of them was very close (Robin Island). If that map wasn't there: I would have ended up doing a very difficult 3-point-turn maneuver to turn around.

Robin Island had two campsites. Both very nice, and free.

Day 6 (9 may): Robin Island to Seven Points campground (Pennsylvania)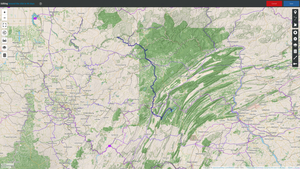 It was so quiet and pretty at the Robin Island campground.

Decided to try to do 200km this day. It was a nice day. Lots of driving but not completely exhausting.

Stopped by Parker Dam state park for a long break. Lots of people fishing with two rods there.

Stopped by a Walmart too.

Wanted to go to the Susquehannock USACE park for the night but it was closed. The nearby Seven Points USACE park was open except the office was closed and it required reservations. There was no signal by the office but got signal in the camoground to use the recreation.gov app for the resrvation. Check-out there was at 16:00, planned not to leaven in a hurry the next day.

Day 7 (10 may): Seven Points to Robert W. Craig USACE campground (West Virginia)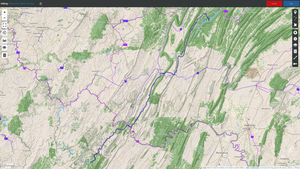 Had lunch in the park, left at 14:15.

It was summer here already, 24°C. Fresh water tank again claiming to be more than half empty, refilled it.

Low on gas, 23km since the light came on. Refilled with 100.3l (into a 100l tank) at the first working station. Out of that tank got 353km, giving me 28.4l/100km.

Drove on many small roads. Passed through Maryland almost without noticing. This was in Maryland I think: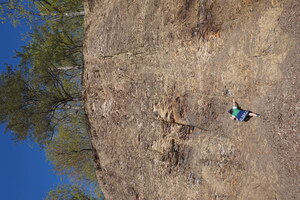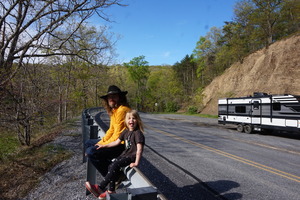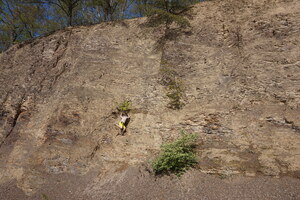 Stopped at the Robert W. Craig campground at Jennings Randolph lake. There was almost noone in the loop we stayed in, very pleasant.

Almost had to use my USD credit card for the first time, but their machine didn't work.

Day 8 (11 may): Robert W. Craig to Big Bend national forest campground (West Virginia)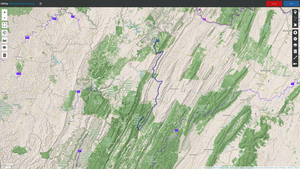 Hiked for a couple of hours on the trails around the campground. Nothing too fancy but pretty and relaxing. A couple of nice views.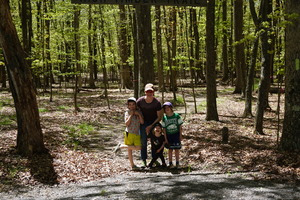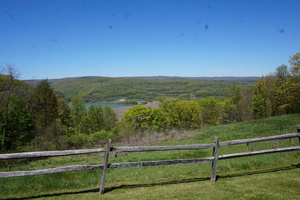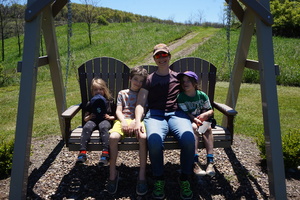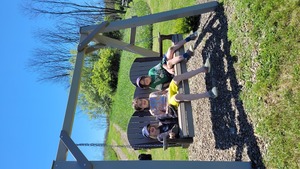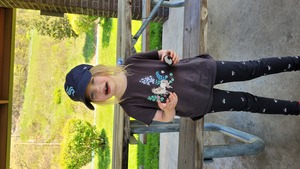 Got one of the park kids' books [that turned out to be a big deal on the trip, most state/national parks have one], the kids loved it. I did email the drawings to Bobber, but we didn't get a reply.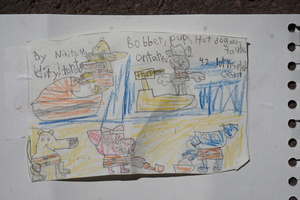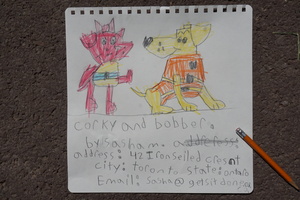 Drove to the dead end by the dam, barely managed to do a 3-point-turn to go back. Had lunch in the parking lot by the Jennings Randolph lake. The drop was too high, couldn't get down to the water.

Wasn't sure whether to go to Big Bend, Seneca Shadows, Seneca Rocks, or Hone Quarry. Had to decide in Petersburg. Figured Seneca might be too civilized and Hone Quarry a bit too far so decided on Big Bend.

The drive to Big Bend was a fun, single paved lane. Luckily didn't get any other cars on the most challenging parts. The last 6km was gravel. Not too bad but once we got to the campground - found rear left tire on the trailer leaking badly, with a small rock shard in the tread.

Jacked up the trailer with the 6x6 block on top of the pipe jack from the truck - it dropped down at the top, something slipped. Putting the jack on top of the 6x6 worked much better. Plugged the leak with a Slime plug but saw a leak still after checking with soapy water. Put on the spare, decided to look for a mechanic the next day. Shouldn't be a big deal, there are no balancing weights on the rims.

A neighbour played John Denver's "Take me home, country roads" before sleep (a song about West Virgina). I appreciated it. [It's become one of my favourite songs since then.]

Day 9 (12 may): Big Bend to Cave Mountain Lake family camp (Virginia)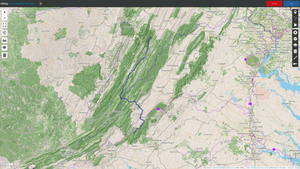 Lots of people fishing in the river. I didn't bother, it probably would have been pointless anyway with my lures on the whitewater.

Went to a mechanic in Franklin I found on OSMAnd. Had a hard time finding the front door, so found another shop in the back of the lot (Billy's Auto Repair). Billy wasn't there, though there was music coming from inside the small building. It was lunch time, whatever. More interestingly I walked back into the other large shop and walked all the way through it, there was nobody there. I'm used to people leaving their house doors unlocked, but this was only the second time I've seen a business with unlocked doors and noone inside.

Drove on hoping to find another soon, and found one just around the corner: Kar Kare. Had the tire fixed there in 10 minutes. I really liked the down-to-earth mechanic. The guy used the same kind of plug that I used, but instead of adding glue and cutting off the part sticking out: he set that part on fire and let it burn for 5 minutes, till it went out almost completely. The tire's rubber melted and was bubbling. I guess it just melted without burning, and it turns back into the same rubber after it cools down. [This worked very well, and I've used this technique every time since then.]

This was on the side of the road somewhere just before lunch: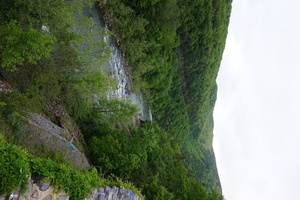 Camped at Cave Mountain Lake. It was almost empty, but everything booked for the upcoming friday/saturday. The camp host said it was like this every weekend, and they don't cancel no-shows.

Day 10 (13 may): Cave Mountain Lake to Longwood public use area (Virginia)
Went on a 3 hour hike up a mountain and back - very nice. Saw many orange geckos on the path and a couple of turtles.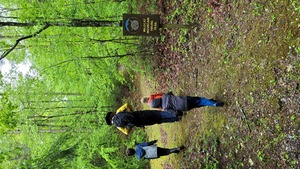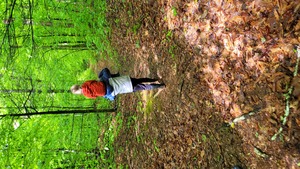 Talked to a couple from North Carolina. They said there are alligators there too, but they don't worry about them unless they have small kids or dogs. I wasn't sure I believed that. [I'm still not]

Had lunch in the campground's parking lot. Left at 16:45. Forgot to turn on the GPS tracker.

Went past the Bedford Walmart which said no Trucks or Trailer parking. Kept going, and it was dark when we got to the Altavista Walmart which had the same signs. There were several tractor trailers parked there but I wasn't in the mood to argue with anyone.

Arrived at Longwood at 22:15, 15 minutes after the office closed but luckily 45 minutes before the gate closed. They don't take cash, there was no signal for recreation.gov to work, and the guy had to put in a fake american address for their stupid system to let me pay the 20$.

The last time we were plugged into electrical was the morning of the 10th at Seven Points, almost 4x24h. Meter said 59% power left. Fresh water wouldn't last nearly as long as the 300Ah Lithium batteries, unless we conserved significantly. At this point I still didn't know how we used so much fresh water. Decided to try and not fill it until it runs dry just to see whether the sensors are messed up.

Looked at my maps and found almost no campgrounds SE of Lynchburg going towards the ocean. And we saw almost no trailers in people's yards on our way. Thought maybe that means there's nothing interesting to travel to there, or maybe people in the american south-east just aren't into it.

Decided to try and make it to the ocean in the next couple of days.

Day 11 (14 may): Longwood to Cliffs of the Neuse state park (North Carolina)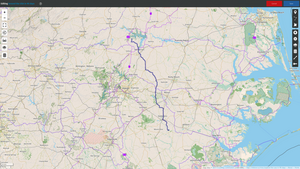 I woke up at 6. Tried fishing for about an hour. Spoons and the rattle bait I found on the beach here didn't work in the really brown dirty lake. The floaty two-part wiggler got some minnows to follow it, no other activity. There are definitely fishing motor boats, they must have their own ways to catch.

I felt there's a clear difference in rural houses between the north and here. Here it mostly looked like trash.

Couldn't tell whether the fields here were cotton. It looked like grass.

No rest areas of any description along the way. Had lunch in an elementary school parking lot in a small town, there was nobody there to bother us and the kids got a playground (a rare sight in these parts).

Was going to go to the Cliffs of the Neuse state park but its description sounded too rule-obsessed. Thought maybe would go to the ocean instead. But the one campground that looked good on the ocean (Surf City family campground) didn't have space for a trailer our size. Good thing I called first.

Called Maxwell Mill and the lady I spoke to sounded confused about what I'm looking for but had a spot for 45$.

I don't know where this photos is from, the timestamp says 15:18. Maybe from the park in Goldsboro.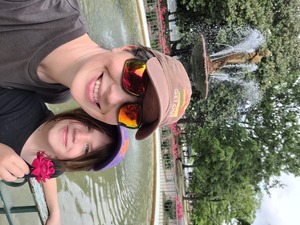 Stopped by the Cliffs of the Neuse since it was on the way, to see whether they had spots available which were not listed on the website. All the RV spots were taken but there were several good tent sites which I figured I'd have no trouble getting out of despite the ranger's opinion that I could not.

Talked to the camp host about going farther south. He said anything north of New Mexico and Arizona is unbearably hot, and hard on the truck. I figured we'll find out just how tough these traveling americans are.

The lake here didn't allow swimming for lack of lifeguards, and they would have charged for swimming in that swamp anyway. We went on a hike to see what was there. The flora was kind of nice, rainforesty, but all the rivers were either non-existent or disappointing. I don't like to poopoo on people's pride, but honestly their "protected cliffs" are a joke.

Day 12 (15 may): Cliffs of the Neuse to Surf City family campground (North Carolina)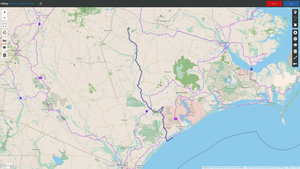 These 11:00 checkouts some parks have are just a bit annoying, make things feel unnecessarily rushed.

Called Surf City again and they said they have a spot now. The drive was very quick, nothing exciting on the way.

I was hoping to see something interesting by the Marine Corps base we drove along but there was nothing to see.

Battery was at 40% before I plugged in at 13:00 in the campground. That made it look like a reliable 10% per day consumption, though it's hard to account for variables like sunshine for solar panels and how hard the fridge had to work based on the ambient temperature.

Had lunch and headed to the beach. This was the best ocean beach I've ever seen. Good sand, no weeds, great waves both for me and the kids, and even a natural kids' swimming area near the shore.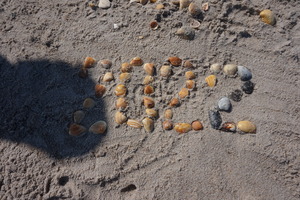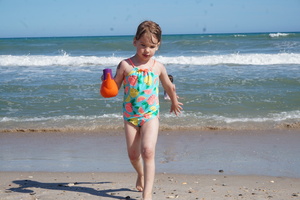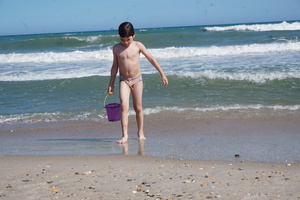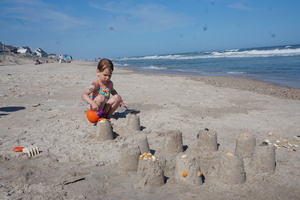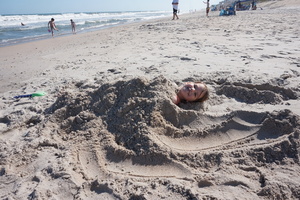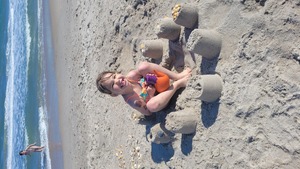 Did laundry at the Holly Ridge laundromat. It was fine, nowhere near as bad as the google reviews suggested.

Stopped by the only surf/beach shop I noticed (Tsunami Surf Shop), got one tiny and one small board for the kids, and a dive-and-retrieve bunch of fishes for the swimming pool.

Decided to stay another day if couldn't get a spot reserved at Myrtle Beach the following day. 60$ seems to be a good deal around these parts.

Went for a couple of walks at night, saw a bunch of crabs running around.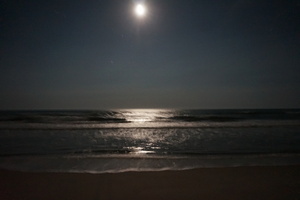 Day 13 (16 may): Surf City to Myrtle Beach state park (South Carolina)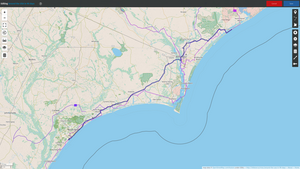 Spent the morning at the beach before heading out. Lots of fun.

Made a Myrtle Beach state park reservation over the phone, no complaints about booking a single night. 64$.

The drive sucked, a lot of highways. The last part was through Myrtle Beach - a 100% resort town, we drove past countless hotels and rental houses for a half an hour. Not that many people though. I don't know why, maybe the season or maybe the mass hysteria.

The campground was packed as I expected but nice. Many of the thousands of bikers who came to town for the Harley Davidson week were camped there.

They had signs at the entrance saying to wear boots and mind the poisonous snakes. Thankfully we didn't see any.

Went swimming for an hour before dark and dinner. The waves are a bit stronger here, and the water gets deep quicker than at Surf City. It was still fun.

Thought that might go to James Island Country Park the next two nights so that we'd get a full day to see Charleston.

Made a TD appointment at the second nearest branch for 10:30 the next day. I thought I even opened an account with the american TD using nothing but my passport number and my driver's licence number. Amazing that identity theft is not more common.

Looked into Grand Canyon stuff: looked like the north rim was more our thing, despite/especially because only 10% of the grand canyon tourists go there. Turns out there are only 3 campgrounds: one on the north side, and two on the south. Thought that must make a great hiking trip. Found one campsite available for the 14th of june only.

Day 14 (17 may): Myrtle Beach to James Island country park (South Carolina)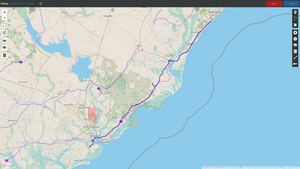 Confirmed with Kim and booked the North Rim Grand Canyon campsite. This was our first [and only] long-term advance booking. To date the trip was fantastic and I was glad nothing was pre-planned or booked in advance.

Spent a bit more time at the beach.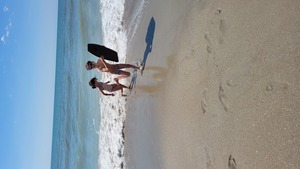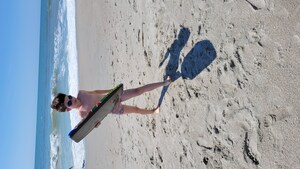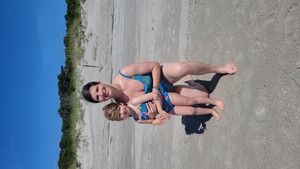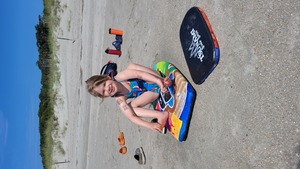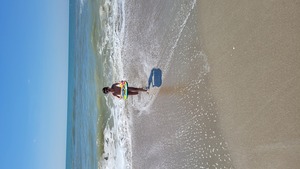 The TD manager I had the appointment with was 15 minutes late because he was with another customer, but he was nice and helpful. Printed a debit card for me. Had to jump through some unnecessary hoops to do the phone verification even though he had my passport and driver's licence in front of him.

I had to give the guy 12$ in quarters to make the 100$ deposit (minimum amount to avoid the monthly account fee).

Went on the boarwalk in Georgetown, it was cute. Lots of turtles in the water.

On our way to James Island country park turned off the highway to see the Hampton plantation. There wasn't much of it left. It would have been nicer if we had been there at 14:00 to get the tour of the big house. Looking at the construction on the outside I wasn't impressed with the workmanship or the materials. It was all excessively basic. Maybe this was not a great example of the supposed opulence of those days.

Yellow gold rice seems to have been a big deal a long time ago in this state.

This is what they call an oak in the south. It looks nothing like an oak, but whatever. This particular one supposedly only exists because George Washington said he likes it, it would have been cut down ages ago if it wasn't for him.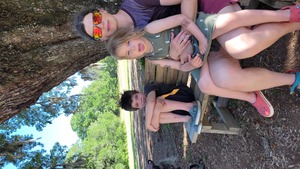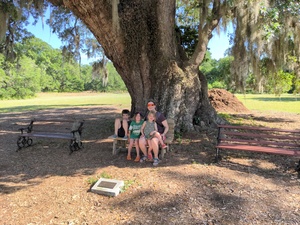 Almost got turned around at the park. I was sure the website showed they had over 20 sites available but maybe the ones I saw were tent-only. Got a spot no problem, though a bit expensive at 72$/night.

Day 15 (18 may): Charleston (South Carolina)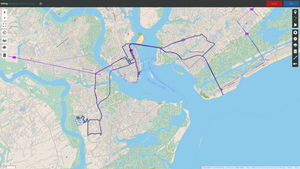 Got lots for touristy brochures for Charleston. All kinds of horse, bus, and boat tours. I picked some highlights to go see by ourselves.

When we went I remembered I don't like cities. Charleston is at best a graveyard of some old glory. If it was ever pretentious of impressive: that's been gone a long time. Not even a nice neighborhood left.

The pineapple fountain, nothing to write home about: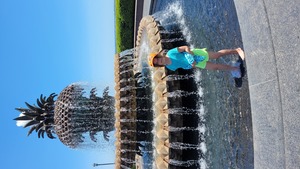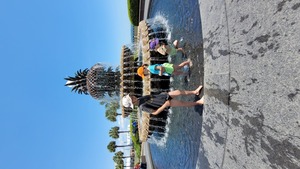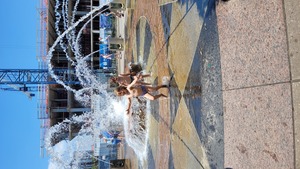 The free beach at Sullivan's Island was nice.

Walked to the top of the big bridge and back.

The rainbow houses were boring, and not even that original.

The kids' museum was closed! I was doubly annoyed since I had to find where to park in that scary downtown, and parked next to a homeless-infested park because of its proximity to that museum. The visitor centre was full, and I think it required an app for parking anyway.

Paid to park there for 2 hours, but at least used one of those hours while we walked around and got Pizza at a restaurant.

Had 34° during the day, 22° at night. Only used the AC to cool the trailer off at the end of the day.

Day 16 (19 may): James Island to Fort McAllister state park (Georgia)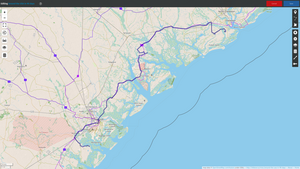 There was probably more to do at the campground than there was in Charleston, but we only used the wifi in the activity centre. Booked one spot for Fort McAllister since they only had two available.

Called TD (for the 5th time) from the car, finally got transferred to someone useful. She set up my online american TD access and figured out that the reason it wasn't yet linked to my canadian TD account was the branch number. Apparently the transit number on the direct deposit form is not exactly the same thing. Online access to the american TD worked right away. The link to the canadian account was supposd to be set up within 3 days.

Stopped by the Angel Oak tree on our way out. Lots of people there but it wasn't so crowdy as to be unpleasant.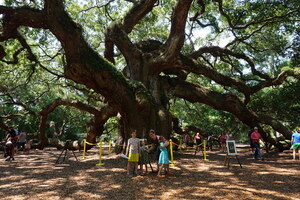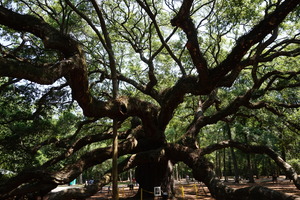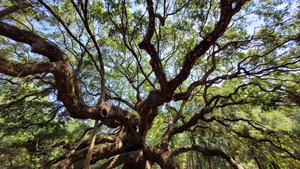 Turned off for Wimbee Landing Creek. I would have called that a small river. Had lunch at the boat launch. Did some more fruitless fishing.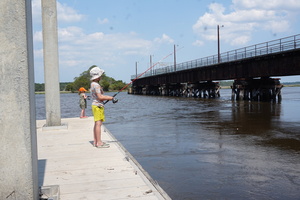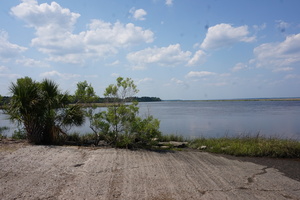 Drove through Savannah but I still had a bad taste in my mouth from Charleston, so didn't even bother stopping there.

There was noone at the Fort McAllister state park office, and it looked like the gate to go towards the campsites was always closed, requiring a pin to open. Found the pin on one of the available campsites' papers hanging outside the office.

The campsites are on Savage Island, surrounded by swamp. But it was pleasant, full hook-up pull-through, not too bad for 45$.

It went up to 37° on the road today. I didn't find it too burdensome.

Set up the hammock for the first time on the trip. It's not a lot of work to set it up but until this day I didn't have the time to enjoy it.

Checked at 19:00 - the wire transfer has been completed. It cost 15$ on the american side and 35$ on the canadian side. They said those fees would be reversed automatically. In the USA all the TD branches are on the east coast, so I had to deal with the cash withdrawals before heading west.

Day 17 (20 may): Fort McAllister to Laura S. Walker state park (Georgia)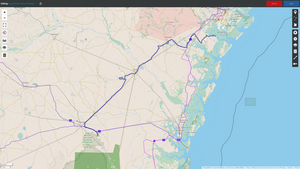 The last 2-3 nights I've been bothered by these minuscule biting flies. Much smaller than what they call black flies in Canada. Smaller bites that don't seem to leave any marks but after getting a bunch of them the skin feels itchy and annoying. Wearing long sleeves and pants seemed to allow me to read in the hammock in peace.

This was the view from our campsite on Savage Island: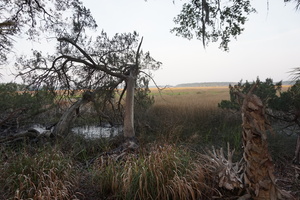 A bird kept attacking its reflection, it just wouldn't give up: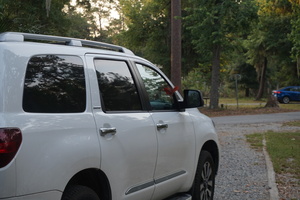 Decided to head SW. The next day would be in Florida but not on the coast. Would likely get back to the ocean on the south side of the USA.

This was a Walmart day. Went to four or five Walmarts looking for Pokemon cards for Nikita. He's been doing work to earn the 5$ he needed. Not fun for the parents, but it was important for him to get the reward he really wanted.

Drove to Laura S. Walker state park. The campsite was on a lake but there were alligator signs everywhere, including on the swimming "beach". Went in thighs-deep with the kids, left in a hurry 30 minutes later because saw/heard some bubbles nearby. Stupid fucking conservationists. Why do my kids have to be on the menu for alligators?

A few days earlier I started greasing the weight distribution hitch because it was making so much noise when turning. The grease eliminated the noise. Also now was less worried about the built-in retaining clips on the truck end. They were starting to get stuck, and I was worried they might break off. [Didn't need to worry about them for the rest of the trip] The greasing takes a bit of time and concentration, but I get to pick when I do it so it's not so bad.

Didn't have a TD on the way this day, hoped that would find one on the next day.

Day 18 (21 may): Laura S. Walker to Ocean Pond state park (Florida)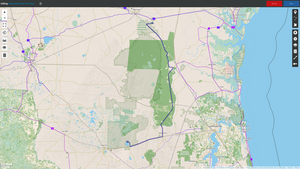 Tried to grease the stabilizers on the trailer - they were getting harder to turn with all the dirt on them. Did the front, they looked better but I couldn't tell whether they worked any better. And I was worried the grease might collect more dirt.

18 days into the trip we were still on the first propane tank.

Took the girls swimming again. Whatever that brown shit in the water is - it will not wash off, not even with shampoo.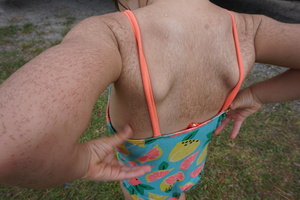 Went to the Ocean Pond state park (20$). Drove past at least two large prisons on the highway. The campground had plenty of spots available probably mostly because of the prisons, and partly because (I'm guessing) the families of some of the inmates are living in the park. Not scary though.

Arrived too late to make it to the bank, but went to Lake City anyway to walk through the Alligator park. Got a serious torrential downpour during half the hike. We were expecting it, it was still better than hiding in the trailer.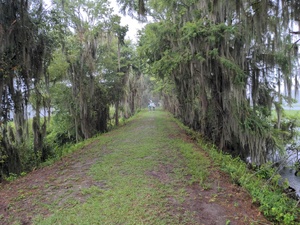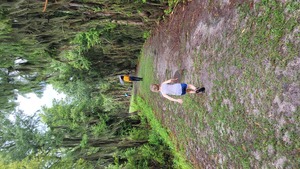 No alligators of course, but at least saw several turtles. And egg shells in several places. Couldn't tell whether those would have been turtle or alligator eggs.

Back at the campground the host said there's a small alligator near the boat launch you can see sometimes, if you wait. It's hard to wait with those bloody yellow deer flies eating you.

The host also said enthusiastically that I should get the America the Beautiful pass, given our plans to go around the entire country. [I ignored him for some weeks, and ended up losing a bit of money unnecessarily.]

Day 19 (22 may): Ocean Pond to Newport county park (Florida)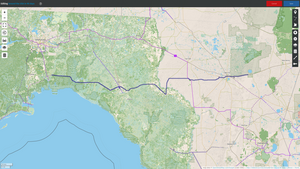 Left around 11 to make it to the slightly farther TD bank. The closer one isn't open on sundays, though I stopped there to get cash out of the machine. Luckily the teller at the second TD gave me the rest of the cash I wanted. That got rid of one worry for the rest of the trip.

Stopped at a boat launch past a bridge over Suwannee river. Turned out really nice. Went swimming and the kids built some stuff out of clay.

More prisons on the way. Maybe Mayo was the last one in the region.

Got groceries and finally found a racket-style bug zapper at the Walmart in Perry. That was the closest one that had the bug zapper in stock. I wonder if it's some legal thing with where it's available. I don't know how people tolerate not having one.

Arrived at Newport park to find it closed, for repairs or something. The park host still had his trailer there. While I was looking for alternatives he arrived, I gave him 20$ to let us stay until 10:00.

The Saint Marks river next to the campground had pretty clear but standing water.

Day 20 (23 may): Newport to Indian Pass camground (Florida)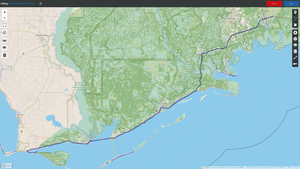 The microflies woke me up at 6:00. We had electricity hooked up, I should have left the windows/vents closed with the AC on. I was hoping these things wouldn't make it through the mesh despite clearly being small enough to fit. There were hundreds of them in the trailer.

On our way out a "Park sheriff" van with landscaping tools was driving in. He probably guessed we stayed there since it was 9:00.

Stopped by Myron B Hodge city park just to check it out. It was really nice, way better than I expected. Should have stayed here the previous night. The guy let me fill up the fresh water tank.

Back to the ocean. Pulled over on the side of the road somewhere past Carrabelle beach to go to a very small but very nice beach. It may have belonged to the house which was once there but only some of the foundations were left, the rest was completely obliterated by a hurricane. These things must be much stronger than I imagined, 15cm-thick concrete slabs ripped out of the ground and cracked into half-tonne pieces.

Had lunch at a seafood diner in Apalachiola. It was fine, nothing to write home about.

There were plenty of sites available at Indian Pass campground. A bit expensive at 50$ but it's right next to a great beach. Very steep 45° drop-off right at the waterline. Did a bunch of jumping off the dock, that was fun.

Learned not to jump flat into water while holding a floaty board. Nearly broke all my ribs doing that.

The stupid yellow flies get you even in the water.

One of our campground neighbors told me there are 5 crocodiles in the water here and plenty of sharks. Said he caught some sharks fishing off his boat right near the shore.

Day 21 (24 may): Indian Pass to Big Lagoon state park (Florida)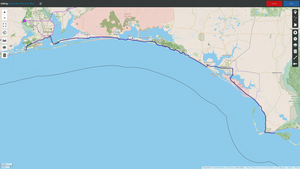 The lady at the office said not to worry about sharks or crocodiles when swimming. So we didn't.

Decided I have to start being more generous with the bug spray. At least it's easier to put on than the sunscreen.

Stopped for lunch at Home Depot in Panama city. I went into the store to check out what the american home depots have that the canadian ones don't. There's practically no difference.

I found that Big Lagoon state park had sites available but set my directions for the Henderson Beach state park just to check it out. The people at Henderson wouldn't let us in, said site 14 which they told me on the phone is first-come-first-serve is "only for emergencies". I didn't bother arguing with them.

Stopped at John C. Beasley park to go to the beach. It was really nice. It said no RVs, busses, or trailers are allowed in the parking lot but it was 3/4 empty so I went in anyway.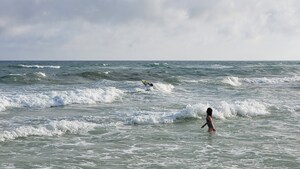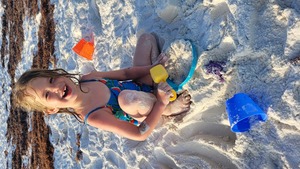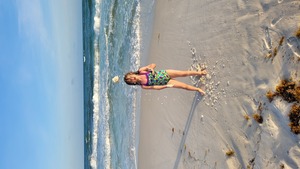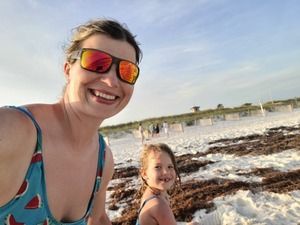 Left after 19:00, knew we would end up arriving in the dark.

Arrived at Big Lagoon after 21:00. I was not planning for a closed gate. If it weren't for Kim: I'd have just parked for the night at the entrance. But a couple of people drove in and the second one let me follow him after a bit of obnoxious questioning.

Took the spot right after the host's. Knocked gently on his trailer, got not response. They had self-checkin envelopes but it didn't say anywhere how much to pay. Left a note on the host's windshield that I'd pay in the morning.

Day 22 (25 may): Big Lagoon to Shepard state park (Mississippi)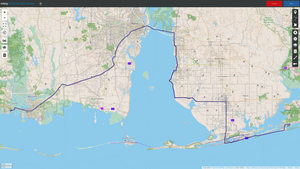 Surprisingly there weren't swarms of various bugs here, even though we were in the middle of a swamp. But there were definitely microflies biting. I saw a swarm of them sitting on the skylight and killed them with a towel. It's amazing how much blood there was, it took longer to clean that off the skylight than to kill all the bugs.

It poured all night. I woke up at 6 because of the noise. Walked to the entrance to pay 30$. The park host didn't pick up my note so I took it back.

Did more swimming at the beach in Fairhope. The beach was nice, but the water very shallow, and no waves. There was a very long dock (maybe 100m). We walked to the end of it and I jumped into the water, nearly breaking my leg. Good thing I didn't jump in head first.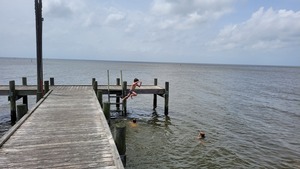 Fish splashing every few minutes - maybe 20-25cm long.

I figured out the business with the oaks here that aren't oaks. They are called Quercus Virginiana (Live Oak) and they're evergreens. I love how much they spread their crown.

Arrived at Shepard state park before 18:00. The office was closed but thankfully there wasn't a gate. Lots of spaces available. 18$ for electric and 13$ for no hookups. The extra 5$ was worth it just to run the AC. I didn't have 18$ so I put in 20$ and wrote on the envelope to keep the change.

Rain started pouring just as we arrived.

It goes below 21° here at night but the inside of the trailer stays at 29° unless you open the windows. But if you do open the windows: you have to deal with the microfly swarms eating you.

Day 23 (26 may): Shepard to Fontainbleau state park (Louisiana)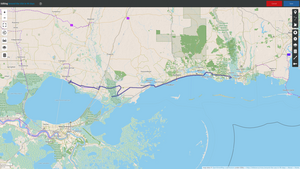 Rain poured on and off all night. Still no alligators unless that was a dead one's tail we saw near the water surface on the short hike on a swamp boardwalk.

There are more Waffle Houses here than Tim Hortons's in Ontario. Went to one for breakfast to see what it is. It wasn't bad - beige but real food, you can see them make it in the open. I thought I finished my food (Waffle & bacon) when a larger plate arrived with eggs and hash browns.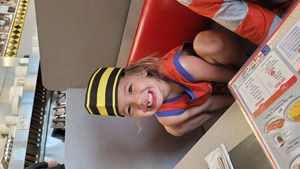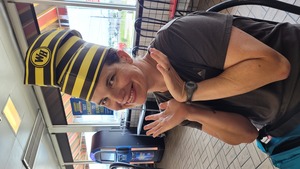 Stopped at one of the beaches in Biloxy. Some of them are busy, others empty. The water there is also very shallow as far as you have patience to walk, and calm.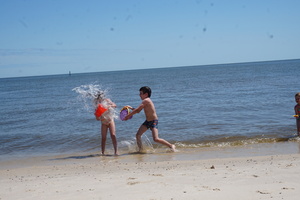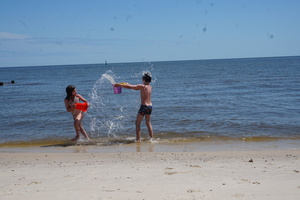 I finally felt comfortable backing up the trailer into weird places.

Stopped by a river at the border with Louisiana. I thought it was the Mississippi. It did look awfully small compared to what I was expecting. [This was the Pearl river, the Mississippi river runs though Louisiana for the part that flows into the ocean.]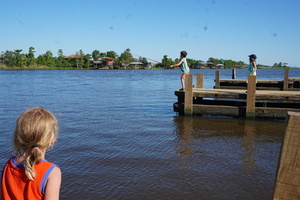 The houses near the river sit up in the air on 4-5m high stilts. It's hard to imagine the river would rise so much, but maybe it does.

Heading west there was a big sign saying the road was closed 3.5miles ahead. I went anyway hoping maybe there'd be a way around but no, the bridge over West Pearl river was closed.

Chose to stay at Fontainebleau state park.

Decided not to go to New Orleans - I've had enough cities, they're all the same.

Day 24 (27 may): Fontainbleau to Opelousas South Park (Louisiana)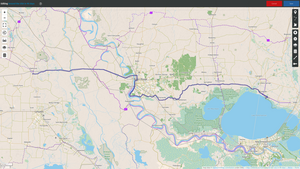 Turned out day 23 was the last day on the ocean. Finally saw a couple of alligators (small ones) at the pond near the lake beach.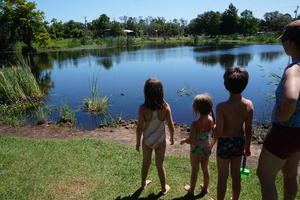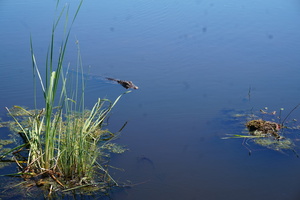 Had to go through Baton Rouge to get over the real Mississippi river. Stopped by to have a quick look at it from a university stadium parking lot.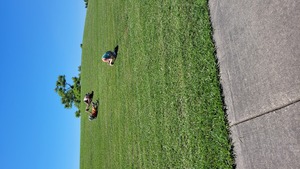 Long drive this day. Went to the Opelousas South Park in the city. It wasn't obvious where the RV parking was, but I saw the posts with electrical outlets and three other RVs parked on the grass. Left the trailer and went to Walmart for groceries.

The park guy knocked on our door later as we were making dinner. 11$ - a good deal.

There was a party or something going on in a house near the park - very loud music. Thankfully they turned it off at 23:00.

One trailer and one RV in the park were abandoned there for years. Maybe they were stolen but also possible that they weren't worth fixing.

Day 25 (28 may): Opelousas to Sandy Creek USACE campground (Texas)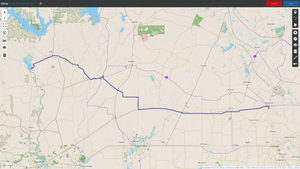 Woke up at 4, but felt well rested. 15° outside, 25° inside. Walked around the park in the dark - there are sooo many hookups all over. The spot I picked was the only one with the water connection off.

It was very hard to find a campground a good distance west from here. Texas was still 260km away, lots of parks still closed due to some hurricane or another. But I needed to hurry up anyway to get to New Mexico with two weeks left before the Grand Canyon reservation.

Went to check out the abandoned trailer and RV. Surprisingly they didn't stink inside. Salvaged some wires from them.

Played 18 holes of frisbee golf. It was lots of fun even using regular frisbees. It would have been much more annoying without the Udisk app on my phone.

I discovered a dump station near a closed toilet and figured out why it was closed after I tried to use it the dump station: the sewer drain was clogged. That was unpleasant.

The driving for the day wasn't long. Not many places to stop, straight fast roads with few intersections.

Wanted to stop at a cajun restaurant for some traditional Louisiana food but didn't find one, everything was closed for the long weekend.

Found a girl's soccer team fundraising with sweet things, got some stuff from them and donated 20$. Nikita was really nice - he went back to the trailer and got his 25$ to donate to them as well.

This was in Newton I think, true redneck style.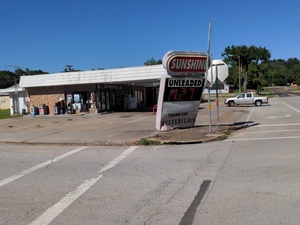 Noticed the wheel I switched way back on day 8 (rear left) not looking right, but forgot to check it after pulling in.

Saw more than 5 alligators in the lake.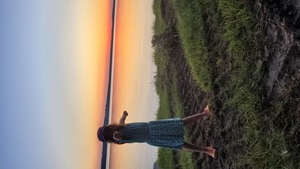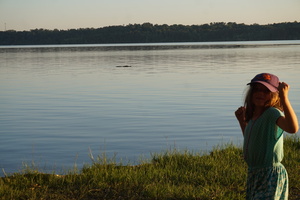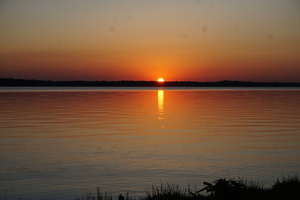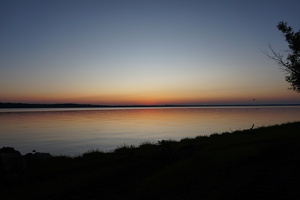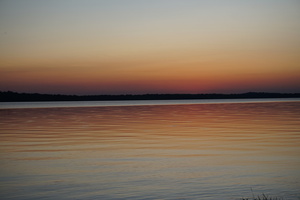 Day 26 (29 may): Sandy Creek (Texas)
Pulling out with the windows open heard some weird noises. Went to look and found the rear left rim's 5 holes completely destroyed. One stud was broken off completely, I broke off two more taking the nuts off.

Dumped the full tanks and asked the park host for advice. They recommended a guy who often comes there to fix RVs, but couldn't remember the name or the phone number.

I made a list of options on Google Maps and called all of them. One texted back and arranged to come at 9:00 on tuesday. I already decided to stay two more nights since it's a long weekend here.

Didn't do much else this day.

Day 27 (30 may): Sandy Creek (Texas)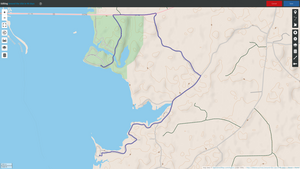 After failing to find a way to the George Washington Smyth historical monument nearby drove to the Martin J. Dies Jr. state park and discovered a nice place for the kids to swim. Went there twice (before and after lunch).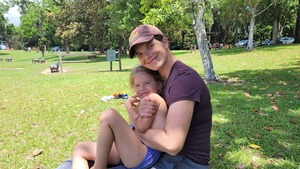 This break from driving was welcome, though I was worried it would make crossing Texas even harder. It's a big state. But I thought perhaps all the driving in Texas would be as fast and easy as day 25.

All three types of bugs live here, but not that many of them. And I think my body was beginning to adjust to the irritants by now.

Day 28 (31 may): Sandy Creek to Speegleville campground (Texas)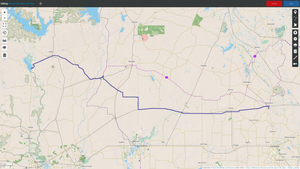 Waited till 9:00 to find that my phone is in airplane mode. The dude from Bell's RV and Auto Repair texted me to confirm but I didn't reply so he didn't show up.

Drove 45km to his shop. He confirmed my suspicion that I didn't tighten the lugs enough, and pointed to the warning right above the wheels that says to check the lug nuts before every trip. There must be something weird with trailer tires, I've been changing 24 tires a year on cars for over a decade.

The repair (new studs and new rim) only cost 160$. I was very grateful.

Waco lake was no good for swimming. Had 30 minutes for the day use area. There isn't much of a beach but the kids enjoyed themselves. Had to drive over scary drive-over spikes to get out.

The lake wasn't any nicer near the campground.

Day 29 (1 june): Speegleville to Lake Colorado City state park (Texas)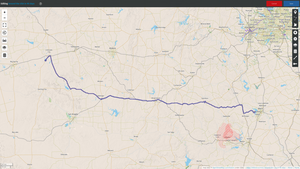 Drove almost all day except for stopping at a couple of playgrounds and a lunch stop at Frida's Mexican restaurant (the food there was pretty good).

Drove past many ranches most of the day.

Landscape was getting more wild-westy. Dry, no tall trees, cactuses.

Played some frizbee golf in Pecan Creek park in Hamilton. It's an unexpectedly nice way to spend some time appreciating the different ecosystems.

Reached a new temperature record for us: 35°. It was still light enough to see when got to Lake Colorado City state park. Picked a nice spot by the lake. Technically the sign on the post said the spot was not available but there was nobody there, and I figured those signs are probably meaningless.

Set up just in time before a massive rain/thunderstorm. It was fun to watch. Most of it blew over in a couple of hours.

Drove so long this day so that could make it to Mescalero Sands the next day without feeling exhausted.

Day 30 (2 june): Lake Colorado to Mescalero Sands OHV area (New Mexico)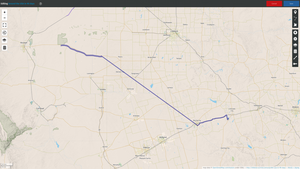 Paid 24$ at the office. Cast a lure a few times. It was now 16° outside, had to get my warmer jacket out.

The SIM card stopped working the previous night, and it looked like it wouldn't be possible to make it work again.

Got a new Stetson cowboy hat from Boot Barn. Unlike Alberta they actually sell cowboy stuff here with work clothes, not with the touristy souvenir shit.

Couldn't find a shooting bow at Walmart. Asked twice and got sent to the bowls isle both times.

Both city parks we took breaks in had trailer camping. Maybe that's the default around here.

Drove all day through either dried cotton fields or oil pumps on red sand. This must be the part of Texas where the oil comes from. Even drove past a refinery. Nothing else exists here.

My ribs seem to have mostly recovered but now my back was really hurting from so much driving.

The dunes at Mescalero sands are really nice. My truck is definitely too heavy to go through them. I tried a little bit - just enough to confirm that I'd get stuck with all 4 wheels in the sand on any sort of slope.

Some assholes must have burned a large pile of demolition lumber in the bowl next to the parking spot. I started picking up nails but there are hundreds, maybe thousands of them.

Watched a lightning storm in the west, wondering which way it was going to go. An hour later it was over us.

Day 31 (3 june): Mescalero Sands to Spring River RV park (New Mexico)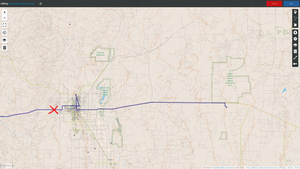 Sasha woke up barfing at 4. Then everyone went back to sleep.

In the sunny morning went for a hike in the dunes. There was one guy ripping around on an ATV. By the time we were done hiking there were 3-4 more.

The photos speak for themselves (except the knight helmet Nikita made for himself):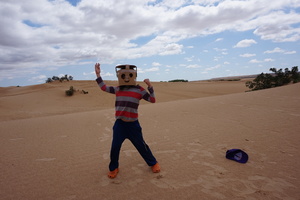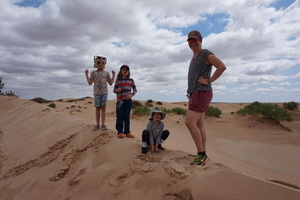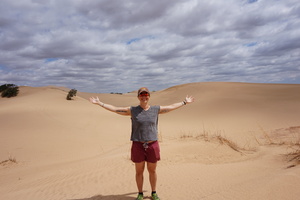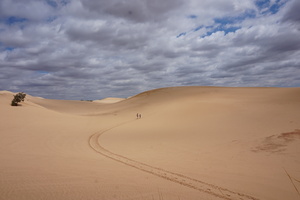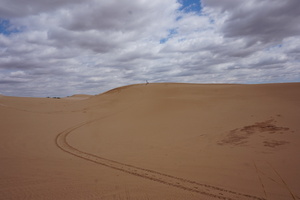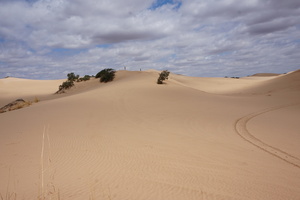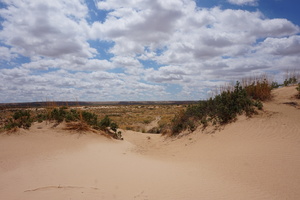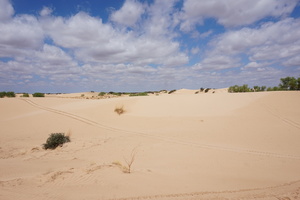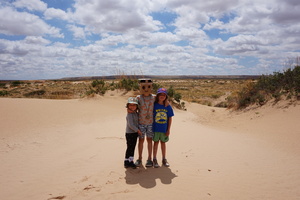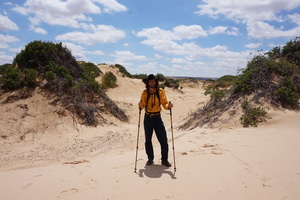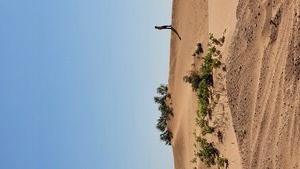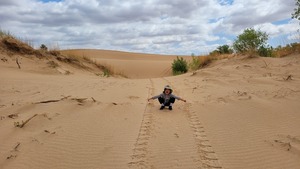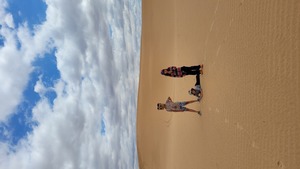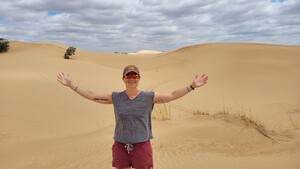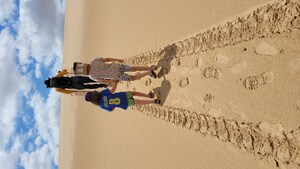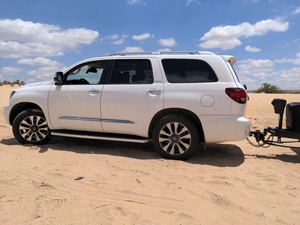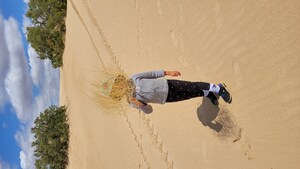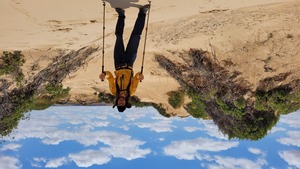 It wasn't too hot, because of the recent rain and clouds.

Found more nail traps in a couple of places, one of them right where I parked.

Blew the 30A fuse for the tongue jack raising the tongue for the weight distribution bars. I hoped I wouldn't need to replace the jack on this trip [I didn't].

Drove to the nearest town (Roswell) to get a SIM card at Walmart. Turns out Roswell is the aliens' city.

The AT&T card from Walmart didn't work with either of my phones. Going to the AT&T store across the road didn't help. Went to the T-Mobile shop in the Walmart parking lot - their SIM card worked but they wanted 60$+tax. Went back to Walmart (for the 9th time because all of these SIM cards require online activation), returned the AT&T card, and got a Walmart Family Mobile package - 45$ for the first month.

After activating that the time was already 17:00. Couldn't find a close park to go to and decided to stop at Spring River RV park. Paid even less than I expected: 31$.

Did laundry there (2.25$/load), and the lady gave us some good tips about what to see in Roswell.

Spent a good half an hour figuring out the business with tethering on mobile plans. My guess is the provider wouldn't be able to detect whether tethering was being used due to my VPN, but it's hard to say because it's not documented. [I haven't had a problem with this all trip]

Day 32 (4 june): Spring River to Valley of Fires BLM recreation area (New Mexico)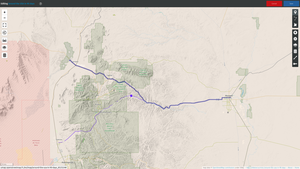 Mostly uneventful drive. I think I got heatstroke either the previous day during the phone shopping or this day.

Drove through Lincoln without stopping.

Nearly all the parks in New Mexico were closed due to fire danger. I don't know what they're supposed to be protecting - there is nothing here to burn, it's a bloody desert.

Luckily the Valley of Fires rec area was open. This evening went on the boardwalk only.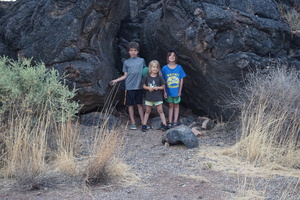 Day 33 (5 june): Valley of Fires to Rodeo de Santa Fe (New Mexico)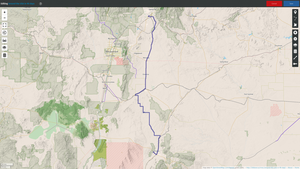 Went on a hike through the lava field. Lots of cactuses, climbing, and jumping.

The 5000 year old field is really cool, can see all the lava flow creases and bubbles. The hardened lava is very harsh and porous. Looks like it's been burned not so long ago.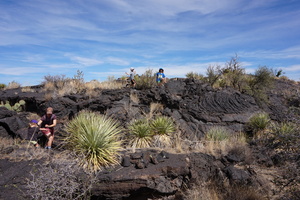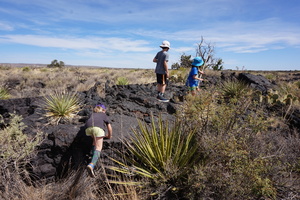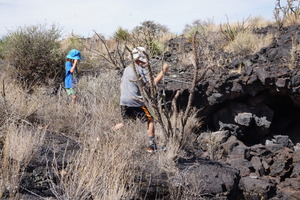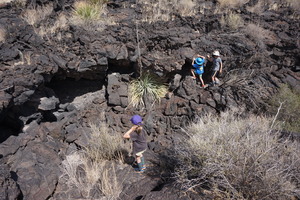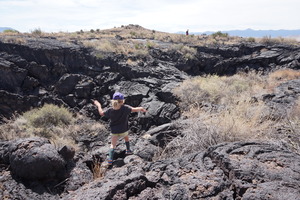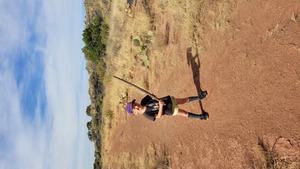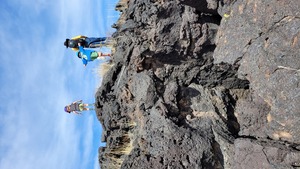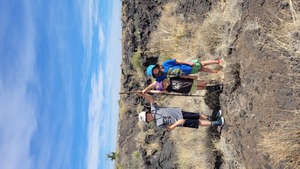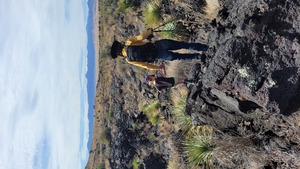 It was Nikita's birthday. He got to play with his bow.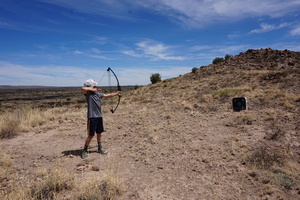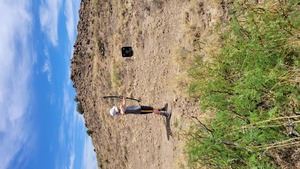 Took off. Accidentally found Gran Quivira (Salinas Pueblo Missions). A neat stop. The kids did a ranger program.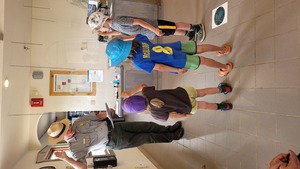 Found a green park (a rare colour in this part of the USA) in Moriarty. It even looked like this park might have outlets for trailers, but I didn't look into it.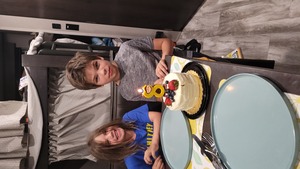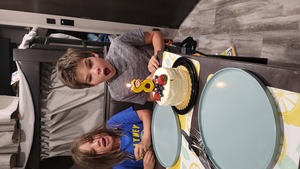 Got to Rodeo de Santa Fe. Jim didn't answer the phone. Went to Walmart where I couldn't find any other option within 50km. Jim picked up the second time. 25$ for full hookup. Enormous lot, empty since no rodeo was happening.

Day 34 (6 june): Rodeo de Santa Fe to Aspen Glade USDA campground (Colorado)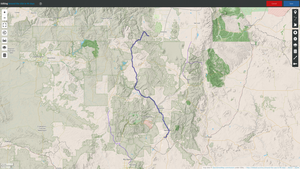 There were a few horses in stalls and the owners let the kids pet three of them.

Santa Fe is very pretty. Both the suburbs and the inside. People here clearly care about the look of their home town.

The parking meters in town all seemed to require and app or at least an account over the phone so I drove a little out of downtown and parked on a small street in front of someone's home. Nikita threw up right in front of their gate.

Curiously nearby there was a white Sequoia parked, with a Gobi rack on (I ordered mine and it arrived to Vancouver about this time).

Walking downtown discovered that there are coin and credit card slots on the sidewalk sides of the parking meters. Moved my car just to get it away from where Nikita barfed.

Santa Fe has a typical touristy expensive downtown.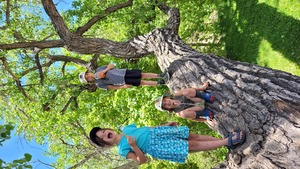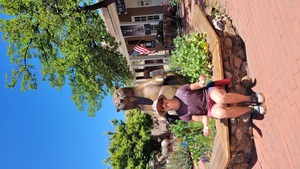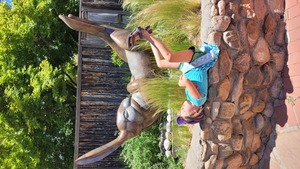 Soon drove into mountainous areas. In most of New Mexico these are bone dry, and many are spectacular.

Stopped at a rest stop North of Abiquiu Lake and just had to climb one [looking at the map now it seems that we climbed into the Carson National "Forest", I thought we were trespassing]. Sasha went with me.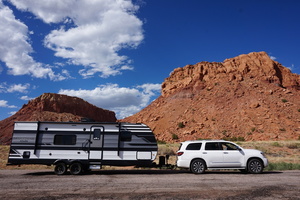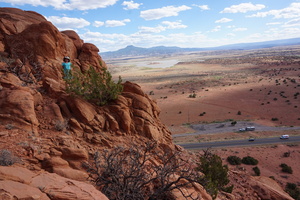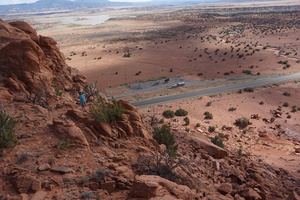 You can legitimately slide down that sandy slope. There are attractions of this sort in Colorado but they weren't close enough to our route.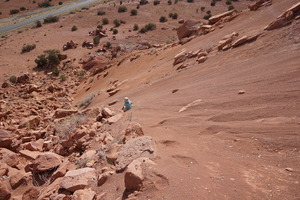 See if you can find us: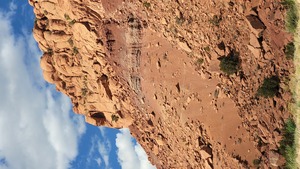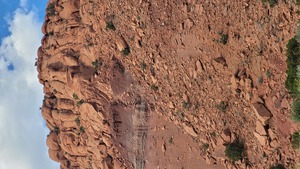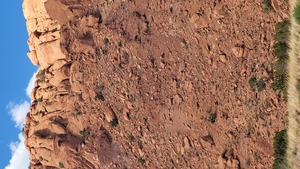 Still New Mexico: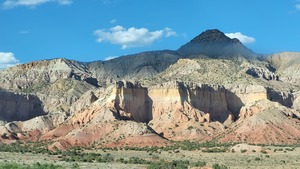 It's a long steep climb to get into Colorado. Truck managed no problem.

Camped at Aspen Glade. 26$ seemed a little steep given no amenities, but it's quite nice, especially by the river. No fire bans here.

Couldn't find any hikes in these amazing mountains. The closest I could find was ATV paths which I believe are old roads.

It went down to 6° or less at night.

Day 35 (7 june): Aspen Glade to Palisade USDA campground (Colorado)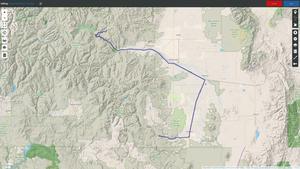 Nikita must have stayed up half the night finishing his other birthday present: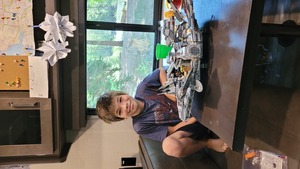 Got gas at Antonito, record low 85 octane "regular".

Stopped for a while to figure out what to do next. Decided that going through South Fork makes the most sense. The apparently official South Fork hiking website was very hard to decipher.

Drove to the Palisade campground - almost identical to the Aspen Glade. No hookups for 26$.

Drove to Pooltable road hoping to go on the ATV trail at its end or to find a hike. The gravel road was an easy 800m climb.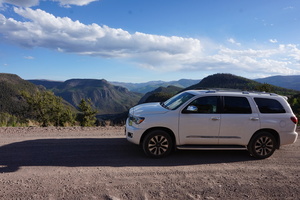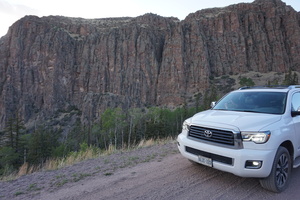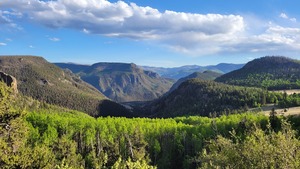 The ATV road was barred. The hike was way too long for us. Made a photo of a map with other nearby trails.

Day 36 (8 june): Palisade to Stevens Creek NPS campground (Colorado)


4° at night, but I slept fine under a winter blanket.

Drove to Creede to find the Mammoth Mountain hike #789.

Left the trailer at the Bachelor historic loop and drove back through town looking at every back yard and driveway. Drove into the last hope parking lot that wasn't obviously private and found a trail head marker hidden behind a couple of parked utility trailers. See if you can spot it: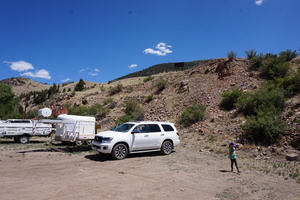 Hiked 2x3.2km to Inspiration point at 3100m (started at 2660m).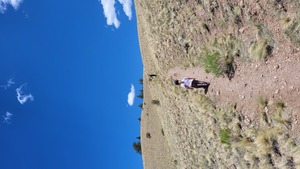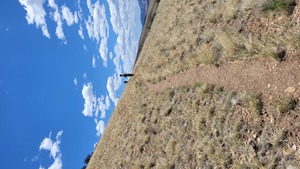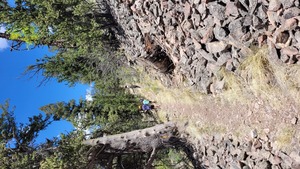 Fantastic views at the top.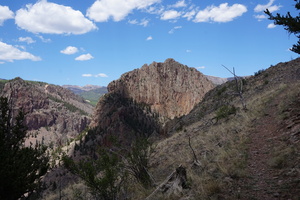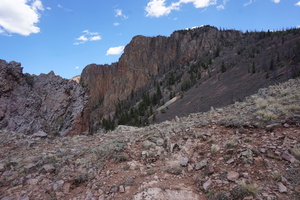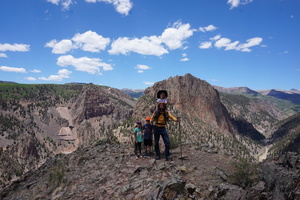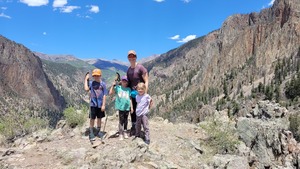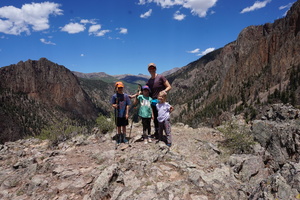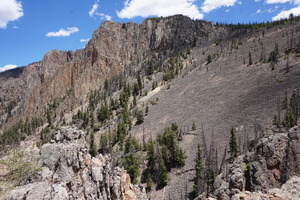 That road down there is where the regular tourists go drive around sightseeing. It's also where we left our trailer.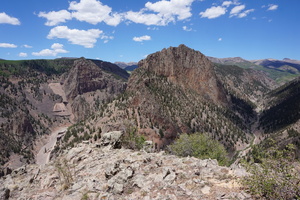 On the way down decided to take a shortcut.




Lots of driving up a very steep road today. A couple of times the truck maxed out around 50km/h in second gear.

Haven't had a data connection for a couple of days now. Luckily the park we stopped by in Lake City was near the library with free wifi. Picked a couple of options to go to. Ended up at neither of those two. Saw the Stevens Creek campground and decided to stay at it.

It's next to a reservoir, which was very low. Saw a couple of cars on the other side of the lake down where the lake dried up, I'm pretty sure they were camping there.

The camp host mentioned a ranger program at the nearby Elk Creek park. It was ok for the kids, not much for the parents.

The previous day we were in the forest but this day we drove through desert. I began to understand that desert doesn't necessarily mean hot. Nor sandy. It just doesn't get much rain.

Day 37 (9 june): Stevens Creek to Bedrock BLM campground (Colorado)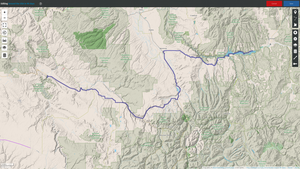 Went back to the Elk Creek campground to fill the fresh water tank. While waiting spoke to a lady who was retired, sold her house, and lives in her trailer. She said she travels all over the place alone, staying for a few days in each campground. Cool.

Spent at least an hour stuck in construction traffic. Turned out about 50m of one of the lanes has collapsed into the abyss. There was an excavator about 50m up at the top of a 45° slope fixing something. Cool.

The drive was great. So many amazing views, and 2-3 nice towns on the way. Several "For sale" signs on properties.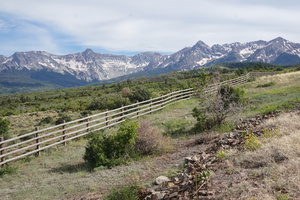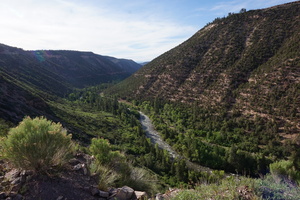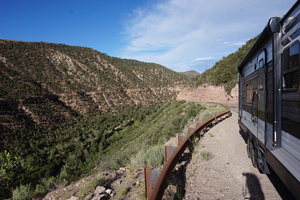 Had a bit of a hard time finding the Bedrock campground. It's down the road following the boat launch sign. A nice small place with a handful of no-service sites and no people.

The kids went off to climb the very steep mountain on their own, with a hammer and shovel to look for dinosaur bones. I was so proud of them I didn't complain about having to pull spiky seeds out of their clothes for a half an hour.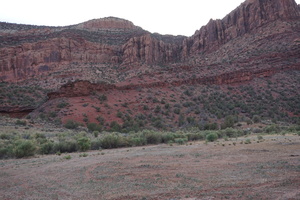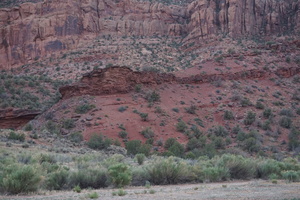 It said somewhere that this area is or has been considered for becoming a park. I can see why, it's very pretty.

Day 38 (10 june): Bedrock to Ken's Lake BLM campground (Utah)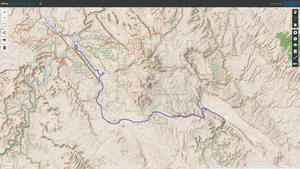 Went on a hike at 9:30 to see if we can make it to the top of that rock:




It's a very rough climb, no paths to follow. And no shade. That's what made me decide to turn back when it became clear that our water won't last if we continue. It gets extremely hot in the sun. The kids were great.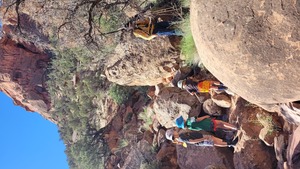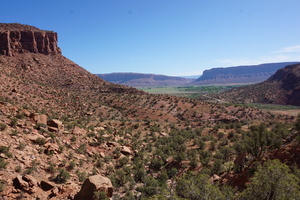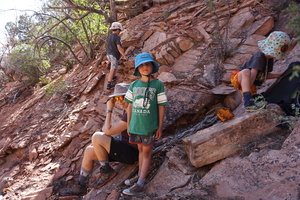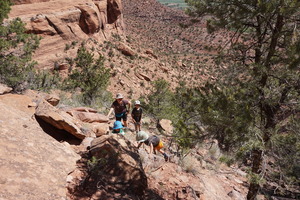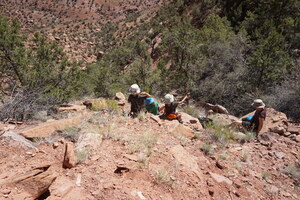 This is as far as we got, you can see the trailer way down there: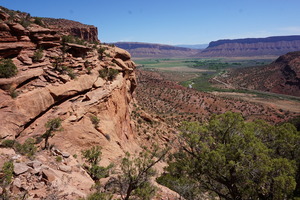 Got back around noon. It was harder to pick the way down than the way up.

Got into Utah and very soon started seeing the well known rock formations. Believe it or not this is just at the back of a gas station: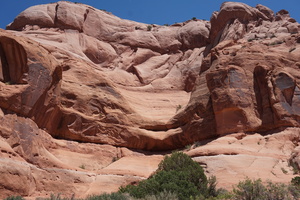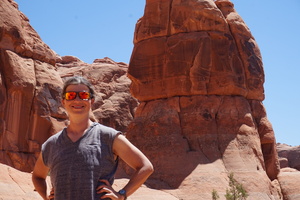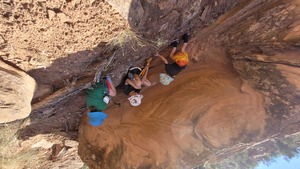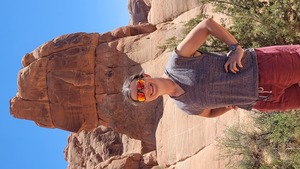 Arrived at Ken's Lake relatively early. At least 60% empty but nearly 100% booked according to the posts. Found one site with the weekend reservation erased and paid for it with the envelope.

Drove to Moab, walked up and down a typical tourist street. The kids got some ice cream.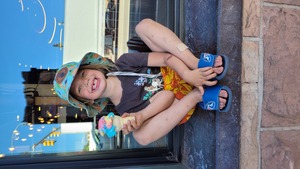 Back at Ken's lake swimming at the lake was very pleasing. The temperature went up to 38° this day, but the water seemed quite cold. Of course it's hard to say when the air outside is that hot.

Booked a 6:00-7:00 timed entry to the Arches national park since hiking after 11:00 it this is suicide without 4l of water per person. Had to wait till 18:00 to make the booking. I don't know why - there were 29 spots available.

Day 39 (11 june): Ken's Lake to Goblin Valley state park (Utah)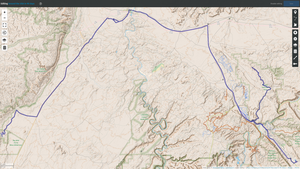 Left at 6:15 to go see the arches in the Arches national park. Should have left at 5:15 - there was plenty of light.

It was a 30 minute drive from the park entrance to the Devil's Garden trailhead. Lots of people but not obnoxious. Good hike, we brought 6l of water and drank almost all of it. The day heat takes the joy out of the experience.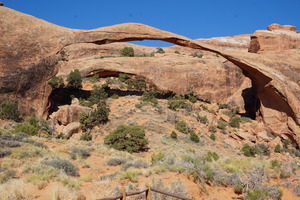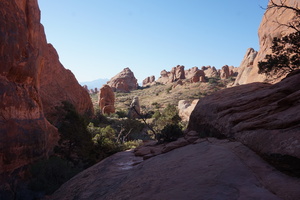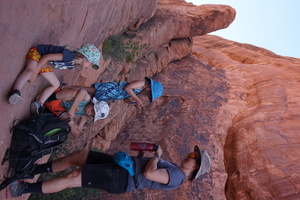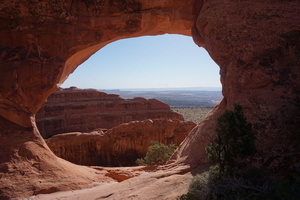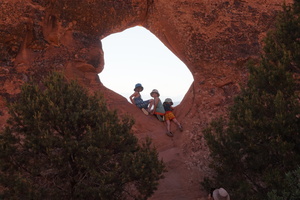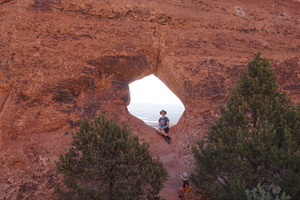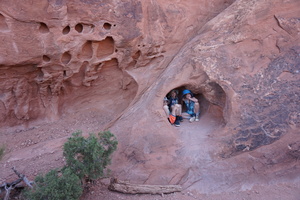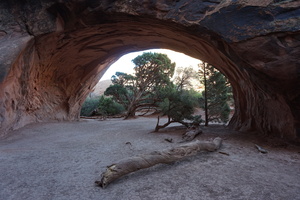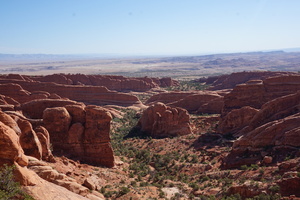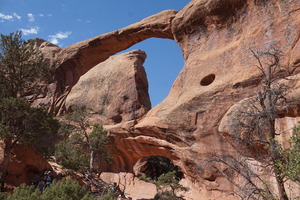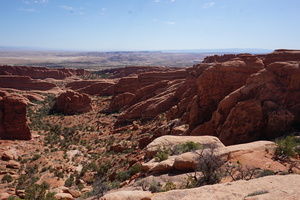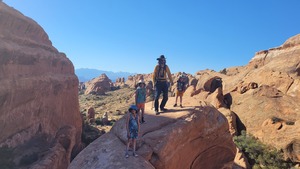 On the way back stopped at the visitor centre. It explained all this was covered by the ocean 170 million years ago and it kept filling/emptying creating the layers.

Went for a quick swim again and went back through Moab for the 5th time.

Approaching I70 OsmAnd tried really hard to put me on different roads, unfortunately most of them are unpaved. I thought Green River Subdivision was pretty bad gravel, but then we ended up on Lower San Rafael road, which was barely a road at all.

Even including highway 24 this was the most deserty landscape yet. Up close looks like very poor soil, from the car it looks like piles of aggregate. Almost 100% lifeless.

Noticed the rear right tire looking low.

There were 30 large boats being pulled NE on highway 24. I've never seen such a concentration of boats on the road. Strange given the lack of water. I was wondering if it's some kind of fraud going on.

The road to Goblin Valley was thankfully paved very well. And despite two signs saying "campground full" there were several spots available. The lady at the office said the boats were coming from Lake Powell. I guess there isn't much other reason to drive that way - it's a dead end.

The Goblin Valley campground is really cool. Surrounded on two sides by hoodoos over 5m high. Kids climbing them, no fucking "do not touch" signs.

I spent the evening fixing the tire (the burning trick seems to have worked) and trying to inflate it to 60psi with a dinky portable inflator. Got to 46psi by 21:0 and turned it off.

The new lugs on the rear left weren't completely tight, but weren't loose either.

All of this day the temperature was 40°, maxing out at 41 or 42°.

I've been trying for a couple of days to figure out why I was smelling vinegar when the ventilation in the truck is on. Removed everything that could possibly smell. Prime suspects were the bug spray in the glove storage compartment near the cabin air filter and the windshield washer fluid bottle I had in the back.

Day 40 (12 june): Goblin Valley to Bowery Creek USDA campground (Utah)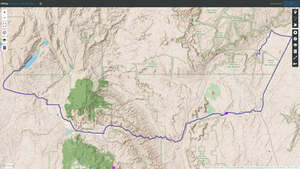 Nikita's Millenium Falcon was right at home here: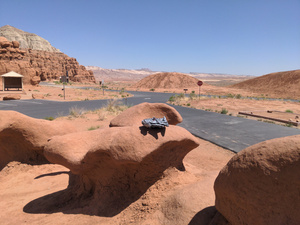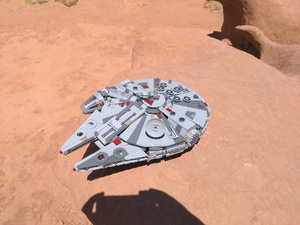 Went to see the goblins in the valley - very cool. I felt like I was at the bottom of a muddy ocean.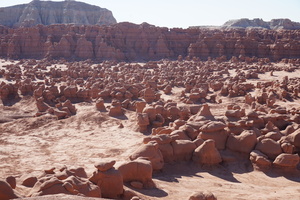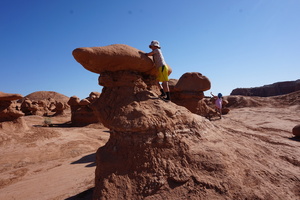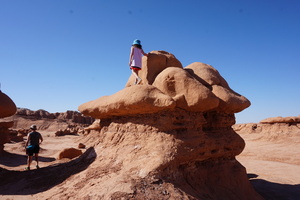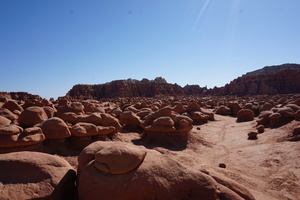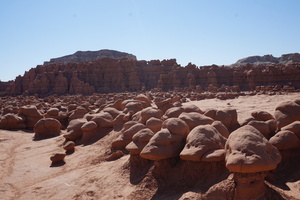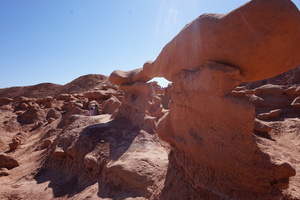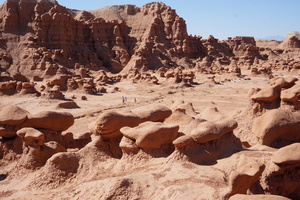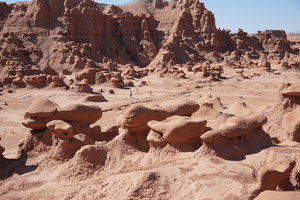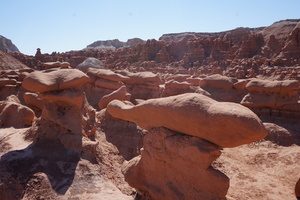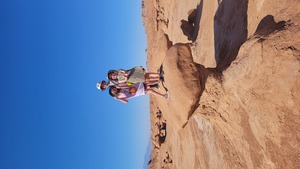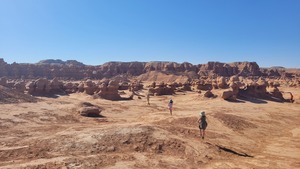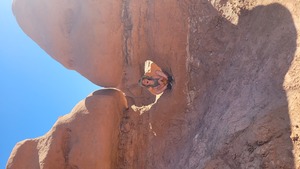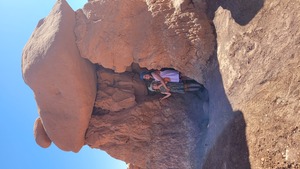 This park is off grid, solar powered. But there is water in many places.

Played frisbee golf for a few holes. That was also a unique experience. Too bad it was so hard to find the tees.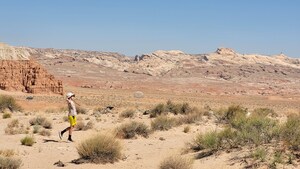 Pumped the tire a little more, torques the lug nuts some more. I saw so many of the famous Harbor Freight Tools stores on our trip - decided to stop at the next one I see.

More desolation on the drive, but lots of fascinating views. This is one OHV paradise, you can kind of see the tracks from their insane loops: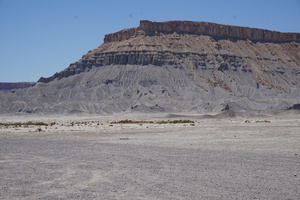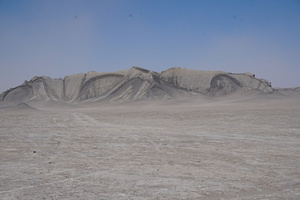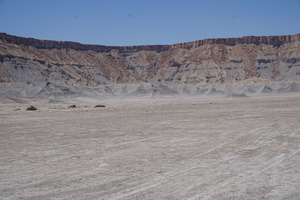 Stopped for a hike at Hickman's natural bridge. It's very pretty. Still desert but with more contrast. Had to pull over on the side of the road, wasn't going to fit in the parking lot even if it weren't full: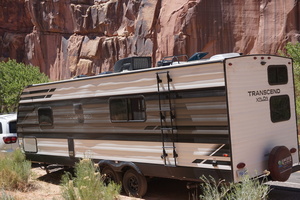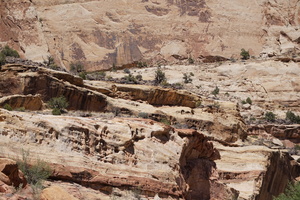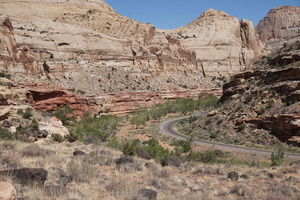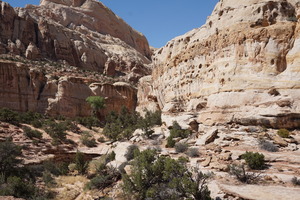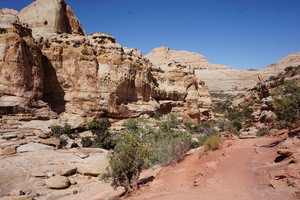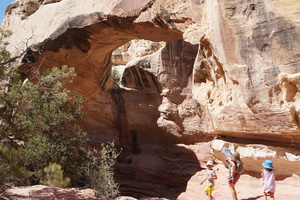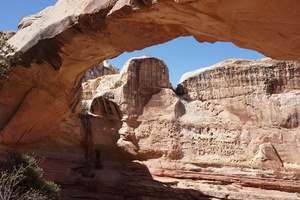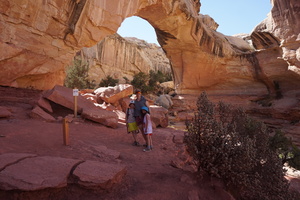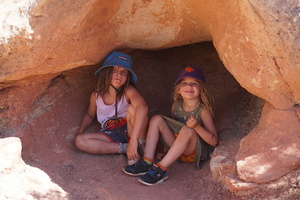 Didn't have time to stop anywhere else. Luckily got to Loa's grocery store half an hour before it closed at 19:00.

It was 22° by the time we arrived at the Bowery Creek campground on Fish lake. The park host said it's the altitude. Aspen trees everywhere.

Day 41 (13 june): Bowery Creek to Bryce Canyon national park (Utah)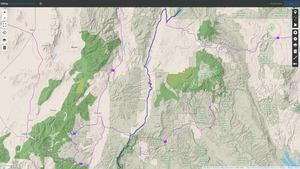 I thought I finally figured out the smell in the car - it was the cabin air filter. It must have absorbed lots of either the bug spray or the windshield washer fluid.

Fish lake was very windy and wavy, didn't bother to try fishing.

Cows crossing the road: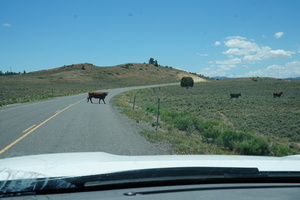 Stopped by the channel at the intersection of highways 62 & 22 flowing to the Otter Creek reservoir. There were 3 catfish either trying to swim over the weir or enjoying it. By the time Nikita was done being excited they were gone. Still spent a half an hour there for the kids to fart around with the fishing rods and for Kim to have a nap.

Made it to Bryce Canyon relatively early. Had to pay 35$ just to get into the park. Another 30$ for the Sunset campground. The spots in the RV section range from small to medium. There were almost no trailers there, maybe that's why. We managed to fit in.

This place is definitely a tourist trap but it's a little more quiet in the evening. We managed to do a couple of hikes and still make it to the ranger program at 20:30.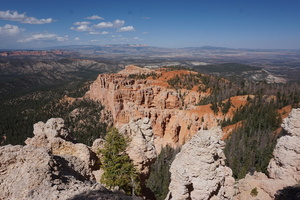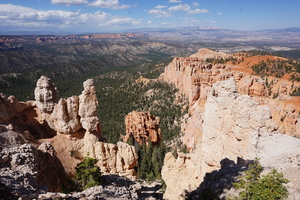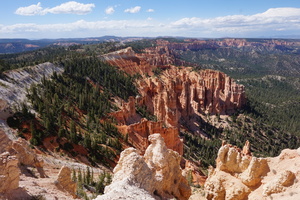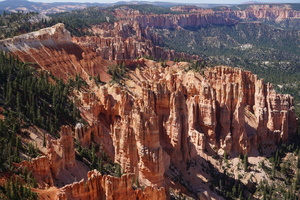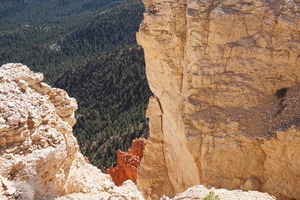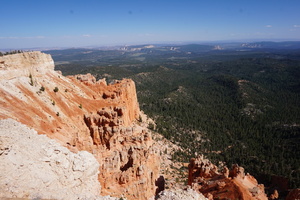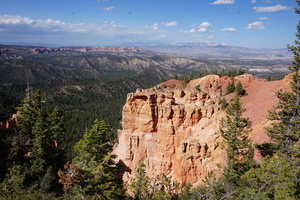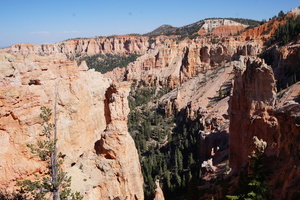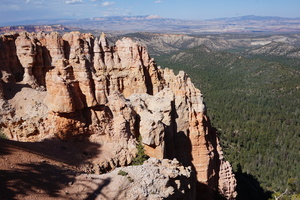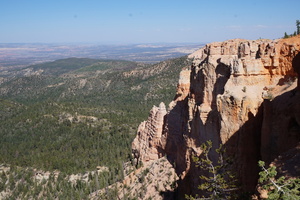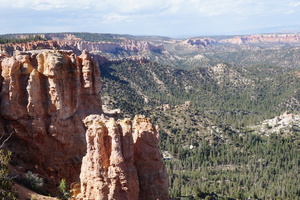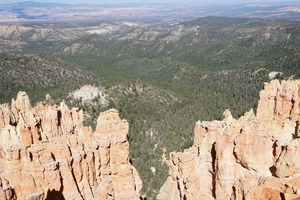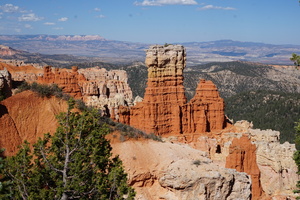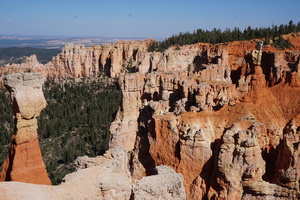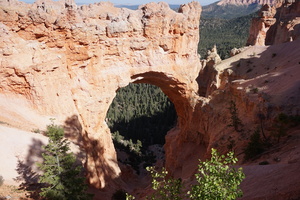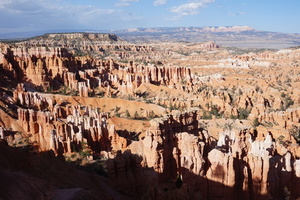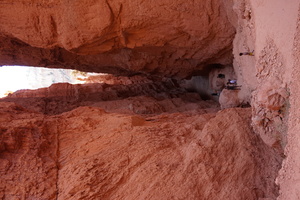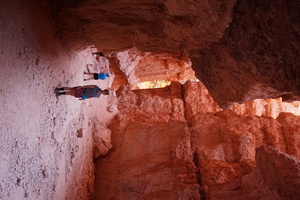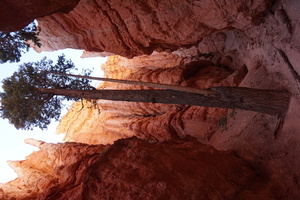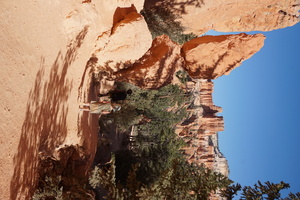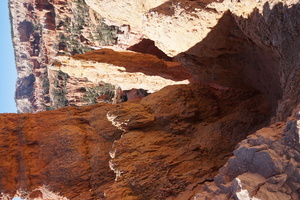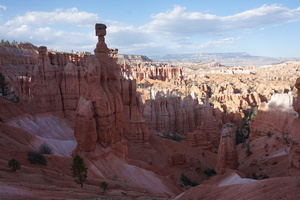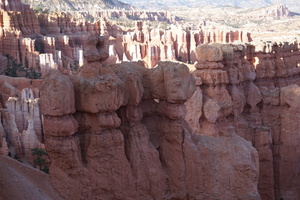 Lots of pretty sites, but I felt like a japanese tourist with my camera.

Day 42 (14 june): Bryce Canyon to North Rim campground in the Grand Canyon national park (Arizona)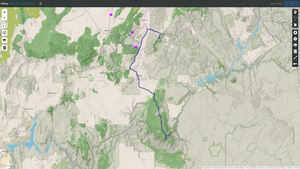 The previous night it was cold enough to turn the furnace on. Battery was down to 40%. Looked like even with sunny days we lose about 10% per day of battery juice.

Went on one more hike early in the morning. Was wearing a sweater and jacket when we started (12°) but it warmed up pretty quickly.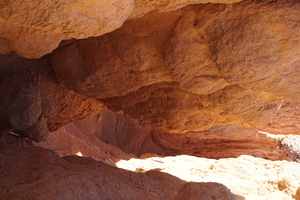 The park roads are crazy in the morning. The kids got their badge for hiking 3 miles and we left.

Stopped for lunch in Fredonia, the second park I looked in. This one had a forgotten 20A outlet that was working. Plugged in to charge at 13:30 at 40%. At 14:20 we had 50%. That's 10% every 40 minutes, or 15% per hour. Basically it takes overnight to charge a battery fully, assuming the converter doesn't act up.

Climbed up a kilometer for the rest of the drive. Most expensive gas we've seen so far at highway 89A and the Grand Canyon highway: 6.20$/gal. The Kaibab Plateau visitor centre was closed, as was the gatehouse entering the Grand Canyon park. I wondered if they'd make me pay an extra surprise 35$ here as they did at Bryce Canyon. But no.

The lady "checking in" was nice but not very useful. I wish she put a minute of effort into trying to help us have an easier time.

The campground is ok, though not worth the long drive for its own sake. Can't see the canyon from it at all.

A couple of nice views from the lodge and the lookout on the road: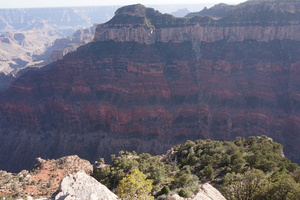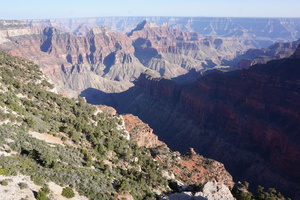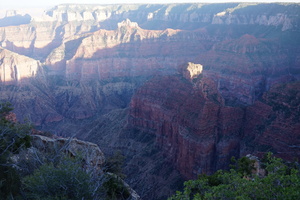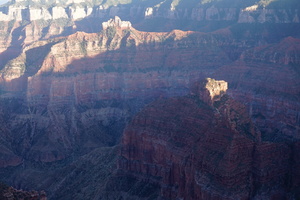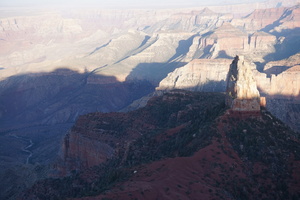 How could we not go down there seeing this?

Tried to plan a hike with the maps and notices outside the lodge but the information was inconsistent and confusing. Couldn't even figure out where there was water.

Drove to Point Imperial which said the Colorado River is 1.6km down from there.

Day 43 (15 june): Grand Canyon North Rim (Arizona)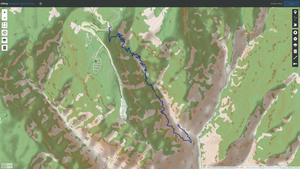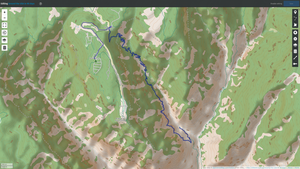 Made a plan to go to the North Kaibab trail at noon: go down for 4 hours and back up for 4 hours - escaping all the heat on the way up.

Moved the trailer to the new spot. Got pissed off at the ladies at the office who showed no sympathy for the fact that so many of the sites are empty and we're there being forced to leave. She gave me some bullshit about how I can't move the trailer to the new spot (which I paid for) until noon, even though the spot was empty.

Brought 7l of water (maybe a bit more). Hiked all day, finished an hour or more after dark.

The hike is spectacular. The times below might be off because of all the timezones we kept crossing.

Started at 12:00, 2515m high.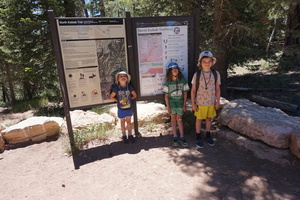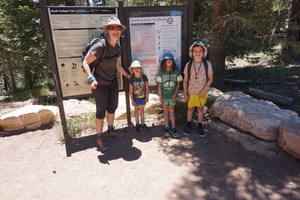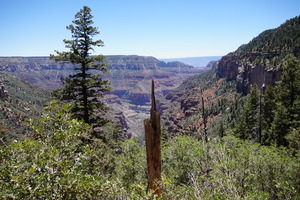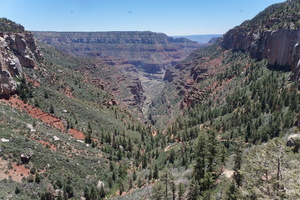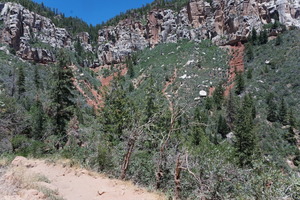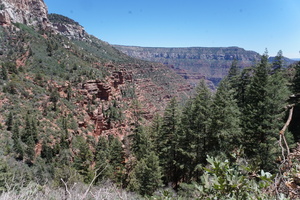 13:40 This is the Supai tunnel, 2.7km away, 2073m high. The water faucet here was disassembled.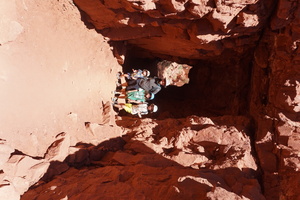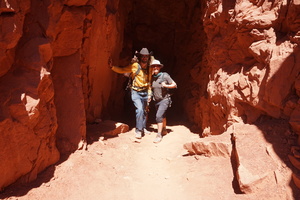 There is an awful lot of mule shit on the path from the start to this point. I didn't care much, but the kids gave me a lot of grief about it.

This is as far as the vast majority of people go. Even the tougher hikers turn around here because they didn't bring enough water. We kept going of course.

You can see the Redwall bridge below.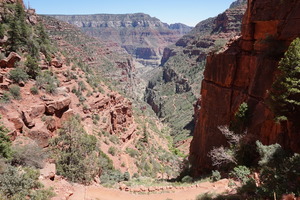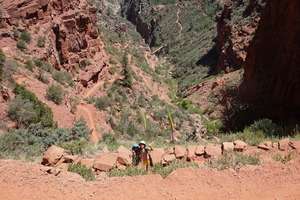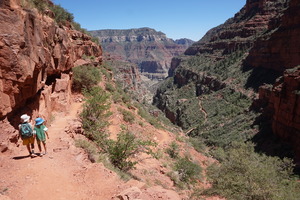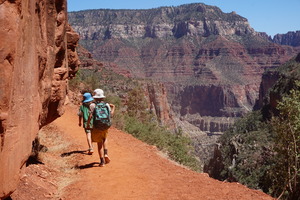 We made it down to the Redwall bridge at 14:24 I think. Can't be sure, the time on Kim's phone was off.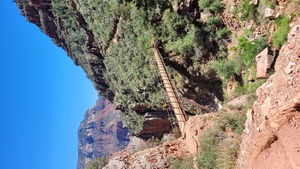 Kim is afraid of heights for sure. Good thing I'm not.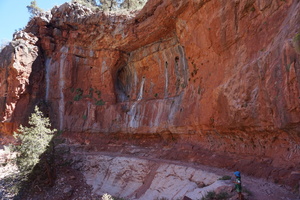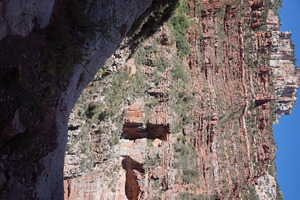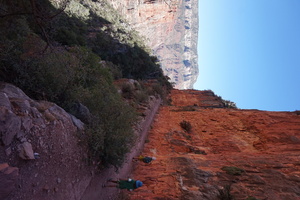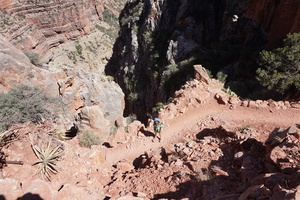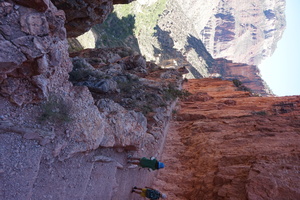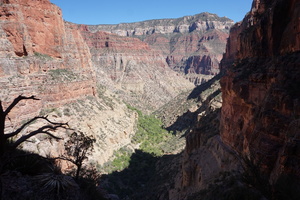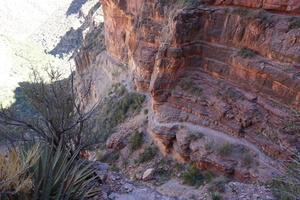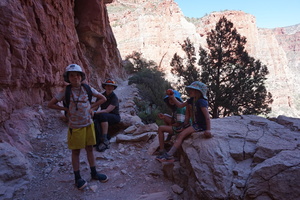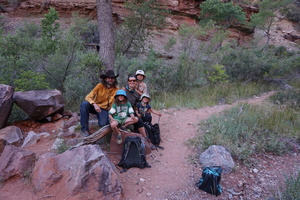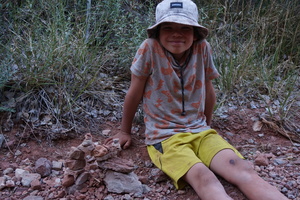 That's a helicopter landing pad. I don't know how you get to it, the trail does not appear t o go that way.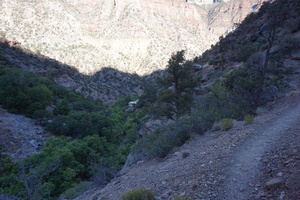 Was at Roaring Springs at 17:00. 7.6km away, 1585m high.

There are no roaring springs. Can only see a handful of unreachable waterfalls on the opposite side of the canyon. And a disassembled water faucet.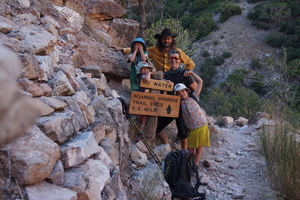 We were hiking mostly in the shade of the western slope, and we didn't experience the so-called deadly heat. But even so we had nearly no water left. I bushwhacked my way down to the creek and filled all our bottles from it. It looked clear and tasted great.

On the way up, knowing what to expect I took the time to appreciate the views, and couldn't stop making photos. Many of these have us in them for scale: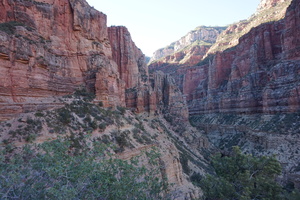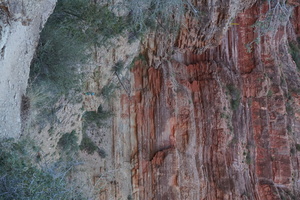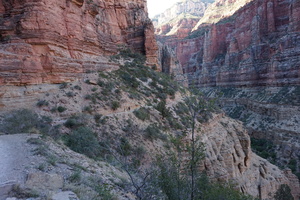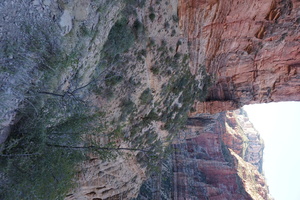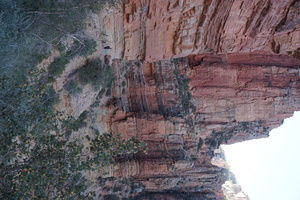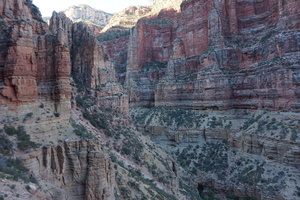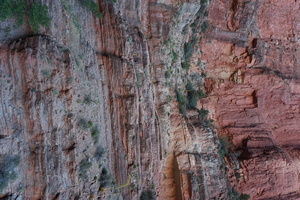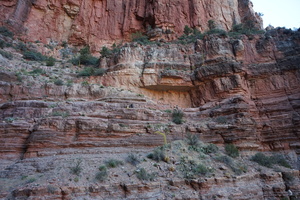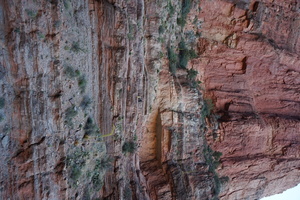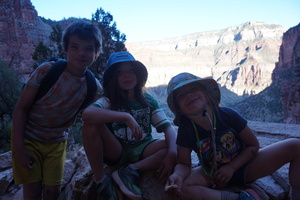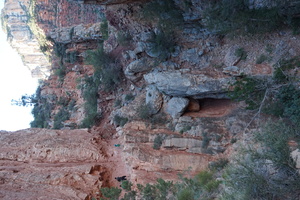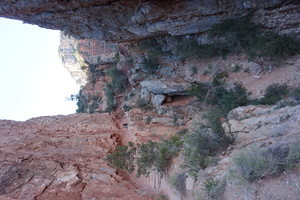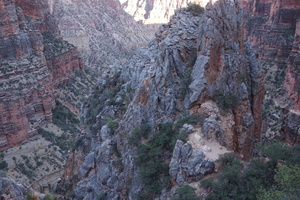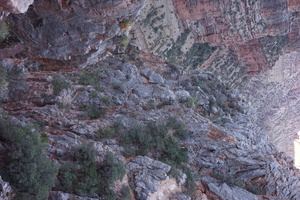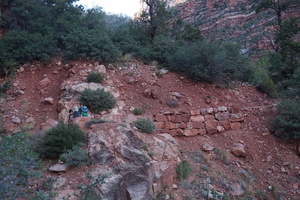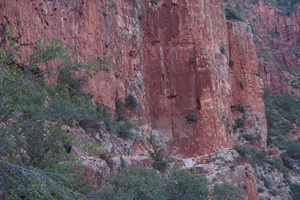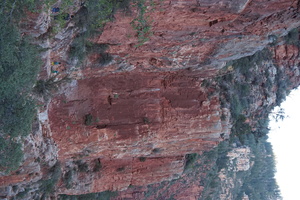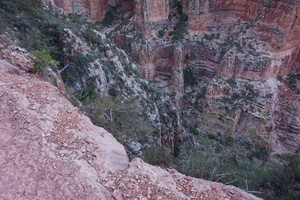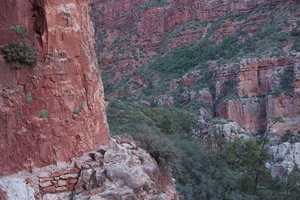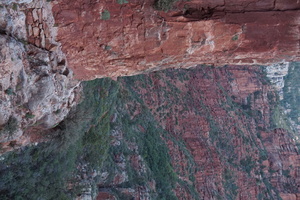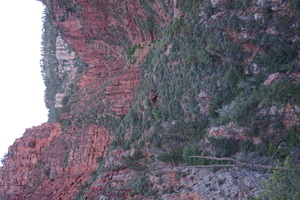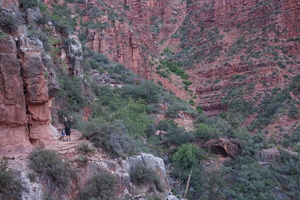 Arrived back at around 21:00. 5 hours down, 4 hours up. We stopped a lot less on the way back, and it was cooler. Almost cold in fact by the end. The last hour going back was in the dark, but there was enough moonlight to find our way.

Nikita and Sasha hiked the whole thing themselves. Natasha hiked by herself for about 8 of the 9 hours. I put her on my shoulders in the end after she nearly stepped on a snake resting on the path.

This trail doesn't have any extremely hard paths. It was very well built and is very well maintained. The only hard part is the 1km drop over 8km which you need to climb back up. We met two or three groups moving faster than us, they were going one way to the Cottonwood campground. I don't know how their camping gear got there, maybe on mules.

My knee started to bother me on the way down and started hurting on the way up. For the second half of the climb I was as slow as Natasha, though I still managed to carry her every now and then.

Couldn't book a site for the next night. Oh well, we had a great time.

Day 44 (16 june): North Rim to Quail Creek state park (Utah)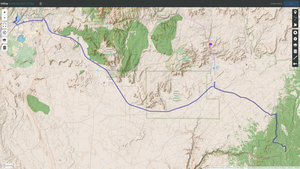 Got the kids lots of junk food from the camp store - they sure earned it.

Did laundry, had showers.

Found that the only way to go west from the North Rim is back through Utah.

Really needed to charge those batteries so I wouldn't be stressed out about the fridge and water. LiFePO4 batteries can go to zero without getting damaged, so at least that was one fewer worries.

Kim took the kids to get badges from the visitor centre. I don't think they believed her that all of us hiked so far and back. Being this awesome isn't for everyone.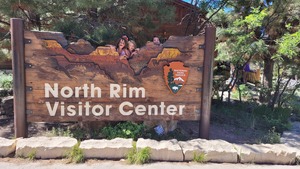 Went to the Quail Creek state park. They had one spot with power, and a leaky water supply. It should have cost 40$ but I think the young man gave me 5$ for change for a 50.

Went swimming for a bit. The part of the beach we went on was rocky and unpleasant.

Got a couple of cabin air filters in Hurricane. Put the one with the carbon into the truck, and the smell seemed to have disappeared.

Day 45 (17 june): Quail Creek to Echo Bay campground (Nevada)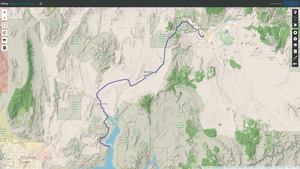 Went swimming again. It was much nicer in the morning, and we happened onto a much sandier spot.

Stopped by a BLM field office in St. George to get an America the Beautiful pass. If I had got it a couple of weeks earlier - it would have clearly been worth it. Now I wasn't sure, it would have been close. 80$. That would save us the 35$ national park entrance fees and it seems that some parks will give a discount on a campsite even though it doesn't say so on the pass website. [It was worth getting the pass even at this point]

Finally found some cactuses to sit next to: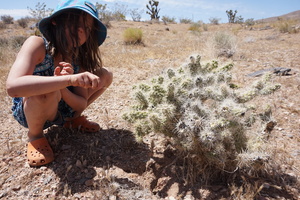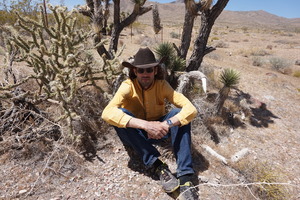 The Lake Mead recreation area didn't charge for entrance, there was nobody at the booth, same as the North Rim one.

Had to go on the interstate for 40km or so. It was very unpleasant because of very strong wind. Even the big rigs were being blown around, swaying left and right.

Went to the privately operated RV campground at Echo Bay. 40$ was quite reasonable for what it is: full hookups and a rec centre. The host with a peg leg was surprised that I was in the area on purpose.

He said we can go swimming at the boat launch, but to be careful with the mud. He said he has his dog pull him out when he goes.

The boat launch was closed for boats, the water level was extremely low. I quickly understood what the host was saying about the mud. At one point one of my legs went all the way down into it, I mean all the way. In these photos the kids are standing, not sitting. It's only scary until you get used to it. After that the kids had a blast.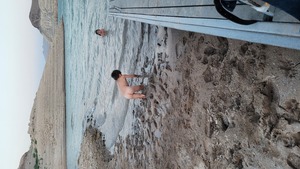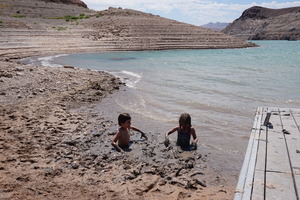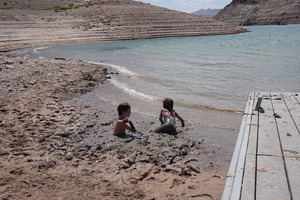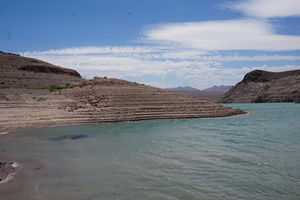 My lips were cracking and I didn't know why. I didn't think I spent much time in the sun (that's usually the cause for me). Maybe it was the dry air.

Day 46 (18 june): Echo Bay to Lake Mead RV Village, Hoover Dam (Nevada)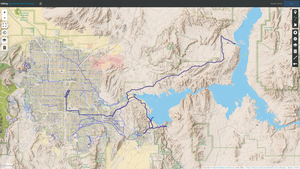 Went back to sink in the mud in the morning, paid the 40$ for the site.

Short drive this day. The two campsites near the Hoover dam had no electricity, picked the private one next to Boulder beach: Lake Mead RV Village. Almost 70$ for the night - that's almost 50$ for one day of electricity.

Saw the hoover dam. I hoping but not expecting to be impressed with its mass. I wasn't.

It was too late for the tour, the last one started at 15:45. Was going to go see the museum but when I saw them getting the masks out for us I said no thank you and we left.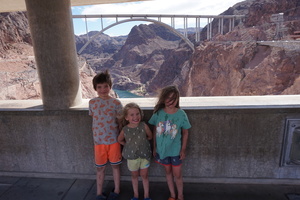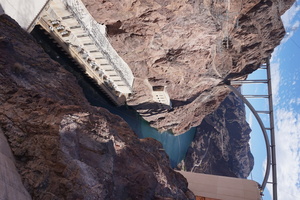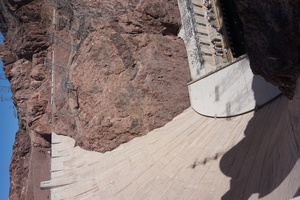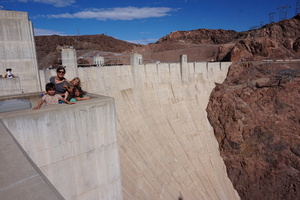 There are a couple of water fountains around. To buy one .5 liter bottle is 5$.

Spent a record-to-date 132$ to fill the gas tank. It wasn't even completely empty.

Kim ad a nap so we didn't have time to go see Las Vegas this night.

From the hoover dam you can clearly see how many meters low the water is. Took the kids to do some more mud slinging, Drove hundreds of meters on what would normally have been the bottom of the reservoir.

Day 47 (19 june): Lake Mead RV Village to Circus Circus, Las Vegas (Nevada)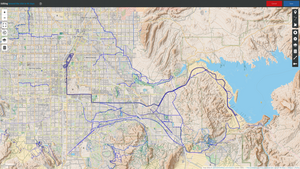 Drove to Las Vegas around the south part of the airport and straight up the Las Vegas Strip, with the trailer.

There were 50 people lined up for something, I realized it was the Welcome to Las Vegas sign. I didn't see the point.

The rest of the strip was ok. Lots of people walking around, but clearly it's made for nighttime enjoyment.

The gate to the RV park at Circus Circus was closed, and noone was attending it. Had to use the phone next to it a couple of times to get in and get checked in. 55$ for sunday and 45$ for monday night. The trailer was sticking out onto the driving lane but I guess they don't care - almost everyone else's was too.

Got list of free attractions at the RV park checkin. I thought we'd go see the strip during the day, figure out where everything is, and go back at night. But every casino is built like a maze, so 500m as the crow flies takes an hour of confused and stressful walking. Even just getting to the strip from the parking lot (which is right there) takes half an hour.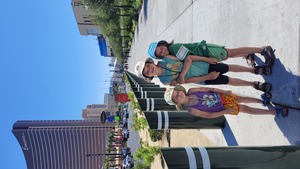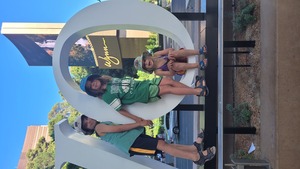 Went out again in the evening. Parked in Treasure Island's free lot.

Saw the Mirage Volcano and the Bellagio fountain show. Were 15 minutes late walking through the shops at Cesar's Palace to get to the Fall of Atlantis show. But at least they had some nice fish in the aquarium.

Day 48 (20 june): Las Vegas (Nevada)
Kim took the kids to the water park while I went to Auto Nation Toyota. The water slides were closed till about 11:00 which is when I came back. Toyota was useless. On the website all appointment slots were open but they said it might take 4 hours to get the oil change done, if they can do it at all. I said no thanks.

The independent Toyota dealer not too far from there was closed. It was in a complex of several sketchy-looking shops. I decided to try to find a mechanic in a small town instead, the last two I dealt with on this trip were great.

Spent a few hours at the water park. It's accessible directly from the RV park but it costs something like 10$ per person per day extra. It's not bad for the money.

Took Kim to the airport to send her home (it was planned all along). Went to Walmart to get food, getting ready to be the only adult for the rest of the trip.

Day 49 (21 june): Las Vegas to Furnace Creek campground in the Death Valley national park (California)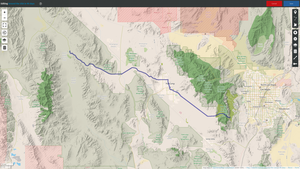 Had just enough time to go to the RV pool for an hour (which is actually nicer than the hotel pool, and was free for us).

The front grey water tank splashed me with sewage. For the second time on the trip the shut-off was not closed when I opened the cap I probably forgot to close it both times, though I felt sure I didn't leave it open. Good thing the cap is also water tight.

They seem to have some problem with lines on the road in Nevada, though it looked like they had them at some point before. Those square plastic things they have instead aren't even reflective.

Had lunch next to a park in Parhump. The playground is covered - first time I've seen that. Makes much sense, it would have been unusable otherwise because of the heat.

Reached a new temperature record getting close to the Furnace Creek campground: 43° according to my truck, 45° according to the visitor centre thermometer.

This definitely feels like the right place to film Star Wars, though haven't seen any sand yet. Only petrified dunes.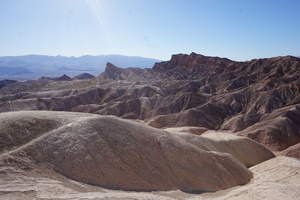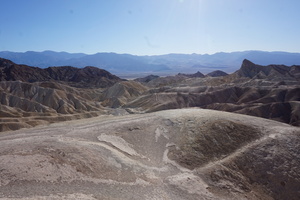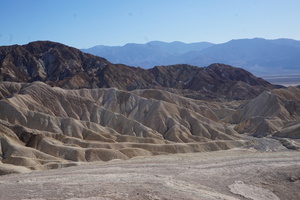 Didn't have the time to do anything at night - it didn't cool much anyway. The visitor centre opens at 8:00.

Day 50 (22 june): Death Valley to Saline Valley road (California)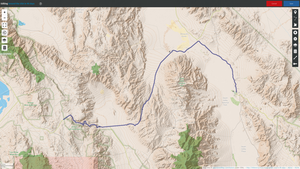 Got up at 8 thinking to go on a hike in the cool morning. It was about 28° but covered with clouds. And it actually dripped some water several times.

At this point 30° almost felt cold.

By 10:00 it was legitimately raining, in the driest place in the USA.

Drove on the 30 mule and to Dante's view: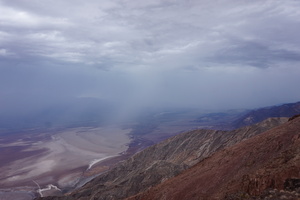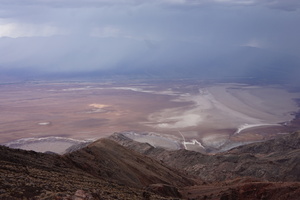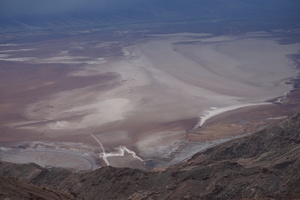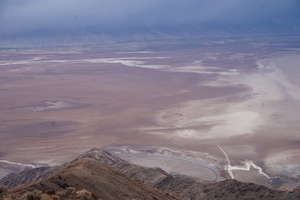 The temperature dropped to 17°. So much for not hiking after 10:00 in the hottest and driest national park. It was really lucky actually.

Went back to the trailer for a snack and to get warmer rainproof clothes. It was on our way anyway, on the Star Wars tour. This was one of the few reasons to have the NPS app installed, you can pre-download some narrations.

Short walk on the Golden Canyon trail: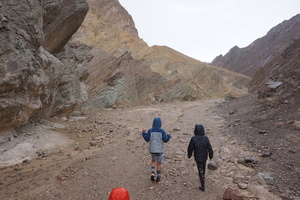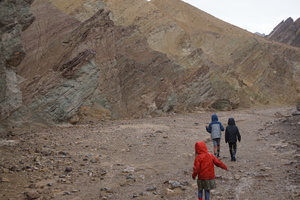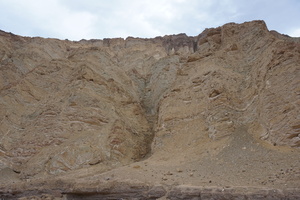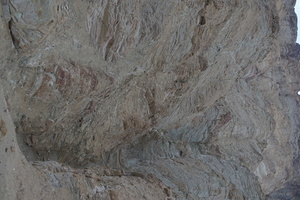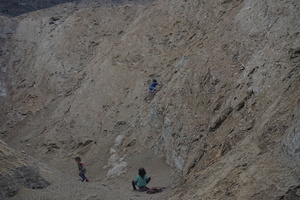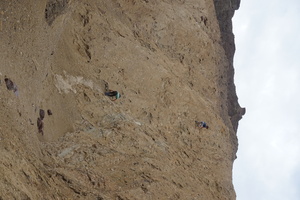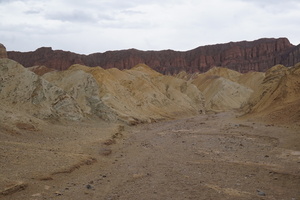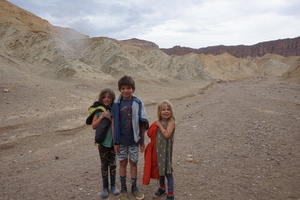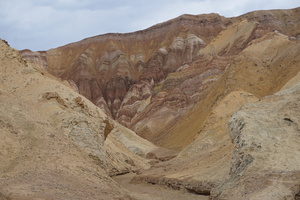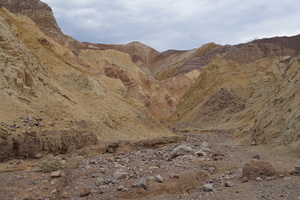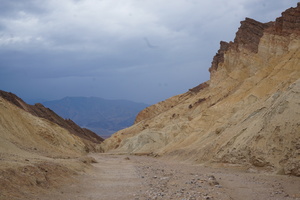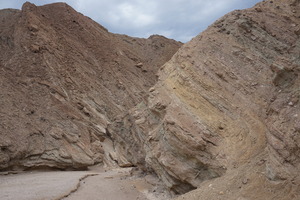 You can't very much appreciate it from the photo, but looking at the real thing you could clearly see several distinctly different types of mud covering my car: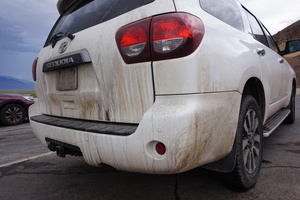 Devil's Golf Course, Badwater Basin: a sea of salt. The lowest point in North America (minus 86m):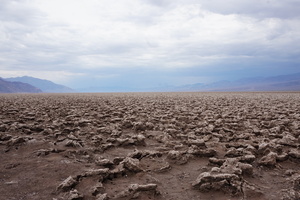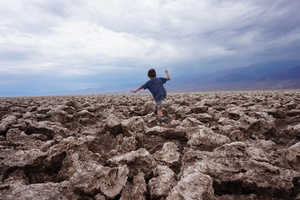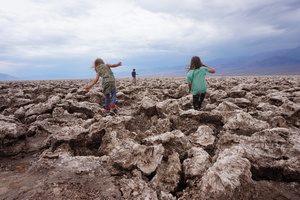 We all had to try the salt of course to make sure it's real. It is.

Artists Pallete. It's very pretty. It would have been nice to spend some time walking in it. We only went in for 15 minutes. The colours look nicer in person: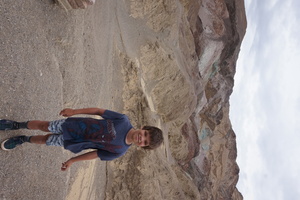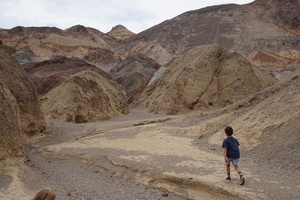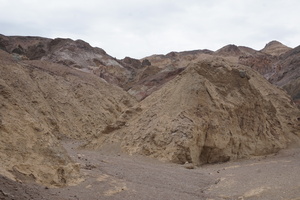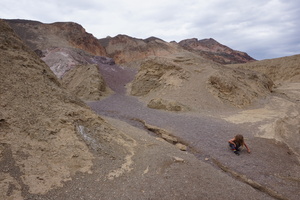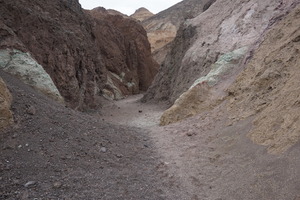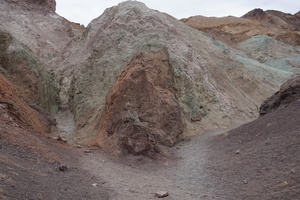 The drive out on on Artists Drive is fun, very twisty.

Desolation canyon trail, maybe. There wasn't actually any trail. That vertical slot that looks like it might be an opening between the mountains is not an opening, we found once we got next to it. I was feeling surreal walking on this stuff, like I did not belong there, desolation indeed: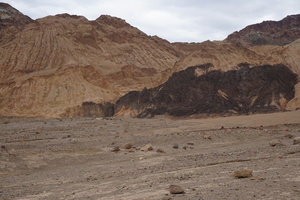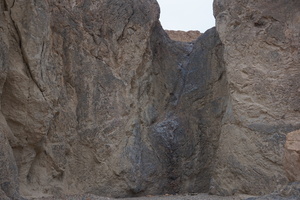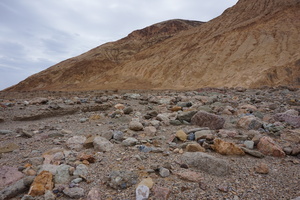 Had another snack (not enough for 16:30) and pulled the trailer out. Stopped for 10 minutes on the Mesquite Flat sand dunes. They don't look as good when wet (hence no photos) but they're easier to walk on.

I made a note to check whether this day was a record rainfall day for Death Valley, it rained on and off all day. [I don't think so. A couple of weeks later on the 5th of august later they had a "disastrous" 3.7cm of rain, and that's all I can find.]

Headed out not knowing exactly where. Saw an amazing rainbow. It wouldn't fit in one shot. Tried not very successfully to use the camera for a panorama shot: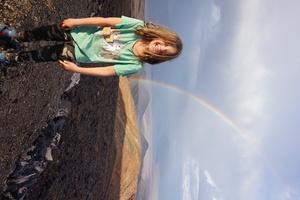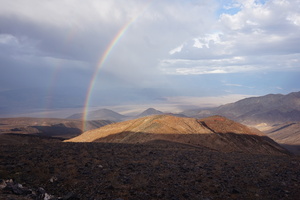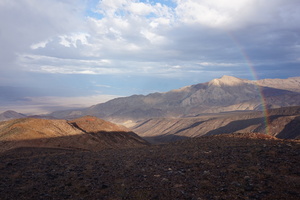 Very cool twisty drive. Up from 0m elevation to to 1500m, back down to 400m, then back up.

At one point there was a sign saying that the climb is extremely steep, and I should turn off the air conditioner. I did for some time, but soon turned it back on. The Sequoia performed without a glitch.

Stopped just outside the national park in a parking lot with a fantastic view.

Only a tractor trailer with gas in the lot. I thought was left there for repairs or something, but it turned out he was just having his sleep in the same place where I planned to.

Day 51 (23 june): Saline Valley road to Sherman's Pass road (California)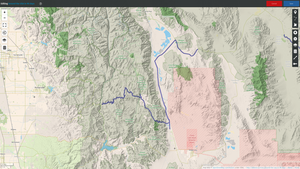 Slept fine. The tractor trailer left before we got up.

A dump truck with a bulldozer blade showed up around 10 and stayed there with the engine running till we left.

This is Owens lake. We didn't go closer to see what exactly is there. Just dirty water I suppose: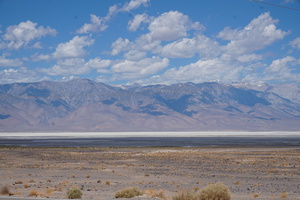 Highway 6/395 was boring as hell, so I turned off onto Nine Mile Canyon road to go through the mountains.

Immediately got a 1km+ straight climb, and then another 600m in the next hour.

Made a wrong turn onto Kennedy Meadows Rd. Had to do an impossible turn around on 1.5 lanes of dirt plus one sandy drive at 90° to it. Did it on the first try.

The desert landscape ended on the east side of the mountains. Lots of trees on the west side.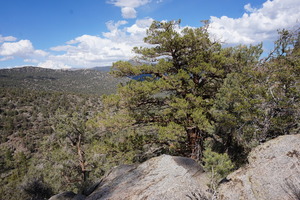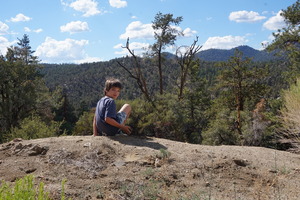 Starting around here there are lots of rocks on the road. First I saw a few and considered throwing them off the road to be nice. But for the rest of the day there must have been thousands of them. Can't be completely sure because the road is also covered with pine cones.

Found that all the Sequoia parks are north of where we were. Decided to try and see some, even though it was a weekend and everything was booked.

The wilderness is very pleasant here, and the smell is amazing.

My pen was leaking. I thought it might be the altitude (2104m), but probably not.

Climbed to nearly 2800m on Sherman's pass. The drive was amazing the whole way. The transmission worked really hard the whole day.

Stopped for a couple of breaks. One on top at 17:00 for a a snack, and another half way down the switchbacks at 19:00.

By this time I was expecting to be at the Quaking Aspen campground but the average speed for the day was 45km/h.

It's very pretty here, and there are practically no people at all.

Didn't want to risk driving in the dark with all the rocks on the ground and stopped at one of the several parking-lot-type pullouts on the side of the road. I think it may have been a trailhead, OSM says "Forest route 22S51".

Day 52 (24 june): Sherman's Pass road to the Horse Creek USACE campground (California)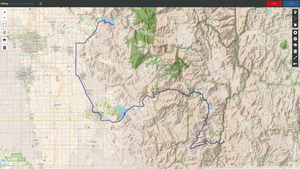 Slept fine. What a view for free.

Good thing I stopped where I did for the night. I wouldn't have been able to back out of Holey Meadow, and every spot except for a couple of miniature sites at Quaking Aspen was booked.

There was still a long way down to drive. In some places the road was a little wider, but mostly it was about the same as the day before.

Finally stopped to make a photo of the burned forests. There are lots of those in these mountains, it must be a common thing. That must be some really good wood for woodworking, but I'm guessing it all goes for firewood.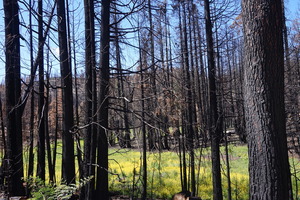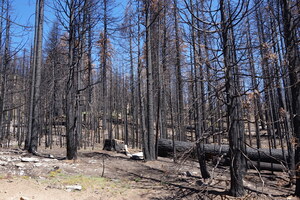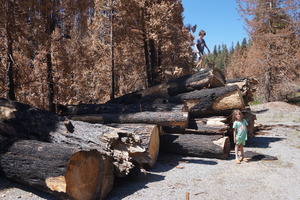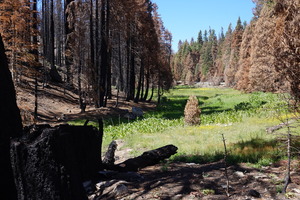 Stopped at the USACE campground on Success Lake for lunch (free with the America the Beautiful pass). Used their dump station and filled up the water. It was very hot, and the lake was pretty dirty, but it was still good to go swim in it.

The Walmart in Potterville didn't have a lot of groceries, but because it was such a small section: the fruits and vegetables were in a fridge - much nicer.

Lots and lots of fruit tree farms here: lemons for sure, oranges I think, and grapes. It's weird. The heat is at 39° - same as the desert, and everything that's not irrigated is dry. But all the farmed trees look very happy. They must have underground irrigation.

All the campgrounds in the Sequoia national park were booked for the weekend. And there are warnings about vehicles over 22'.

Got a spot at Horse Creek for two nights: 2x20$. The kids went swimming in a drowned paved campsite. Some other kids were riding their bikes down the road straight into the water.

I think the flood was the reason I was a able to get a first-come-first-serve campsite.

Day 53 (25 june): Horse Creek to the Sequoia national park (California)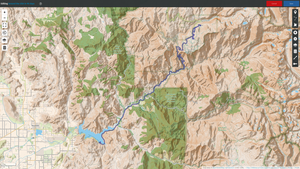 Went to see the Sequoias. Busy place, even without the trailer had a hard time parking. Needed to get on a shuttle to get to the main attraction.

The Sherman tree I think: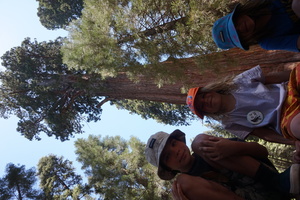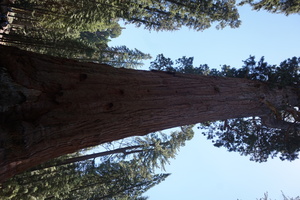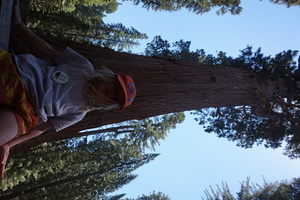 The Sherman tree is supposed to be 80m tall. I don't know, it didn't look that tall to me.

Went on the Congress trail and saw many other big ones. Some look bigger in diameter than my Sequia truck is long (~5m).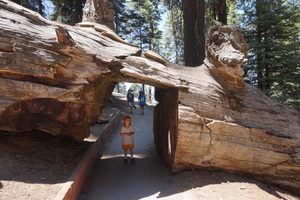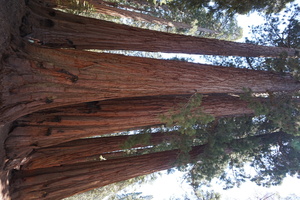 Overall I found these trees to be ugly.

The drive up and down to the park was long, and all very twisty. So long that I was starting to get bored of it. Good fun still, and thankfully often the slower people pull out of the way. I probably could have pulled the trailer up here, but it would have been stressful and ultimately pointless.

39° when we came back, 44° inside. It took till midnight for me to stop sweating, no AC.

Day 54 (26 june): Horse Creek to the Plaskett Creek campground (California)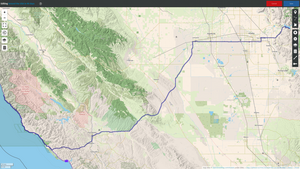 Decided to try and make it to the ocean this day. 330km to the Kirk Creek campground.

Refilled our groceries at the Visalin Walmart. The Horse Creek didn't have a water spout to fill the water, and the City Treatment Plant south of Hanford didn't have potable water.

Many rolling hills today. I bet if they were green: they'd look just like the Windows XP background.

Temperature went up to 42° in the valley. Then dropped to 25° in the short mountains near the coast, and 13° driving through the cloud on the coast.

Those clouds in the distance are covering the ocean: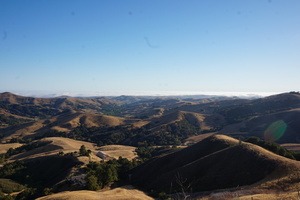 And here it is, at San Simeon state park: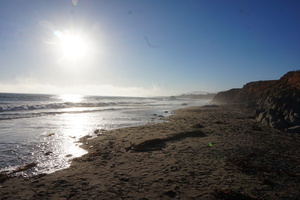 I didn't touch the water but the kids said it's freezing their feet.

It's a pretty drive to Plasket Creek. Had some close calls on the tight right turns with the top of the trailer brushing the vegetation on the cliffs.

One Cruise America RV nearly scraped me. I stopped before a curve to let one pass but this one went without paying any attention.

A poor dude at the giant seal lookout (I didn't see much more than a tail) said his RV is 45' long. He was asking me about campgrounds. I told him I don't book anything and showed the nearby campgrounds to him on the map. The assholes in California won't let you camp anywhere on the coast.

The sun went down before I made it to Kirk Creek, and I found a spot in the "full" Plaskett Creek campground. Stopped there.

Turned the water pump off to save the last bit for emergencies.

This place gave me the feeling of a hippie commune. I've been getting this vibe all over the coast.

Day 55 (27 june): Plaskett Creek to the Red Roof Inn parking lot (California)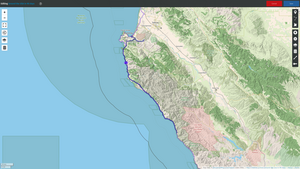 Around noon the campground host showed up, took 35$ from me, and then told me to leave immediately. The cunt pissed me off for the rest of the day. And I lost all my excitement about the California hippies. I don't think that sort of people I imagined exist.

It is quite pretty here, but very cold.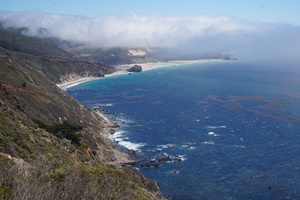 Decided to do the oil change in Salinas. Very few options around for camping here, and almost none for trailers my size.

Tried Laguna Seca next to the race track. I was excited about staying at a race track - I've never been to one, so it would have been cool even though no race was happening. 52$ seemed like a lot. I would have paid it but their water was not potable. It had dangerous levels of arsenic - seriously. The lady at the entrance was really nice. She suggested the Red Roof Inn or the Marina something.

Went back to Monterey for the Red Roof Inn. 80$ for nasty-tasting water and a practically inaccessible dump station.

The earliest Toyota appointment available for the next day was 15:45.

Went to the Del Monte beach. 14° on the beach. I didn't even bother trying to go into the water. But Nikita jumped in the waves for 20 minutes.

There was a sign at the beach about a recent shark attack nearby. Not cool. But we've got to protect those fuckers, right?

Spent an hour at a nice playground in the Laguna Grande regional park.

Day 56 (28 june): Red Roof Inn to the Mt. Madonna county park (California)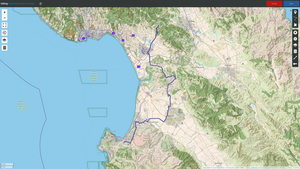 Went back to the beach. At least 3 large groups of kids were getting surfing lessons. All in wet suits. Those must work. I was cold (14°) even in the sun with a sweater on.

The kids played in the sand. Nikita went into the water for just a couple of minutes.

I decided not to try to tetris the trailer into position for the dump station. It would have been hard to do even if there weren't cars in the way.

Toyota was fine for a dealer. Left the trailer in their lot and gave them the truck. 15:00 to 17:00, 145$ for just an oil change and a tire rotation.

Used that time to make Оливье.

Drove to the Mt. Madonna park. 45$ for water + electric but it was probably worth it - lots of hiking trails around, and the campground is very pleasant. Almost all RV sites were taken on the this tuesday.

Planned for the next day to go on some hikes, maybe try the archery range, drive over the Golden Gate bridge, and try to find a free spot to stay overnight.

Day 57 (29 june): Mt. Madonna to near the Mark West Quarry (California)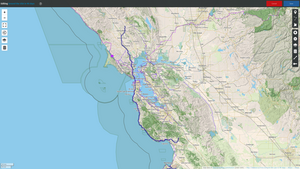 Went on a couple of hikes. It's quiet and pretty here. I was feeling lazy.

Santa Cruz is a large tourist town. Lots of traffic in it too, luckily going in the opposite direction.

On one of the beaches we pulled over (maybe the Twin Lakes beach) there were 10-20 kite surfers all in the same place. I don't know how they manage to avoid running into each other's lines. It definitely looks like much more fun than regular surfing, not that I've ever tried. Sometimes they fly off a big wave 2-3m into the air.

Decided for sure I want to get away from the coast. It's very scenic but there's absolutely nowhere to stop.

Bonny Doon beach: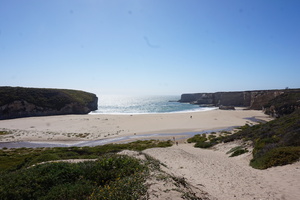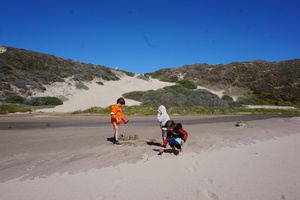 It had a strange pile of sand on it. It took me a while to realize it was a dead seal covered with sand.

Lanes are very narrow in San Francisco. I didn't want to go through it, but there's hardly any other way north. The gas was 30 cents cheaper here, but the gas stations are impossible to get into with a big trailer and all the traffic.

The red Golden Gate bridge looked cool. It's great to have low expectations. Here's my poor kids freezing: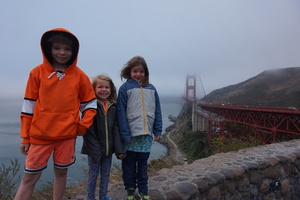 That parking lot for the vista point is scary. I read in advance that cars get broken into here. I thought it was exaggerated but it isn't. There are signs about theft everywhere. Broken car window glass in one of the parking spots. A police car which looked like it's permanently circling the parking lot.

I would only consider sleeping in this lot in a beater.

Headed straight north on the interstate I think. Just needed to get the hell away from "civilization".

It got dark around 20:30. The Walmart in Ronhert Park didn't allow overnight parking.

Tried to find some desolate roads but people live everywhere here. The best I could find was a small pullout across from a rock quarry.

Noone bothered us. It was relatively quiet at night. Someone else even slept in a truck with a utility trailer behind us.

Day 58 (30 june): Mark West Quarry to the Grimy Gultch campground (California)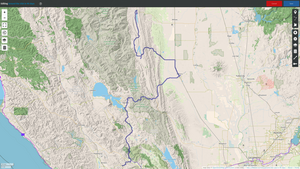 The Potter Creek road I stayed on the side of gets very busy in the morning. I slept quite well. Woke up around 7 but went back to sleep and then up again with the alarm at 8. I've been using the alarm clock to wake up early on this trip in order to avoid seeing the USA at night.

There was an empty lot with a parking lane across from the Oat Hill Mine trailhead in Calistoga. Stopped next to the empty lot for breakfast. Didn't go on that hike.

Managed to back into a hiker's parking lot on Lake County highway. Went on a nice hike on the Table Rock trail.

When we came back I helped a guy get a large bucket lift onto a flatbed trailer. Someone stole the battery from the lift, and I took mine out of the truck to lend to the driver so he could move the lift.

Had lunch in Redbud Park in Clearlake. That lake is filthy. Smelled like dead fish or something.

Long drive to the Grimy Gulch campground.

A "house" (a trailer I think) burned down in Stonyford. Fire trucks were blocking the only way through the town. I tried to relax a little, noone here seems in a big hurry - exactly the kind of attitude I've been looking for. One of the guys in a fire truck escorted me around the put-out fire on a back street I didn't even notice existed.

In 2021 camping here was was free. In 2022 it cost 15$. The low hills are quiet and peaceful. 33° outside.

Noticed the awning was damaged. I must have hit something while going forward. My best guess was that it happened on one of the mountain roads or the coast road where the cliffs sometimes seem like they're tilted towards the road rather than away from it.

Went swimming just before sunset. Muddy, but it was still nice.

Day 59 (1 july): Grimy Gultch to the Oak Bottom campground (California)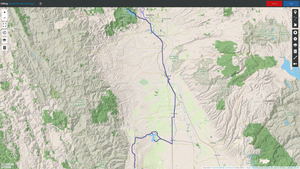 We were the only people camping here. Played 18 baskets on the disk golf course and went swimming again.

Went to the Buckhorn and then Orland Buttes campgrounds - neither had water. Orland Buttes looked like it had water at some point but not any more, except for the park host.

Stopped at the Oak Bottom campground. Could fill the tanks and dump the dirty water - that can justify the 35$ for the parking lot with no hookups.

It looks like there might be nice campsites here but they're walk-ins.

I enjoyed watching the kids fight over who would cook each meal and do the dishes. They wanted to get junk food from the park store with the money I'd pay them for the work.

Day 60 (2 july): Oak Bottom to the Scott Mountain NF campground (California)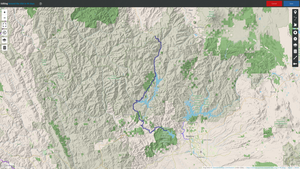 The Whiskeytown lake was great for the kids - lots of other kids there. It was sunny but not burning hot. We still left soon after noon.

This is the Stuart Fork of the Trinity river. Looks as badly dried up as (or worse then) lake Mead at the Hoover dam. We went down to the water - it wasn't even flowing.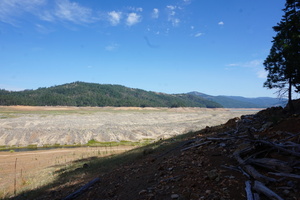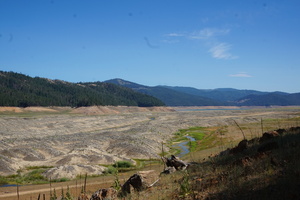 Short drive today to the Scott Mountain pass/campground (122km). The road going up the mountain had a warning sign saying that trailers are not advised. Hah, they should have seen me on the Sherman's pass. Though I guess I did damage that awning at some point. I figured I'll start missing it soon.

This night a storm passed near us, we got some drizzling. Sitting outside holding an umbrella is not pleasant.

Found a small hole in the sealant around the bathroom vent. Figured I'll seal it before the next time it looks like it's going to rain.

The campground is small, quiet. I backed myself through what might well serve as a group campsite right next to campsite #1.

An old couple showed up around 18:00 and the guy pretended not to understand that I'm using campsite #1. I told him he's welcome to use the site as long as he doesn't mind the loud children. He later apologized and I just repeated that it doesn't bother me. I couldn't have made it straight into #1 anyway without someone else driving.

Day 61 (3 july): Scott Mountain pass (California)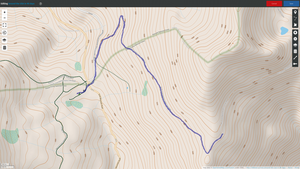 Went on a 4.5h hike on the Pacific Crest Scenic National Trail. It's not spectacular but it's nice enough. 200-300m climb.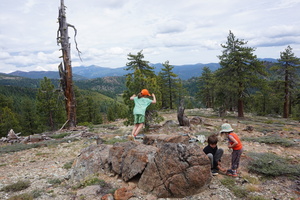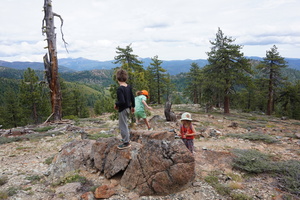 Lots of long distance hikers passed us. When we returned one of them asked us whether there is any water in the campground. I said no but he's welcome to have as much water as he wants from the trailer. He said no thanks but quickly reconsidered. I was happy to help.

On the hike decided to stay another night. It's very peaceful here, and the bugs aren't too bad.

Patched a couple of holes in the sealant on the roof and covered the long seam in the back just in case.

Day 62 (4 july): Scott Mountain pass to the Tree of Heaven NF campground (California)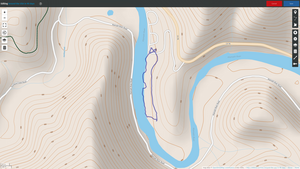 [I guess I forgot about my decision to stay another night, or else my note was for the wrong day.]

Forgot to turn on the GPS tracker again. The kids drove me crazy in the morning. They lost my seatbelt extender and scratched the hell out of the rear left door handle.

Needed groceries badly. Luckily there was a Walmart in Yreka. While there found that it was the 4th of july - a big deal american holiday. Strange that everything is open.

About a week before this I found that gas prices vary by as much as 20% from station to station in the USA. In Canada the best you can hope for is a 5% difference in one region.

Arrived at the Tree of Heaven campground. Bad road design, stress, large rocks placed around the road's edges, and a few seconds of distraction resulted in an exploded trailer tire. I didn't even dare to pull it 100m to a campsite, changed it in place right there. I was getting rather efficient at it :)

Didn't feel like driving any more, and stayed here. It's nice, quiet, 15$.

After parking at one of the campsites and making a late lunch (16:30 or so) found that one of the campsites had water and electric hookups. But it also had a shed with a sign saying there's a rattle snake under it.

Went on a short hike loop next to the campground.

Nikita practiced with his compound bow. Being compound it's much easier to hold the arrow under tension while aiming but I suspect it's less accurate because of the jerk when you release it.

Then a girl came by the campsite and Nikita decided to show off his skills by shooting a target right next to her. A part of the bow also broke off. I took it away from him permanently.

Decided I have to plug the fresh water tank overflow hose when I get home. I was losing a ridiculous amount of fresh water for no good reason. The battery was at 60% but the water tank almost empty. The last time I pulled over on a steep shoulder I watched 1/3 of the fresh water drain onto the ground.

Decided to try to get the tire replaced at some place between Ashland and Medford.

Got a lot of rain the previous night and this day. I was wishing the awning wasn't broken.

Day 63 (5 july): Tree of Heaven to the Rogue Elk county park (Oregon)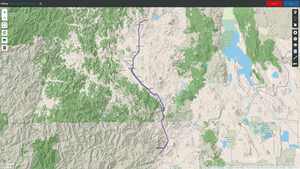 Moved the trailer to the host's spot. The water worked but electrical did not. It did have a welcome sewer connection.

Stopped by Les Schwab Tires on the way in Ashland but they said it would be a 3-4 hour wait. The only other place I stopped at ran out of tires that size.

Also stopped at a body shop to ask about the bumper. The guy said it will cost 200$ to straighten out, and that it would be cheaper to get a new one if the existing one wasn't welded on.

The Les Schwab Tires place between Phoenix and Medford replaced the tire for 180$. I picked the most expensive of the three options (8-ply).

Found the Rogue Elk campground. Several spots were empty even though it said "Full" at the entrance (typical).26$ for water+electric. Just what I needed. Lots of kids here.

Day 64 (6 july): Rogue Elk to the Broken Arrow NF campground via Crater Lake (Oregon)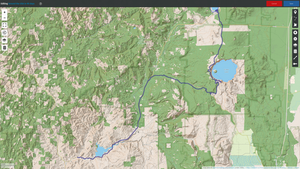 The previous night I was up till 2:00, in small part because the converter fan was blowing full blast.

I found that it was only charging at 10A. Unplugging the 120V from the outlet didn't make a difference but flipping the converter breaker off and on got it to start charging at 35A.

In the morning the battery was at 92% (13.5V) and not charging any more. The batteries were at 40% the previous day, not that it should mater.

Stopped for a walk at the Rogue Gorge. Busy but nice. I was too tired to complain about the stupid fence.

Spent the afternoon at Crater Lake. It used to be a volcano.

I didn't even bother checking the nearby Mazama campground, I assumed it would be full and crazy expensive. Too many people.

Parking at Rim Village is insane under normal circumstances, but on top of that the RV/bus turn at the end of it was closed for construction. Good thing by this time I was a ninja with the trailer turning.

A ranger at the visitor centre said that it's typical here to get 9m of snow in the winter, the buildings are buried in it. It just melted enough to open the park roads for the season a week or two before we got there.

Climbed up Garfield peak: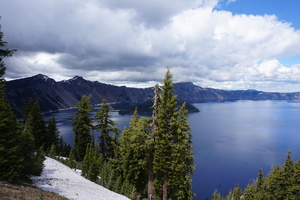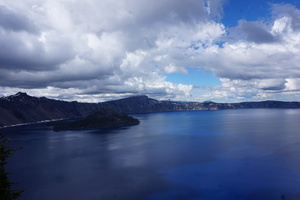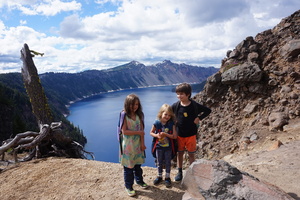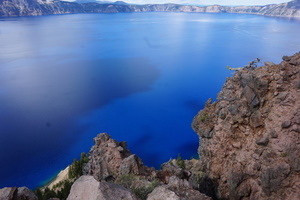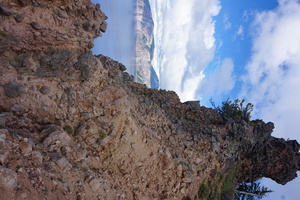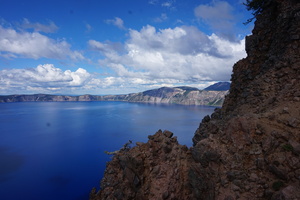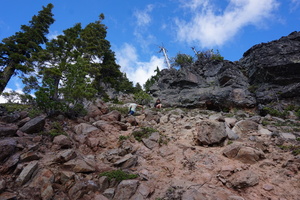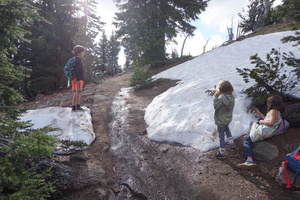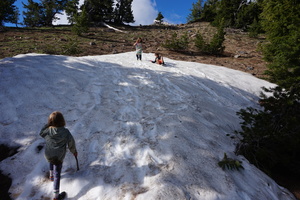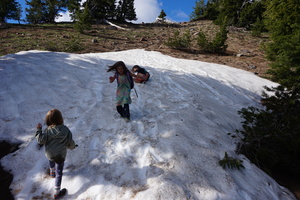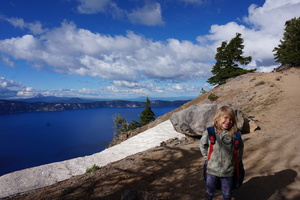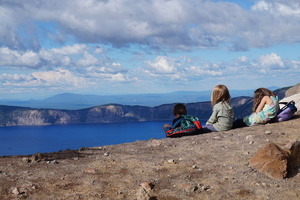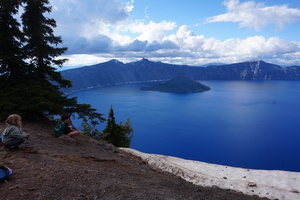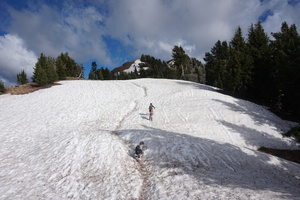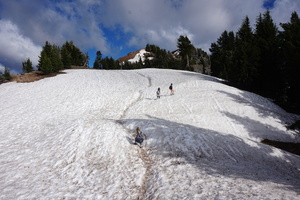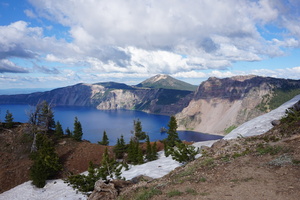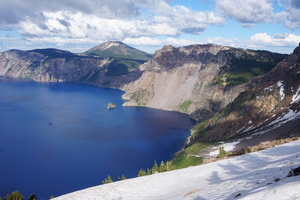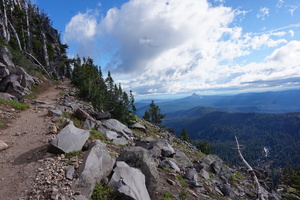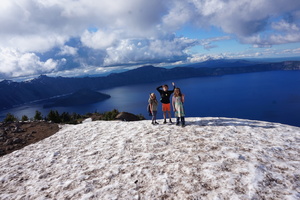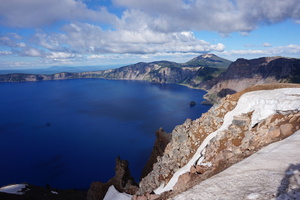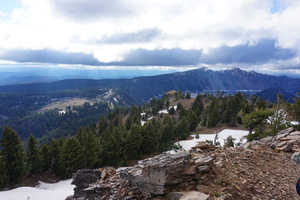 It was 20:00 by the time we came back. Lost a water bottle on the hike. The kids did well enough, Natasha hiked all the way on her own. We passed a few tourists who couldn't believe we were going all the way up.

Drove through a cloud on the way out on West Rim drive. Temperature down to 8°. Snow everywhere.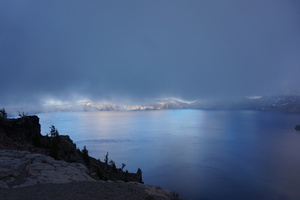 I was planning to go to the Thielsen View campground but it was getting dark so I stopped at the slightly closer Broken Arrow campground. 15$ but at least there's a dump station (not that I needed it). Enormous campground, the biggest I've ever seen. It has an overflow which I think may be free. The overflow isn't even bad - just no paved roads.

Day 65 (7 july): Broken Arrow to the Haystack reservoir (Oregon)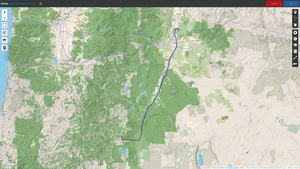 Normally on the trip I got up at 8 but for the previous few days it was 11. Decided to fix that.

Diamond lake was not swimmable. Could barely even get to the water. No beach. Maybe by the boat launch.

Needed to do laundry and get groceries. Found a nice laundromat in La Pine.

Highway 97 is not an interstate as I feared but it's not much better. I was willing to put up with it in order to get to Yakima.

Missed the Lava River cave (south of Bend), we would have needed to leave much earlier. The last entry is at 15:45 or so.

Got groceries at the Walmart in Bend.

Arrived at the Haystack reservoir after 20:00. The campgrounds here seem to be privately managed. Didn't love the look of the east campground. Went back west to find that all the sites are booked, and decided the east one is good enough (also 15$ instead of 20$ for some reason). It was 22:30 by the time Nikita and I finished dinner.

Day 66 (8 july): Haystack reservoir to the John Day Dam (Oregon)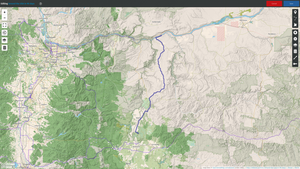 Nothing memorable this day. A lot of desert in the mountains. I wondered if it goes all the way from New Mexico to Canada. When we passed through Kelowna a couple of years before I was told it was a desert climate.

Made it to the John Day Dam campground (little more than a turnabout with the biggest pile of large river rocks I've ever seen) relatively early. It's very nice.

Day 67 (9 july): John Day Dam to the Big Pines BLM campground (Washington)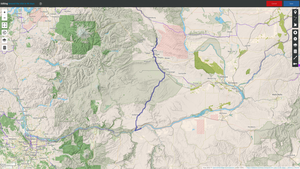 Spent a couple of hours on the Colorado river. It was cold but can swim for a minute easily.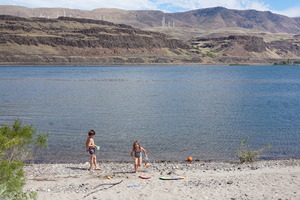 Gas was 5$/gal the previous day, 4.50$ in Topenish. Bloody California, everything is expensive in it everywhere.

The free dump station in Toppenish didn't have water.

Aubrey's RV didn't have the free dump station they advertise, and they closed at 13:00. I wanted to ask about the bumper and awning.

The Big Pines campground is crazy busy. Lots of people tubing down the fast shallow Yakima river. I was lucky to get one of the two unreserveable spots. Someone else would have taken it 5 minutes later.

This is the first campsite I got 50% off because of the pass [though I'm not sure I was supposed to]. 7.50$ for the night.

Unfortunately several assholes had to talk loudly and blare music till after midnight. I guess it's no surprise noone yelled at them if I didn't.

Day 68 (10 july): Big Pines to the Entiat city park (Washington)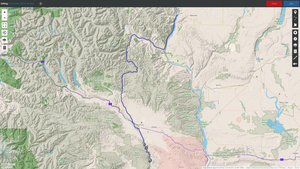 Put the trailer in the campground's parking lot and went on a 2.5h hike up a very steep, slippery day slope towards the Umtanum ridge. I would have liked to go all the way to go all the way to the Baldy top but everyone was feeling tired.

Didn't want to risk running out of water at a National Forest site and it looked like every other option was 45$+. Perhaps the Beebe Bridge park would have been cheaper but their website was dead and I didn't want to drive any more.

Stopped at the Entiat city park. It's very nice, full hookup. 45$ + a 7$ mandatory reservation fee.

Day 69 (11 july): Entiat to the Leader Lake state campground (Washington)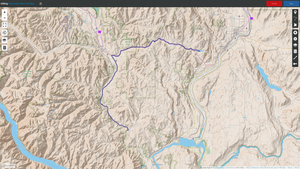 Made good use of the full hookup. Filled the black tank twice and drained it. On the second time the sensor finally got cleaned [though after driving for an hour it showed 2/3 full again].

The battery charged to 99% this time, I didn't notice at what rate.

Had showers.

The kids played by the lake.

This region reminded me of Kelowna, which I liked very much. Almost a desert but there's plenty of water coming down the river. I figured the same desert does go all the way from New Mexico to Canada.

Didn't bother checking out the Loup Loup campground, though it may have been interesting because it is a "Sno Park".

Stopped at Leader Lake. Free, though there's a sign saying that a discovery pass is required. I doubted anyone would come to check.

The campground is not trailer friendly. Only one or two sites are sort of level, and all but one are quite challenging to get into. The best one right by the lake was taken of course.

Day 70 (12 july): Leader Lake to the Kamloops Island campground (Washington)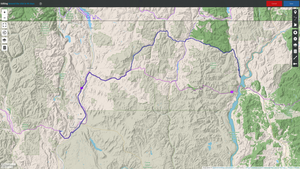 Around 14:00 turned north [on NF32 Bonaparte Lake road] towards a "recreation area" to have lunch. I don't know what it was supposed to be, but I couldn't find any good place to stop.

Eventually passed a campground, dind't try to go in.

Then the road turned into a single lane. Nowhere to turn the trailer except a couple of driveways. I worried there's be a dead end at some point and then I'd be completely screwed.

Eventually made it to the well paved 9480. Two lanes.

Exceptionally quiet here. And there are even trees on the mountians (it's been a while since I've seen that).

Came within about 5km of the canadian border. These must be such quiet crossings.

Found the Kettle River campground but didn't love it. 23$ for no amenities and nothing special. Requires an online reservation. It's curious that I had cell signal here and on much of the deserted road earlier.

Went to Kamloops Island to check it out. It's not significantly better but I decided to stay.

Day 71 (13 july): Kamloops Island to pull-out on highway 200 (Montana)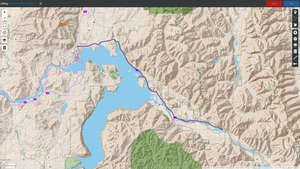 Went swimming, jumping off a small boat dock. I don't know why there is a boat dock here. Maybe for fishing. The Kettle River campground had one like this too.

Shitty drive for most of the day, especially through Idaho.

Looks like Montana state parks charge non-residents double, which makes them ridiculously expensive.

The Priest River USACE campground was out of the way (I just wanted water). Bonnes County Fairgrounds had a dump station and potable water outside. I couldn't figure out what it costs to stay there. Park Advisor suggested 25-30$ and I felt that was too much since I didn't need anything.

A guy was filling an enormous container in his pickup with clean water for his 1000 gallon tank at home, he had no well. He said he also runs out of water in his trailer's 55 gallon tank in 2-3 days. It must be the dishes and the toilet flushing.

I was leaning towards going north on I95 but I figured I wouldn't find any place to stay overnight. Went past on 200 instead.

The Sam Owen NF campground is privately run, charging 28$. Crazy busy too. Left that. Before I knew it we were in Montana.

The Big Eddy campground was very small and full. I've had enough - and pulled over on the side of the 200. It's not busy and there aren't signs saying you can't.

I hoped this wasn't what the rest of the trip would be like. I haven't even gotten to the plains yet.

Train horn blasted at 22:30.

Day 72 (14 july): Highway 200 to the Dodge Summit trailhead (Montana)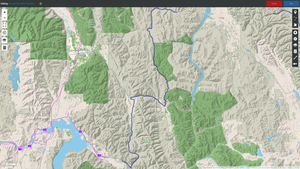 The train noise wasn't so bad. Lots of road traffic in the morning.

Of course minutes down the road there was a much nicer pull-out with a lake view. Highway 56 also has many pullouts and it's a lot more quiet.

Stopped at the weigh station at 56&2. Found that all the brake wires on the rear left were cut, which means the rear right brakes weren't working either. My guess was that the copper corroded and just fell apart, though there wasn't any corrosion visible. Decided to rebuild all the brake connectors when I get home and cover them with liquid plastic, maybe some armor too. [remembered this decision 9 months later while building this webpage].

Went north on Pipe Creek road from Libby, to get some nice piece and quiet. It's hard to enjoy the road with three screamers in the car but it's still nice not to worry about other cars too much.

There are cottages on this road, but not so many. The road is almost dead 20km in.

Watched OsmAnd closely to try and find a place to stop overnight. Found a perfect spot: the Dodge Summit trailhead. I couldn't find any trail. Maybe it was abandoned, maybe it never existed.

No biting insects despite the nearby creek.

Day 73 (15 july): Dodge Summit trailhead to the Tuchuck campground via the National Forest Development Road 114 (Montana)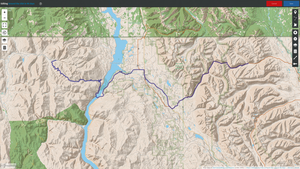 Stopped at Rexford Bench to use the dump station and fill up with water, through the garbage out. Didn't mind paying the 5$. Nobody bothered me.

These national forest development roads are surprisingly well paved. Single lane with pullouts on 114.

The pavement ends going east at the intersection with 7021. Lots of big holes in the road I had to crawl over.

The spare tire almost fell off, thankfully both nuts holding it were still there. Blind luck that I leaned on it and noticed. The tread on the new tire is so much thicker than the originals, maybe as much as double.

After another intersection the road turned into... a rocky path. 1-2km/h, 4-LOW. Several times had to get out and cut trees (not branches) that fell on the road. Stopped at 48.92397°N, 114.71074°W before I had a heart attack. Trying not to hold my breath, because the crazy goes on for hours.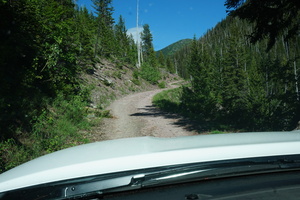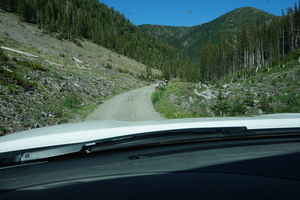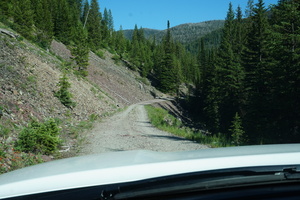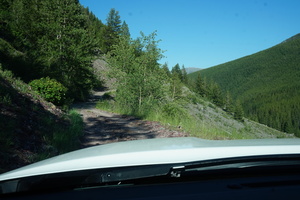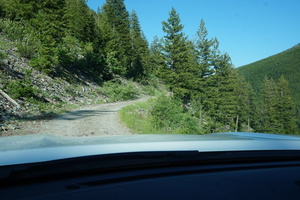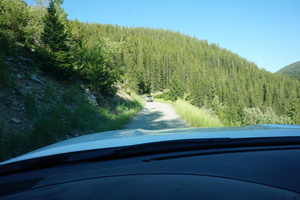 Calculated 10km to the Tuchuck campground. I hoped that if I made it that far - the road east of it would be easier.

About 4km from the campground ran into a couple of Tototas heading west. They were really nice and backed up a good 500m to let me pass. They said there's still a lot of driving like this and worse coming up for me.

Arrived at the campground at 19:15. I'm guessing my average speed was 6km/h, not counting the stops. I saved the dashcam recordings hoping to one day make a video of this experience. It's hard to imagine that I'd find the time to edit so much video, but there's a lot of good stuff there.

Day 74 (16 july): Tuchuck to the Big Creek NF campground (Montana)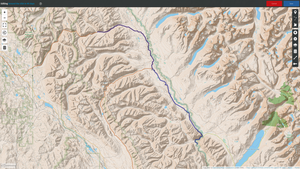 There are horse feeding contraptions near the campground. I took that as a good sign of the road to come - after all if a horse trailer can make it through: so can I.

Crossed paths with a Ford. Later 3 dirt bikes. And then 8 ATVs.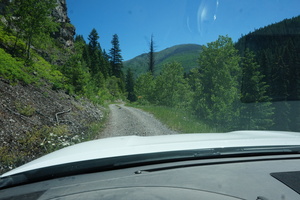 After that had a serious "fuck me" moment when I saw a sign saying "Road narrows" (narrows!!??) and the road following it: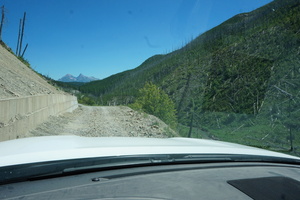 I got out, cleaned some of the worst rocks which fell off that hillside and remembered that I've seen trucks on the road: so it was unlikely to be impossible to get through. Though much slower. I made it.

Stopped for lunch at 14:00 where the ranch cottages started. Nikita did all the cooking. Left at 15:00. The quality of the road hasn't improved much even except it was flatter and wider.

About an hour later got to a 2-lane road. Eventually it was smooth enough to do 40km/h.

Didn't feel like trying Logging Creek. It's on another road on the other side of the river, and I've pushed my luck enough in the previous two days.

From the intersection with Camas road to the Big Creek campground it was only 4km but some enormous tracked vehicle made such deep indentations in the road it was worse in terms of shaking than most of the crazy mountain road I just finished. I don't know what possible benefit that monster could have provided - he fucked up the road big time. And I bet that only happened because he drove over the road when it was wet. It wouldn't have been a grader, those have wheels.

I was surprised to find the campground full, but got lucky - site #1 was open for two nights. The camp host said it's 9$ with my pass and said that if I don't go to West Glacier: I don't need to worry about reservations for the Going-to-the-sun road. According to her going on that road is an absolute must. I figured I should have enough gas to make it through the park (about 100km).

Day 75 (17 july): Big Creek to the Lake Sheloole park via the Glacier national park (Montana)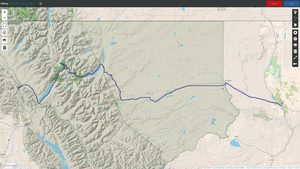 I wanted to go to cross the Glacier park as early as possible but of course it was 11 by the time we got to it.

This park is not as crazy busy as Bryce canyon or the Utah rocks one, but it's close.

Went through the Apgar entrance - there was nobody there. That turned out to be a problem.

There's a length limit on vehicles going through the park, but the first sign saying so is a few kilometers in. I went through a turnabout-turned-parking-lot where I couldn't even stop to think, and in a rush decided to ignore the sign.

This is just before the sign: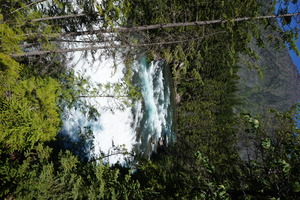 And this is the only photo I made on the going-to-the-sun road: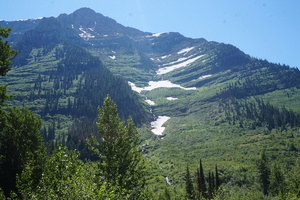 The park is very pretty but I didn't get any chance to enjoy it. I had to keep driving to avoid a ticket I knew I was going to get. It was very stressful because of all the annoying people wabing and honking at me.

I was nearly out but got pulled over by a ranger. He was very nice, and I appreciated that. I didn't argue about the ticket. He said I might have been the longest vehicle that's ever gone on that road. He measured 49' combined. The maximum allowed is 25' - but that's very pessimistic, and must assume a solid vehicle without a pivot in the middle.

To be honest it was tight, so I get the need for the limitation. But I stayed in my lane the whole time except 2-3 turns and passed a number of fat tour buses without difficulty.

This is the view towards the park, from just outside the park, where we stopped for lunch: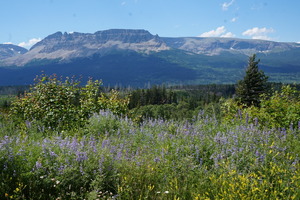 Some guy in a native-police-looking type of truck showed up and asked whether we need help. I said we're ok thanks and he left. [I wonder if he heard about my escapade and wanted to see up close.]

Drove to the Shel-oole park in Shelby. Water' electric, and dump for 25$.

I started deciding whether to make this a 3-month or a 100-day trip.

Spent a couple of hours looking for horseback trail rides that the kids could go on. Only found one that would take 6-year-olds.

Day 76 (18 july): Lake Sheloole to the Nelson state rec area (Montana)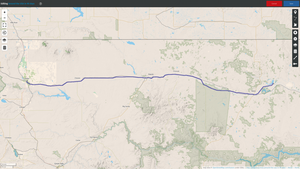 Called the horseback riding place (Elk River outfitters). The lady sounded nice. Said she's got poor signal driving through the mountains and will call me back in two hours. That didn't happen of course.

She said noone can watch Natasha and an adult needs to go with the other two.

I briefly looked at child care options in Red Lodge but quickly decided that's a stupid idea, and headed east (the outfitters were due south).

The landscape is all grassy plains but nice and quiet, and very low traffic. I didn't mind.

Went to the Nelson state recreation area for free camping. It was windy as hell out there.

This was the longest drive (in distance) of the trip, but we still had three hours of daylight left.

I found that I can go as fast as 130km/h at 2000rpm. Speed limit here is 112km/h. At 100km/h my speedometer is off by 4km/h. I wondered how much will be left of my tires by the time the trip is over. [There is still years of life left on them.]

Day 77 (19 july): Nelson reservoir to the lake Trenton public use area (North Dakota)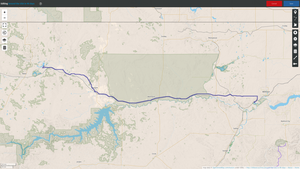 The wind was still crazy in the morning. Maybe it has something to do with the lake.

Long drive again this day. Only stopped a couple of times at rest stops and in a town park for lunch.

Arrived at the lake Trenton public use area to find some kind of fair happening. It said at the entrance booth that camping is 25/35$ per night. Noone was at the booth, and a couple of hours later the hundreds of cars vanished.

Swimming here is ok. The mosquito swarms here are vicious.

Plugged the electrical cable in four a couple of hours to fill the missing 10% of the juice.

Day 78 (20 july): Trenton to the Theodore Roosevelt national park (North Dakota)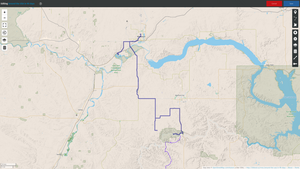 In the morning we were the only ones at the campground (which is in the corner of the open park). A dude was cutting the grass there for 3 hours in the morning. The booth was still closed and noone asked me to pay.

The entire park was completely empty by noon when we left. It felt weird, I was afraid maybe they closed the gate, but they didn't.

Went slightly out of the way again to go to Walmart in Williston.

It should have been a very short drive this day (100km) to the Juniper campground in the Theodore Roosevelt national park but OsmAnd sent me onto a non-existing ATV trail. Ended up next to an oil pump at the end of a gravel road where thankfully I could turn around easily. There wasn't as much as a foot path where the dirt road was supposed to be. Just fences and fields.

Had to go back north and around the badlands to get to the actual entrance on the east side.

14$ for the site, including the dump station and water. There were many sites available.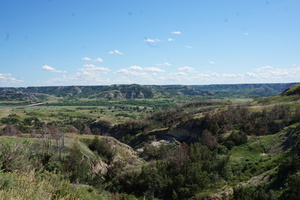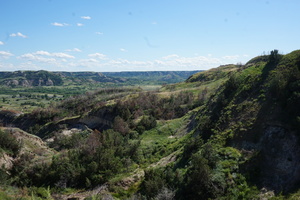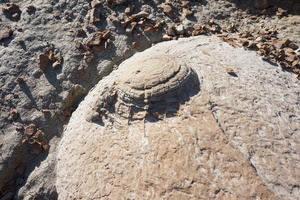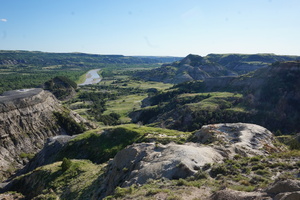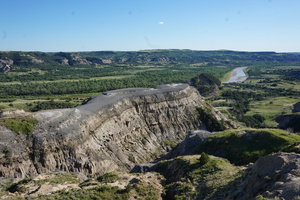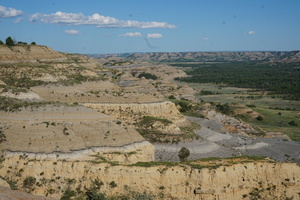 Went on a short hike to see the prairie dog village. I don't know what type of snake this was, the ranger I spoke to later didn't know either: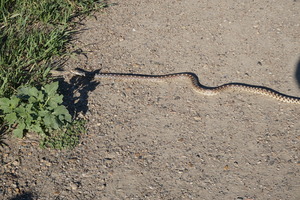 Saw some buffaloes in the distance: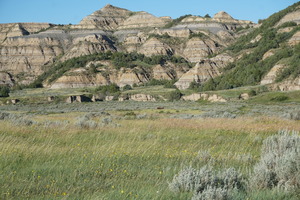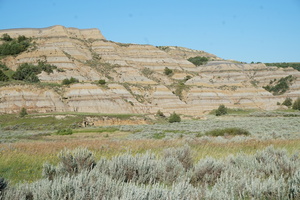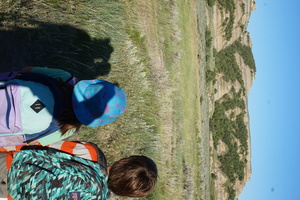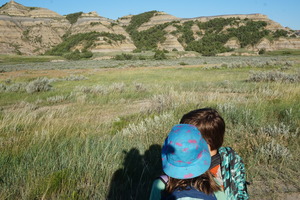 And some prairie dogs: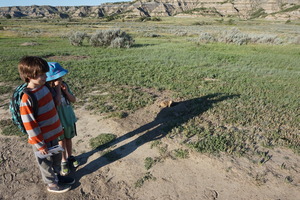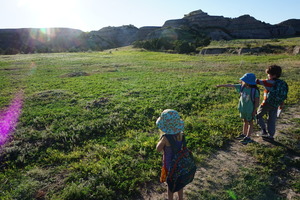 Just before we got to their village a buffalo started following us. And then two.

They got very close, and I didn't want to take any chances so we went off the trail around a gully where they couldn't follow. I thought maybe they were protecting the herd we could see on the other side of the prairie dog village.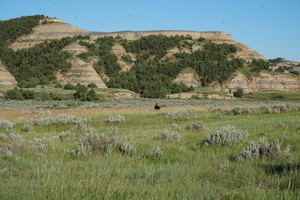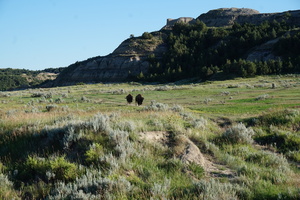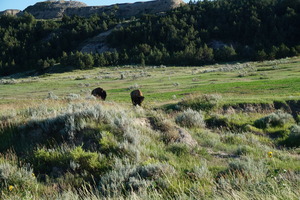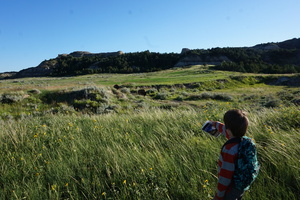 Got a little scratched up climbing back across the gully. Didn't run into any snakes thankfully. The whole experience was nerve wrecking. I'm not afraid of a wild cow, but I had three less controlled children to worry about.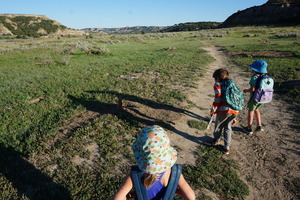 Either we stirred up the mosquitoes or it was time for them to come out: we got eaten on the way back. By this time I still easily got swellings from the bites but they passed quickly - the body must have developed a good antidote for their poison.

Ran back to the truck. Driving back to the campsite stared at a buffalo grazing at the side of the road. They have nice-looking heads, and very ugly bodies.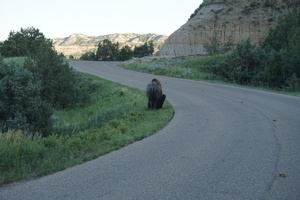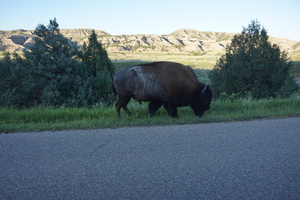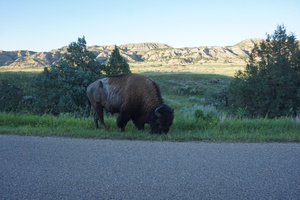 It looks like they have less muscle than horses.

Day 79 (21 july): Theodore Roosevelt national park to the Sakakawea city park (North Dakota)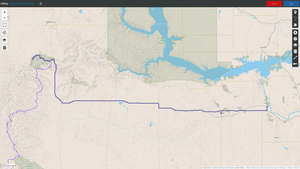 Drove to the end of the park road.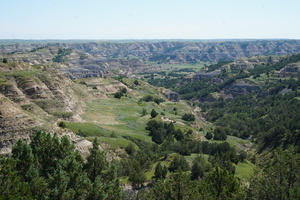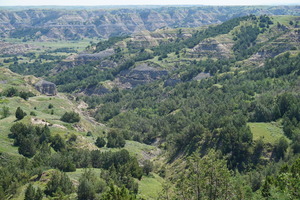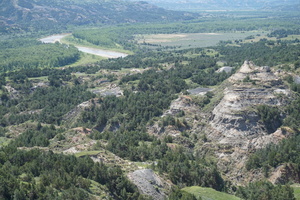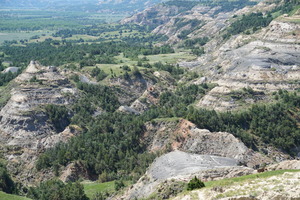 The road repair crew were busy spraying what they called 'oil' onto the road. When we got back to the campground: the road into it was closed. I left the truck at the picnic area and walked to the trailer to have lunch.

Went to the visitor centre to get the kids' badges and waste some time. The ranger there was great.

Came back at 14:30, the campground road was still closed. Left after 15:00. Had to remove the plastic off the concrete at the dump station. I wish I knew what tape they used to attach it to the road: it's amazing how well it stuck.

Drove to the Sakakawea park. 14$ for water&electric. Didn't use either, but I think the 8$ primitive sites are not accessible with a trailer.

Day 80 (22 july): Sakakawea to the Glenfield city park (North Dakota)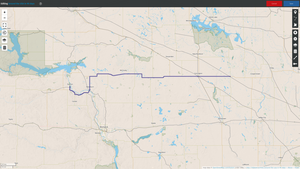 The kids went swimming in the brown river that doesn't flow. A dude came to the boat launch to fish, gave us a worm. Natasha caught a catfish. The dude filed it after I took its guts out. What a waste of meat. I fried it in a pan - it wasn't bad.

I took a work call right after she caught the fish. I wonder what they heard on the call.

Stopped by the Knife River indian villages. Other than the restored home there is nothing to see here. The park ranger doing the junior ranger program seemed to not like his job very much.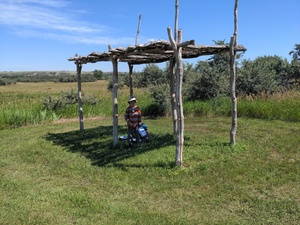 It was late by the time we got to Glenfield city park. 21:00 I think, though I was getting confused with the timezones. 10$ and there's even a 30A electrical outlet, and potable water. The AC breaker kept flipping for some reason.

The guy who took the money in the park said there's going to be a festival here on the following day. He said they haven't had one for 35 years.

Day 81 (23 july): Glenfield to the Bagley city park (Minnesota)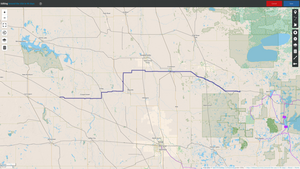 Spent till 14:00 at the harvest festival. Nothing grand but the kids had lots of fun.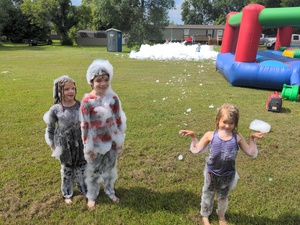 Drove to the Bagley city park. Finally a campground worth 30$. Water, electric, beach, disk golf, showers, volleyball, and a dump station. They almost didn't have a spot for me. There were lots of tent-only campsites I'm guessing they wouldn't have let me use.

They even had two floating platforms on the lake which you can jump from. I've never used one of those before.

Day 82 (24 july): Bagley to the Sixmile lake NF campground (Minnesota)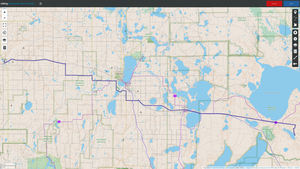 I was heading to a USACE campground but the one spot available there the day before was gone.

I was also feeling confused and decided not to drive much. Found the Sixmile lake campground relatively easily. It has well spaced sites but only the boat launch has access to water. So I parked in the boat launch parking lot.

Only one boat trailer showed up twice. Swimming here was really pleasant. Warm, clean, sandy, weeds not too slimy.

One bus showed up and took one of the campsites far from us. It seems that they sent a scouting car first to check whether the bus would make it.

Day 83 (25 july): Sixmile lake to the Copper Range BS campground (Wisconsin)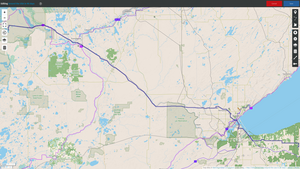 Got up and found three boat trailers parked next to me. Weird that they came on monday instead of sunday.

I wanted to check out a bunch of hardware stores in Duluth but the kids took two hours to finish the lunch so I only had time for Harbor Freight Tools. Curious store - lots of no-name crappy shop tools are cheap, but anything that would work well cost just as much as (or more than) it would in other stores. Sadly it looked like I already own all the tools I would need, not much left for me to buy.

Did laundry in Superior.

Went to Copper Range thinking it's a forestry campground but when calling to make a mandatory reservation was told that it is a state park. Some kind of BS happening here. 21$ and the lady on the phone said I also need to get a park entrance pass for 8$. Of course she said that after processing the 21$ payment. I didn't pay that.

Got frog legs at Walmart earlier. They took an hour instead of the 10 minutes it said on the box to cook in the crappy trailer oven. Taste like chicken.

A guy with a motorcycle in the campsite next to ours was sleeping on the ground. He must have had a lot of bug spray on. I did backcountry camping without a sleeping bag for a few days, but at least I had a tent to keep the bugs away and the rain off.

Day 84 (26 july): Copper Range BS to the Bergland town park (Michigan)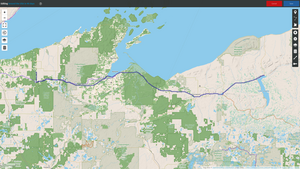 Drove to the Bergland town park. Couldn't remember anything from the road. 15$ for electric+dump. We stopped on the older less flat part at the top where the park is. When I went to look for how to pay I found all the trailers down closer to the lake.

The park had some memorabilia from the old jail. I wish I had a padlock with me, it was really hard to get Nikita to stay in there long enough to make a photo. I guess that's a good instinct.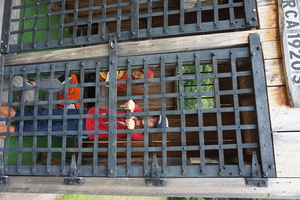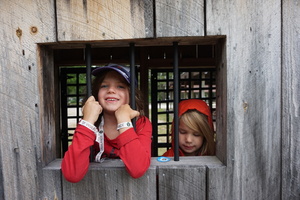 Day 85 (27 july): Bergland to the Bay Furnace NF camground (Michigan)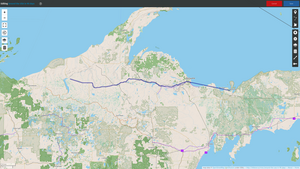 Decided to treat the kids with a visit to the Upper Peninsula Children's museum. Had to rush a little since they close at 17:00. Barely made it to downtown Marquette at 14:30, spent 20 minutes trying to find where to park.

The downtown has some very nice buildings. But with the kids and my exhausted patience I didn't even try to enjoy them.

The museum is small but perfect for small kids.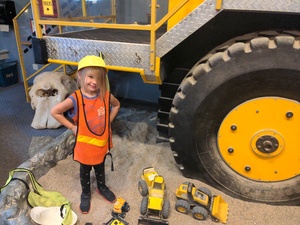 Bay Furnace had a "full" sign, but of course it wasn't. Some poor guy turned his RV around at the sign. for 22$ it wasn't bad. It was too late to see the lake.

Day 86 (28 july): Bay Furnace to the Kingston lake state forest campground (Michigan)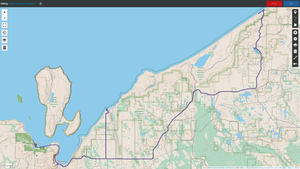 A very short drive this day, to give us time for the next one. Went to Pictured Rocks.

A small detour to Miner's Castle. Not much to see there. Maybe the short hike down to Miner's beach would be more interesting but I didn't feel like it.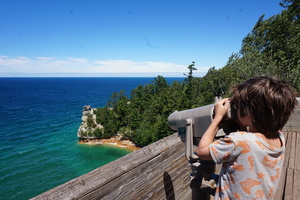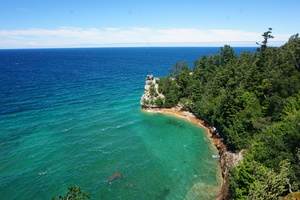 Pulling a trailer on these roads is not a problem. I did avoid Miner's Beach road worrying that people parked in the turnaround.

Went to Kingston Lake. It says 20$ for camping but it's got a mandatory 10$ access fee, which makes this an expensive no-hookups, no-facilities campground.

Left the trailer there and drove to Twelvemile beach. Spent a couple of hours there: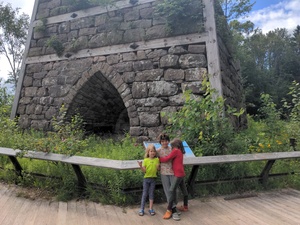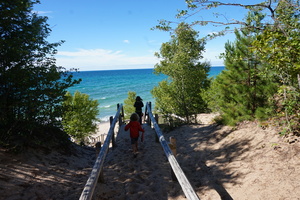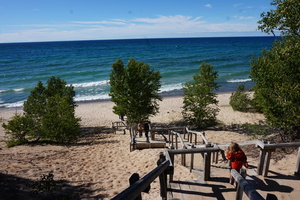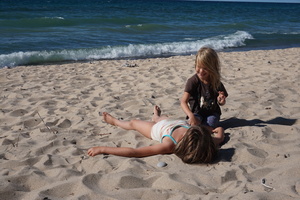 The water was cold but not freezing. Cold air blowing from the lake. 18°. It wasn't too bad in the sun.

Day 87 (29 july): Kingston lake to the Soo Locks campground (Michigan)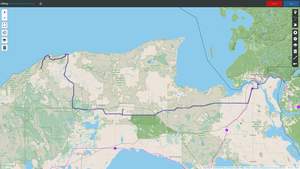 Left a bit late. Breakfast felt like lunch.

Arrived at the Grand Sable visitor centre at 13:00. It was closed for lunch till 14:00. Went to see the Sable falls. The kids loved the tall sandhill.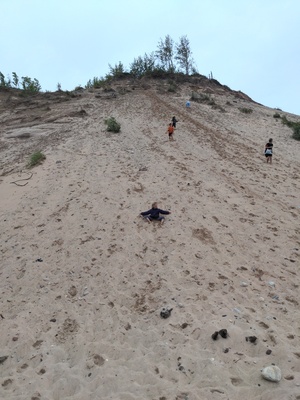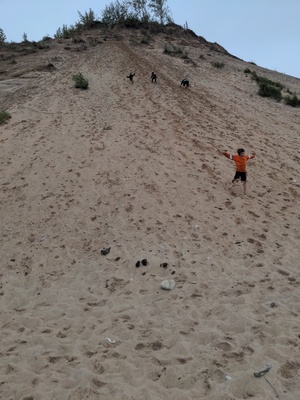 Stopped by Walmart mostly to waste time. Couldn't find almost anything to spend money on. The prices are high, I thought maybe I was unaware of recent inflation in Canada [that wasn't the reason].

Went to the Aune-Osborn campground first. They were full. Soo Locks had a spot, slightly more expensive at 37$. I wondered if I'd have to pay an extra 2$ for Kim. She was coming to join us this night. I didn't tell the kids.

Her bus got delayed in Sudbury by more than an hour. We picked her up at the Michigan welcome centre after 23:00.

Day 88 (30 july): Soo Locks to the Carp River NF campground (Michigan)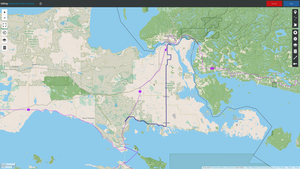 Our campsite, not our trailer: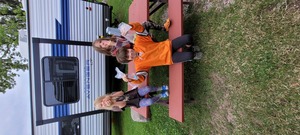 Went to a book sale at the library, spent 6$ there.

Visited the flea market. It really was a flea market, but very small: the inside of a small barn. I'll probably never again see the huge flea markets of my childhood.

We were going to to to the farmer's market but the flier had the wrong address.

The only reasonable place to camp I could find was only 60km away - Carp River. They had one spot available. 20$. There were two other empty ones but reserved.

There's a sandy ATV trail next to the campground, I didn't go on it. [I don't remember why, maybe because it looked boring]

The kids splashed and fished in the shallow but clear Carp River under the bridge.

I was thinking august might be the shittiest month for this kind of trip.

Day 89 (31 july): Carp River to the Luzerne Trail horse campground (Michigan)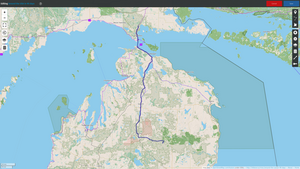 Stopped by the Bridge View park. Paid 8$ to get over the bridge. OsmAnd tried to send me the wrong way onto the exit lane before the bridge.

Found some military equipment in Grayling on the side of the road. If you had any doubts about the size of this truck - here you go, it's bigger than a tank: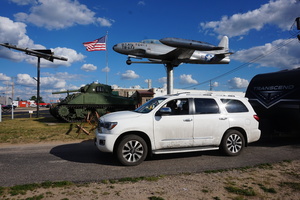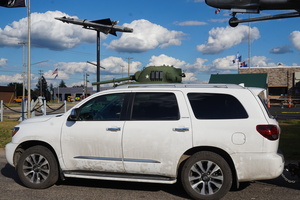 Stopped at the Luzerne Trail horse campground. Two horse trailers in the big loop and noone else. I parked far from them for my own privacy, and later realized their horses probably wouldn't have appreciated our noise also.

Lots of firewood on the ground in the small loop where we stopped. The big loop didn't have any firepits. I guess maybe horses don't like fire. I made a good one in our pit, it was still going till one in the morning.

Day 90 (1 august): Luzerne Trail to the Lakeport state park (Michigan)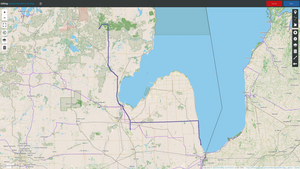 Saw three horses head out from the campground onto the trail. Must be a nice way to spend a few days.

Found a sports store in Bay City. Got everyone except Kim new running shoes.

Stopped at TriCity RV. They fixed the awning with a used replacement head unit for 150$.

Went on a detour to Broneer's Christmas wonderland. I wasn't impressed. There was one christmas store I went to with Kim many years ago in New England - I haven't seen such nice things since.

Drove to the Lakeport state park. Arrived in the dark.

Day 91 (2 august): Lakeport to the Port Burwell provincial park (Ontario)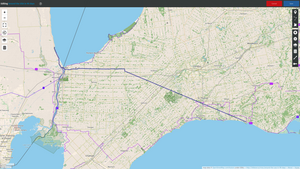 Canada was a half an hour away. Had a hard time deciding whether to go straight home. It would only have taken a few hours on the 400s.

Flushed the black tank twice in case there'd be no other dump station on the trip.

I would have liked to stay at a park on Lake Eerie but the Ontario Parks website was down.

Crossed the border without problems. It was a lot of stress in advance, but since the kids were under 12 I only got a hint from the border guard, an no crap.

I don't know where this was. An ice cream store: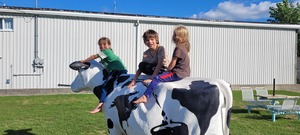 On the way to Strathroy found some available campsites at Port Burwell.

It's a nice campground. Many spots in a vegetation maze, and a bunch in the open near the playground where all the kids are.

Went to the great beach before it got dark.

Day 92 (3 august): Port Burwell to Markham (Ontario)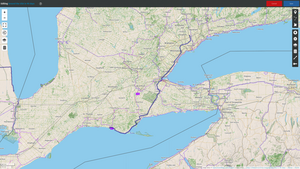 Went to the beach again, and drove home.

Success!

If you have questions for me, please use this form.